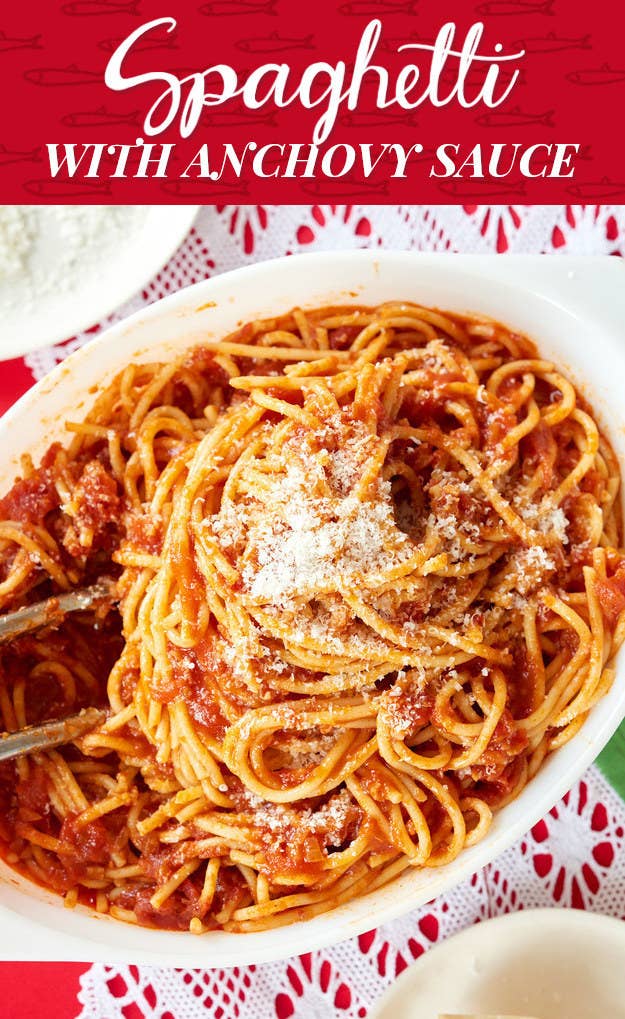 So, you've had spaghetti with red sauce before. Maybe the sauce came from a can. Maybe you've made your own sauce.
But have you made *THIS* sauce?
It's got a very special secret ingredient that will improve the quality of your life/pasta.
Here's what you'll need: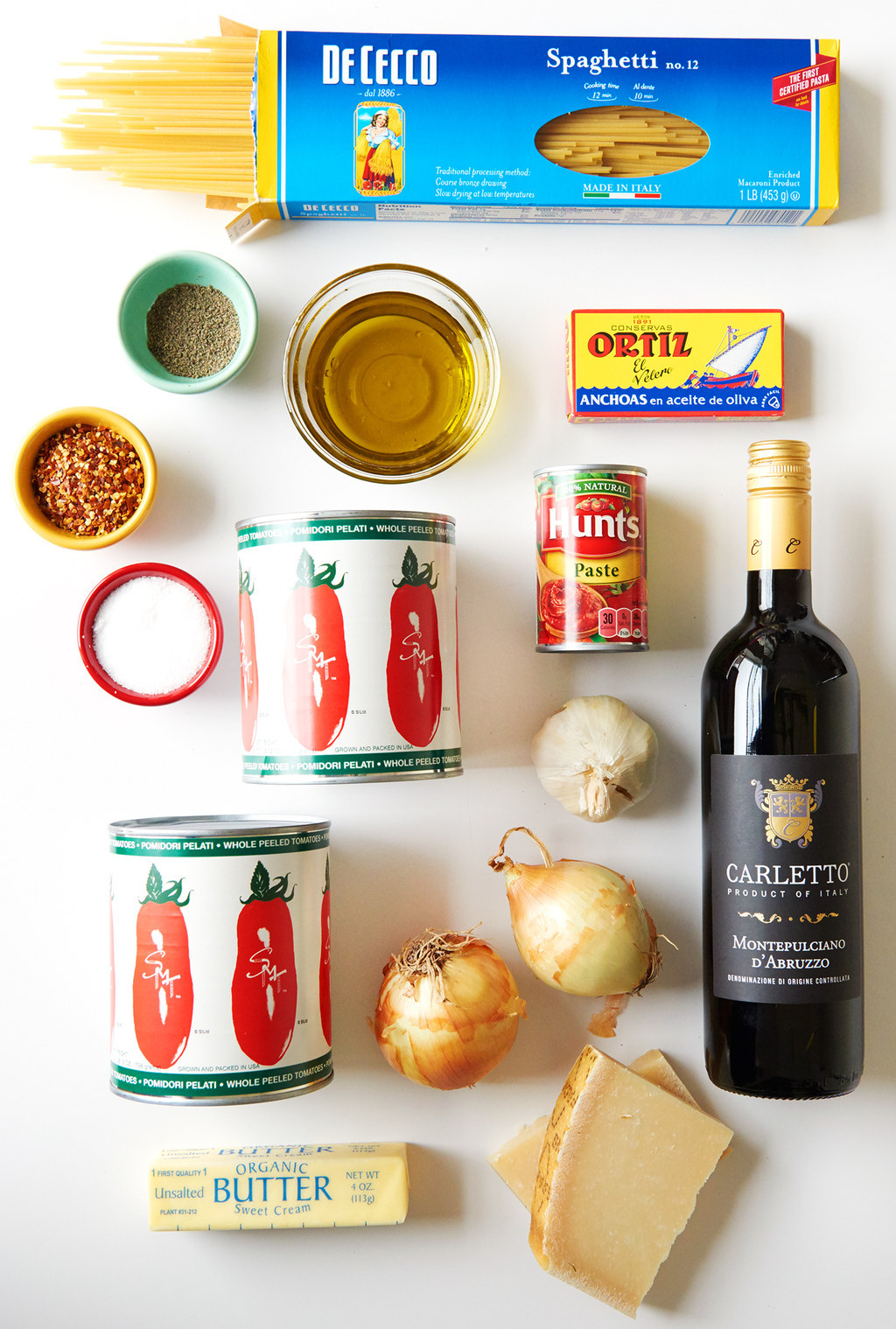 First, let's talk about anchovies. (SPOILER ALERT: The secret ingredient.) They're in this sauce to give a deep, complex flavor. And I know what you're thinking: No, your tomato sauce won't taste like fish.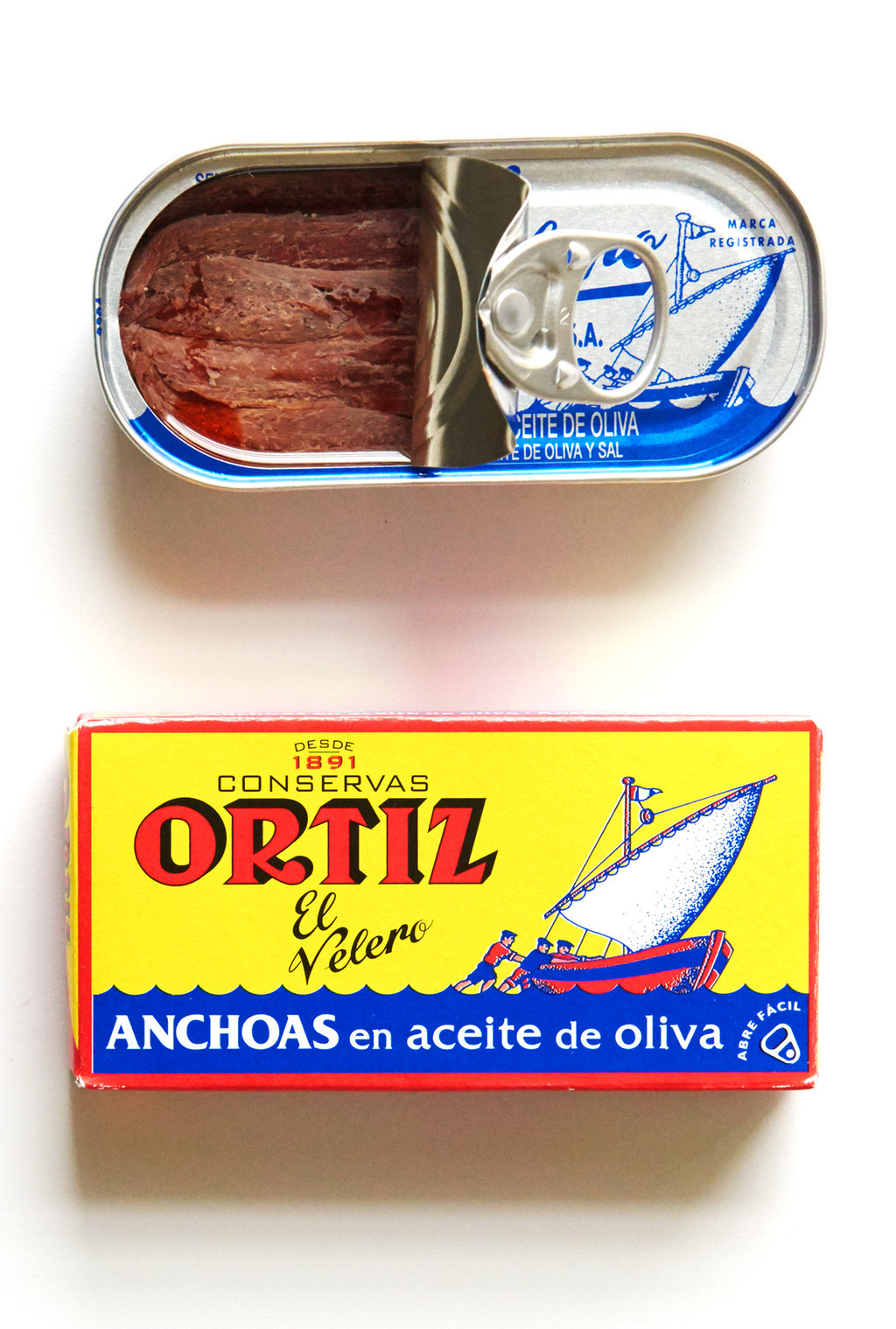 1.
Start by crushing the garlic cloves with the blade of your knife. This removes the skin and flattens the cloves, which makes them easier to chop.
2.
Then, with one hand pressing at the base of the knife and one hand pressing at the tip, use a rocking motion to finely chop the garlic.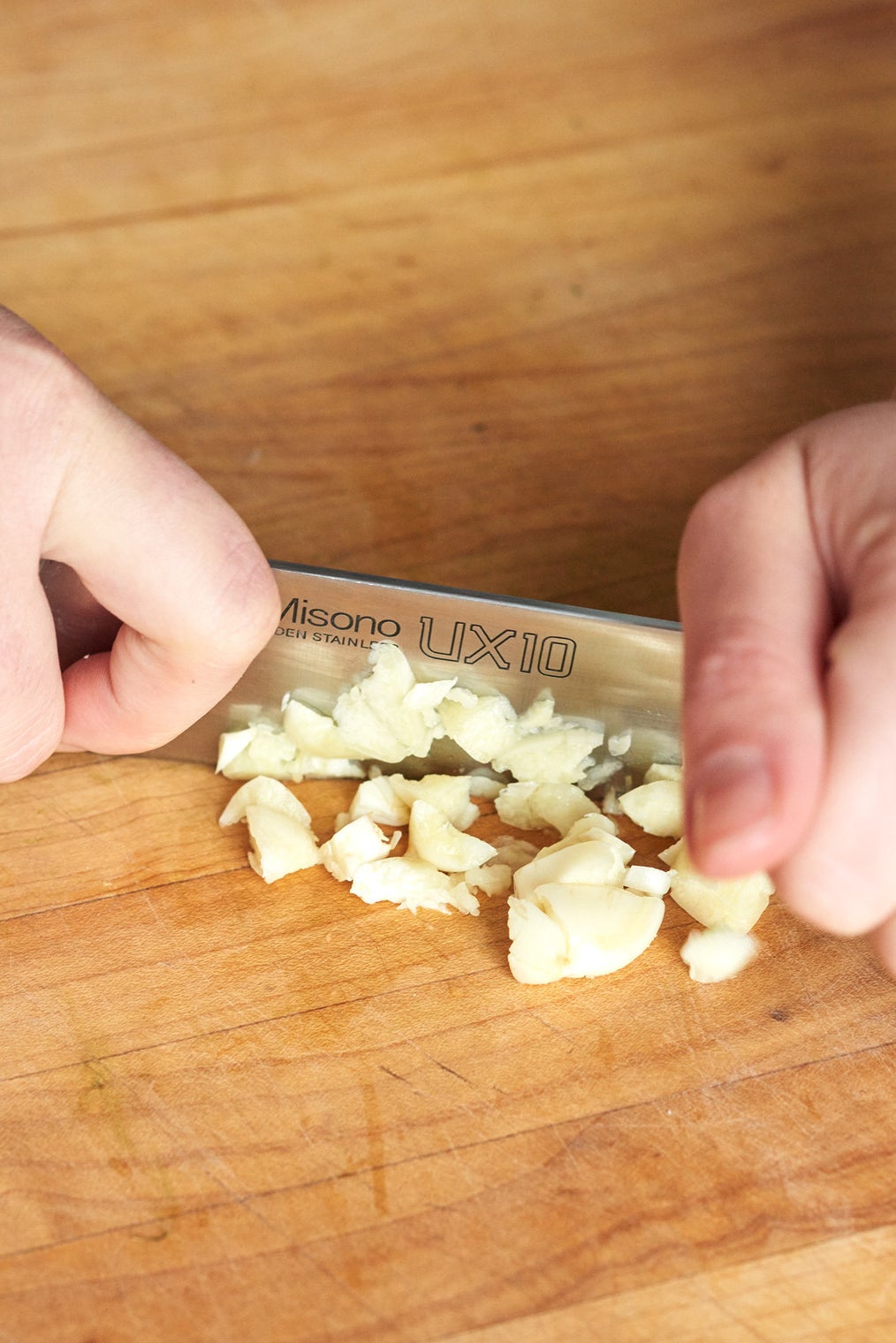 3.
To finely chop the onion, halve it lengthwise through the root end. Then lay the onion cut-side down and slice off that root.
4.
Then make 3-4 slits crosswise, and 4-5 cuts lengthwise. When you chop across, you'll have a teeny little pieces of onion.
This sauce doesn't get pureed, so it's important the onion be pretty small.
5.
Next, dump your tomatoes into a large bowl. Then get all "I Love Lucy" on it and crush the hell out of them.
You *could* use a food mill or food processor, but I personally find this process SUPER fun.
6.
They should look pretty pureed, with a few pieces floating around in them.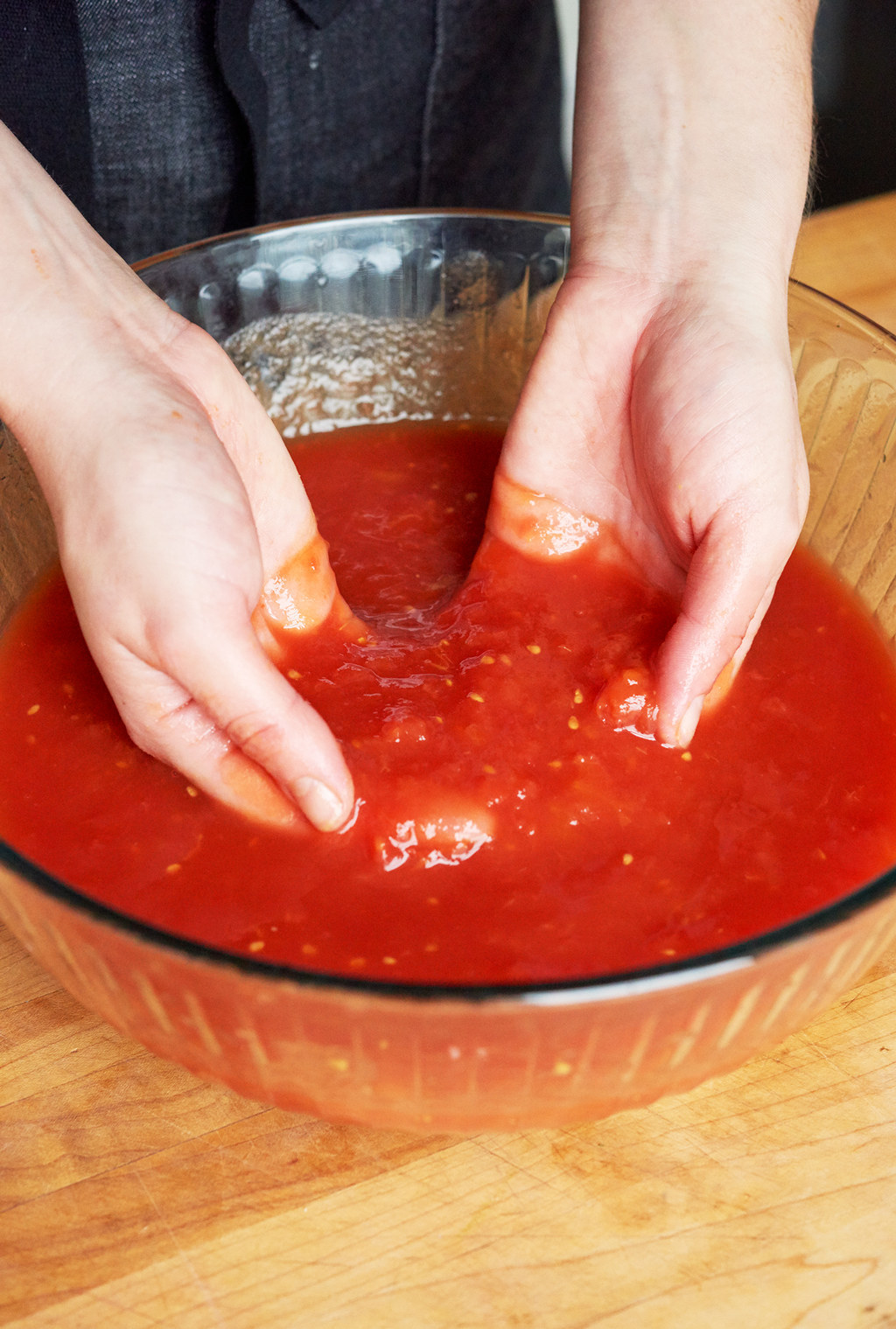 7.
Now heat up the olive oil and butter in a large, heavy-bottomed pot over medium heat. Add the onions and garlic and season them with salt and pepper.
8.
Once the onions are looking nice and softened (but not browned), add the anchovies.
The whole tin (or jar). Just dump it right in!
9.
Once they're added, they'll literally just melt away.
10.
Next, add the crushed red pepper flakes and the tomato paste.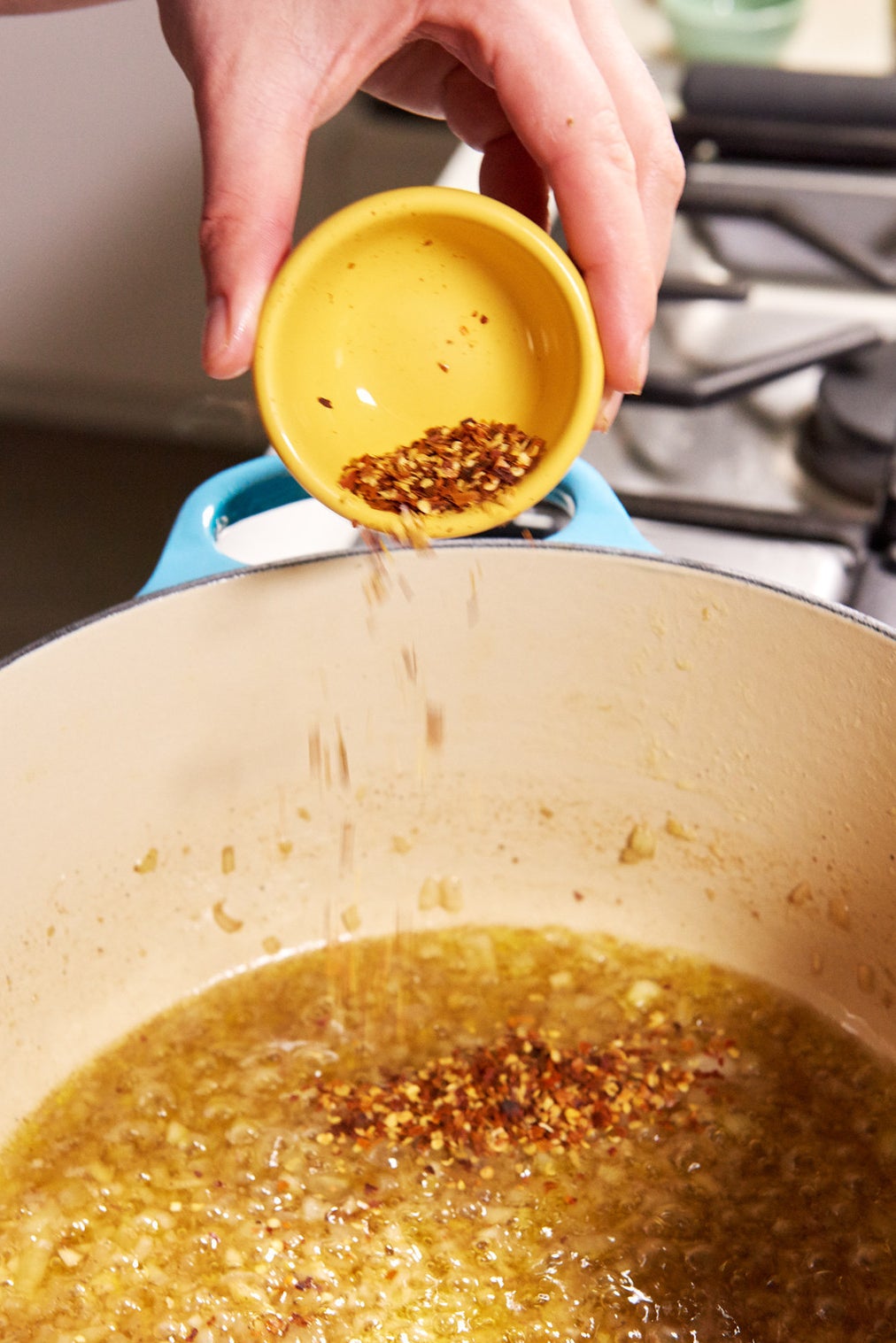 11.
Cook the tomato paste, stirring ~constantly~ for a few minutes until it's bright brick red. The sugars will start to caramelize, which will give your sauce a deep, intense, amazing flavor.
12.
Then add your wine, scraping up any bits that have started to brown along the bottom. And don't forget to pour yourself a glass of wine. You deserve it.
13.
Cook the wine until it's reduced by about half. (This will only take two minutes or so.) Then add the crushed tomatoes.
14.
Fill one of your empty tomato cans with water and add that to your sauce. Then use that can to hold your spoon, so you don't get sauce *everywhere*.
Adding water gives your sauce a chance to cook for a long time, developing flavor, letting everything mingle and get to know each other in that pot. It also keeps it a sauce consistency, rather than turning into a thick ol' paste.
15.
Let this bad boy simmer away on LOW for one and a half to two hours.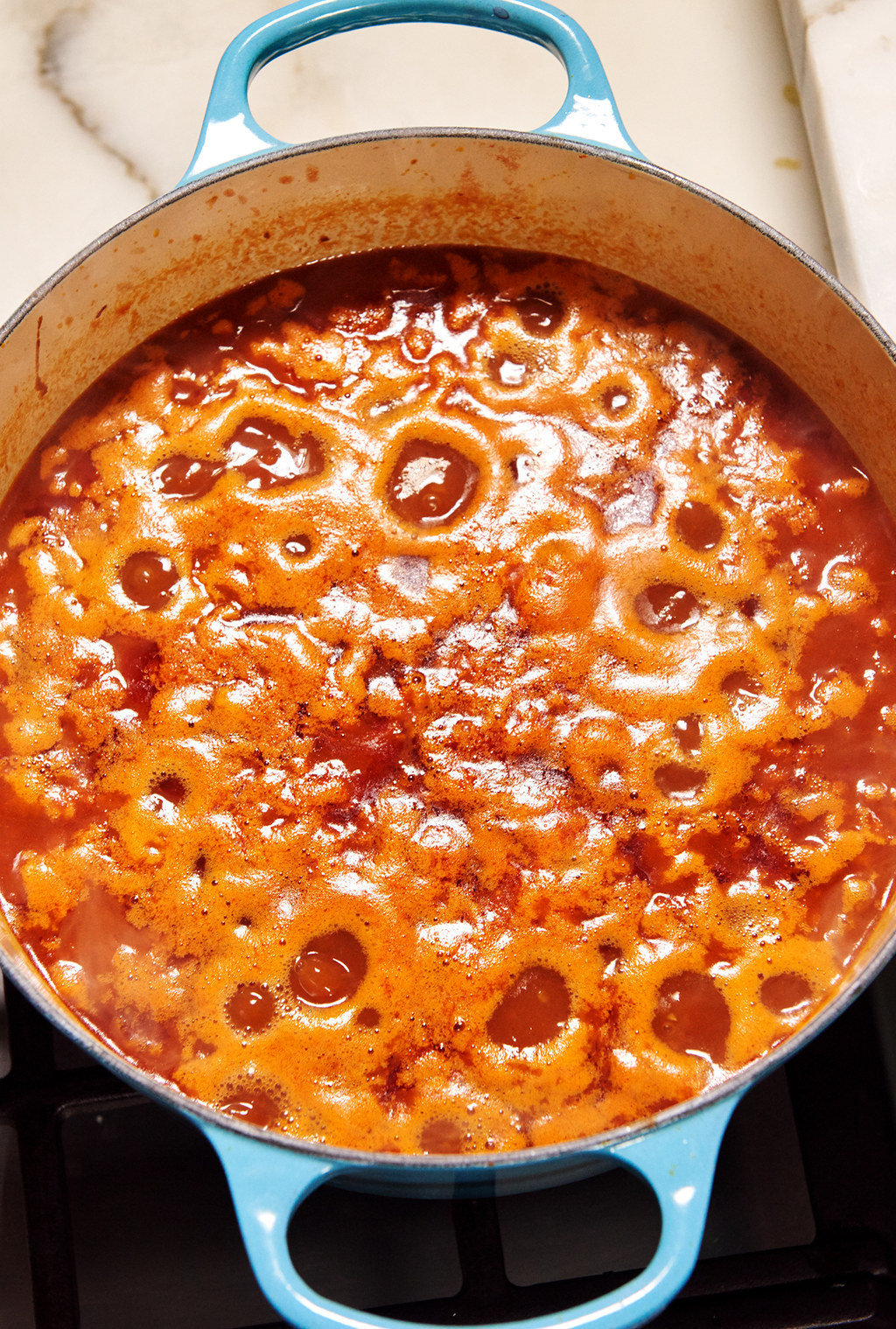 You made sauce! You can freeze or refrigerate this if you're making it ahead, OR proceed with the pasta now. Either way, it freezes great and you should probably have some of this in your freezer at all times.
16.
If you're going ahead with the pasta now, remove 2 cups of sauce from the pot for serving at the table (some like it super saucy), OR for freezing and eating later (!!).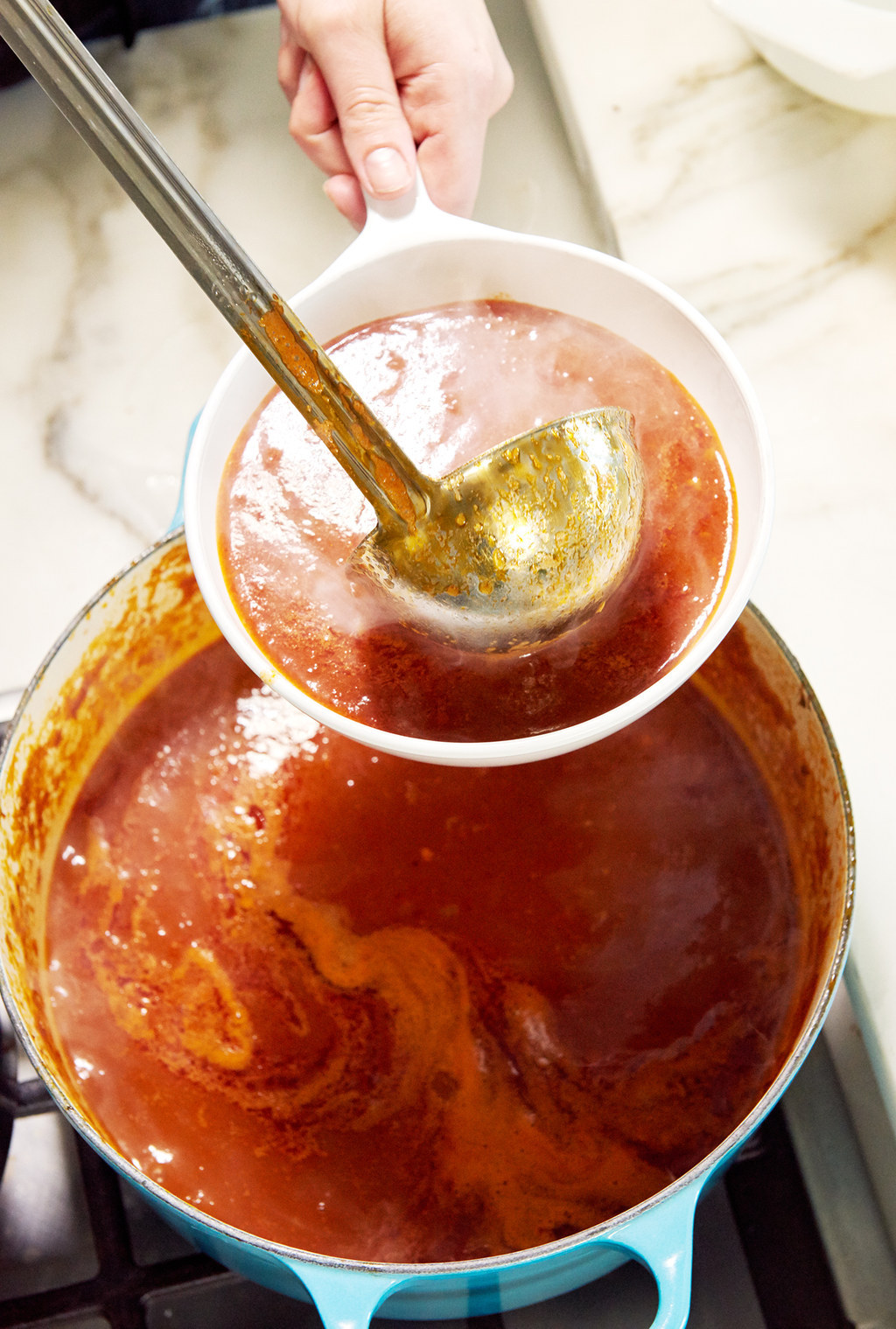 17.
Cook your pasta in a large pot of salted boiling water until it's just cooked (aka "al dente").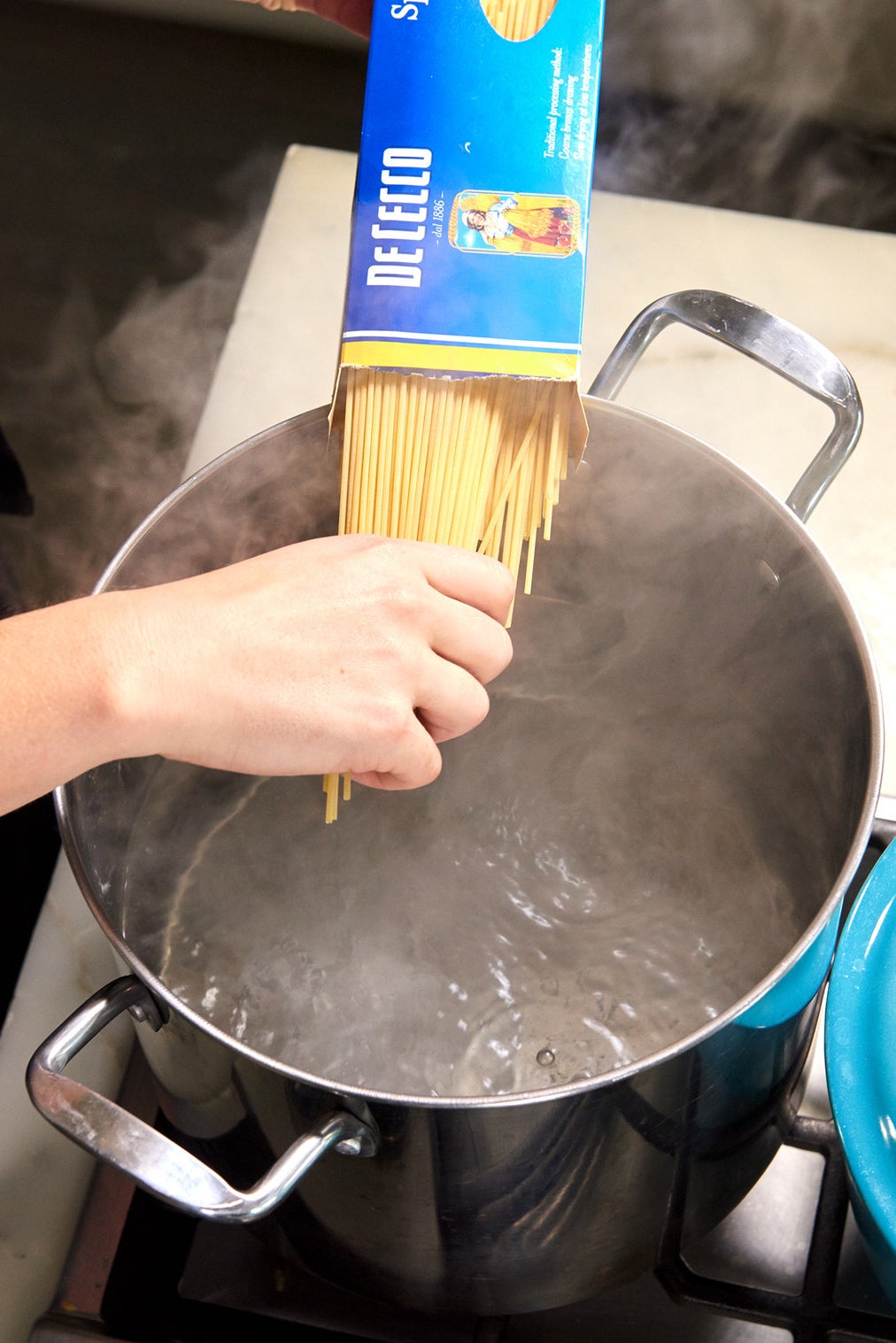 18.
Once your pasta is ready, add the pasta to the sauce. I like to just fish the pasta out of the pot with tongs and put it directly into the sauce.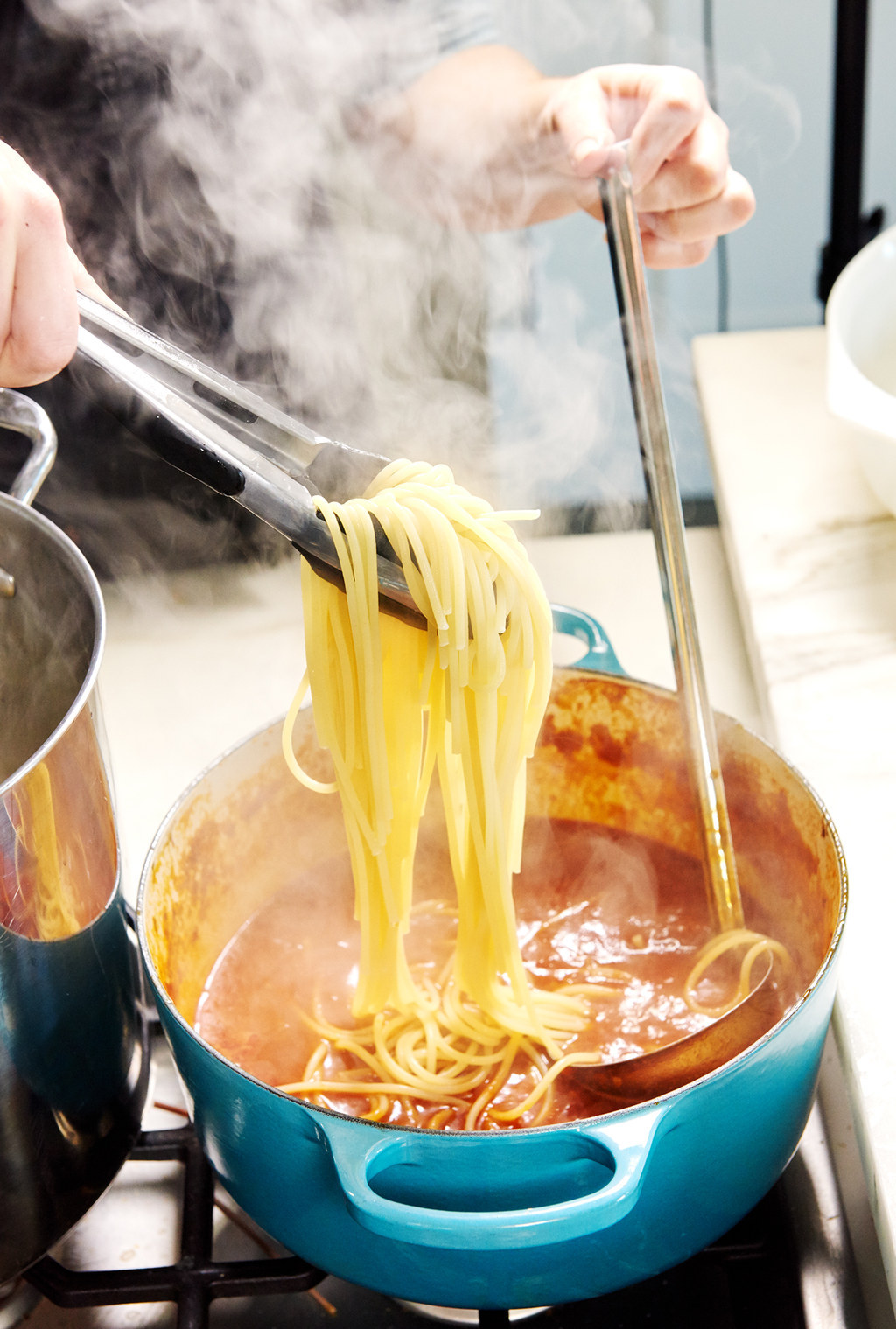 19.
Mix everything together, making sure all the pasta is super evenly coated.
20.
Cook this for a few minutes. This lets the pasta absorb the sauce, which makes it exponentially more delicious.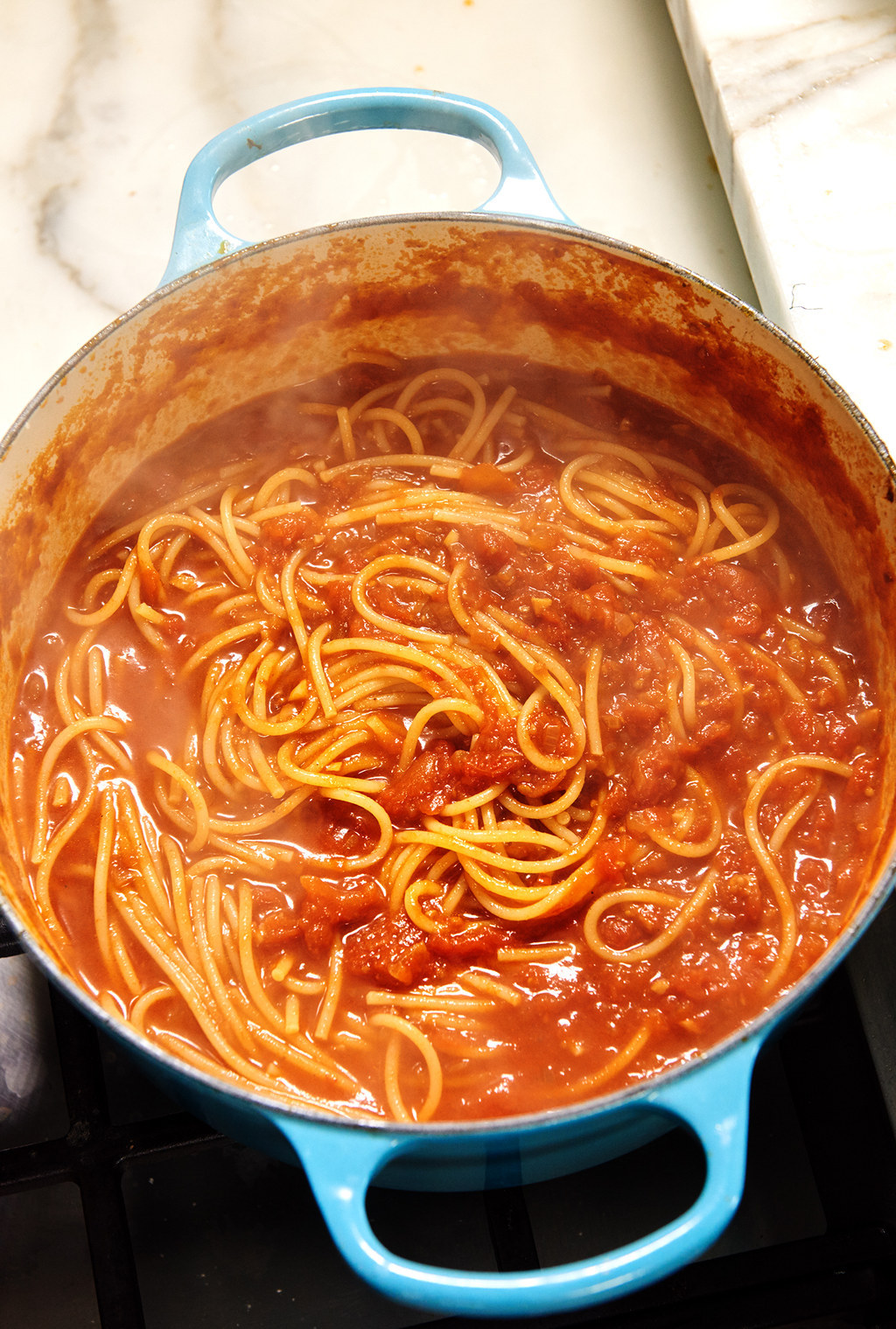 21.
Serve with that extra tomato sauce and LOTS of grated Parmesan cheese.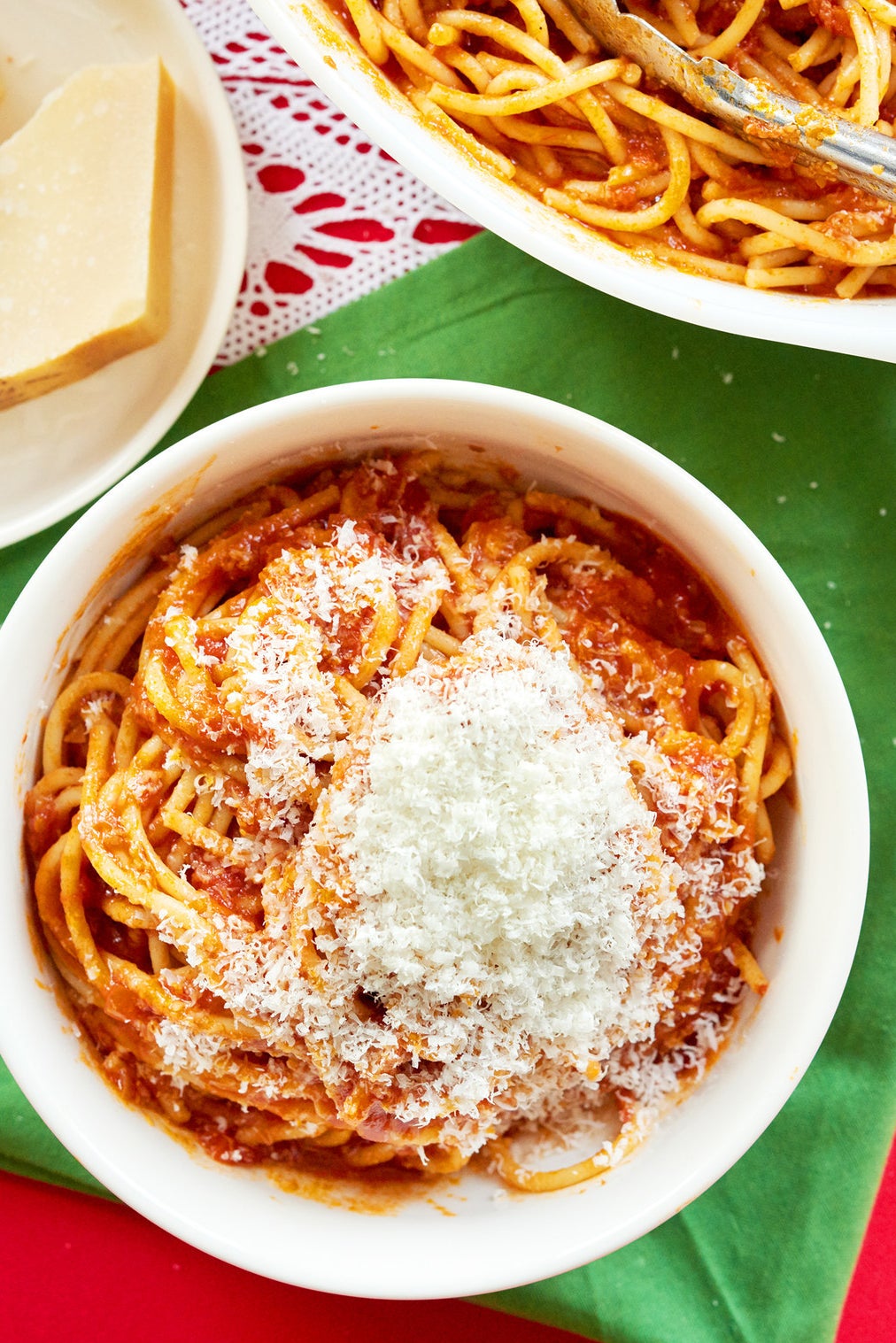 Click HERE for a full Feast of the Seven Fishes menu.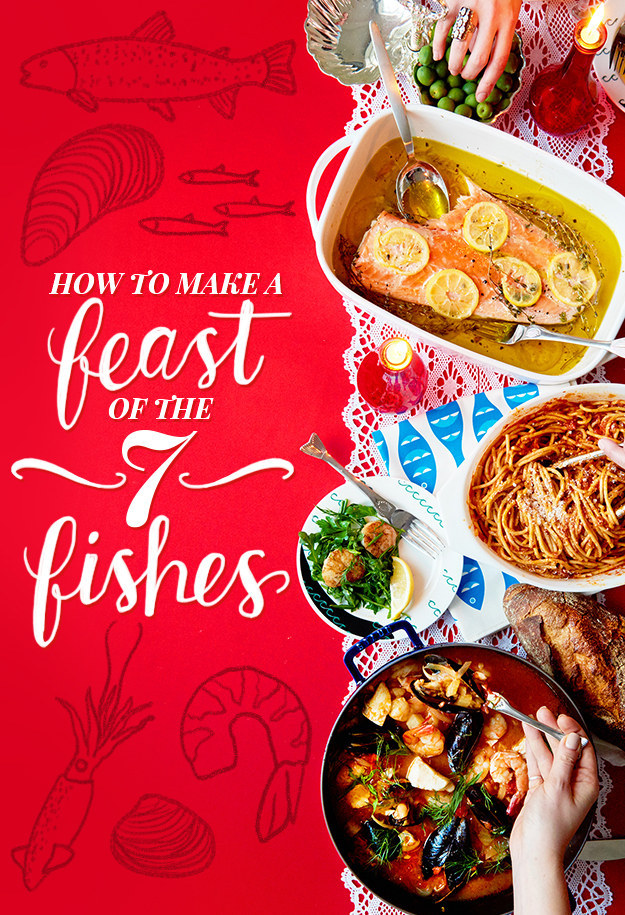 Spaghetti With Anchovy Sauce
By Alison Roman
Serves 8
2 (28 oz.) cans whole San Marzano tomatoes
¼ cup olive oil
2 Tbsp. unsalted butter
8 cloves garlic cloves, finely chopped
1 large onion, finely chopped
Kosher salt and pepper
1 (2–3-oz.) tin or jar of anchovies (size varies)
1 tsp crushed red pepper flakes
½ cup tomato paste
½ cup dry red wine
1 lb. spaghetti, or whatever pasta you like
A hunk of Parmesan, for grating
Put the tomatoes into a deep, large bowl (or a pot, that works too). Using your hands, crush the tomatoes. Like, I mean really crush the shit out of them. You could even put them into a blender or food process, but I personally really enjoy this process. There should be no large pieces remaining, just a coarse tomato puree.
Heat the olive oil and butter in a medium or large pot over medium heat. Add the garlic and onion and season with salt and pepper. Cook, stirring occasionally until the onion is totally softened but not browned, about 10 minutes. This should happen slowly, it's called *sweating* the onion. It allows it to cook through and become super soft without caramelizing.
Add all the anchovies and whatever oil they are packed in. Don't worry about chopping them or anything, they'll literally just dissolve in the oil (so awesome, right?).
Cook these, stirring occasionally, until they've disappeared into the oil, about 2 minutes.
Add the crushed red pepper flakes and give everything a stir, just to kind of toast the pepper flakes.
Add the tomato paste and cook until it turns a dark brick red color, about 4 minutes (this is caramelizing the sugars in the tomato, which will give you really great flavor and take the edge off that raw tomatoey taste).
Add the wine and cook this about a minute, just to burn off that alcohol.
Add the tomatoes, juices and all and stir everything together, making sure to scrape the bottom of the pot to get all those good bits. Fill one of your empty tomato cans with water and add that to your sauce.
Reduce the heat to medium-low and cook the sauce for 1 ½–2 hours. You want a very low simmer: There should just be a few bubbles here and there. You want to cook this sauce really low and slow. If medium-low is too hot (every stove is different), turn the heat down to low. Stir this every 30 minutes or so, but for the most part you can kind of ignore it. Now ladle out about 2 cups of sauce: This is what is known as your "extra sauce." You'll serve it alongside the pasta or freeze it for later.
To serve, cook the spaghetti (or whatever pasta you like) in a large pot of a salted boiling water. Drain the pasta and add it to the sauce. Serve it right out of the pot, or transfer to a serving bowl. Either way, make sure people grate lots of Parmesan on it when they are serving themselves. Serve with the extra sauce alongside.