These Bacon, Sriracha, And Cheese-Stuffed Potatoes Are The Ultimate Dream Snack
Slightly spicy, but still great for kids. For more delicious Sriracha and cheese snacks, click here.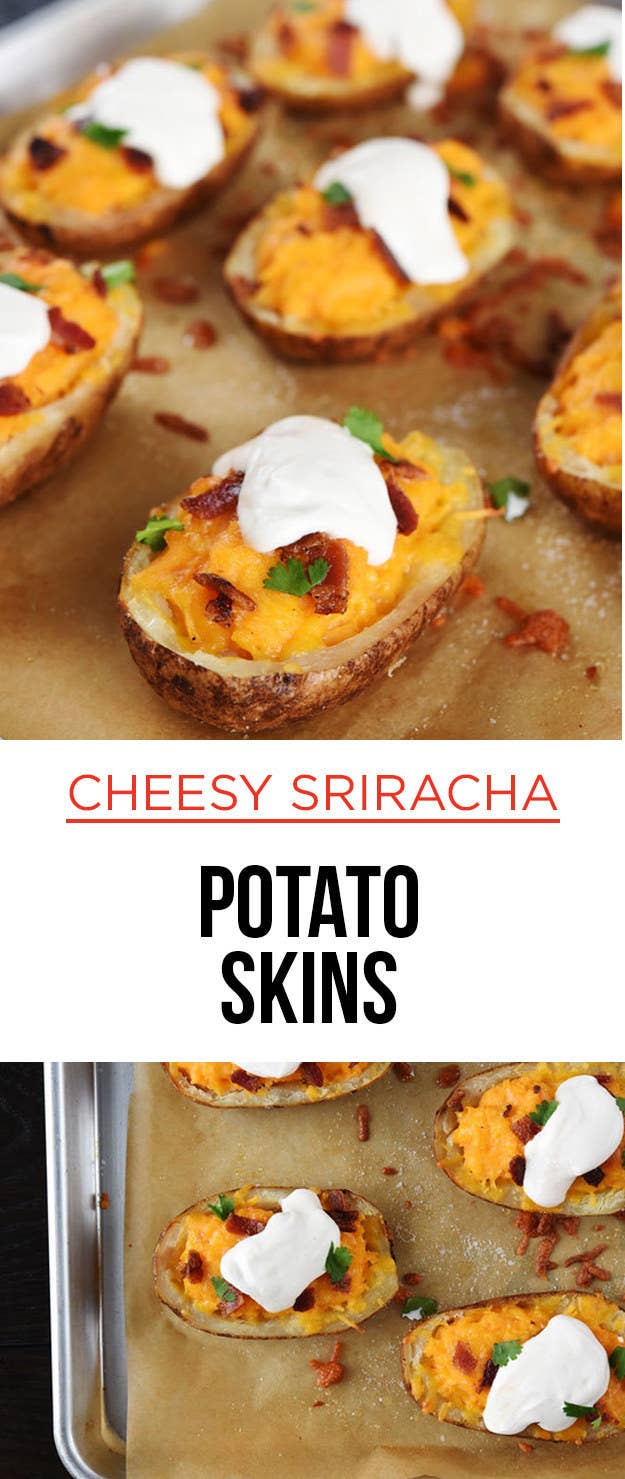 Easy Sriracha Potato Skins
Serves 8
INGREDIENTS
4 medium russet potatoes
2 tablespoons canola oil
½ cup sour cream
¼ cup Sriracha
1 cup cheddar cheese, divided
4 slices bacon, cooked and chopped
2 tablespoons cilantro leaves, for garnish
½ cup sour cream, for garnish
PREPARATION
1. Preheat oven to 400℉ and line a large rimmed baking sheet with parchment paper. Rinse, scrub and dry the potatoes, then rub them with the canola oil and sprinkle them with salt. Bake the potatoes until they're cooked through and the skin is crisp, about 50 minutes. When the potatoes are cooked, let them sit just until they're cool enough to handle.
2. Cut the potatoes in half lengthwise, then use a spoon to scoop out the cooked insides, leaving about ½-inch of flesh on each skin. Line the potato skins up on the baking sheet.
3. Put the scooped-out insides in a medium mixing bowl with the sour cream, Sriracha, sour cream, and half the cheese. Season the mixture with salt and pepper, then use a wooden spoon or potato masher to mash the potatoes and mix everything together until it's combined.
4. Scoop the mashed potato filling into the potato skins, then garnish with the remaining cheddar cheese and cooked bacon. Bake the stuffed potato skins in the oven until the skins are crispy, the filling is hot, and the cheese is melted, 10-12 minutes.
5. Serve immediately, with a dollop of sour cream on each potato skin. Garnish with cilantro leaves.