How To Make Spaghetti With Broccoli Pistachio Pesto
Nothing like a plate full of green to break you out of a pasta rut. Check out more easy spaghetti dinners here.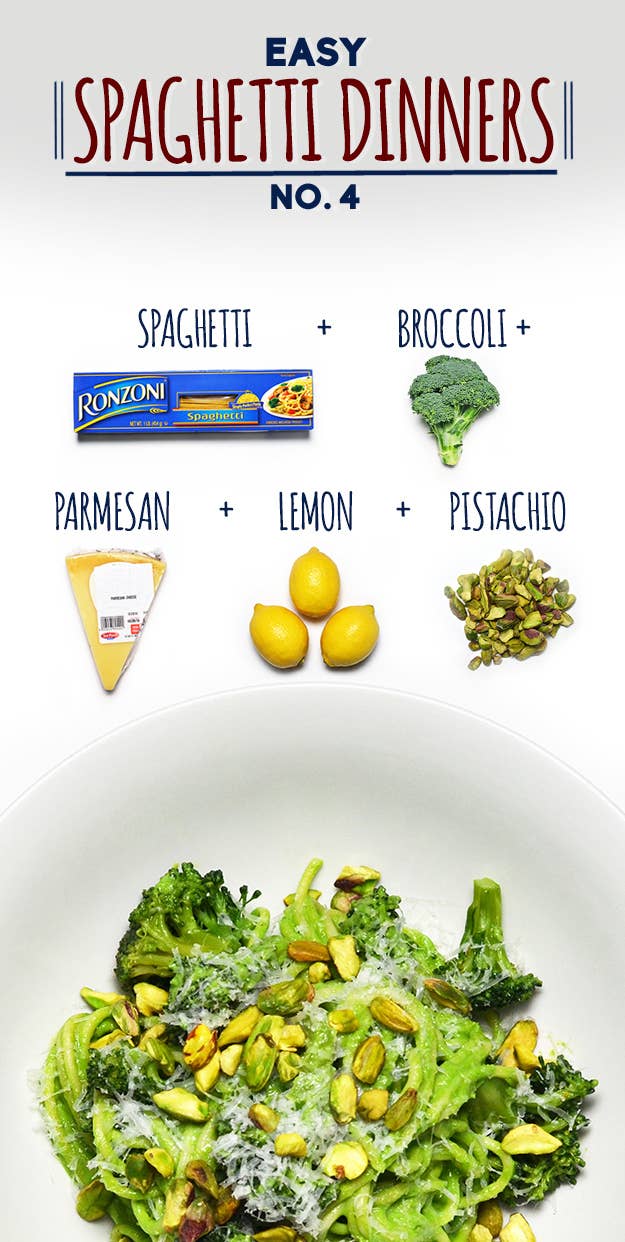 Spaghetti with Broccoli Pistachio Pesto
Serves 4
Recipe by Rebekah Peppler
INGREDIENTS
1 lb spaghetti
4 cups raw broccoli florets
2 tablespoons olive oil
3/4 cup grated parmesan, divided
3/4 cup raw, shelled pistachios, divided
zest and juice of 1 lemon
kosher salt and freshly ground pepper, to taste
PREPARATION
Cook spaghetti according to package directions, until al dente. Drain through a colander, reserving about a cup of the pasta water.
In a large sauté pan with a lid, add enough water to come 1/2-inch up the side. Bring the water to a boil, then reduce to a simmer. Add broccoli florets, cover the pan and steam until al dente (about 4 minutes), then drain.
Set aside half of the cooked broccoli in a large mixing bowl, and transfer the other half to a blender along with olive oil, 1/2 cup parmesan, 1/2 cup pistachios, and the zest and juice of 1 lemon. Season with salt and pepper, and blend until a smooth sauce forms, adding up to 1/2 cup of water if the mixture is too thick to blend.
To the large mixing bowl with the cooked broccoli florets, add cooked spaghetti and broccoli pesto. Toss everything together until the spaghetti is coated.
To serve, top with the remaining 1/4 cup parmesan and 1/4 cup pistachios.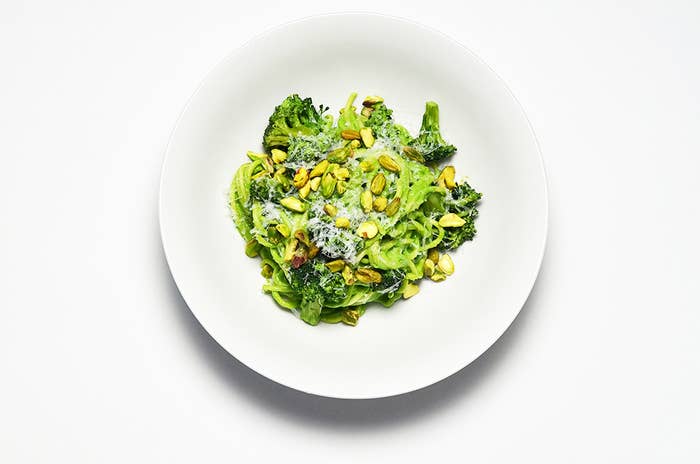 For this recipe, you'll need a large sauté pan with a lid and a large pot to cook the pasta.