How To Make The World's Best Hot Chocolate
The secret is to use really great chocolate, and not much else.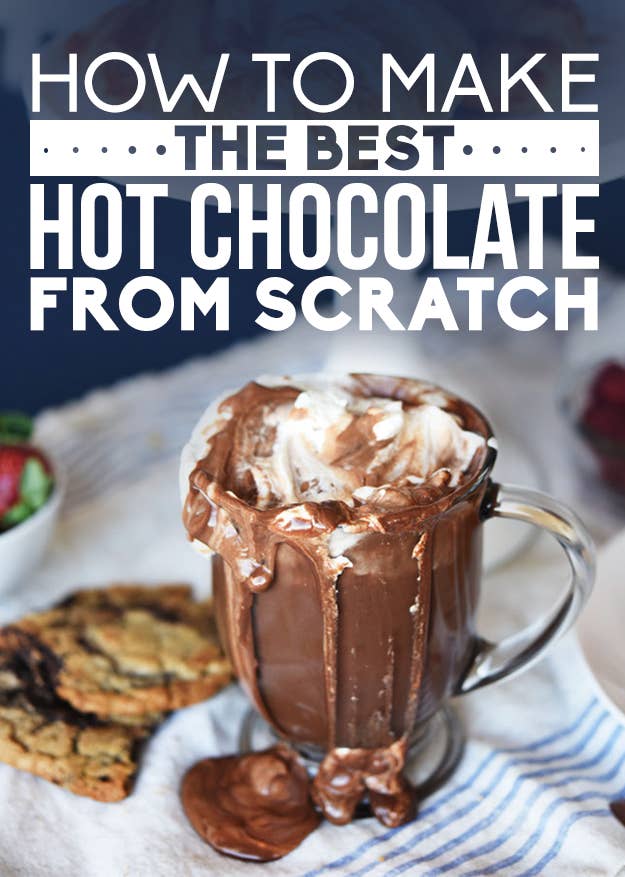 If anyone knows how to make life-changing hot chocolate, it's master pastry chef Jacques Torres.
James Beard award-winning pastry chef Jacques Torres is so committed to using only the highest-quality chocolate that in 2000 he left the restaurant world to open his own chocolate factory in Brooklyn. Today he has two factories and eight stores where he sells his assorted chocolates, peppermint barks, hot fudge sauce, and other treats. Torres attributes the rich flavor and smooth texture of his chocolate to traditional European production methods, particularly a long conching process. (Conching is when ground cacao nibs are churned with sugar and cocoa butter to balance and intensify flavor. Torres conches his chocolate for up to 72 hours and says many producers only conche for six hours.)
When it comes to hot chocolate, Torres is adamant about using 60-70% dark chocolate of the best quality — all he adds to that is milk, and if you have it, milk powder and cornstarch. "The milk powder and the starch is not necessary but it's a plus," he says. "You get a more velvety and richer drink." And the process is equally important: "Most people boil the milk, add the chocolate stir it and serve it. It's not smooth, the flavor is not developed." Instead, he says, you have to boil it two times: Boil the milk then add the chocolate and boil again. And, chef thinks whipped cream on top is a non-negotiable essential — all his stores offer it for free.
Here are the ingredients you will need to make hot chocolate from scratch: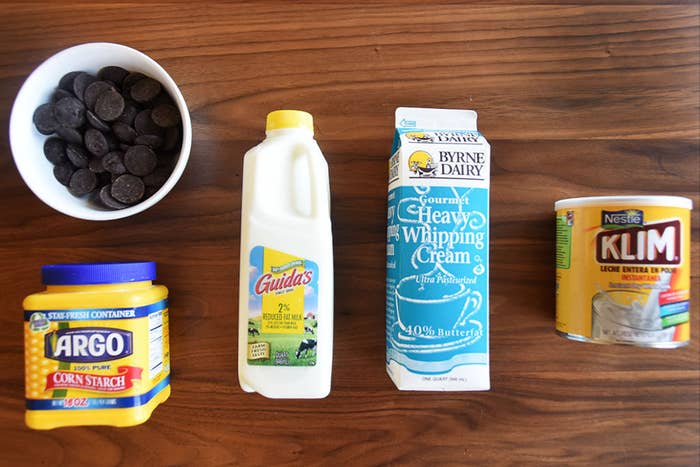 1.
Make the whipped cream topping first: Measure out a cup of heavy cream, pour it into a medium mixing bowl, then put the bowl in the freezer.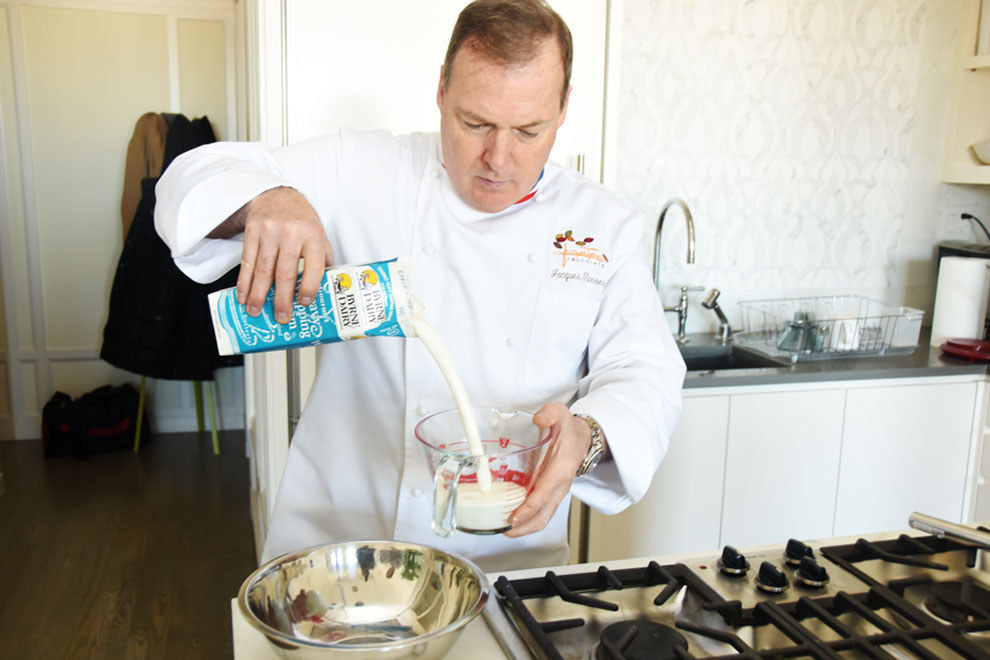 CHEF'S TIP
Before you whip heavy cream, put it AND the bowl you're going to whip it in into the freezer. It will be easier to whip and more delicious.
2.
After 5 minutes, take the bowl out of the freezer and start vigorously whisking the cream with a large whisk.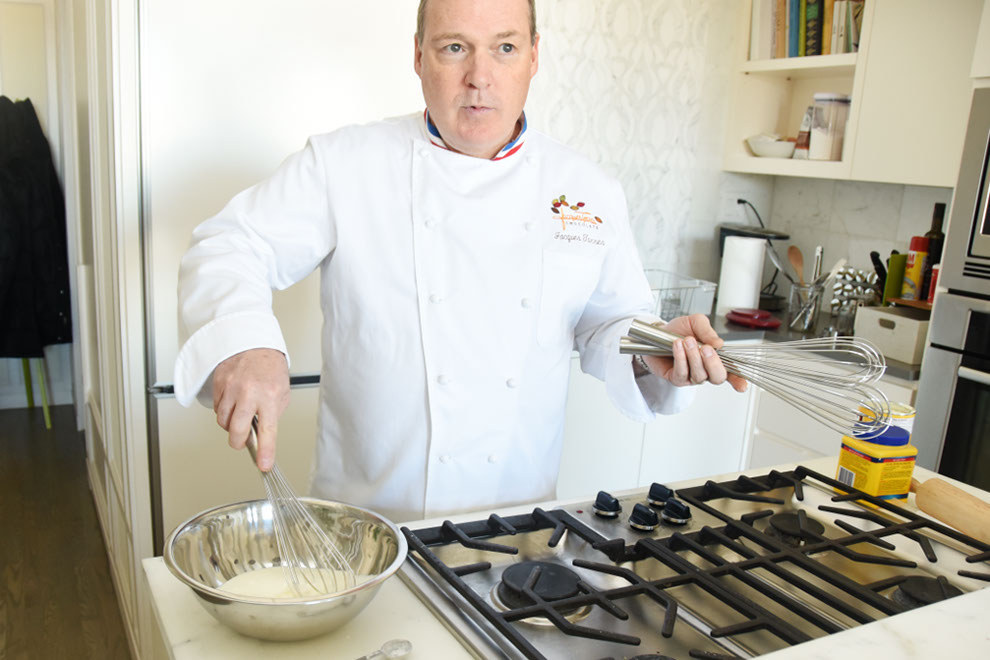 Chef used THREE whisks at once to save time, but using one is just fine.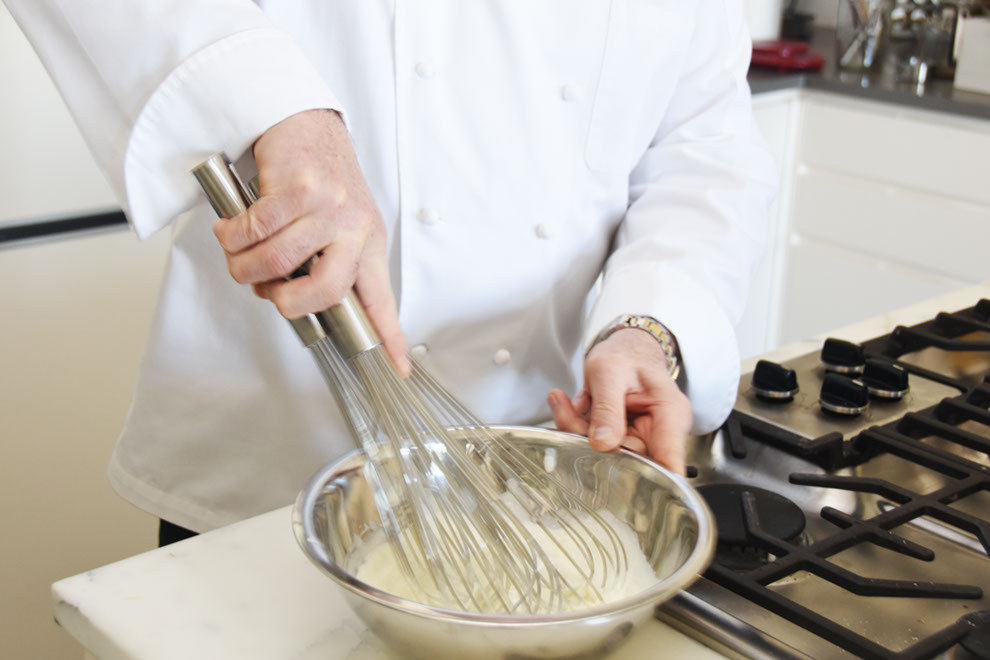 3.
Your cream is done when it holds soft peaks. Chef described its as having the texture of marshmallow fluff.
"Soft peaks" mean that when you take your whisk out, the whipped cream follows and forms a pointed "peak," which then slowly collapses.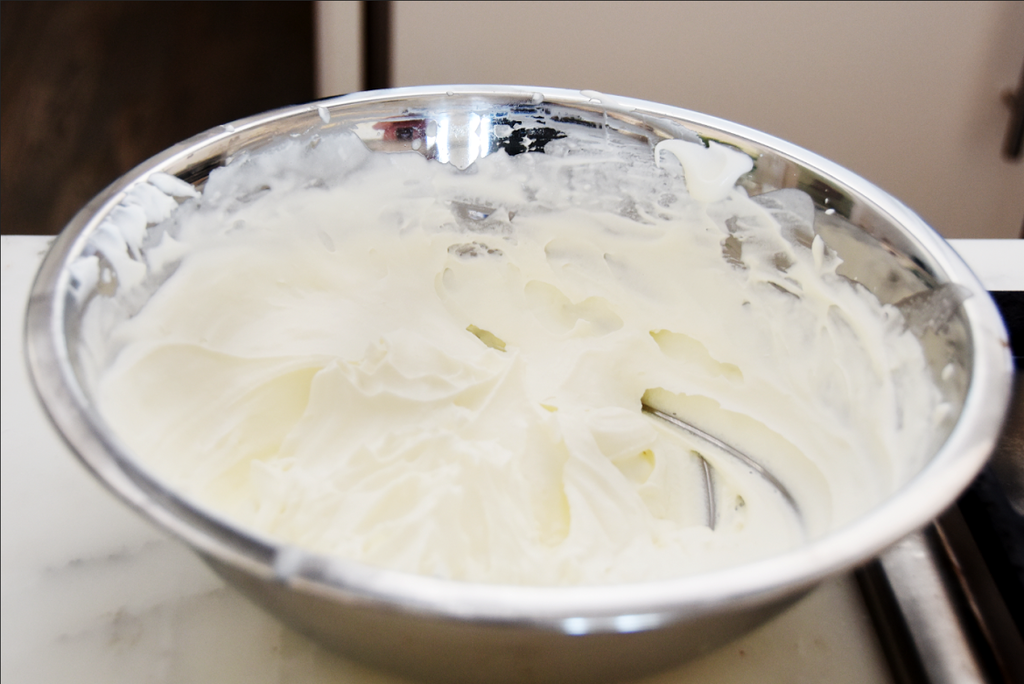 Refrigerate the bowl of whipped cream while you make the hot chocolate.
4.
Bring 2 cups of milk to a boil over medium-high heat. (This will make 4 servings of hot chocolate.)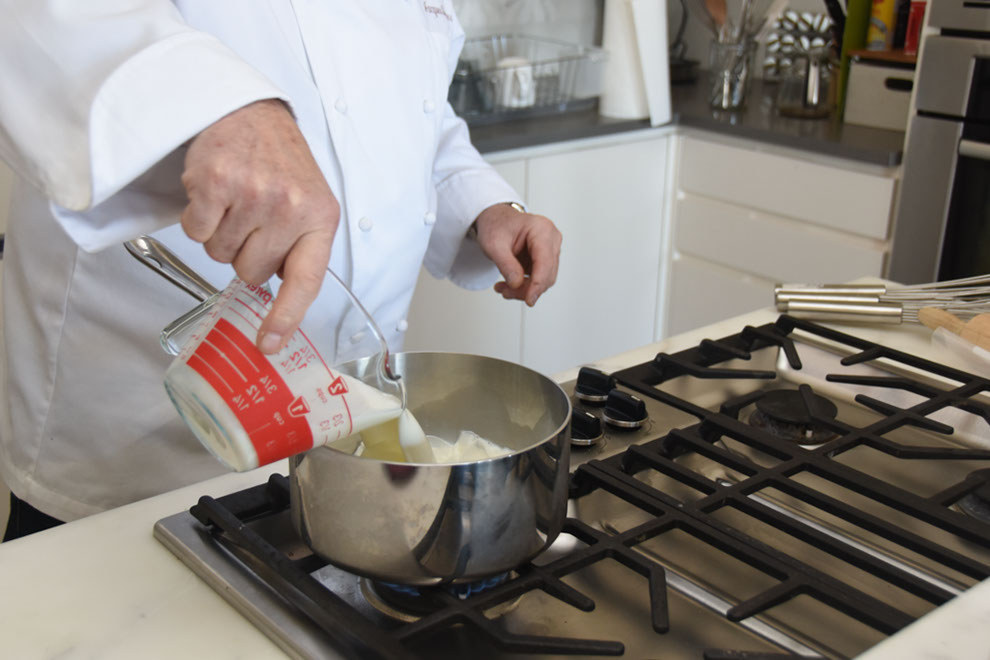 5.
Meanwhile, measure out 50g (about 1/2 cup) milk powder and 3g (about 1 teaspoon) cornstarch.
If you don't have a kitchen scale, the recipe gives approximate measurements for volume. But, volume can vary based on how finely your chocolate is chopped or how aerated your cornstarch and flour is. It is always more accurate to measure your ingredients by weight.
You can buy a basic kitchen scale here for $8.99.
6.
Combine the milk powder and cornstarch in a small bowl, then whisk them together to combine.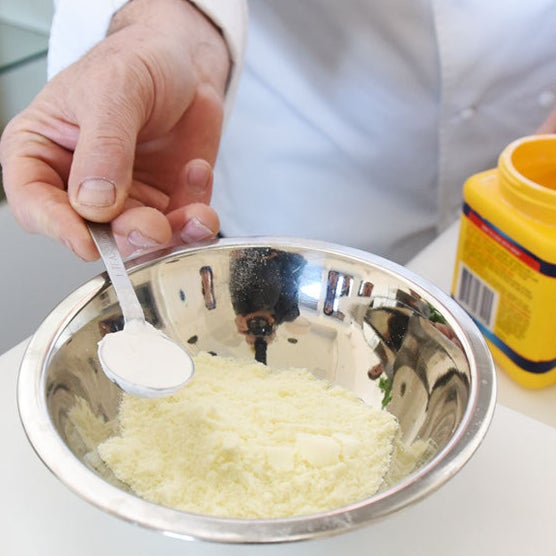 7.
Measure out 150g (about 3/4 cup, coarsely chopped) of 60% dark chocolate chips or chopped chocolate from a bar.
8.
By now, your milk should be boiling. Whisk it and turn the heat down to medium, to prevent it from bubbling over.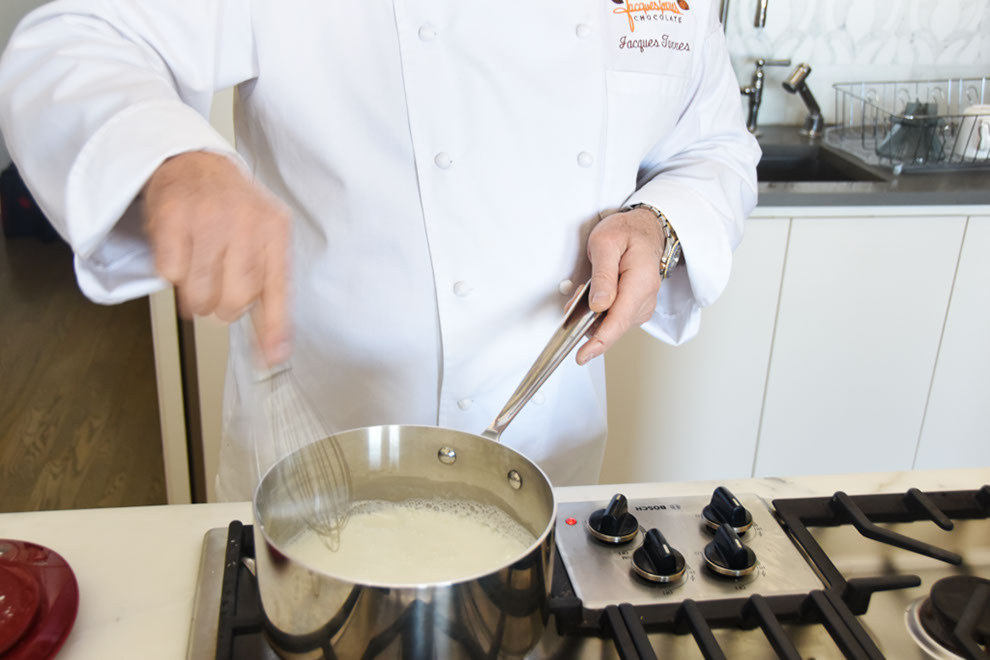 9.
Add the chocolate all at once, whisking as you do it.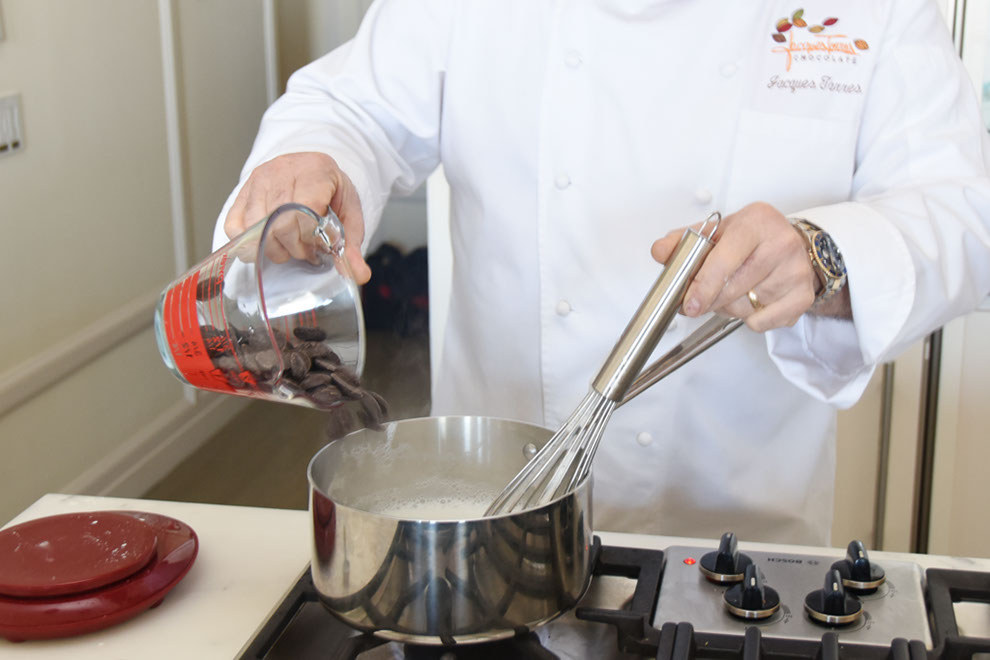 10.
Keep whisking! As the chocolate melts, add the cornstarch/milk powder mixture, still whisking.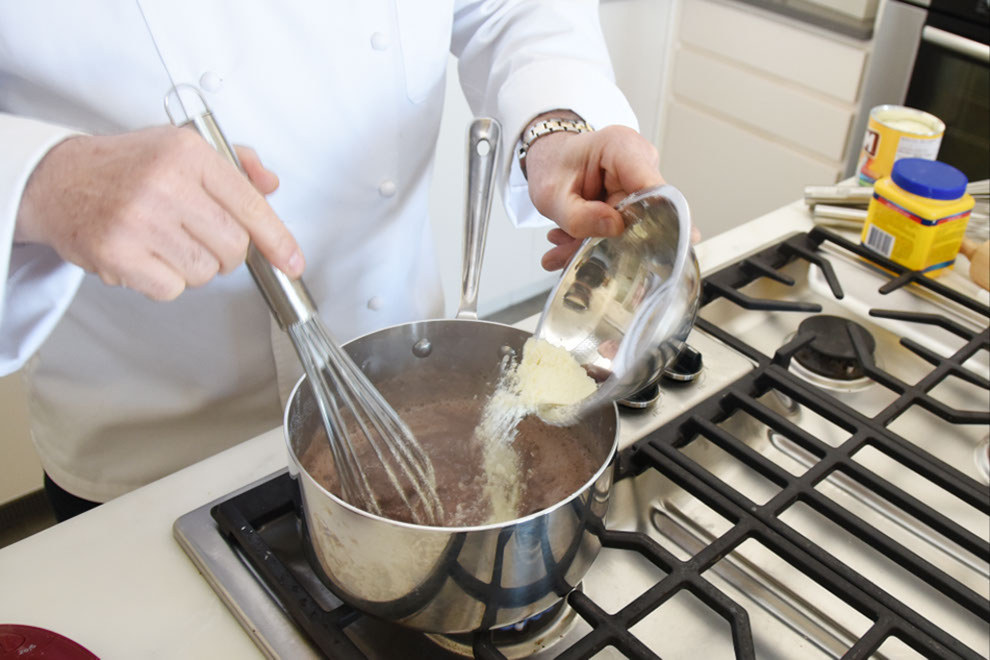 11.
Once the cornstarch and milk powder have dissolved and the chocolate is entirely melted, your hot chocolate will look AWESOME but you're not done yet...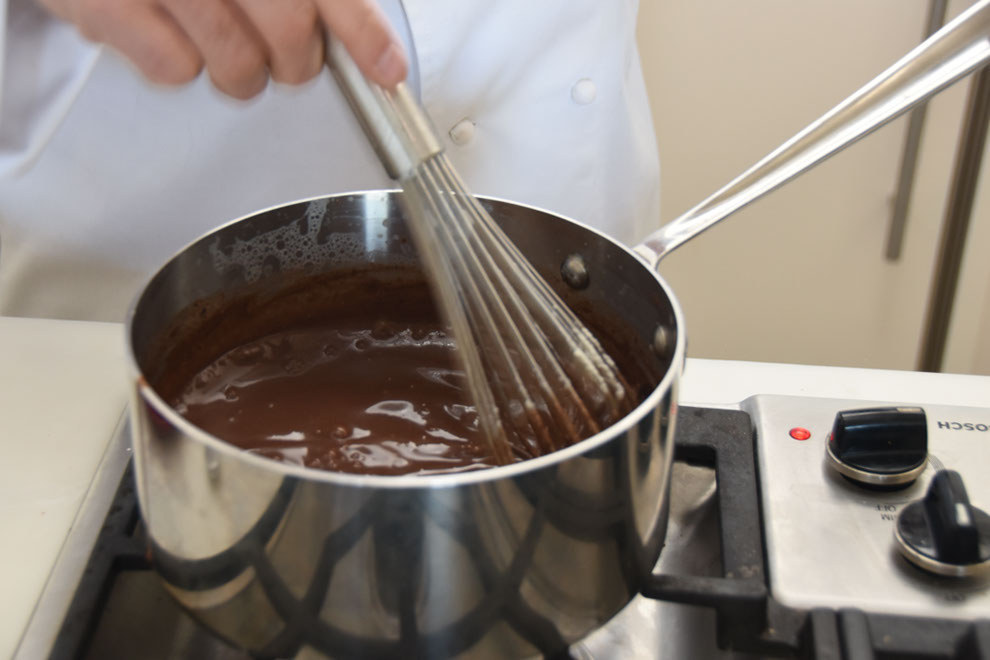 12.
Bring the hot chocolate to a boil. This makes for super velvety, flavorful hot chocolate. Turn off the heat as soon as it starts bubbling so that it doesn't thicken too much.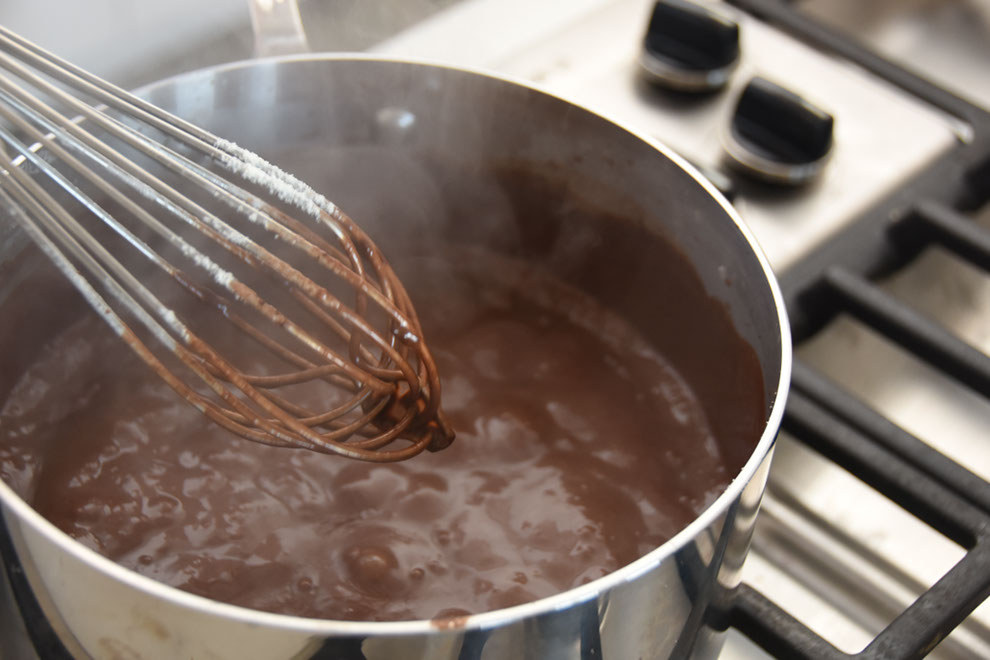 CHEF'S TIP:
"You have to boil it twice. First you have to boil the milk, then boil the hot chocolate together. If you only boil it one time, it's not smooth and the flavor is not developed."
Chef likes his hot chocolate nappant, meaning thick enough that you can run your finger through it on the back of a spoon and the hot chocolate won't bleed back into the trail of your finger.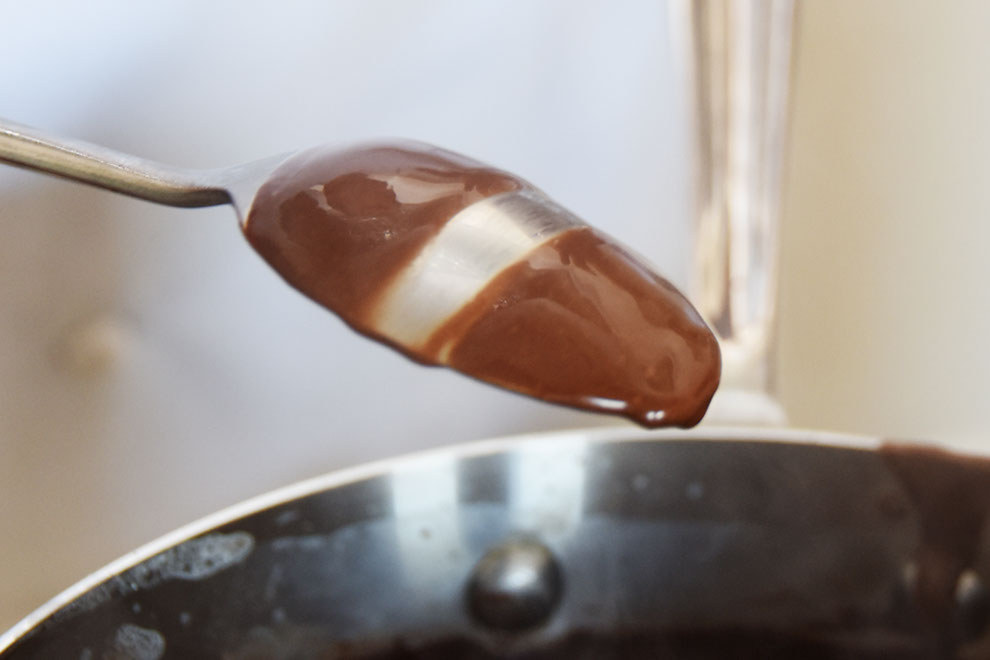 NOTE: This hot chocolate is VERY rich. If you want thinner hot chocolate, start with 3 cups of milk instead of 2 cups.
13.
Pour the hot chocolate immediately into four serving glasses.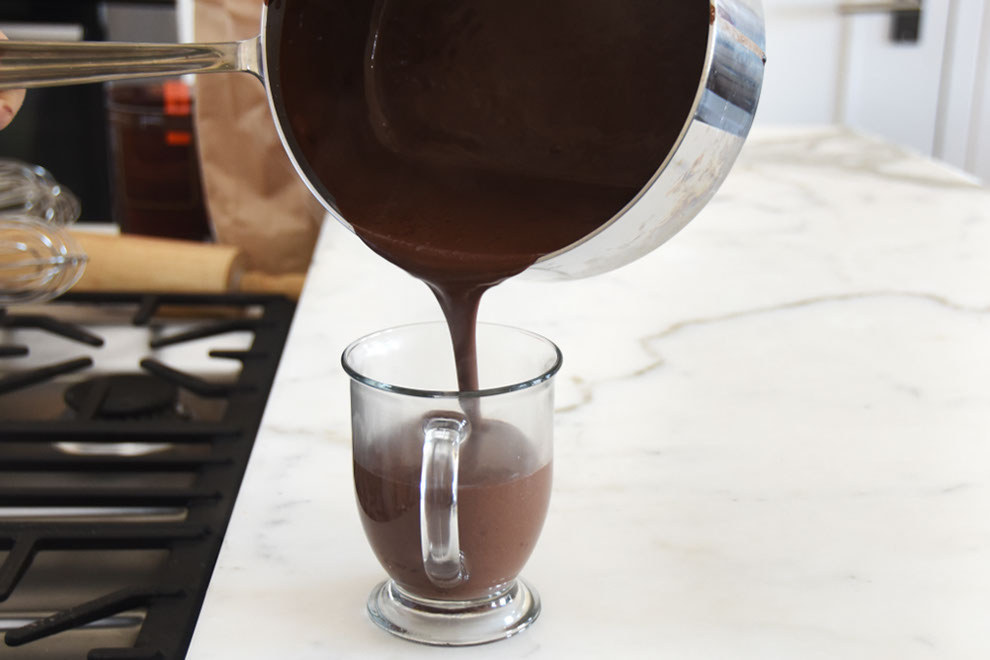 14.
Garnish each with a large spoonful of whipped cream.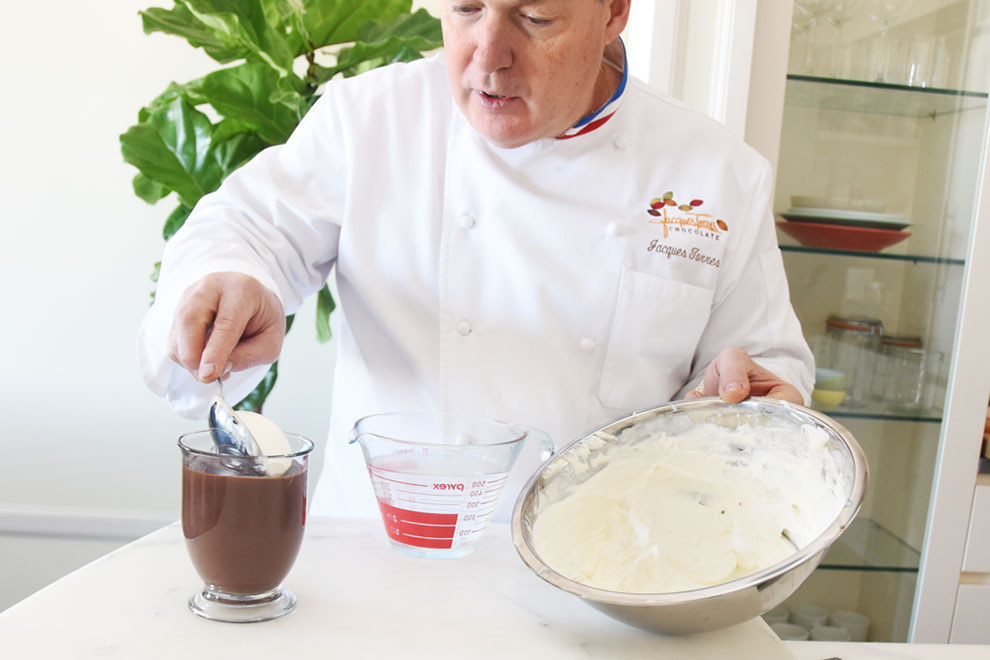 OK, chef didn't just dollop the whipped cream on top, he made a fancy quenelle. Because he is an award-winning pastry chef, he made it look very easy.
It's actually not very easy, but if you're feeling ambitious, here's how to make a quenelle: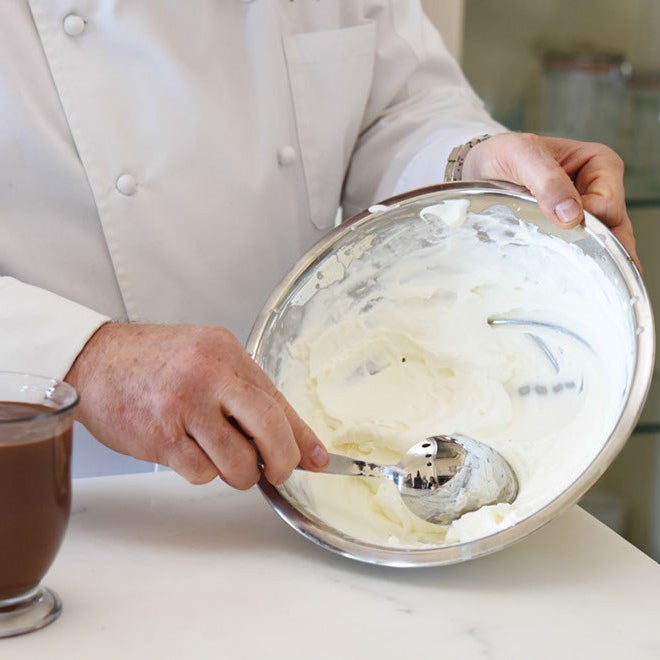 First, run a spoon under hot water so that the spoon is warm, then dry it thoroughly. Then, to make your quenelle:
1. Tilt the bowl of whipped cream away from you, and place your spoon on the bottom side of the bowl, pointing towards you.
2. Drag the spoon up through the cream, towards yourself. The cream will roll over the surface of your spoon, creating a smooth, football shaped spoonful of cream.
3. Pick the spoon up out of the cream, and gently spoon the quenelle onto the hot chocolate.
PERFECT.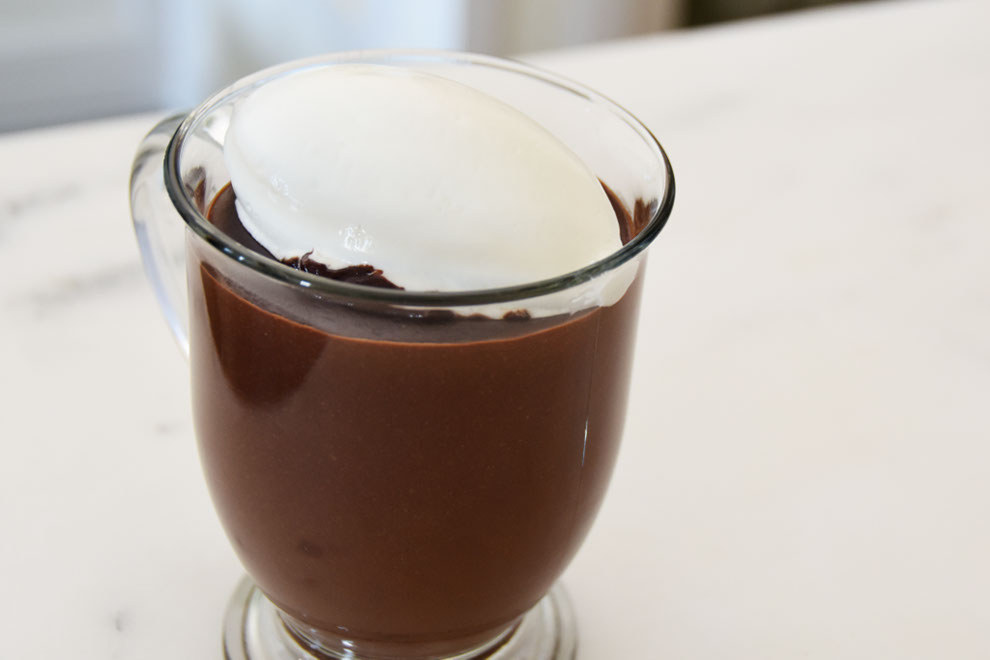 Serve the hot chocolate immediately.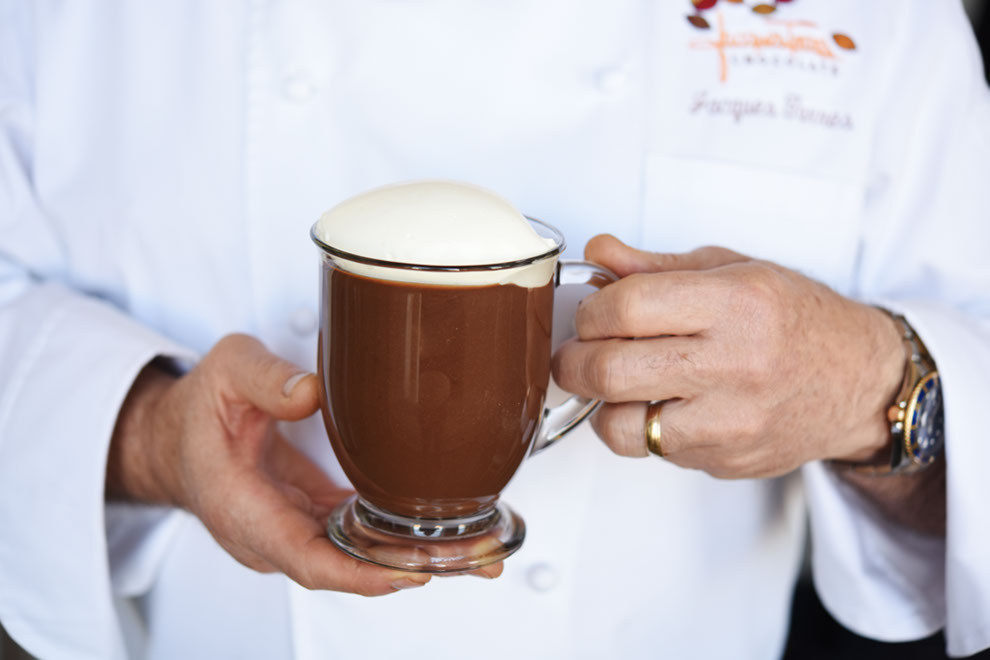 And don't stress about that quenelle. Just spoon the whipped cream on however you like...
...because the end result will be a delicious mess of chocolate and cream, no matter what.
Jacques Torres' Famous Hot Chocolate with Whipped Cream
Makes 4 3/4-cup servings
INGREDIENTS
For the whipped cream:
1 cup heavy cream, chilled
For the hot chocolate:
2 cups whole milk*
50g (about 1/2 cup) milk powder
3g (about 1 teaspoon) cornstarch
150g (about 1 cup 60% dark chocolate, in disks or coarsely chopped
*Note: This hot chocolate is very rich. If you like it slightly thinner, use 3 cups of milk.
PROCEDURE
For the whipped cream:
Pour the heavy cream into a medium mixing bowl and put it in the freezer for 5 minutes (If you don't have room for the bowl, just put the heavy cream in the freezer.)
Take the mixing bowl of whipped cream out of the freezer and whisk with a large whisk until soft peaks form.
For the hot chocolate:
Bring milk to a boil in a medium sauce pot over medium-high heat. Lower the heat to medium then add the chocolate, whisking vigorously until the chocolate is completely melted. Add the milk powder and cornstarch, still whisking, until everything is dissolved and the mixture is smooth and thick.
To serve, divide the hot chocolate among four mugs or glasses, then garnish each with a large dollop of whipped cream.
Want amazing recipes in your inbox twice a week? Sign up for the BuzzFeed Food newsletter!