Here's How Jamie Oliver Turns A Healthy Smoothie Into Pancakes
The world's most charming chef cooking the world's most charming breakfast.

Jamie Oliver wants to change the world by teaching people to make healthier food.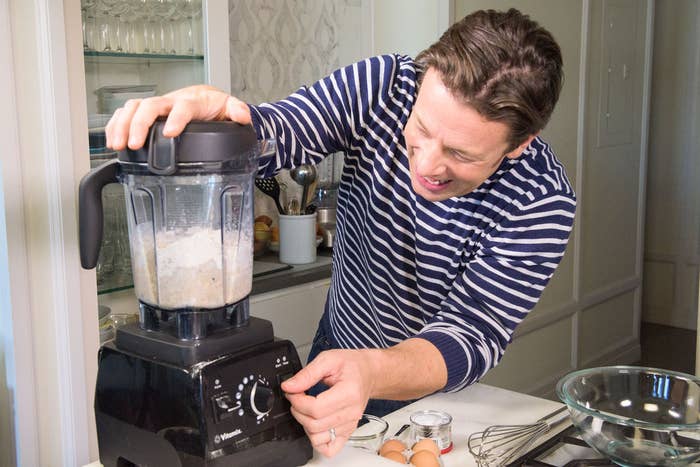 So he came to the BuzzFeed Test Kitchen to show us how to turn a healthy smoothie into even healthier pancakes!
"The idea is to take something that already has so much goodness (a smoothie) but isn't exactly balanced, add what's missing, and all of a sudden it's a perfect breakfast," Oliver says.
Here is everything you need to make the smoothie pancakes:
And here's exactly what to do:
1.
Add the blueberries and the peeled banana to a blender.
Breaking the banana into chunks will make for easier blending.
2.
Add the milk, egg, whole wheat flour, and baking powder, too.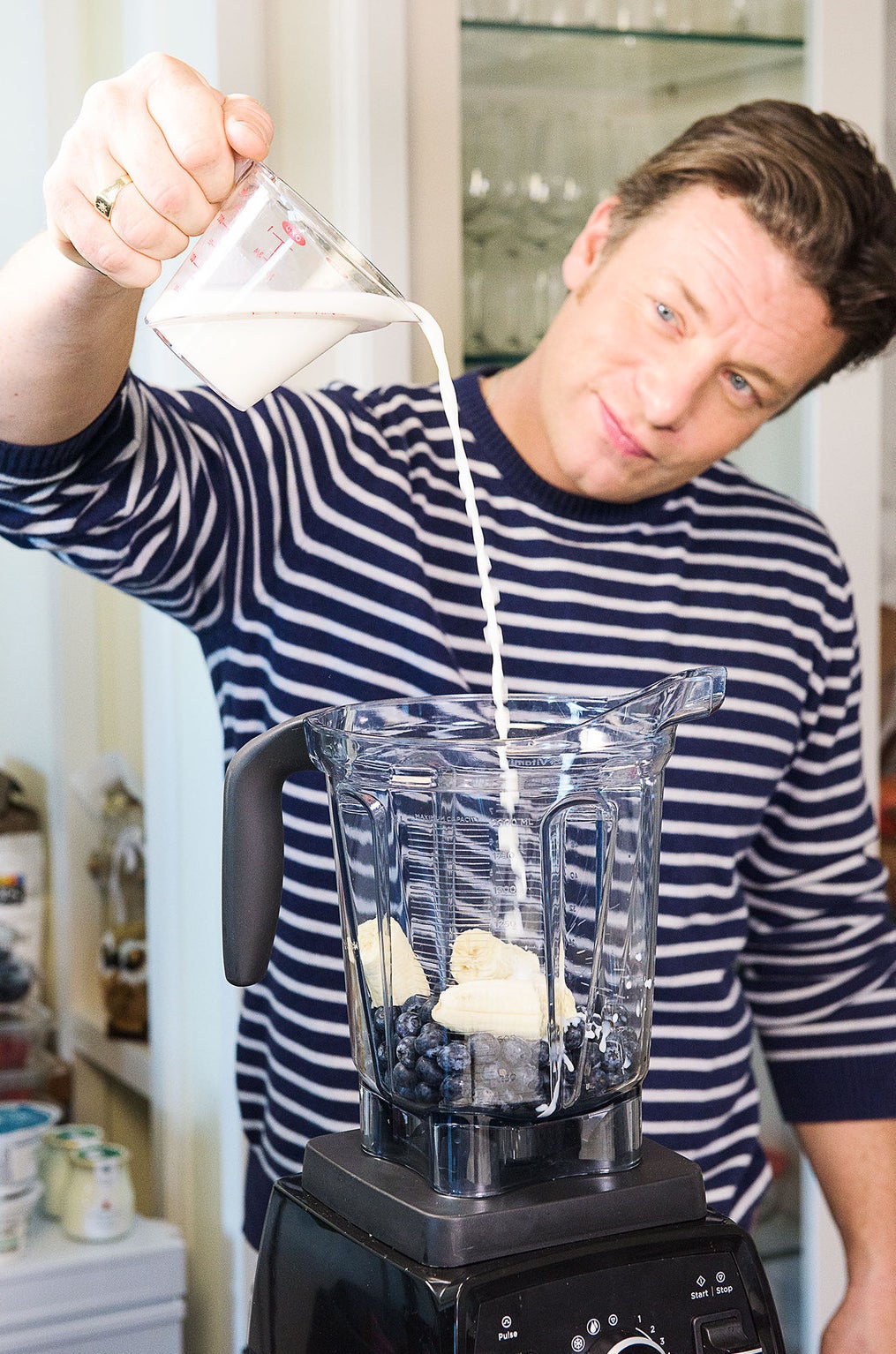 The recipe in Everyday Super Food actually calls for whole wheat self-rising flour, but that's not widely available in the United States. If you ever come across self-rising flour in a recipe and don't have it on hand, you can just add a teaspoon of baking powder for every cup of all-purpose flour.
3.
Blend on high (or "blitz," as Jamie says).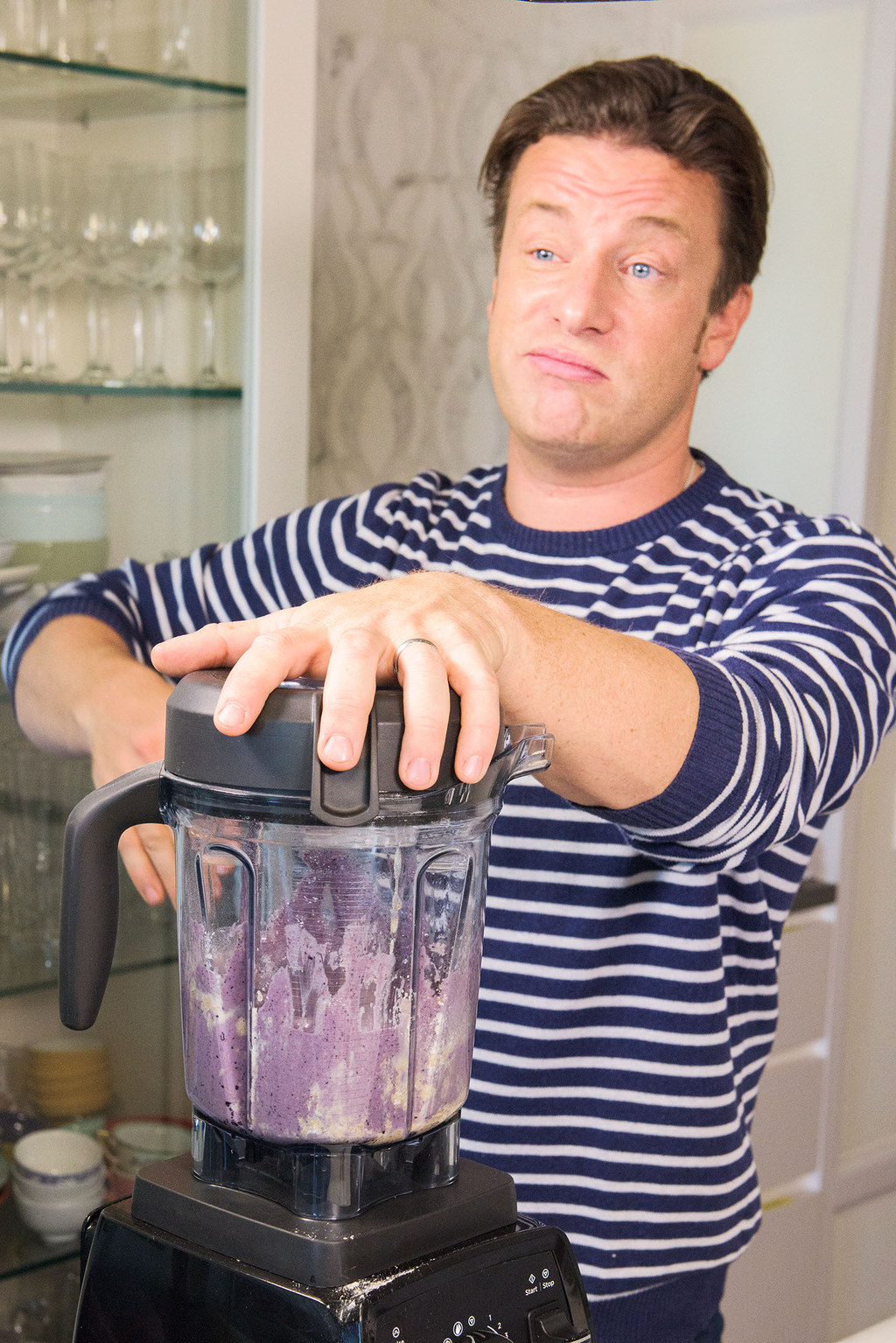 4.
Until the mixture is a smooth, uniform batter. Then transfer it to a bowl.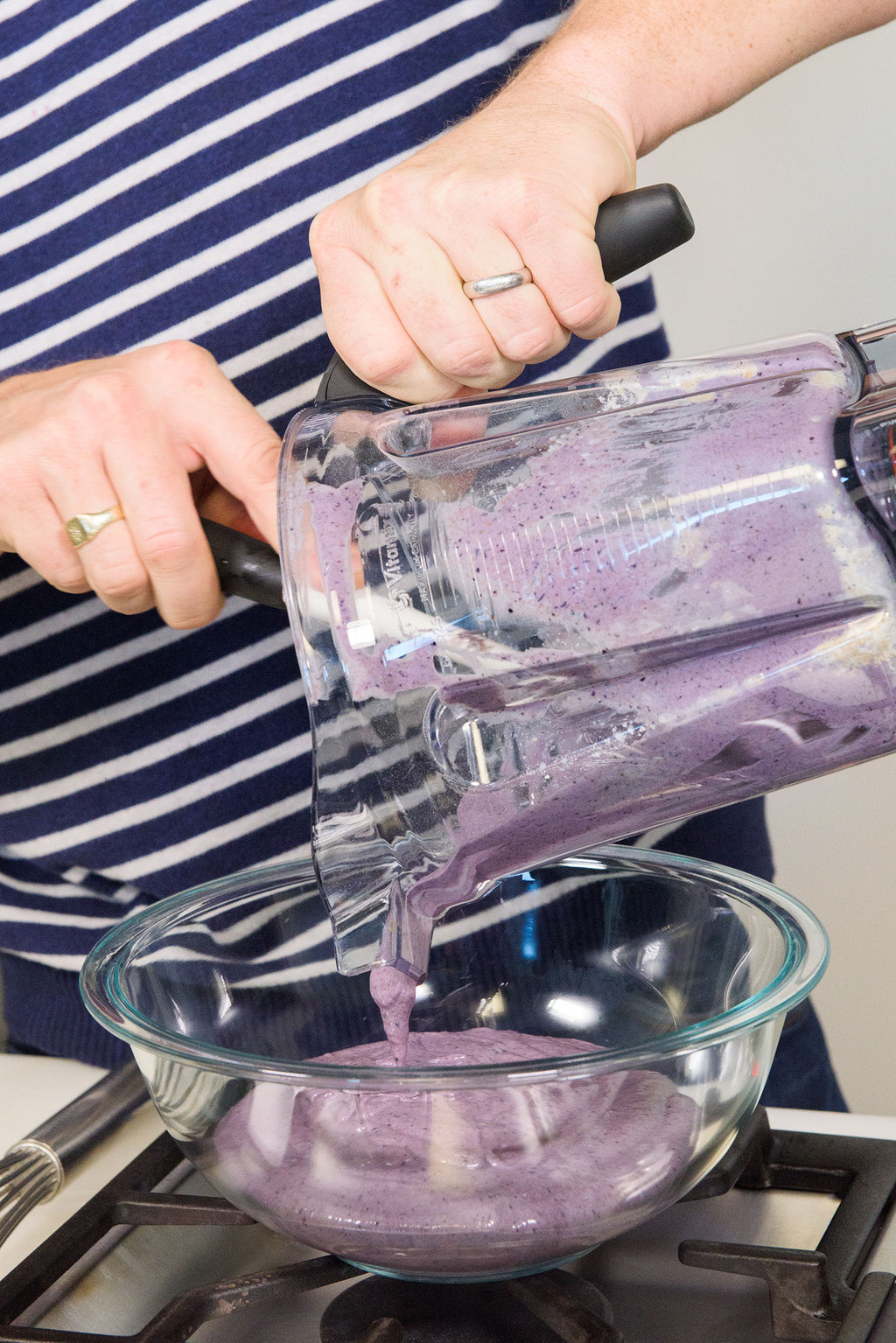 5.
Mix in the remaining blueberries.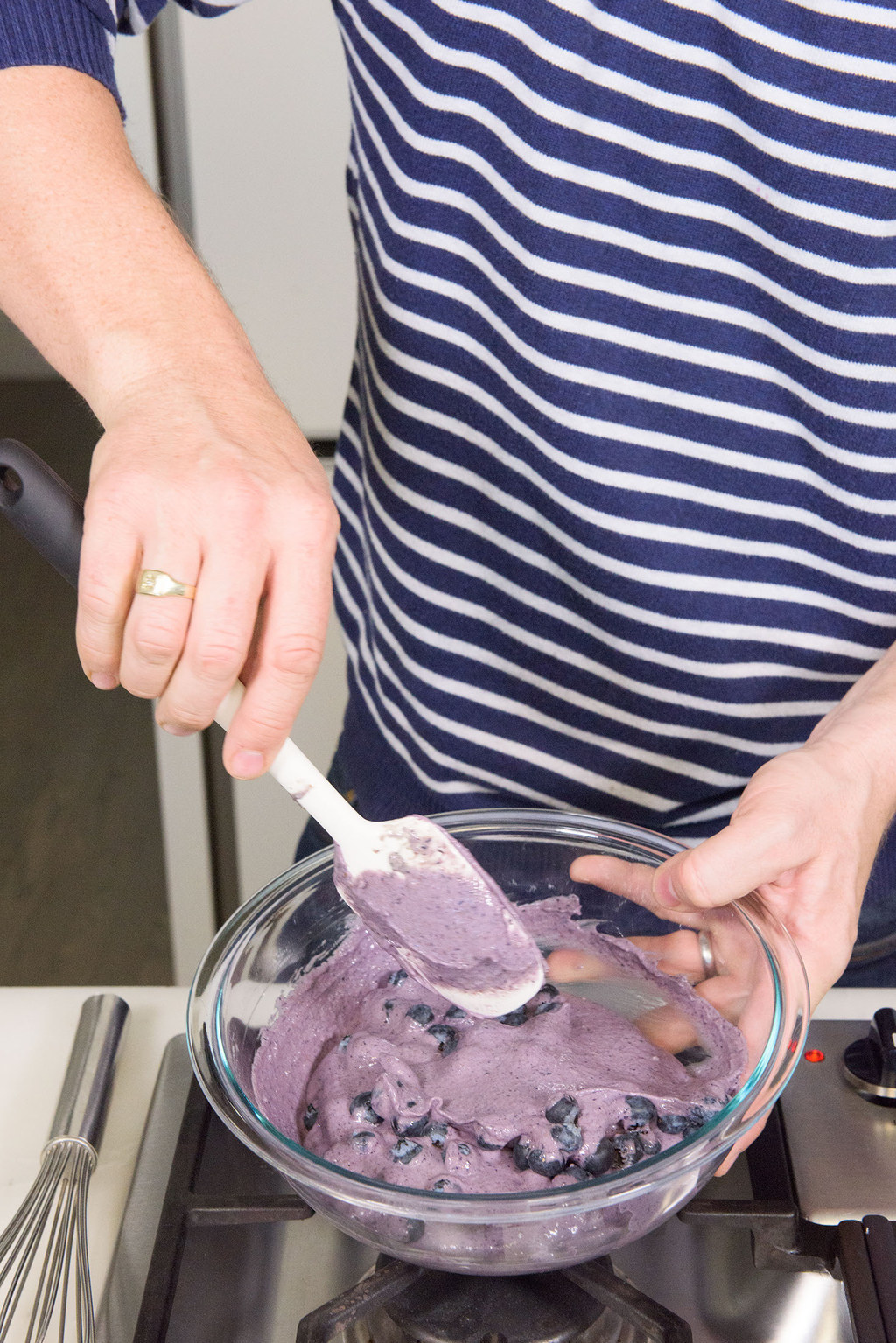 6.
Pour a little bit of olive oil into a large nonstick pan over medium-high heat.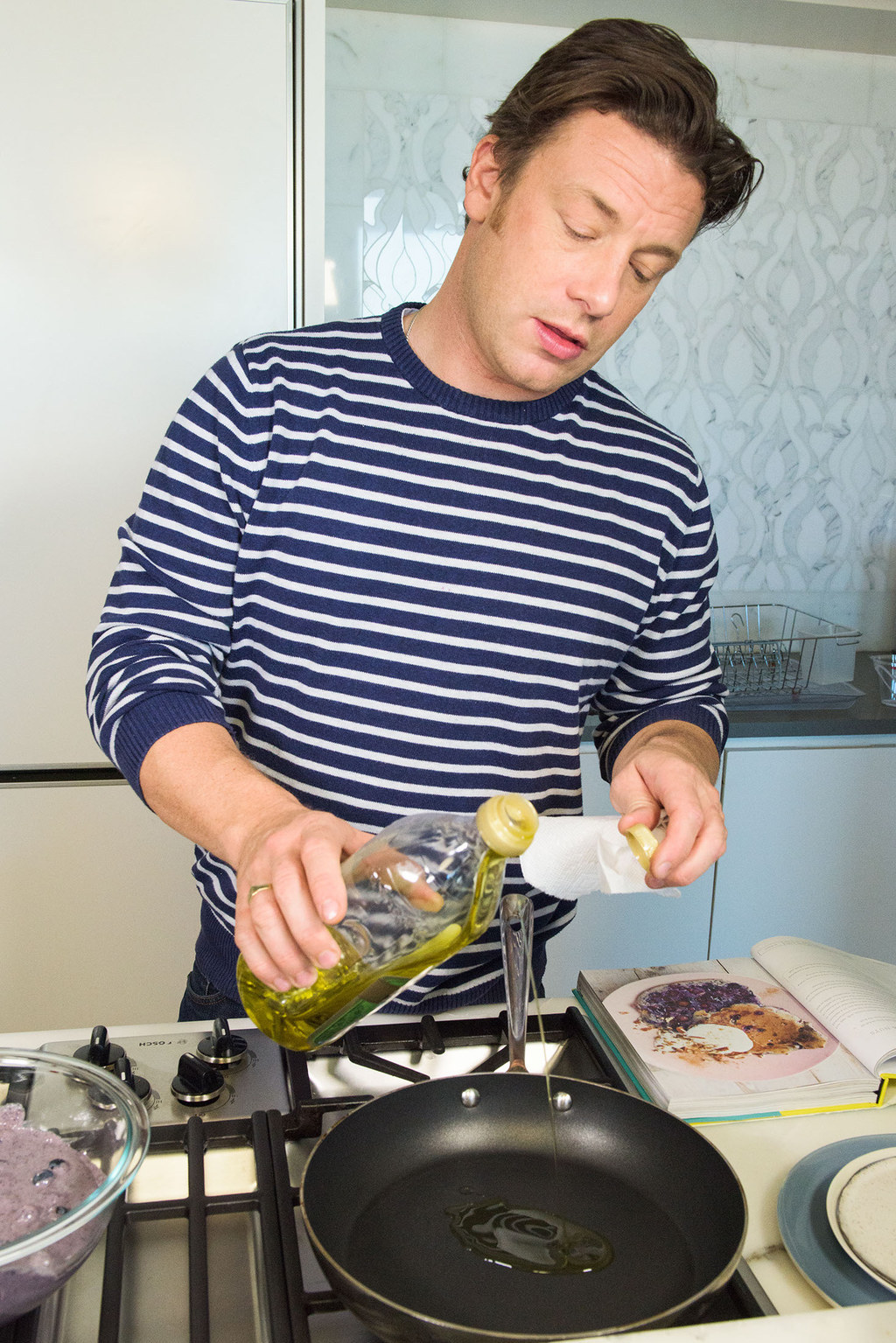 To grease a nonstick pan without adding too much fat, Jamie wipes the oil around the pan with a paper towel.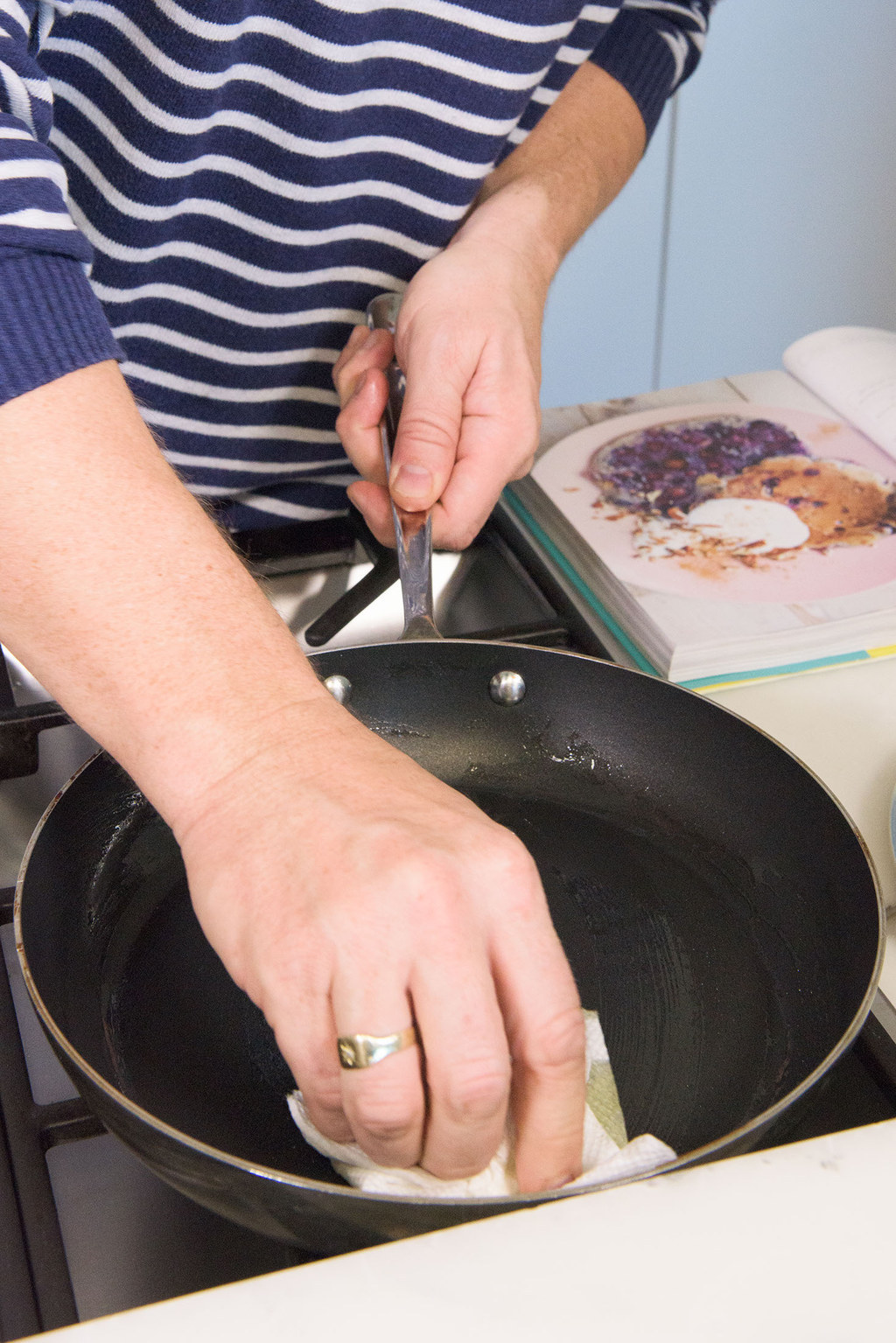 7.
When the pan is hot, add the batter in dollops.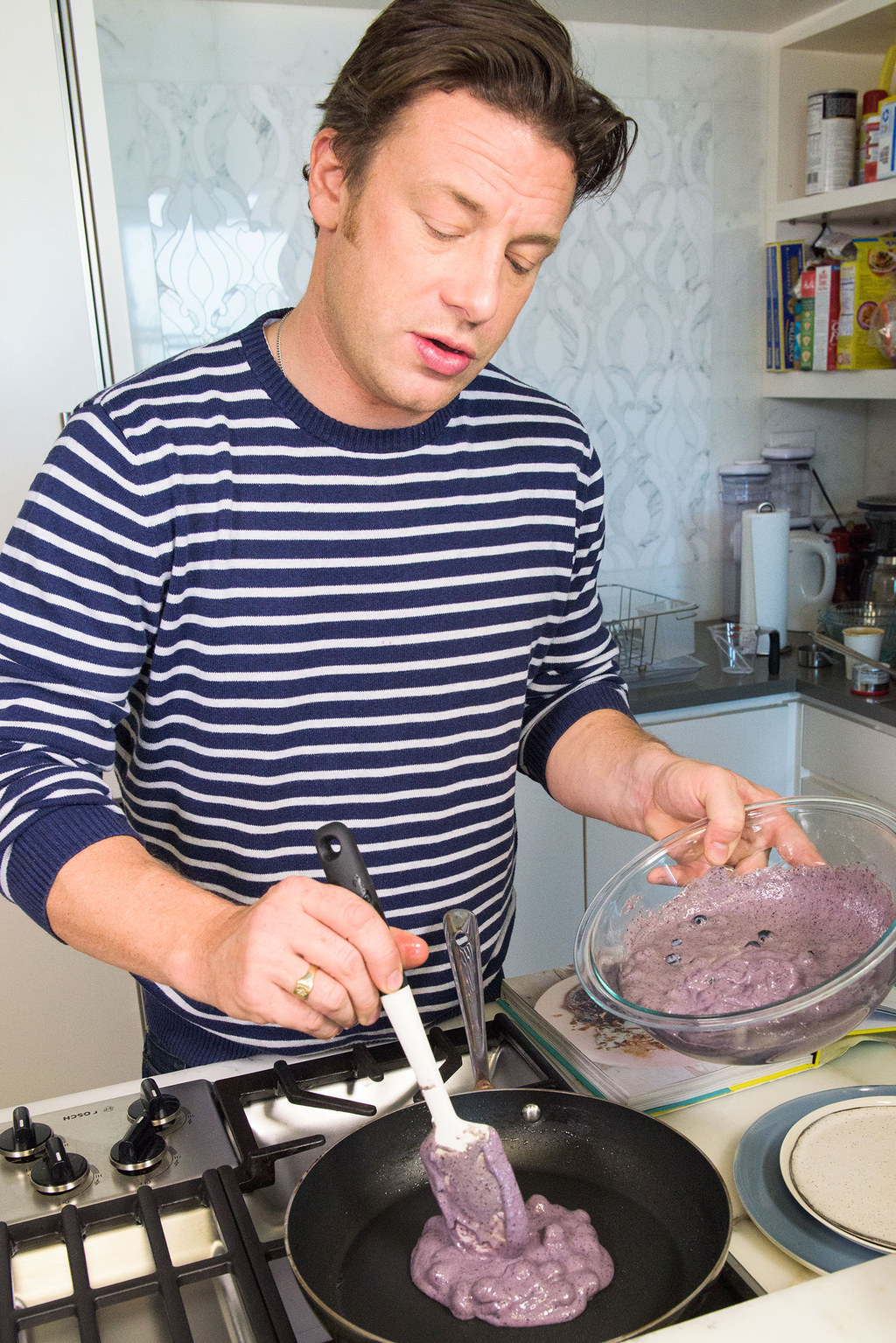 We started by making one big pancake.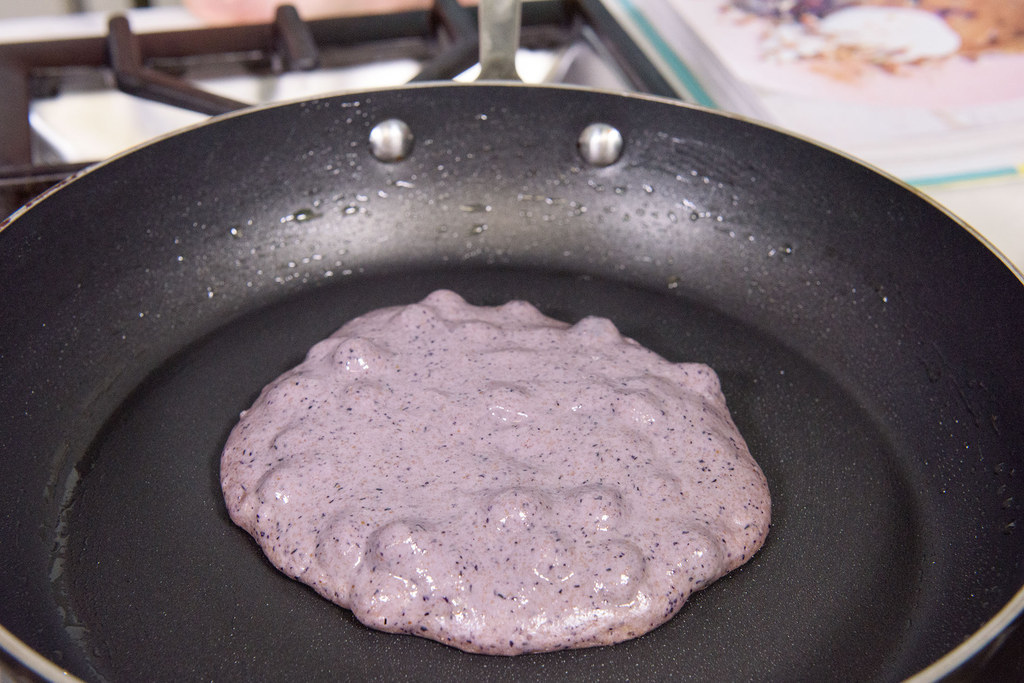 8.
Cook it for a couple of minutes, until the edges start to turn golden brown and the underside is totally set, then flip.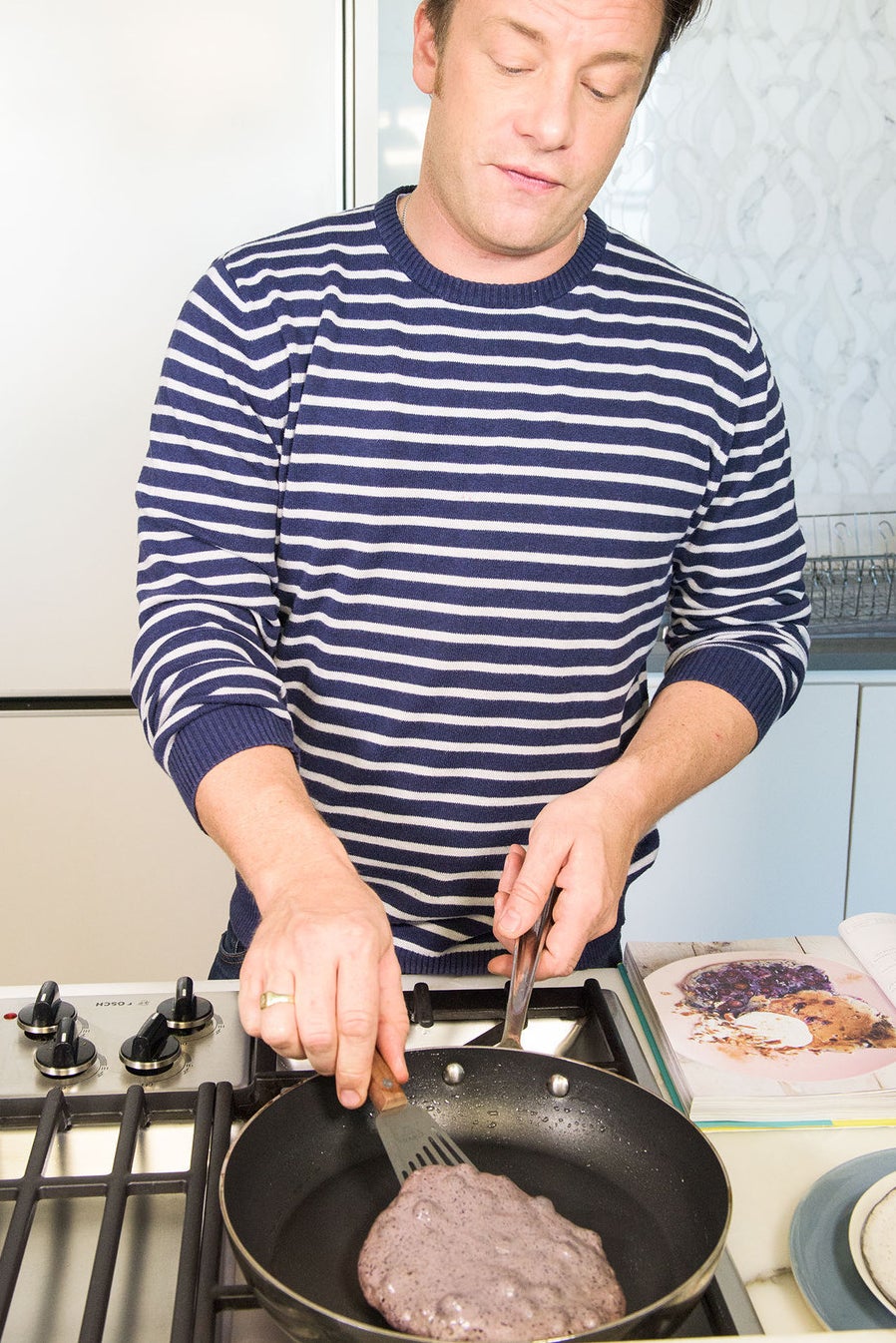 9.
Cook for another minute or so, until both sides are golden brown and the pancake is cooked all the way through.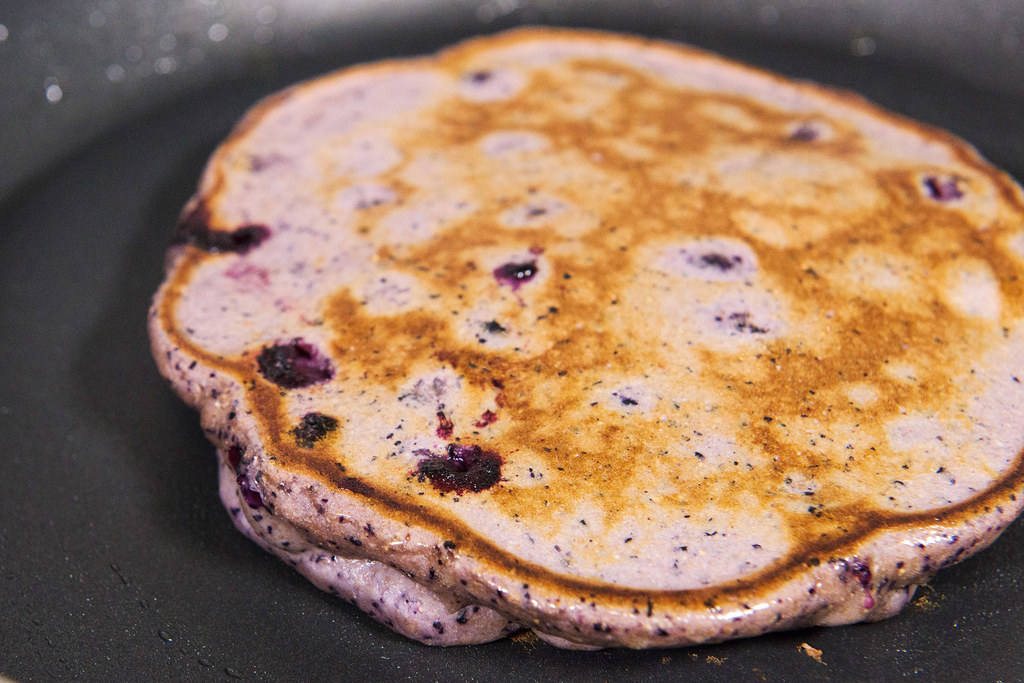 If you want, you can slice the pancake in half, crosswise.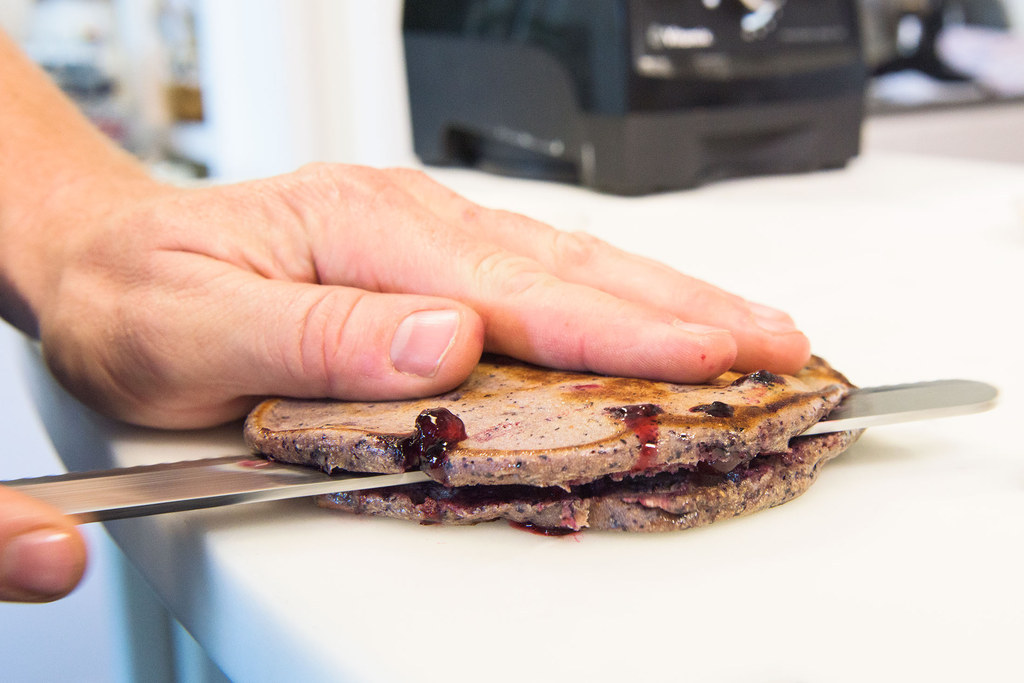 10.
To finish, just garnish with the yogurt...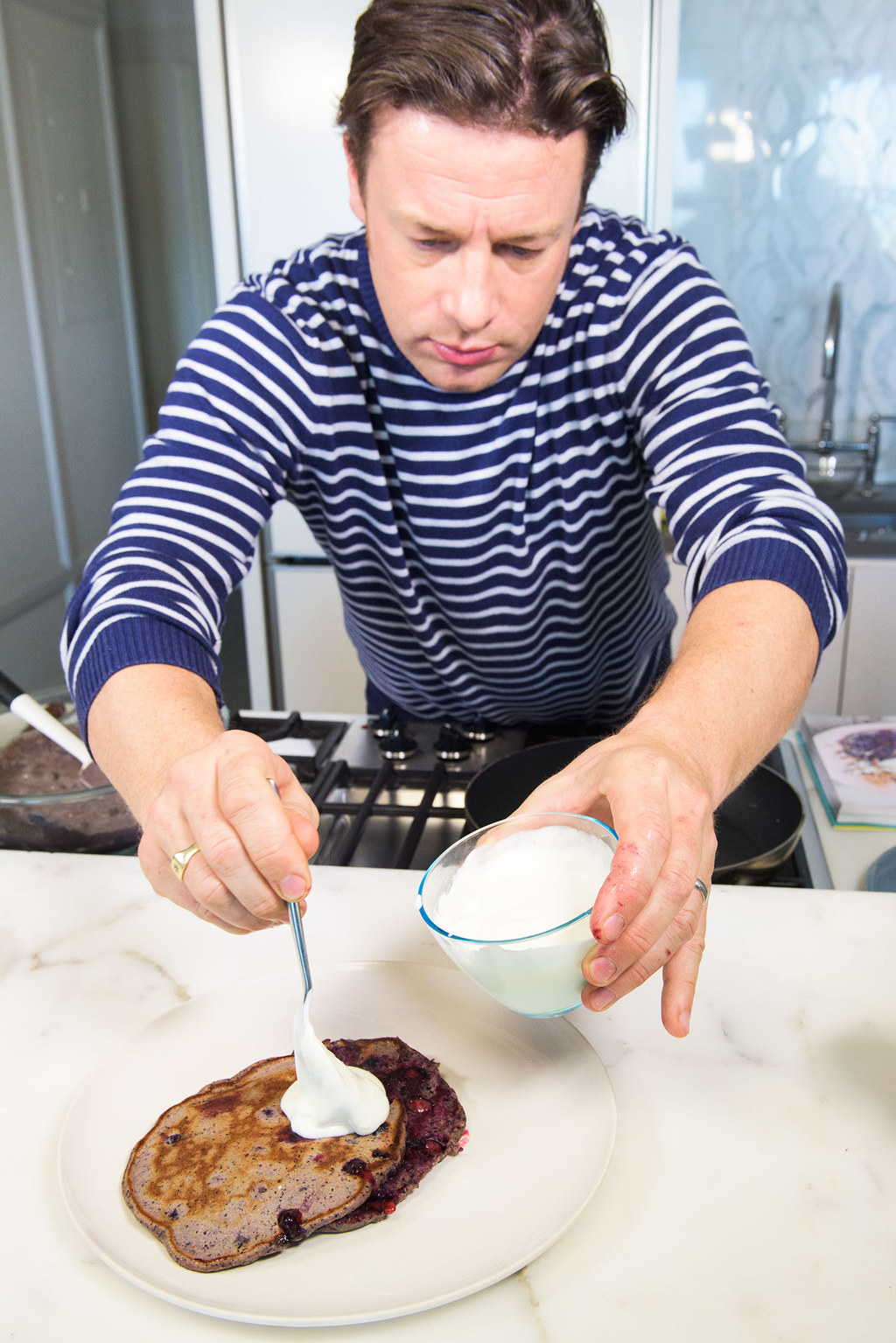 ...plus the chopped nuts, honey, and cinnamon.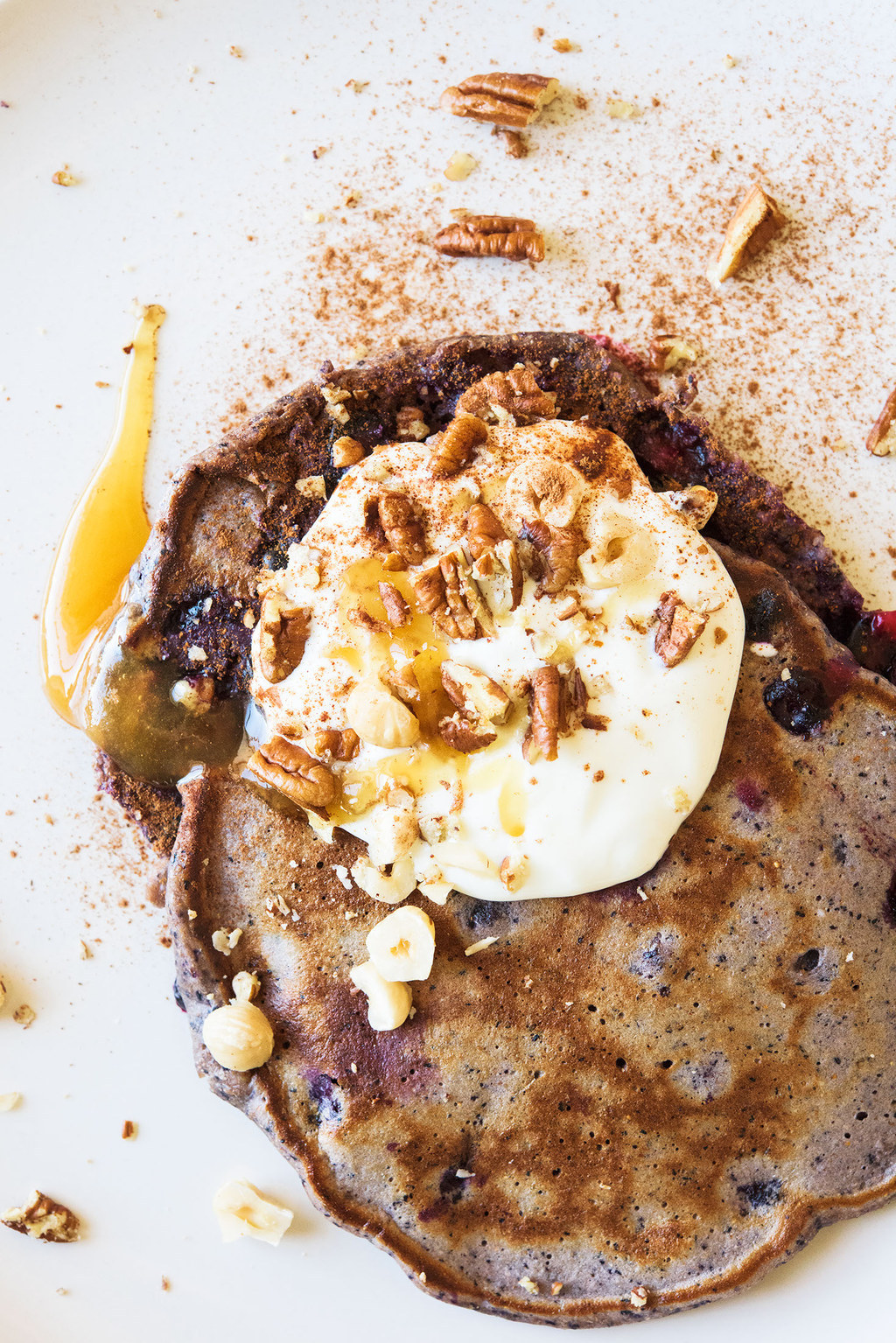 You can also make smaller pancakes — two or three at a time.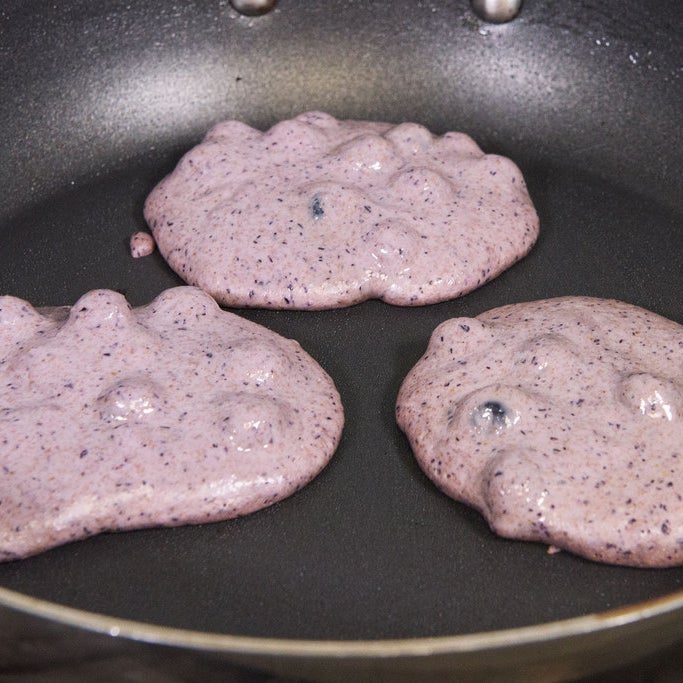 Smaller ones are cool, because then you can have a legit pancake STACK.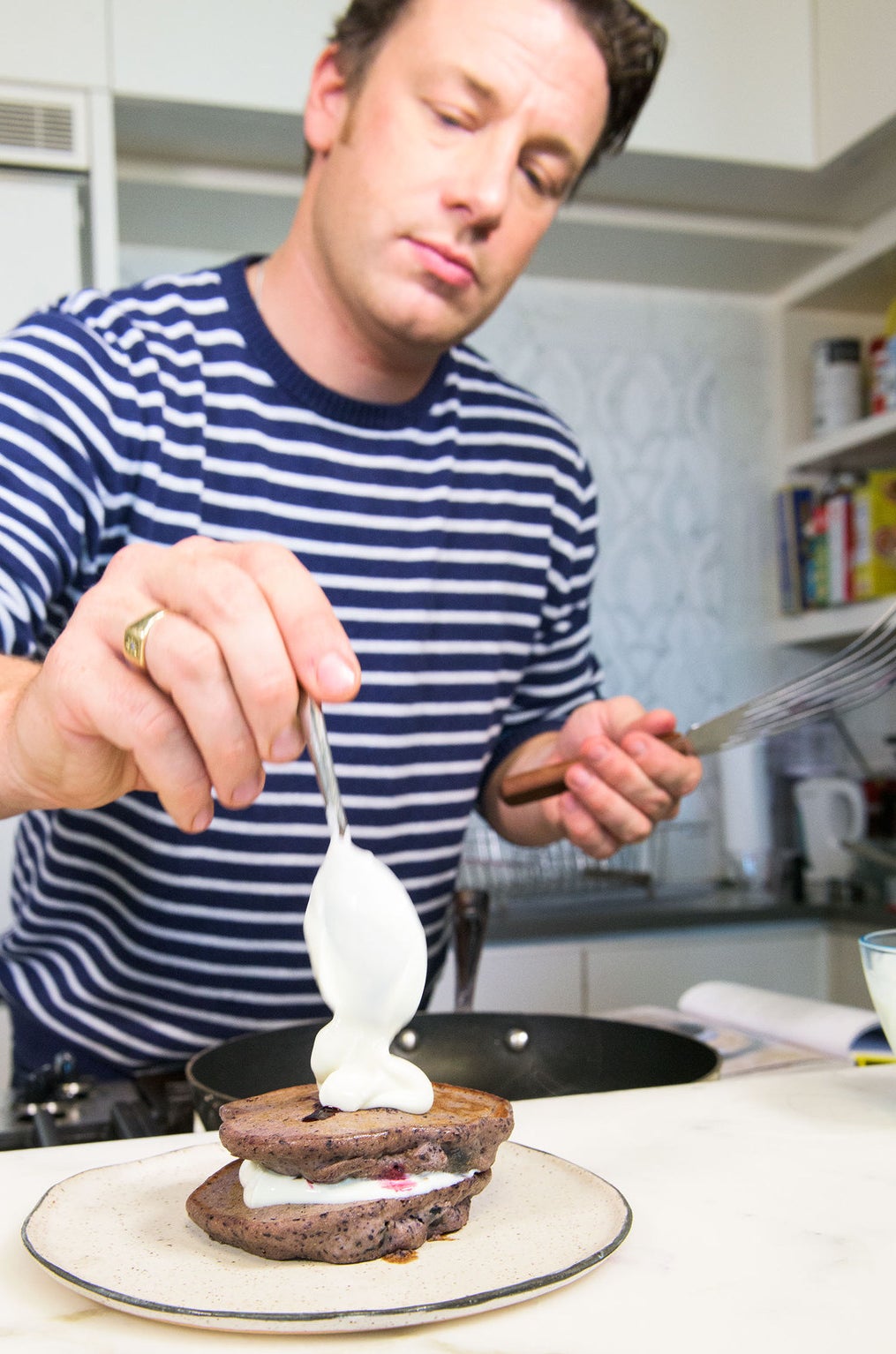 And you can finish that stack with a perfect cloud of cinnamon.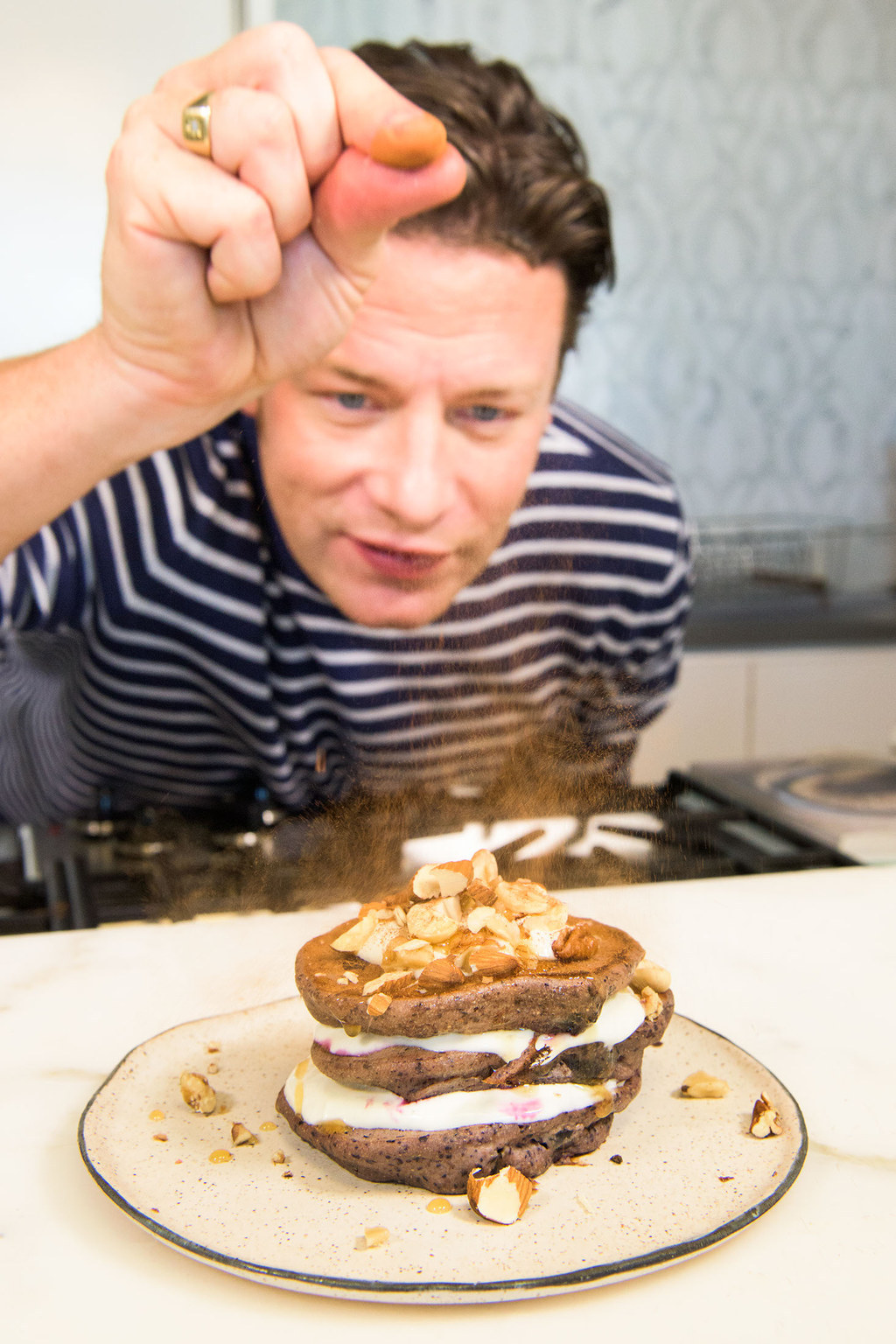 Jamie Oliver probably won't be there to cook your pancakes and deliver them to you personally. Which is kind of a bummer, I know.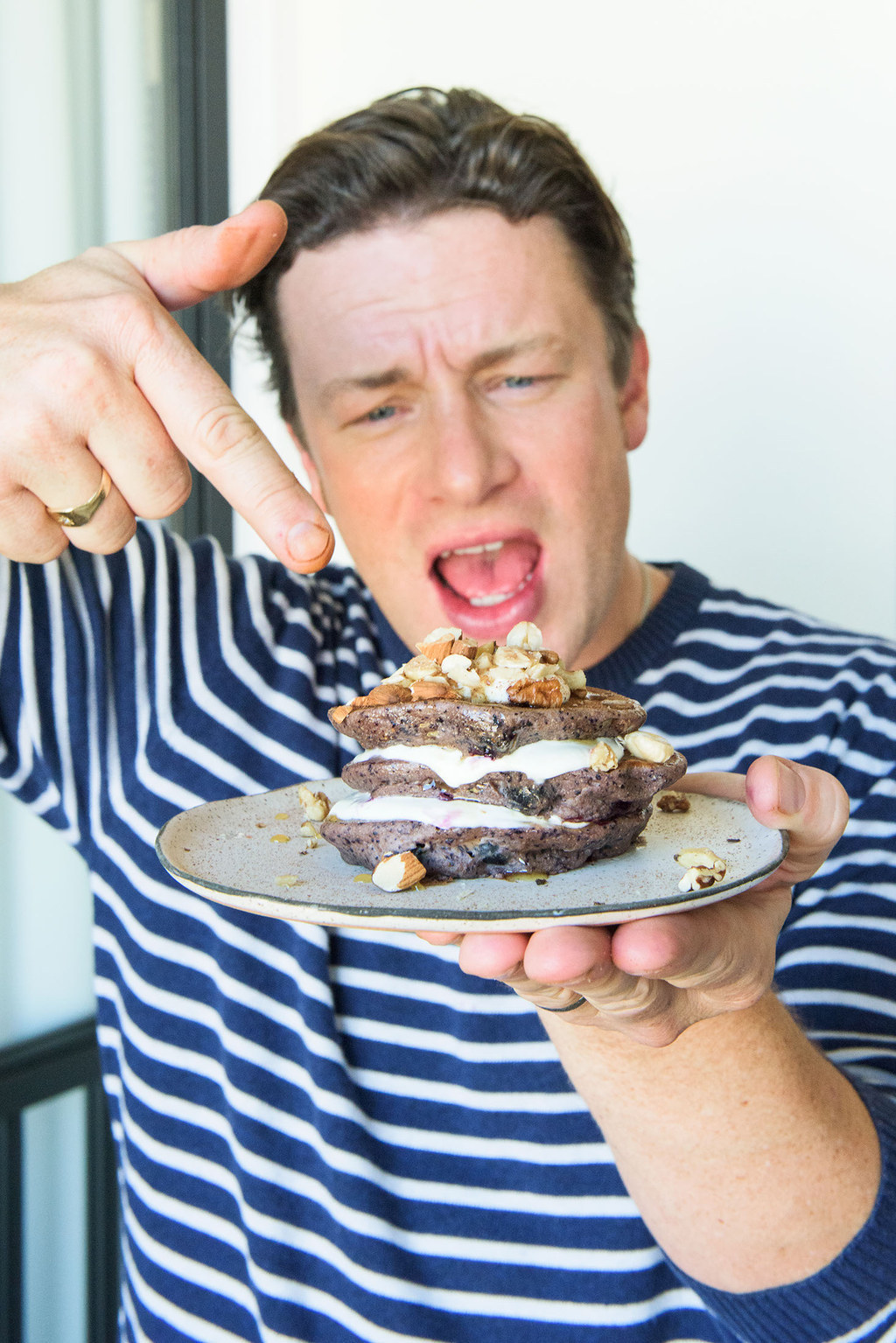 But the recipe is so easy and so delicious, and you should definitely make it on your own.
Smoothie Pancakes with Berries, Banana, Yogurt, and Nuts
Makes 4 servings
Recipe by Jamie Oliver, from Everyday Super Food
INGREDIENTS
11 ounces (about 1½ cups) blueberries
1 large, ripe banana
¾ cup 2% milk
1 large egg
1¾ cup whole-wheat flour
2 teaspoons baking powder
¼ teaspoon kosher salt
Extra-virgin olive oil, to coat the pan
Optional, to garnish:
¼ cup plain yogurt
Ground cinnamon
1 ounce chopped raw, unsalted pecans, walnuts, or hazelnuts
Manuka honey (an extra-nutritious raw honey; buy it here)
PREPARATION
Blitz half the blueberries, peeled banana, milk, egg, and flour in a blender to make a smoothie pancake batter. Tip into a bowl and fold in the remaining berries. Place a large nonstick frying pan over medium-high heat. Pour in a little bit of olive oil, then use a paper towel to wipe it around the pan and absorb the excess. Once hot, put your batter into the pan to make large pancakes or little ones, whichever you fancy. Either way, cook for a couple of minutes on each side, or until crisp and golden. Sometimes I flip them for an additional 30 seconds on each brown side to ensure they get super crispy. Serve as and when they're ready, while you get on with more.
To serve, I like to slice my pancakes in half so you can see all that lovely fruit. Top with a dollop of yogurt, a sprinkling of cinnamon, and a scattering of toasted nuts, then finish with a little drizzle of honey.
For more great recipes just like this one, check out Everyday Super Food.