27 Make-Ahead Breakfasts That Are Actually Good For You
Is anyone else's healthy eating resolution getting in the way of sleeping in as long as humanly possible?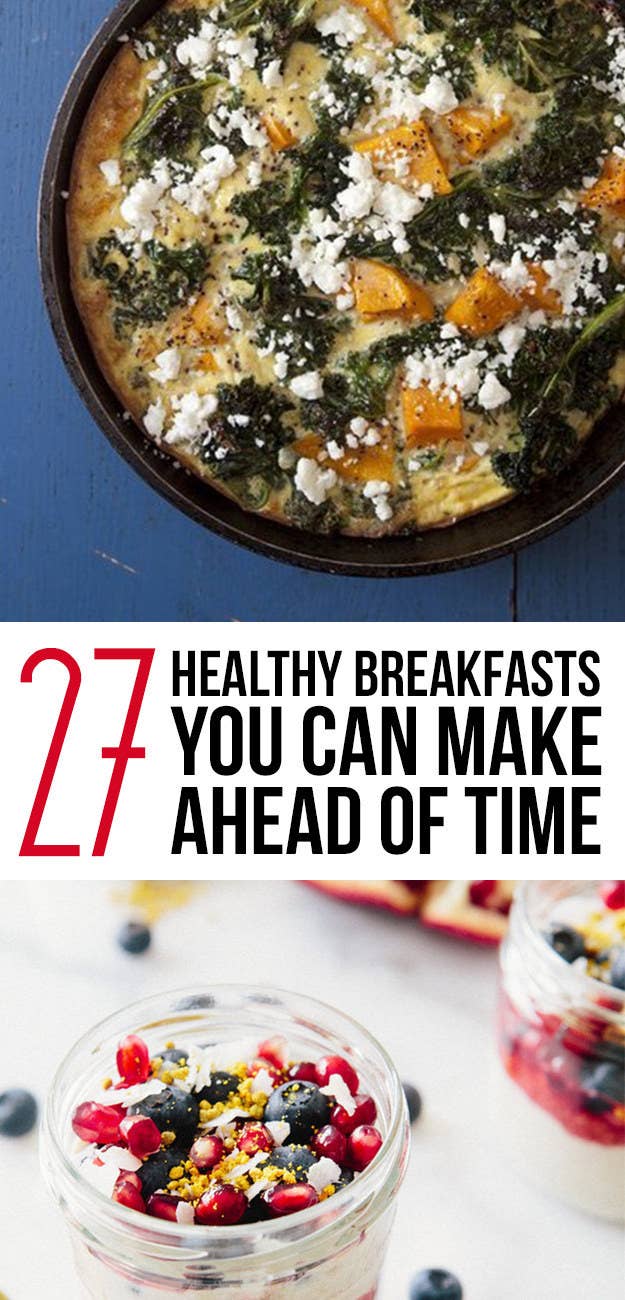 1.
Mini Frittatas
2.
Healthy Brownie Granola Bars 3.
Overnight Buckwheat and Cashew Parfait 4.
Freezer Breakfast Sandwiches 5.
Frozen Breakfast Quesadillas 6.
Peanut Butter and Banana Overnight Oats 7.
Muesli Scones 8.
Sweet Potato and Kale Frittata With Goat Cheese 9.
Chia Seed Breakfast Bowl 10.
Gluten-Free, Dairy-Free Breakfast Cookie 11.
Cinnamon Raisin Harvest Muffins 12.
Baked Blueberry Oatmeal 13.
Hash Brown Egg Nests With Avocado 14.
Overnight Slow Cooker Apple-Cinnamon Steel-Cut Oats 15.
Spinach and Caramelized Onion Frittata With a Sweet Potato Crust 16.
Basic Oatmeal Squares 17.
Vanilla Chia Pudding 18.
Copycat Coconut Cream Pie Larabars 19.
Chilled Plum Oatmeal Pudding 20.
Stuffed Breakfast Peppers 21.
Honey Nut Bars 22.
Mini Ham and Cheese Quinoa Cups 23.
Blueberry Vanilla Greek Yogurt Granola Bars 24.
Vegan Blueberry Banana Spelt Muffins 25.
Slow Cooker Frittata With Zucchini, Tomato, and Feta 26.
Apple Pie and Almond Butter Energy Balls 27.
Slow-Cooker Coconut and Butternut Squash N'Oatmeal