Here's What You Should Eat For Dinner
This cheesy, vegetable-filled pasta is the perfect way to get yourself excited for fall.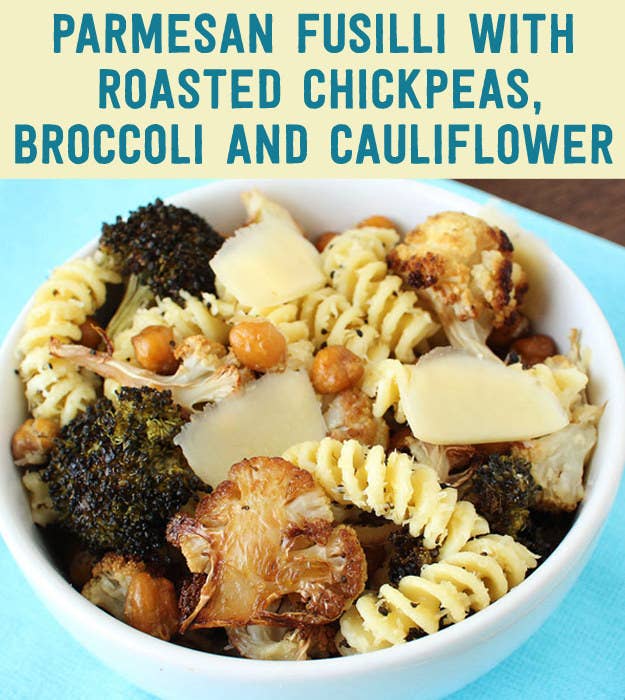 Parmesan Fusilli with Roasted Chickpeas, Broccoli and Cauliflower
Recipe by Christine Byrne
Serves 4
INGREDIENTS
1 15-ounce can chickpeas, rinsed and drained
2 small heads broccoli, cut into bite-sized florets
1 small head cauliflower, cut into bite-sized florets
3 tablespoons extra virgin olive oil, divided
kosher salt and freshly ground pepper
1 lb dry fusilli (or just use your favorite pasta)
4 ounces parmesan cheese, finely grated
PREPARATION
Preheat your oven to 425°F, and line two large rimmed baking sheets with parchment paper.
In a very large mixing bowl, combine chickpeas, broccoli florets, cauliflower florets, 2 tablespoons olive oil, a big pinch of kosher salt, and some freshly ground pepper. Toss everything together, then spread the vegetables and chickpeas out among the two baking sheets. Reserve the mixing bowl for later, no need to wash it.
Roast the vegetables and chickpeas for 35-40 minutes, turning the baking sheets halfway, until the chickpeas are crispy on the outside, the broccoli is charred, and the cauliflower has started to turn golden brown.
Meanwhile, cook the fusilli al dente (or softer, if you want), according to the package directions. Drain in a colander, DO NOT RINSE, then transfer the hot, cooked pasta to the very large mixing bowl. Toss the pasta with the remaining tablespoon of olive oil, and set aside.
When the vegetables and chickpeas are done, immediately add them to the very large mixing bowl with the pasta, then add the finely grated parmesan. Toss together until everything is combined and the cheese has started to melt.
To serve, divide among four bowls. Garnish with extra parmesan, if you want.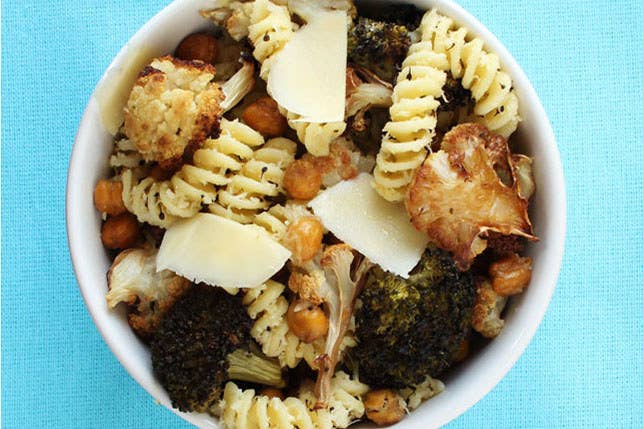 Want more amazing recipes like this one? Sign up for the BuzzFeed Food newsletter and you'll get them in your inbox twice a week!