How To Make Roasted Brussels Sprouts With Pastrami For Thanksgivukkah
Dear Brussels sprouts, mazel tov on your Bar Mitzvah. (See BuzzFeed's full Thanksgivukkah feature here.)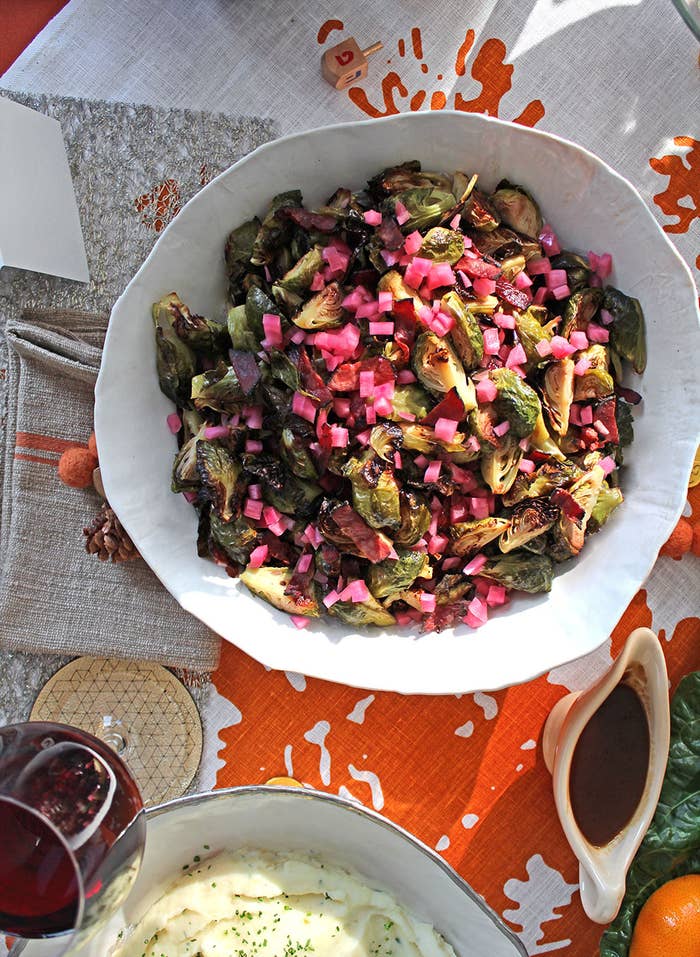 PART I: Make pickled red onions one day ahead.
FInd exact amounts in the full recipe at the bottom of this post.
Combine salt, sugar, and rice wine vinegar in a small sauce pot over high heat, and boil it until the salt has dissolved.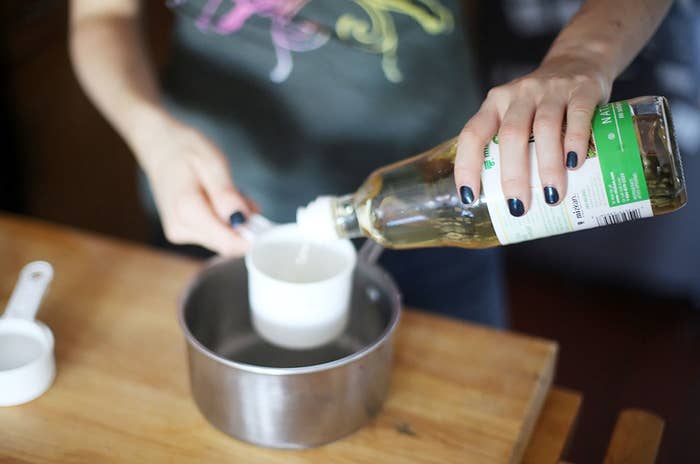 Finely dice the red onion.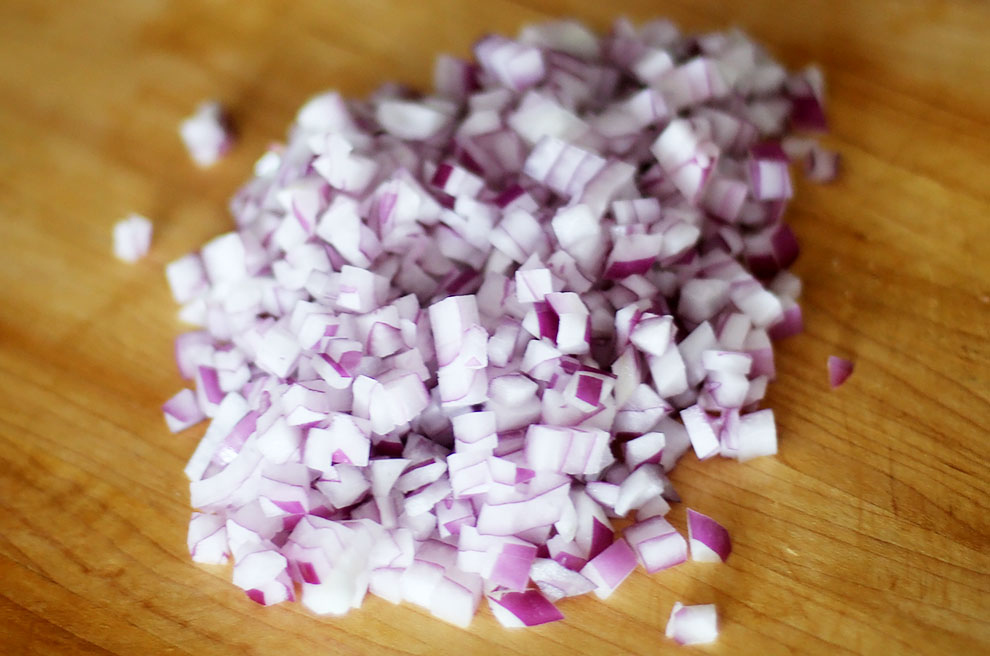 Put red onion in a quart-size container and pour vinegar mixture on top. Cover and refrigerate.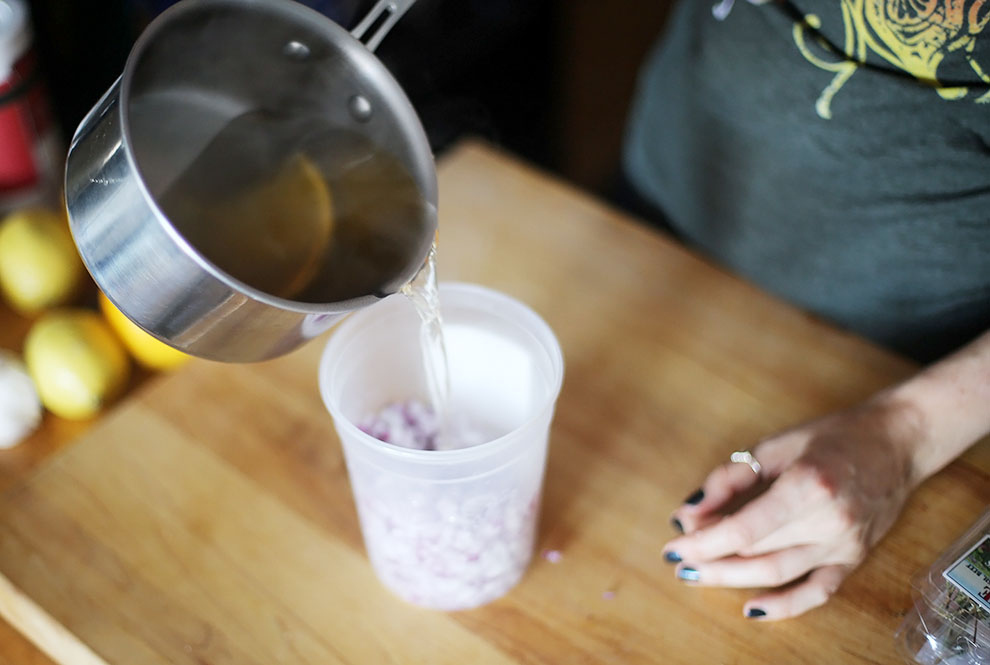 Part II: Cook the sprouts.
You will need: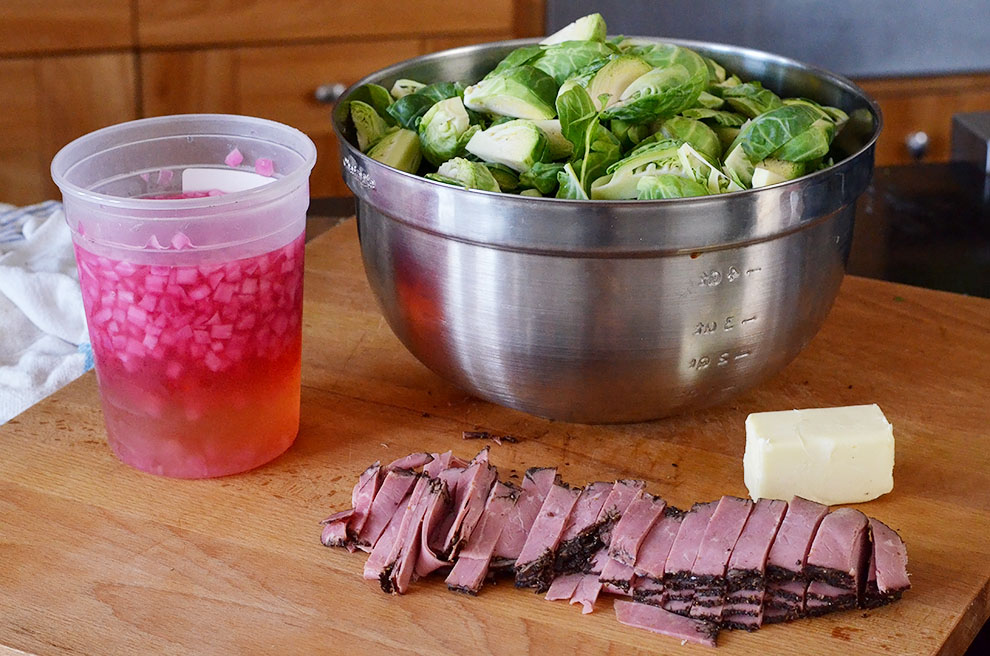 To prep Brussels sprouts, cut a small bit off the end of each sprout.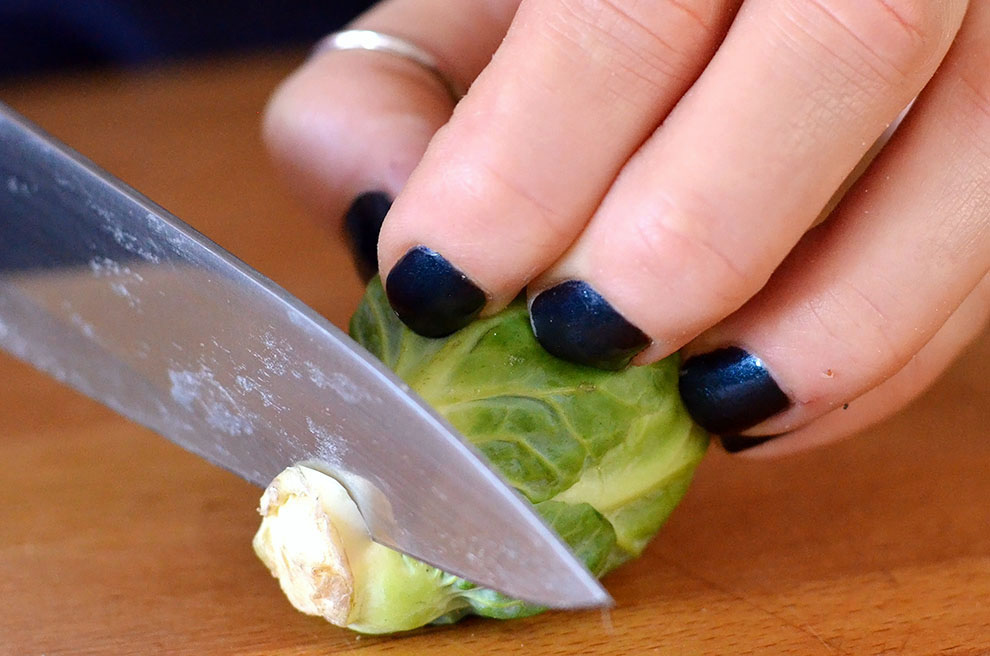 Then, cut sprouts into quarters (if your sprouts are really small, cut them in half).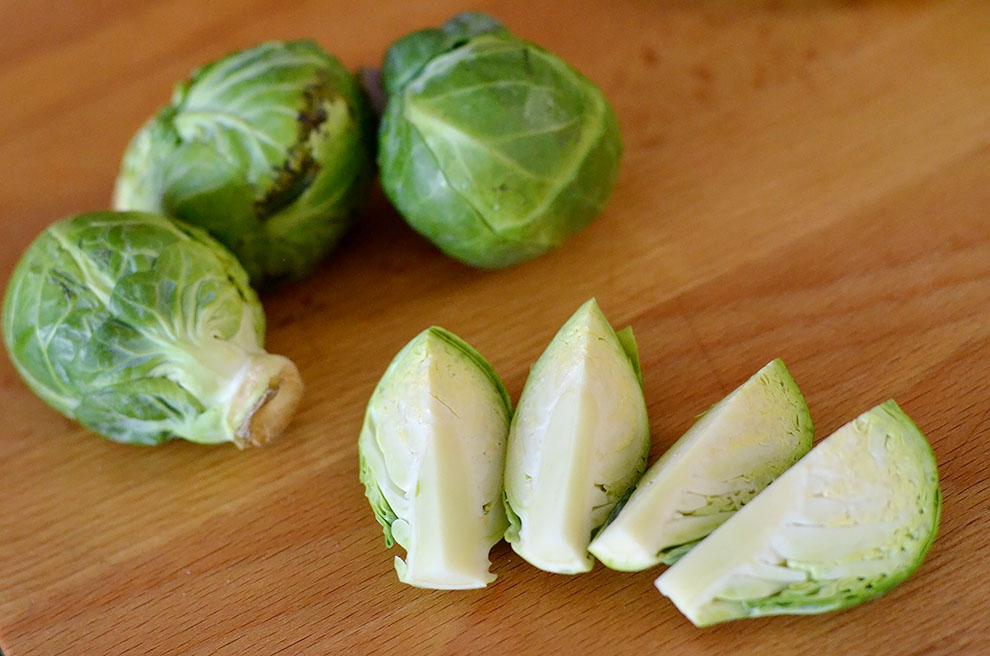 Stack slices of pastrami...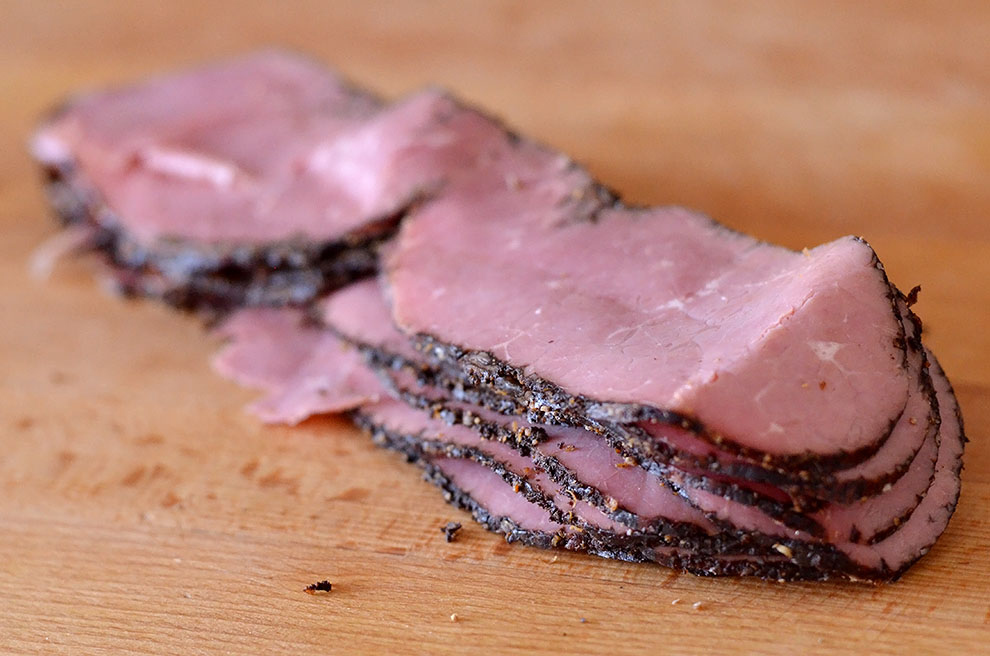 ...and cut them into 1/4" x 2" strips.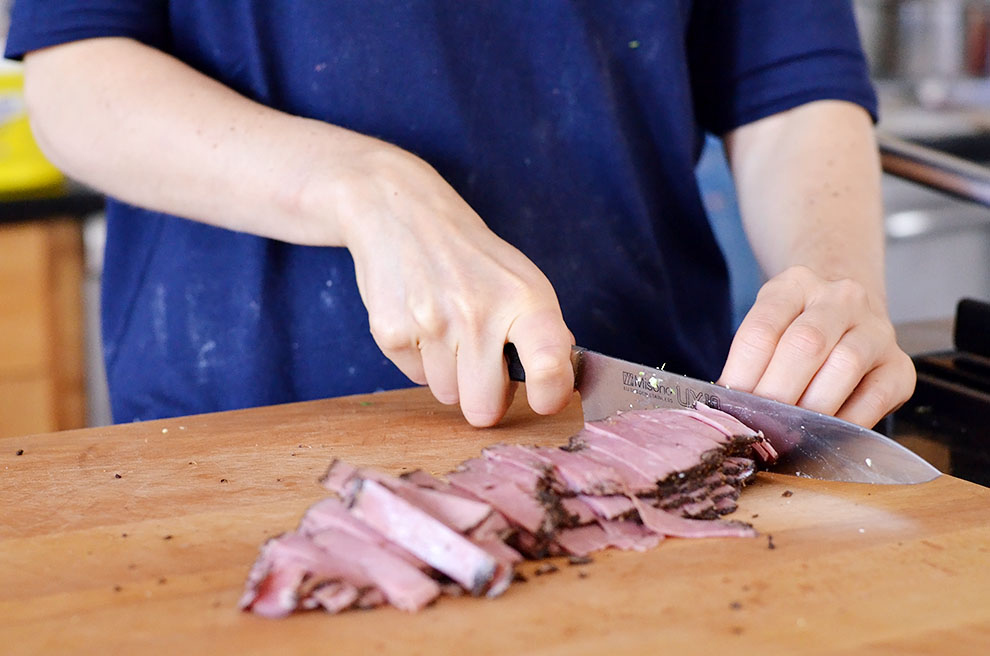 Melt butter in a large sauté pan or skillet over medium heat, then add pastrami.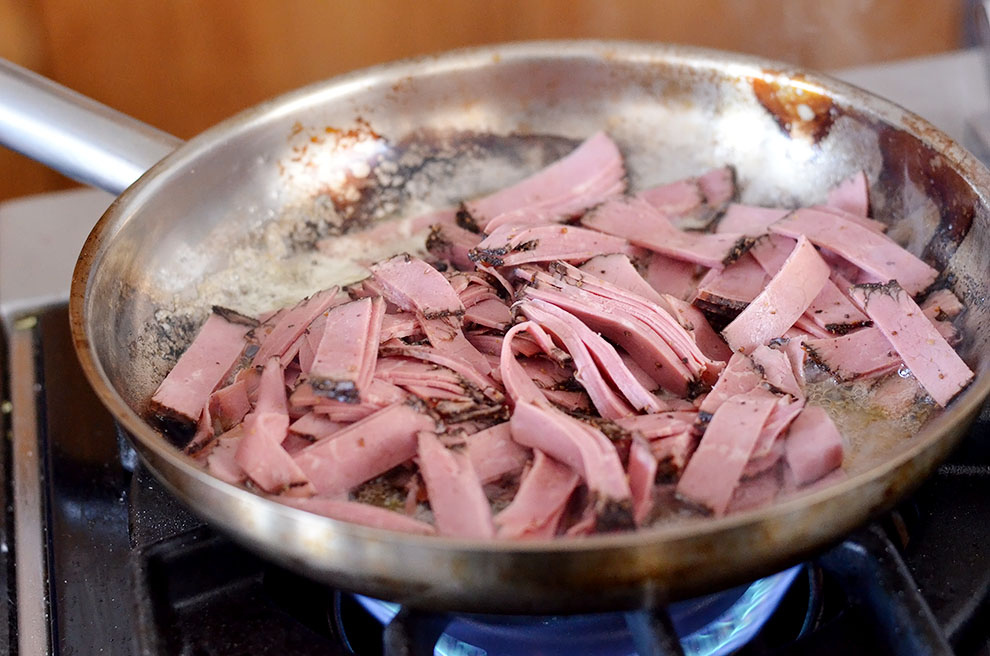 Cook until pastrami is slightly browned and has started to shrivel.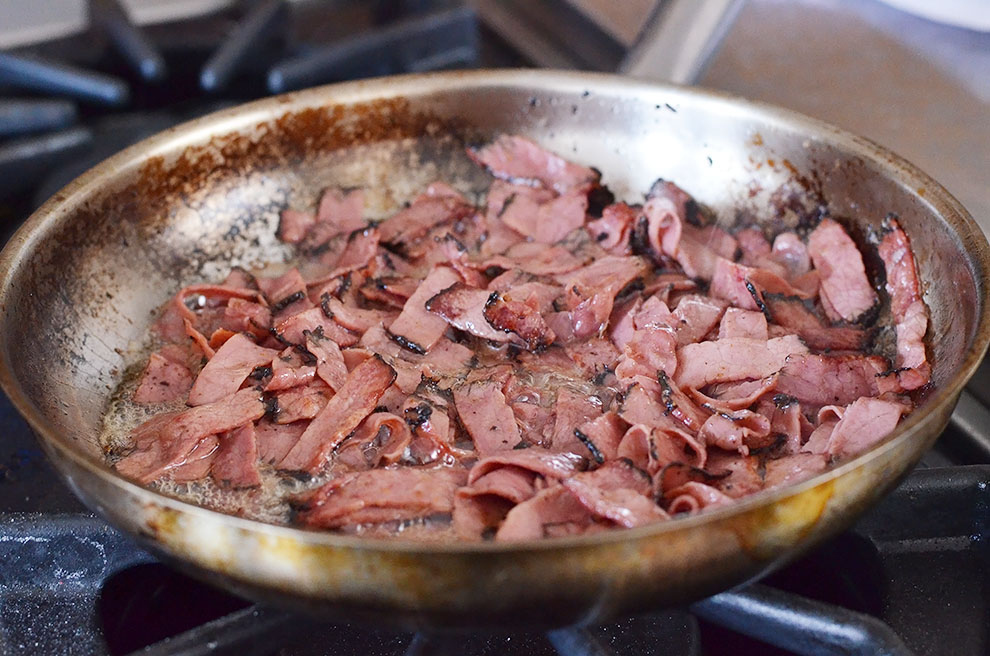 Meanwhile, line 2 large baking sheets with aluminum foil.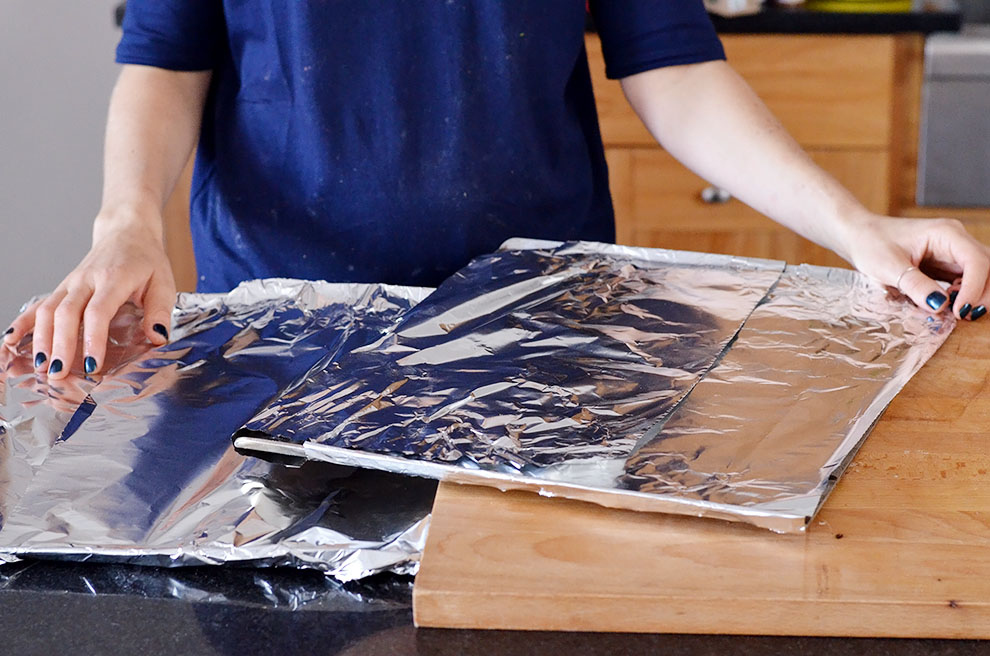 Toss hot pastrami and butter with Brussels sprouts and 1 teaspoon of salt.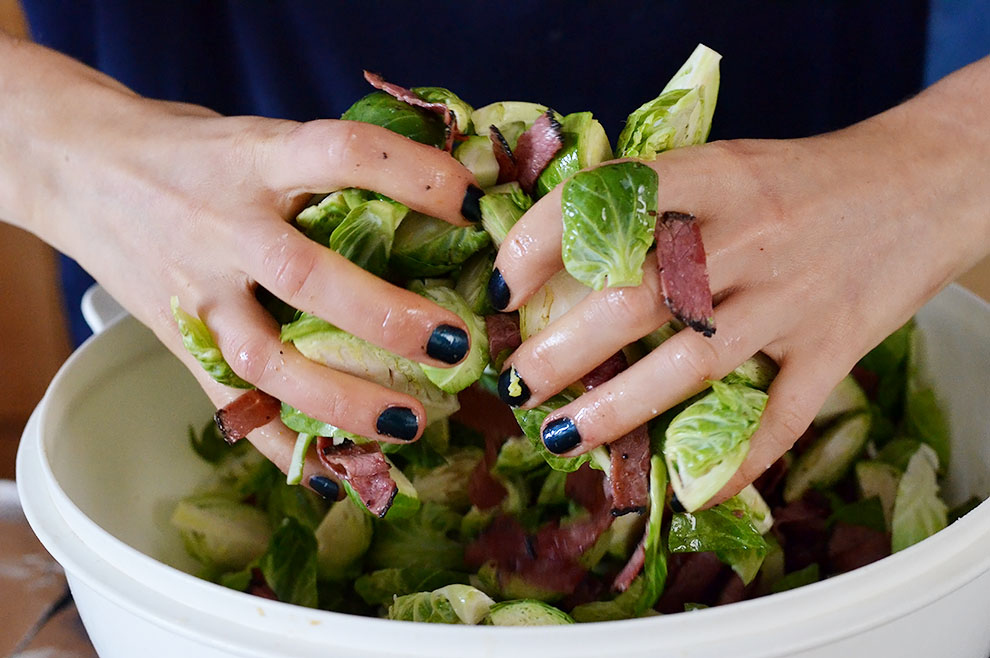 Spread the sprouts out evenly over the two baking trays.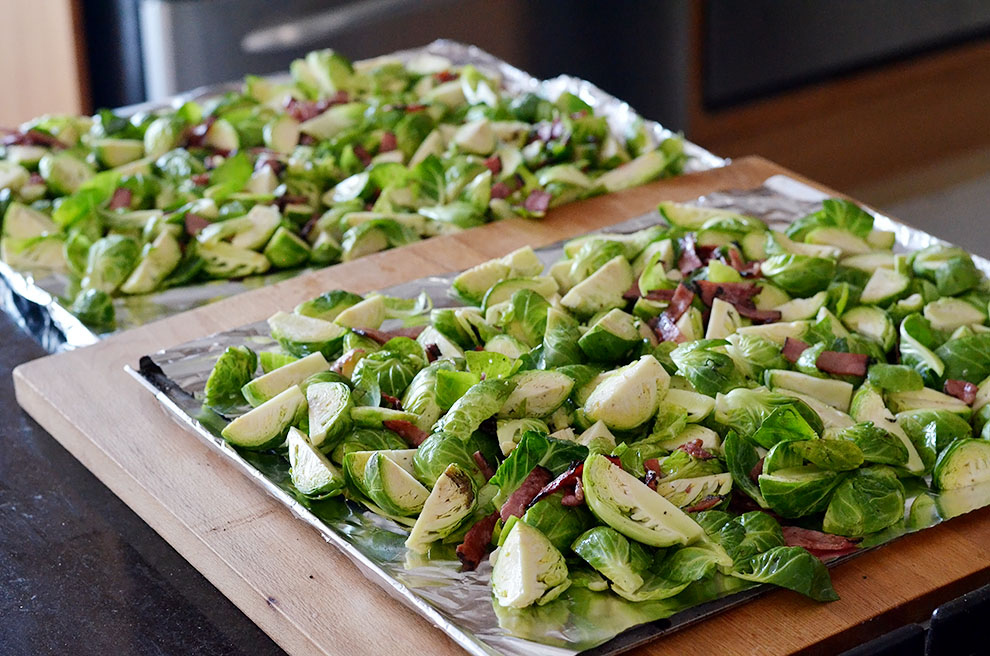 Roast in a 425 degree oven for 40 minutes, taking the sprouts out halfway through to move them around the pan (otherwise, they won't cook evenly).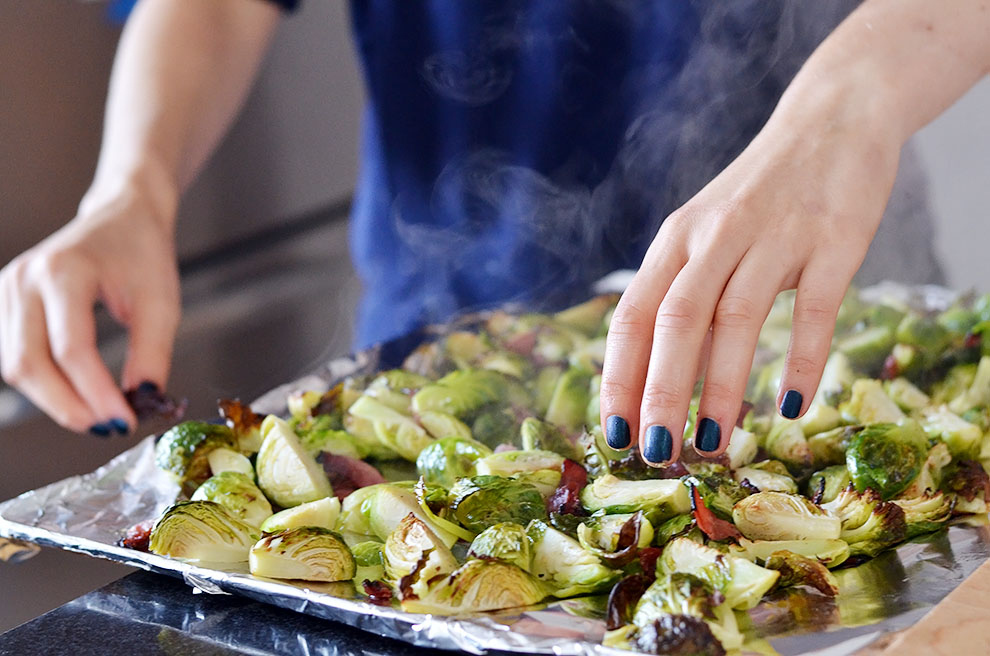 Now, strain the pickled red onions, but KEEP THE LIQUID.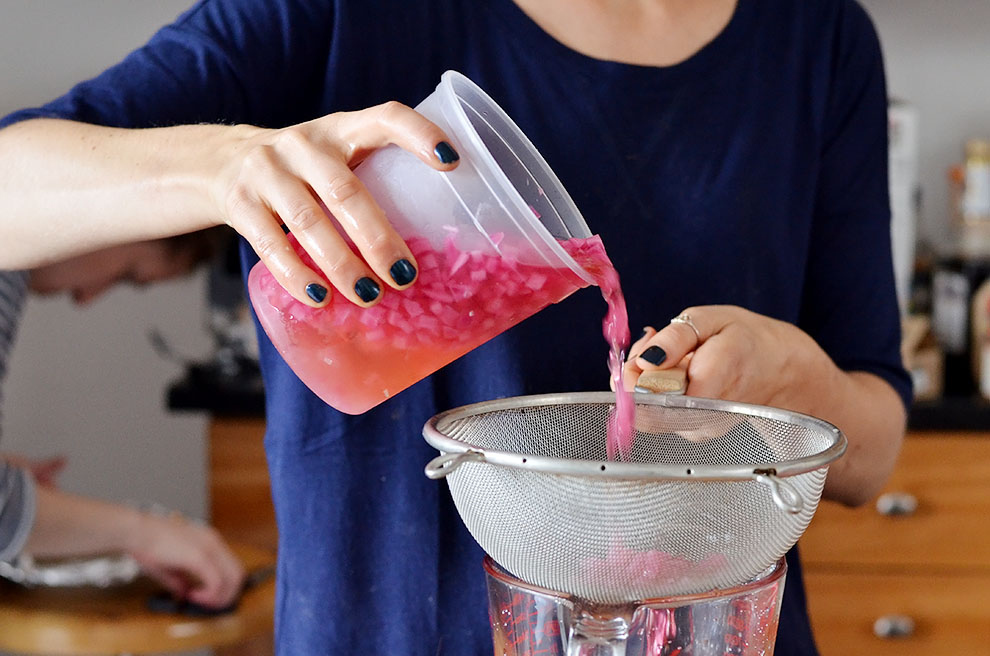 In a large mixing bowl, toss cooked sprouts with red onions and 1/2 cup of the pickling liquid.
Toss it all together, and serve immediately.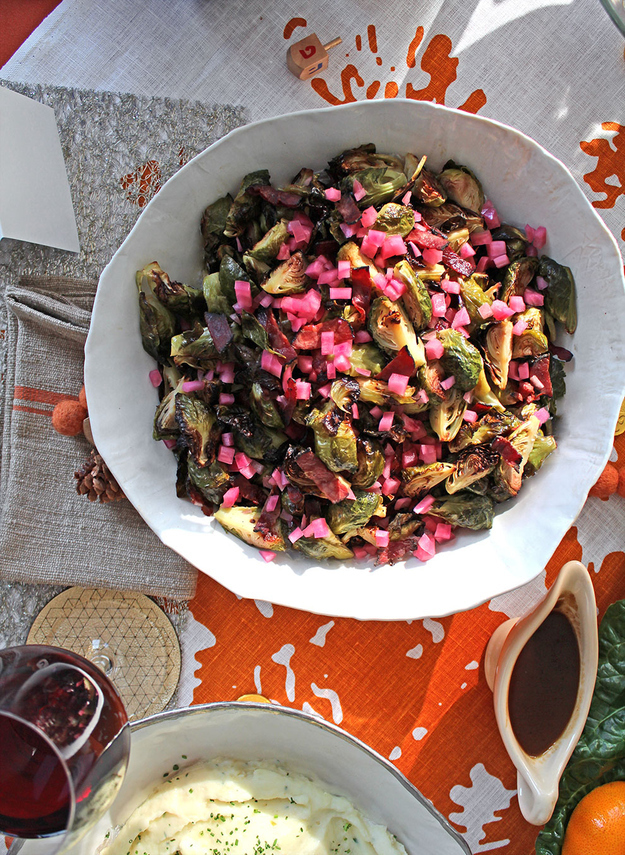 ROASTED BRUSSELS SPROUTS WITH PASTRAMI AND PICKLED RED ONION
Serves 8-10
INGREDIENTS
Pickled Onions:
1 medium red onion, finely diced*
2 cups rice wine vinegar**
1/2 cup sugar
1/4 cup salt
Brussels Sprouts:
1/4 cup unsalted butter (1/2 stick)
1/2 pound deli pastrami, thinly sliced
5 pounds Brussels sprouts, halved
1 teaspoon kosher salt
freshly ground pepper to taste
*To dice means to chop into roughly 1/4-inch cubes.
**Rice wine vinegar is NOT the same as rice wine. You can find rice wine vinegar in the Asian section of your local grocery store, or with the other vinegars.
PREPARATION
For Pickled Onions:
Bring rice wine vinegar to a boil in a small saucepan. Add sugar and salt, and stir until dissolved. Turn off heat and let mixture cool for about 5 minutes. Put diced onion in a large heatproof container, and pour vinegar mixture over. When mixture is room temperature, refrigerate for at least a day.
For Brussels Sprouts:
Preheat oven to 425°F. Cut pastrami into strips roughly ¼ inch wide and 2 inches long.
Melt butter in a large skillet or saute pan over medium heat. Add pastrami and cook over medium heat until browned fat has rendered out, about 3 minutes. Pour pastrami and fat into a large heatproof mixing bowl. Add Brussels sprouts, salt and pepper, and toss to combine. Line two large baking sheets with foil and spread Brussels sprouts out on them in a single layer. Don't crowd the pans. Roast for 35 minutes, removing pans from the oven at the 20 minute mark to move the Brussels sprouts around a little, then rotating the pans from top to bottom rack before putting them back in the oven for the remaining 15 minutes. Brussels sprouts will be dark brown and crispy around the edges.
Strain the pickled red onions and reserve 1/2 cup of pickling liquid. As soon as the Brussels sprouts come out of the oven, toss them with the red onions and the ¼ cup of liquid while they're still warm. Serve immediately.
See BuzzFeed's complete Thanksgivukkah menu here.
Photos by Macey J. Foronda
Styling by John Gara
Planning on cooking this recipe, or another one from our Thanksgivukkah menu?
That's awesome! Take a picture of your finished dish, post it to Instagram, and tag it #Thanksgivukkah. The BuzzFeed food editors want to know how things turn out in your home kitchen. And, who knows? Maybe your photo will end up in a BuzzFeed post!