How To Make A Roasted Vegetable Queso Frittata
To be clear, this is a recipe for a breakfast frittata with cheese dip baked on top.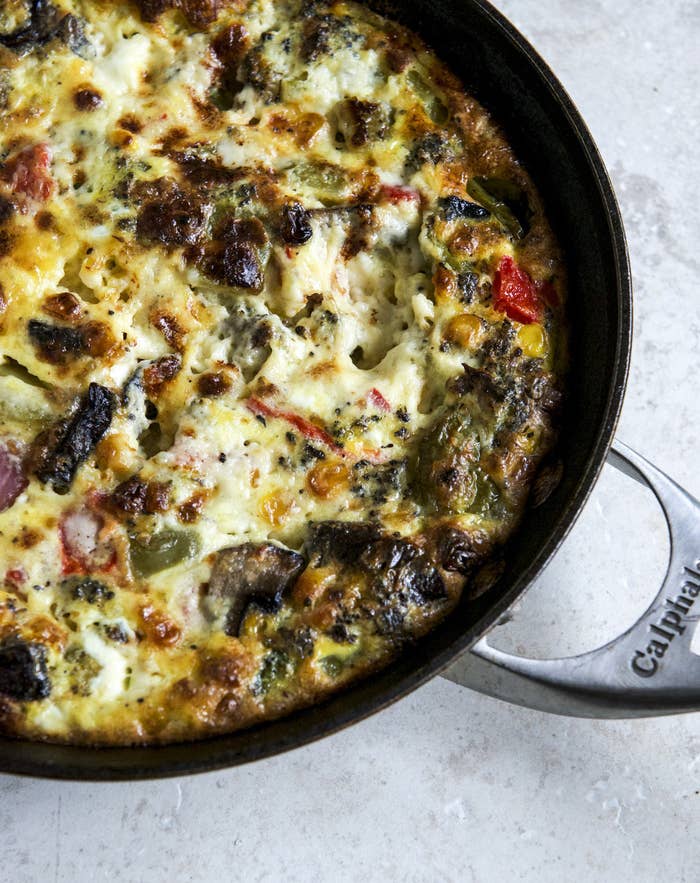 Roasted Vegetable Queso Frittata
Recipe by Jessica Merchant
Serves 4-6
INGREDIENTS
Vegetables:
1⁄2 red onion, diced
1⁄2 green bell pepper, chopped
1⁄2 red bell pepper, chopped
1 cup fresh or thawed frozen sweet corn kernels
1 cup broccoli florets, chopped
2 tablespoons extra-virgin olive oil
1⁄2 teaspoon salt
1⁄2 teaspoon freshly ground black pepper
8 ounces mushrooms, chopped
Queso:
2⁄3 cup heavy cream
12 ounces white cheddar cheese, freshly grated
Frittata:
8 large eggs
2 garlic cloves, minced
2 tablespoons heavy cream
1⁄2 teaspoon salt
1⁄2 teaspoon freshly ground black pepper
PREPARATION
For the vegetables, preheat the oven to 450ºF. Add the onions, peppers, corn, and broccoli to a large bowl and toss them with 11⁄2 tablespoons of the olive oil, the salt, and pepper. Add the mushrooms to another bowl and toss with the remaining olive oil. Add all of the vegetables to a nonstick baking sheet. Roast for 20 to 25 minutes, tossing once during the cooking time.
While the vegetables are roasting, make the queso. Heat the cream in a saucepan over medium heat until it bubbles along the edges. Add the cheese and stir constantly until it is all melted. Remove the pan from the heat and set aside. If the cheese firms up too much before you need to use it, simply warm it over low heat and stir until it becomes melty again.
For the frittata, add the eggs, garlic, cream, salt, and pepper to a large bowl and whisk. Add the vegetables to a 10-inch ovenproof skillet and mix them with a few spoonfuls of the queso sauce. Pour the eggs over the top of the vegetables and then spoon the remaining queso over the top. Bake the frittata until the eggs are set and the top is golden, 20 to 25 minutes. Let the frittata cool in the skillet for 10 minutes before slicing.
Reprinted with permission from the publisher Houghton Mifflin Harcourt from Seriously Delish by Jessica Merchant. Copyright 2014.
For more creative recipes that everyone will love, check out Seriously Delish.