These Easy Vegetarian Enchiladas Will Be Your New Go-To Meal
Store-bought red pepper and tomato soup is the secret to super quick enchilada sauce you can make right in the skillet.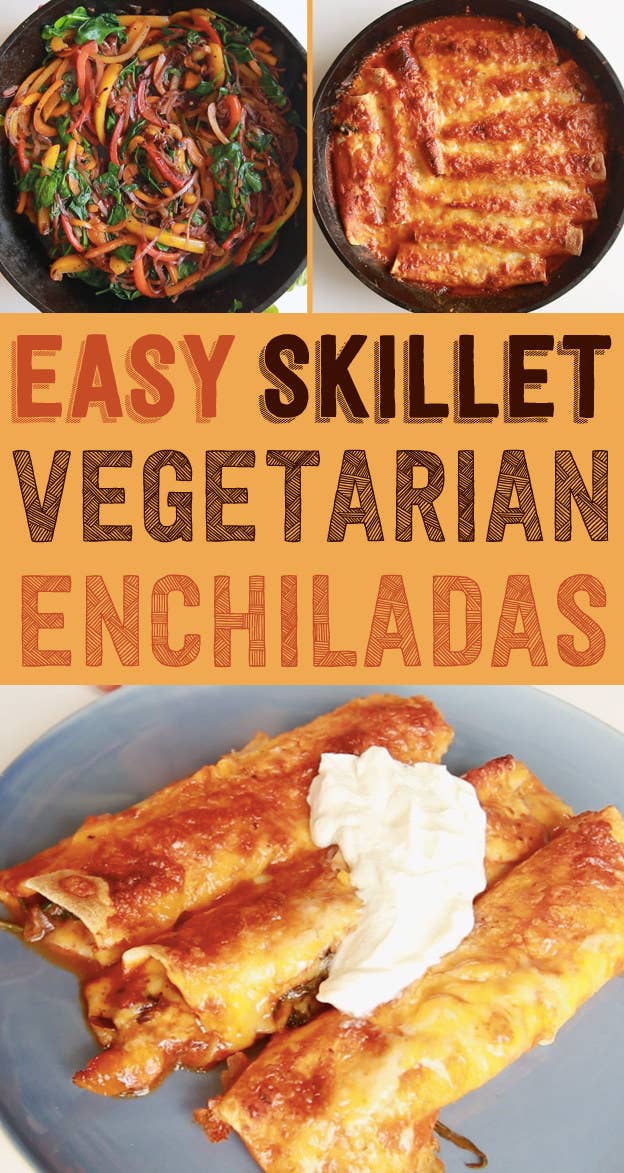 Real Talk: Vegetarian food doesn't always have to be healthy.
Easy Skillet Vegetarian Enchiladas
Makes 5 servings
Estimated active time: 30 minutes
Estimated total time: 1 hour
INGREDIENTS
1 tablespoon canola oil
3 medium bell peppers ,thinly sliced
2 medium red onions, thinly sliced
Kosher salt and freshly ground pepper
1 5-ounce bag baby spinach
½ cup low-sodium vegetable stock
2 cups store-bought red pepper and tomato soup
1 teaspoon garlic powder
1 teaspoon onion powder
1 teaspoon chili powder
1 teaspoon ground cumin
10 (8-inch) flour tortillas
12 ounces shredded cheddar cheese, divided
PREPARATION
1. Preheat the oven to 400°F.
2. Warm the canola oil in a large, oven-safe skillet over medium-high heat. Add the peppers and onions, season with salt and pepper, and cook, stirring occasionally, until the vegetables are soft and slightly charred, about 10 minutes. Add the spinach and cook, stirring constantly, just until the spinach is wilted, about 2 minutes. Transfer the cooked vegetables to a bowl, stir in half of the of the cheese, and set aside.
3. To make the sauce, pour the vegetable stock and the red pepper soup into the skillet, still over medium heat. Add the garlic powder, onion powder, chili powder, and cumin and bring the mixture to a boil. Reduce the heat to a simmer and cook until the sauce is fragrant and just slightly thickened, about 3 minutes. Remove the skillet from the heat.
4. Top each tortilla with about ⅓ cup of the vegetable-cheese filling. Roll tightly and arrange, seam side down, in the skillet with the sauce, using a spoon to baste the filled tortillas as you add them, so that they're totally covered in sauce. Sprinkle the remaining cheese on top and bake until the sauce is hot and bubbly and the cheese is melted and golden brown, 15 to 20 minutes. Cool at least 5 minutes before serving.
Recipe by Christine Byrne