27 Of The Most Delicious Things You Can Do To Vegetables
Nobody puts these babies in the corner (of their plates).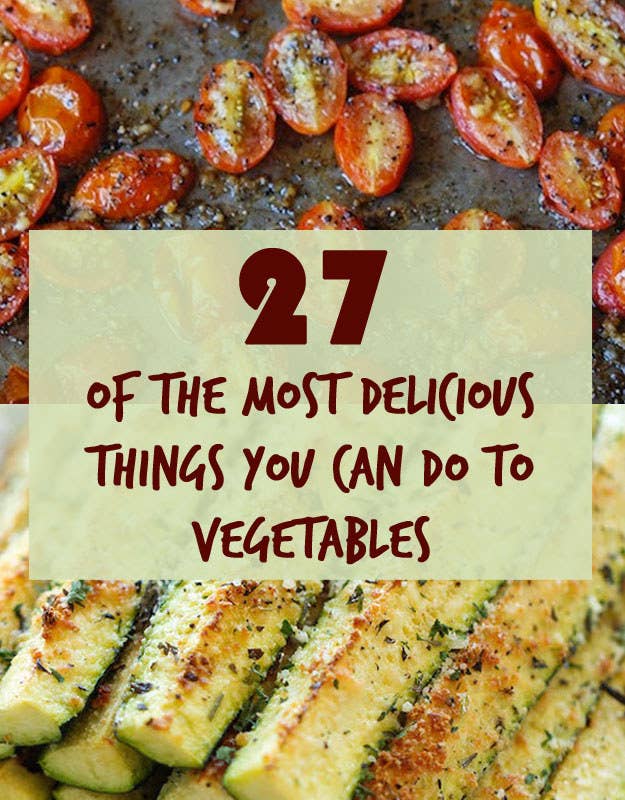 1.
Roasted Broccoli with Parmesan Cheese 2.
Creamed Kale 3.
Homemade Tater Tots 4.
Spicy Roasted Bok Choy 5.
Brown Butter Sweet Potato Alfredo 6.
Asian-Style Sesame and Garlic Green Beans 7.
Cheesy Brussels Sprouts Gratin 8.
Perfect Sauteed Mushrooms 9.
Garlic Roasted Cherry Tomatoes 10.
Buffalo Cauliflower with Blue Cheese Sauce 11.
Tomato Cobbler 12.
Extra Crispy Oven Baked French Fries 13.
Kolhrabi Carrot Fritters with Avocado Cream Sauce 14.
Baked Parmesan Zucchini "Fries" 15.
Authentic Greek Tzatziki 16.
Vegan Macaroni and Cheese Stuffed Chile Peppers 17.
Julia Child's Eggplant Pizzas (Tranches d'aubergine á l'italienne) 18.
Orecchiette with Rapini and Goat Cheese 19.
Creamed Peas and Onions 20.
Maple-Glazed Carrots 21.
Fried Artichoke Hearts with Tartar Sauce 22.
Asparagus Gruyere Tart 23.
Garlicky Swiss Chard and Chickpeas 24.
Spinach, Feta, and Potato Gratin 25.
Grilled Cabbage Wedges with Spicy Lime Dressing 26.
Vegan Roasted Red Pepper Pasta 27.
Sweet Corn Bacon Ice Cream with Cacao Nibs