Here's What You Should Eat For Dinner
You could be eating this healthy dinner in just twenty minutes.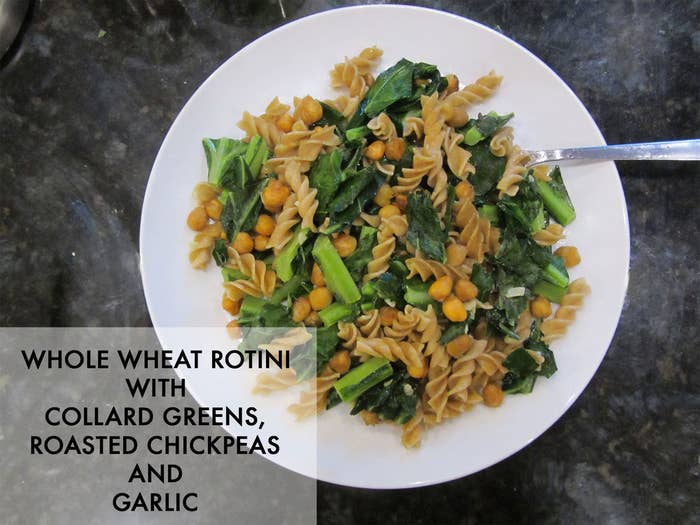 Whole Wheat Rotini with Collard Greens, Roasted Chickpeas and LOTS of Delicious Garlic
Recipe by Deena Shanker
Serves 4-6
INGREDIENTS
1 15-ounce can of chickpeas, rinsed and drained
½ cup of extra virgin olive oil, divided
Kosher salt to taste
1 lb. of whole wheat rotini or other pasta
10 garlic cloves, minced
1 bunch of collard greens, leaves separated from stems and chopped
PROCEDURE
1. Fill a large pot with water and a generous pinch of kosher salt and bring to a boil. Preheat the oven to 400°.
2. In a small bowl, toss the chickpeas with 2 tablespoons of olive oil and a generous sprinkle of salt. Spread them out on a baking sheet and roast in the oven until crispy, about 20 minutes, stopping halfway through to shake them around.
3. Add the pasta to the boiling water and cook until al dente, then drain. (If you haven't yet minced your garlic or chopped your greens, do so while your pasta is boiling.)
4. In your now-empty pasta pot, heat the remaining olive oil over medium-low heat. Add the garlic and a little salt and sauté until aromatic, about a minute. Add the collards. Continue to sauté until the leaves are wilted, just a minute or two. Add the pasta back into the pot.
5. When the chickpeas are cooked, add them to the pot. Toss everything until the garlic, collards and chickpeas are evenly distributed.