This Breakfast Sandwich Understands Your Needs
The bun is made of hashbrowns cooked like waffles. There is also bacon, egg, and cheese involved, obviously.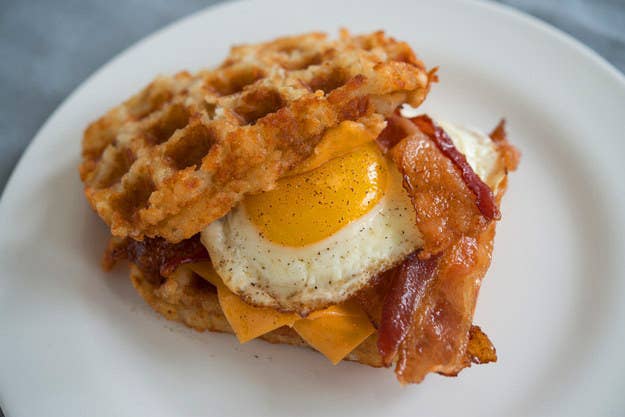 You know when you wake up on a Saturday around 1pm and think, "Why am I awake where is the Advil how can I eat everything and what do I have to live for?" This answers most of those questions. And that's very comforting.
BACON, EGG, AND CHEESE WAFFLEBROWN SANDWICH
Serves 4
INGREDIENTS
8 strips bacon
Cooking spray
16 frozen hashbrowns, thawed
2 teaspoons canola oil, divided
4 eggs
8 slices American cheese
Optional: ketchup
Special equipment:
Waffle iron
PREPARATION
Cook bacon: Preheat oven to 400°F and line a baking sheet with parchment paper. Spread the bacon slices out on the baking sheet, making sure they're not touching. When the oven is hot, cook the bacon until it's golden brown and crispy, 15-20 minutes. Remove from the oven, let the bacon cool for about 3 minutes, then transfer the cooked bacon to a plate and set aside.
Make hashbrown waffles: You need to make eight waffles total. Preheat a waffle iron to the highest setting. (Most waffle irons let you choose the brown-ness of your waffle, and for this you want to select "dark" or the hottest setting.) Coat the waffle iron with nonstick cooking spray. The number of hash browns you put in the waffle iron to create these waffles depends on the waffle iron: If you have a waffle iron that makes one waffle at a time, stack 2 thawed hash browns on top of each other and place them, stacked, in the waffle iron. On the other hand, If your iron makes more than one waffle at a time, strategically place 2 stacked frozen hashbrowns in each waffle "space" so that when each stack is squished it turns into a waffle. Close the waffle iron and let the hash browns cook for about 10 minutes. When hash browns are waffled, lay a slice of cheese over each waffle and transfer them to four separate plates, with two waffles on each plate.
Cook eggs: To fry the eggs, heat 1 teaspoon canola oil in a large nonstick skillet over medium heat. Crack 2 eggs, one at a time, into the pan, making sure they don't touch. Turn the heat to medium low and cook eggs until the whites are set and the yolks are still runny, about 3 minutes. When the eggs are cooked, place each one on top of one of the cheese-topped waffles, and repeat with the remaining teaspoon of oil and two more eggs.
To finish the assembly, lay two slices of bacon on each egg-topped cheesy waffle, then create a sandwich by placing the second cheesy waffle, cheese side-down, on top. Serve with ketchup if you want.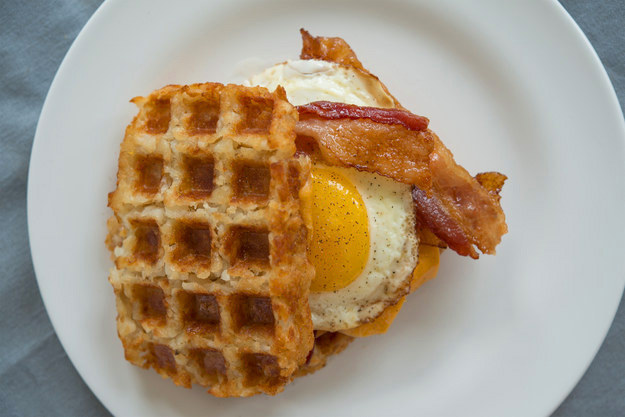 This recipe is one of the delicious contestants in an epic three-day Mix & Mash-Up food tournament happening this week on Good Morning America.