Here's What You Should Eat For Dinner Tonight
Fish — because it's healthy. And definitely parsnips, because it's fall.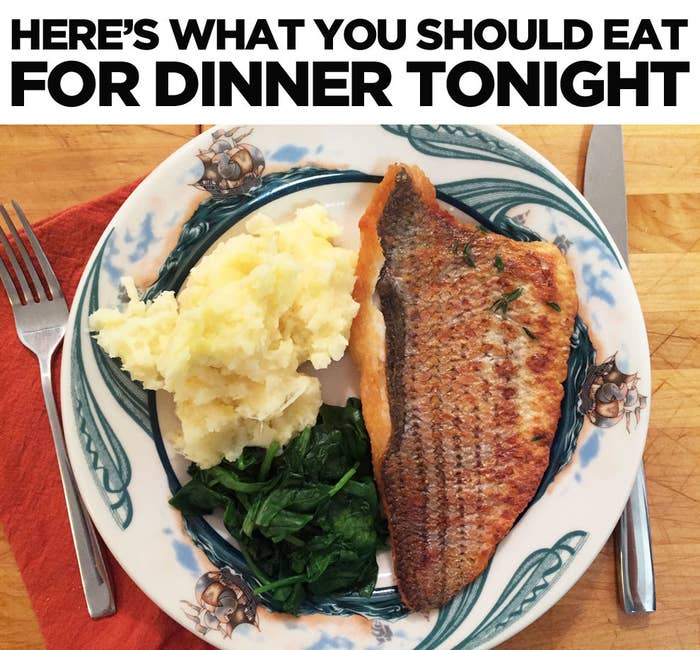 Crispy Fish with Thyme-Orange Vinaigrette, Mashed Parsnips, and Steamed Baby Kale
You could use any kind of skin-on fish for this recipe. Technically I wanted black bass; my grocery store didn't have any so I tried striped bass. It was good.
Inspired by this other fish recipe by Alison Roman.
Serves 2
INGREDIENTS
3 large parsnips
3 Yukon gold potatoes
1/2 cup milk (or cream or half and half)
2 tablespoons butter
1 garlic clove
1 tablespoon thyme leaves
1 orange
kosher salt and pepper
2 5-oz packages of baby kale (or just a bunch of regular kale with the stems removed and the leaves sliced)
2 5-oz filets of skin-on striped bass
1 tablespoon vegetable oil
PREPARATION
1. Peel potatoes and parsnips then chop them roughly into 1-inch pieces — exact size doesn't matter as long as the pieces are all about the same size. Put them in a large pot and cover them by 1" with water. Bring the water to a boil and cook them until they are tender throughout when pierced with a paring knife — this takes about 15-20 minutes depending on the size of the pieces and the pot size and stuff, so test after 15 minutes and every couple minutes afterwards until they're tender.
2. Meanwhile, put 1/2 cup milk (or cream or half and half) in a small saucepan with 2 tablespoons of butter and gently heat until the butter melts. You can let it simmer but don't let it boil, ideally.
3. As your potatoes are boiling and your dairy is melting, prep the fish stuff: Thinly slice the garlic; squeeze the orange so you have about 1/2 cup fresh orange juice; and pick the thyme leaves off the sprigs.
4. Fill a medium saucepan with a 1/4" of water — ie, just a little water. If you have a steamer basket (see photo below) set it inside, then put the kale in and cover it. Don't turn on the heat to cook it yet. If you don't have a steamer basket, just pile the kale in on top of the water and order one on the internet for next time.
5. By now your potatoes and parsnips should be tender. Before you drain them, scoop out a cup of the cooking liquid and set aside. Then turn off the heat and drain the potatoes/parsnips and return them to the pot. While they are still warm, add the warm milk/butter and a good amount of kosher salt and mash everything together. (The tool you use for the mashing is a often a circumstantial issue — to do it quickly, a potato masher is best. If you don't have one, you can get the job done with a wooden spoon or a whisk, but it's not always fun. You can use an electric mixer or a food processor of course if you have them and feel like it. Or, if you are like me and you can't find practically any of those things because you moved (somewhat) recently and life is a mess, use a weird cocktail muddler that is somehow easier to find.) Add some of the cooking liquid if you need it, and season with more salt to taste (and even more warmed butter/milk if you want.) Cover partially so they stay warm.
6. Turn on the heat under your kale to bring the water to a simmer, which will create steam to steam the kale! Let it stay covered until the kale is wilted but still bright green, then uncover.
7. As your kale is steaming, it's time to finish up the meal / cook your fish! Put the tablespoon of vegetable oil in a saute pan (large enough to hold both pieces of fish without crowding) over medium-high heat and get the oil so hot that it's almost smoking. As the oil is heating, dry the fish on both sides with a paper towel and season it generously with salt and pepper on both sides. Once the oil is super hot / shimmering, lay the filets in the pan skin side down and DON'T MOVE THEM. If the oil is hot enough and there is a nice thin layer of it on the pan, the fish will not stick. Cook them about 5-7 minutes without moving them until the skin is golden brown and crisp.
8. Check the kale; turn off the heat and uncover if it's done.
9. Gently flip the fish over, flipping away from you to avoid oil splattering, then add the sliced garlic and thyme to the pan. Cook, stirring the garlic/thyme occasionally, until fish is opaque throughout, about 1 more minute. Then add orange juice to pan (pour it through a strainer so none of the seeds get in there) and swirl to combine. Transfer fish to the plates with the parsnip-potato mash and the kale and pour the vinaigrette over.
Make sure when you peel and chop your potatoes and parsnips that they are all about the same size so they cook at the same rate when you boil them.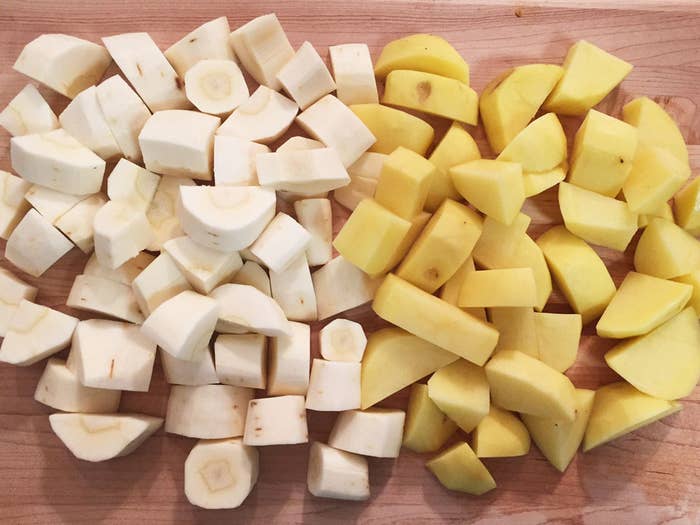 Get all of the ingredients for the vinaigrette ready before you start to saute your fish.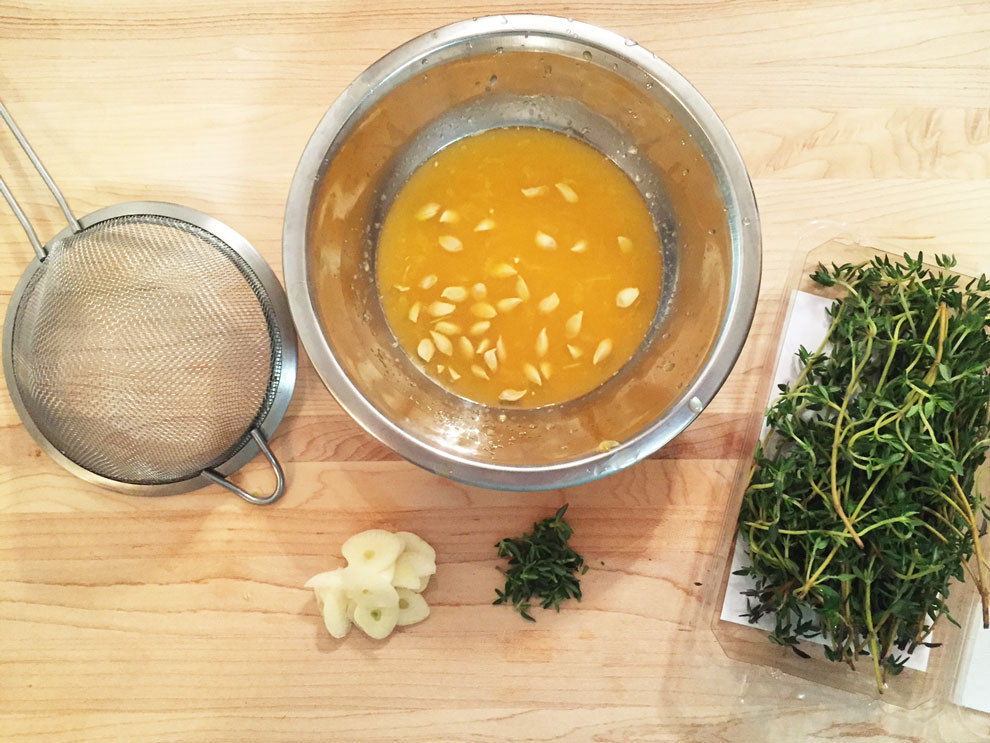 You will use all four burners so that everything is ready at the same time.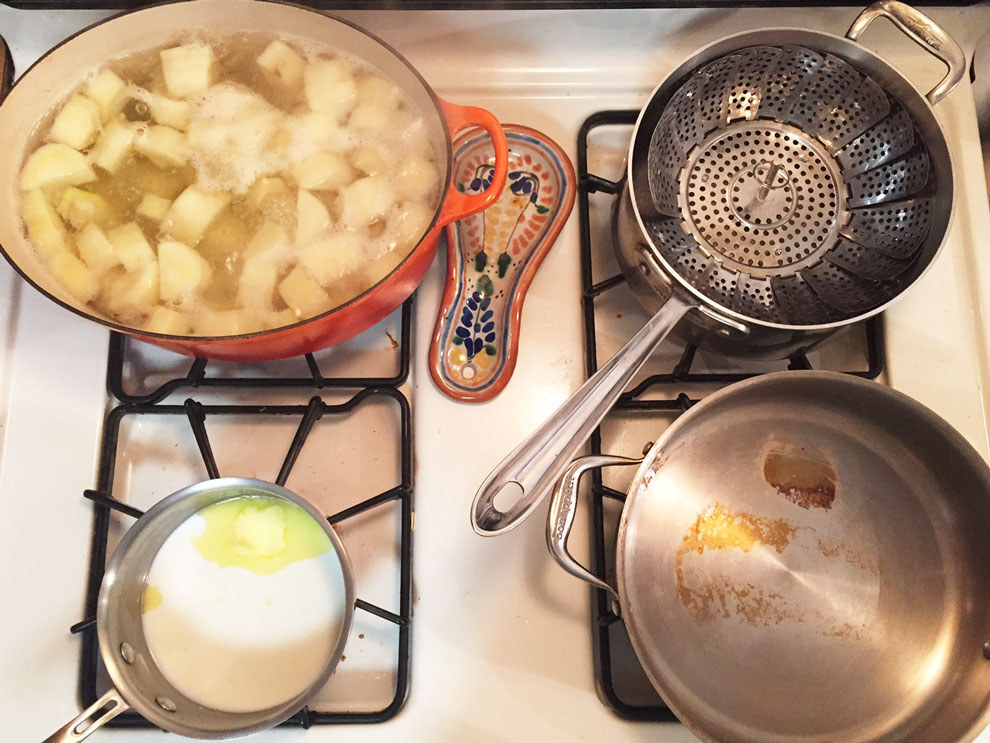 Let the fish saute in a very hot pan skin side down for 5 minutes untouched to get the skin crispy and brown. While this happens you can adjust the flavor of your potatoes.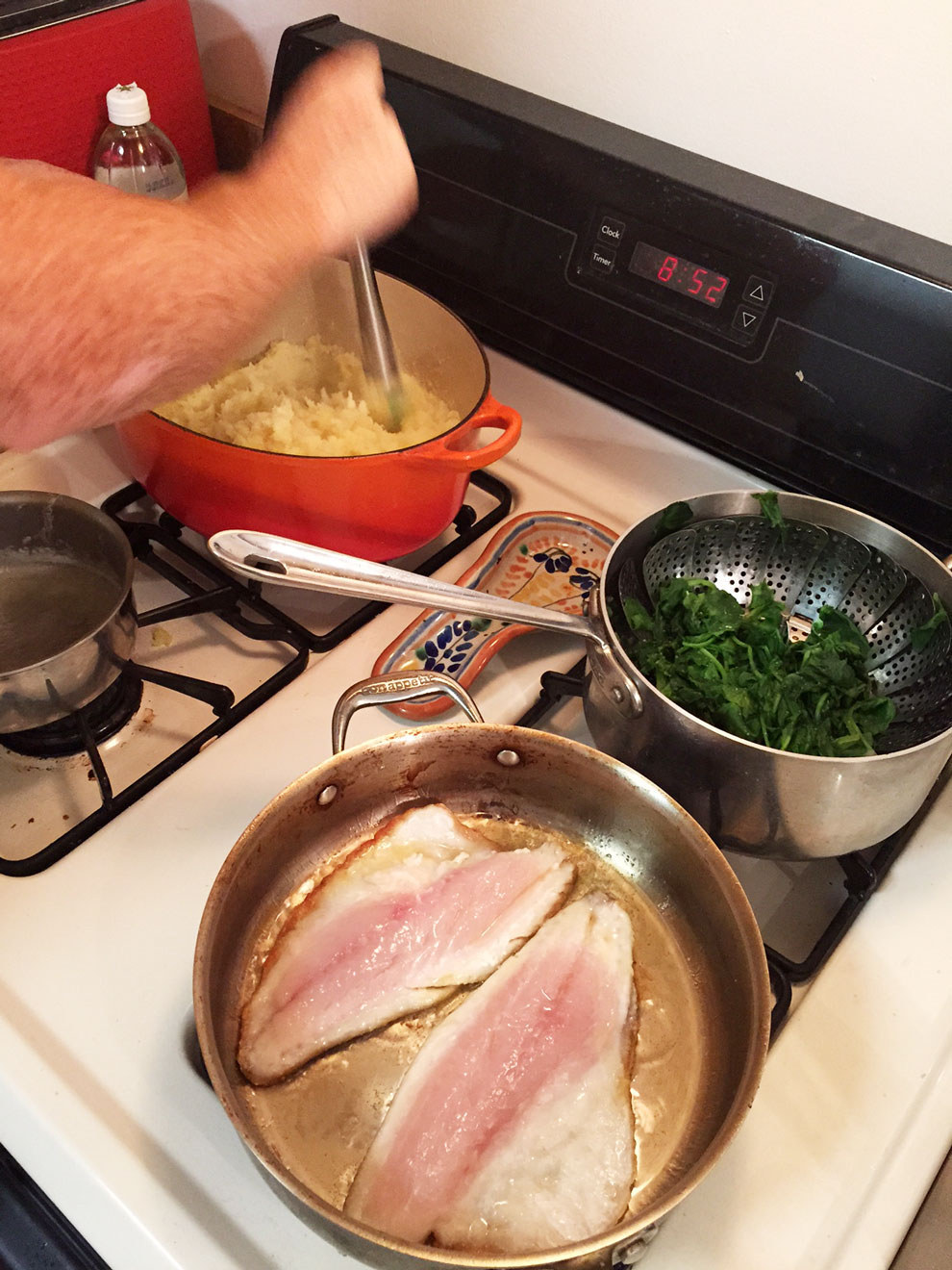 Saute the garlic and thyme a little in the oil as the fish finishes cooking and before you add the orange juice.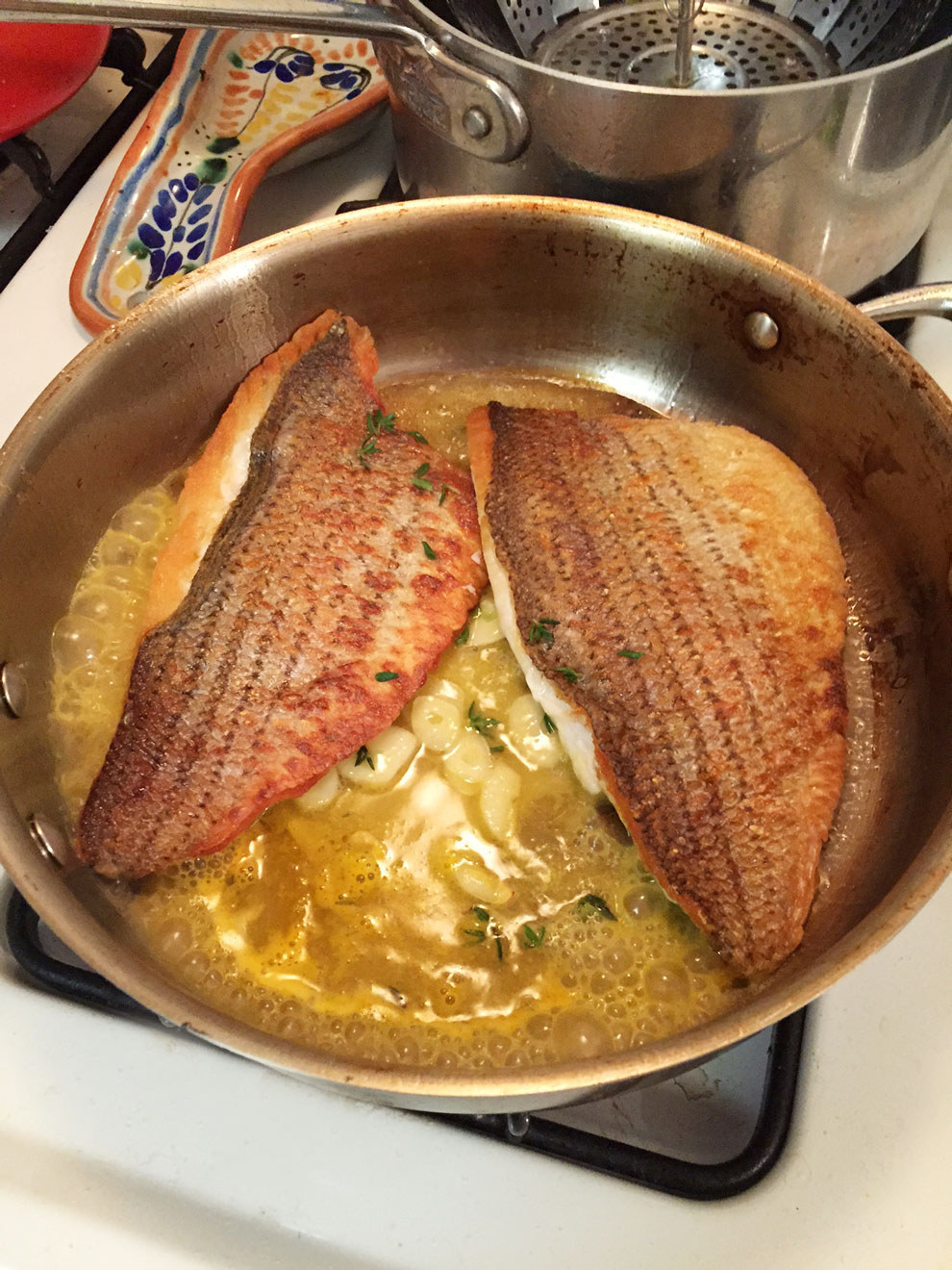 Most importantly: Make more kale than I did because this plate is supposed to be HALF GREEN VEGETABLES according to Michelle Obama.