16 Delicious Yogurt Topping Combos
Basic fruit and granola is played out. These flavorful combos take a little extra effort, so keep things easy by setting aside a half hour on a Sunday to make one or two of them to use throughout the week. Worth it.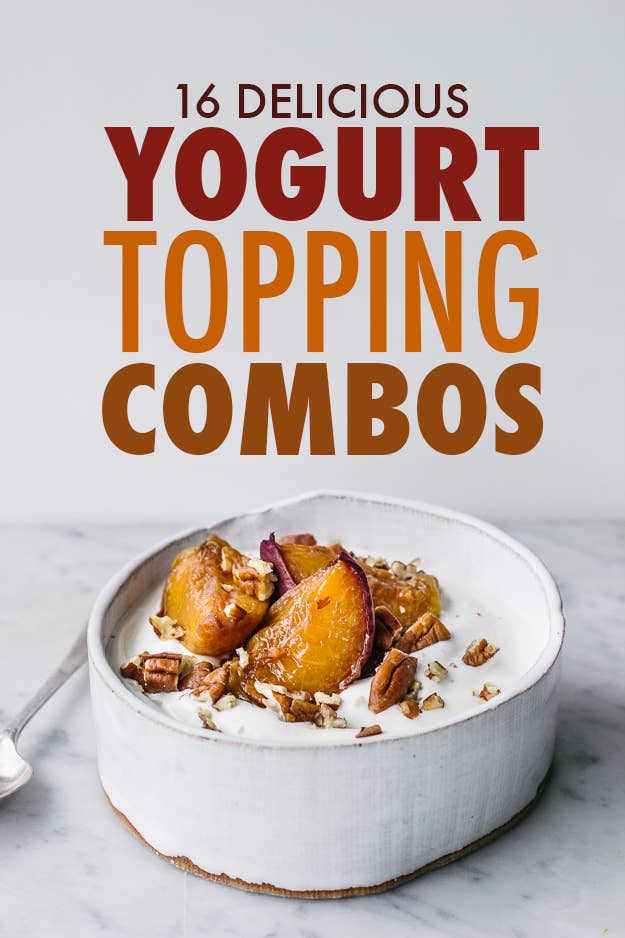 1.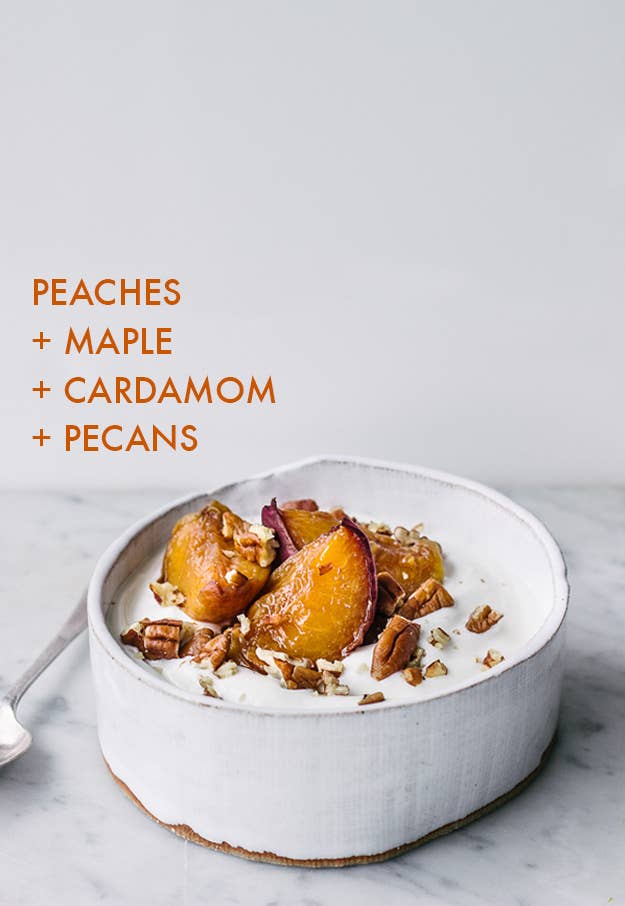 DIRECTIONS: Toss together pitted and quartered peaches with a pinch of cardamom and drizzle of maple syrup. Roast in 350°F oven until tender. Eat warm or at room temperature over yogurt with chopped pecans.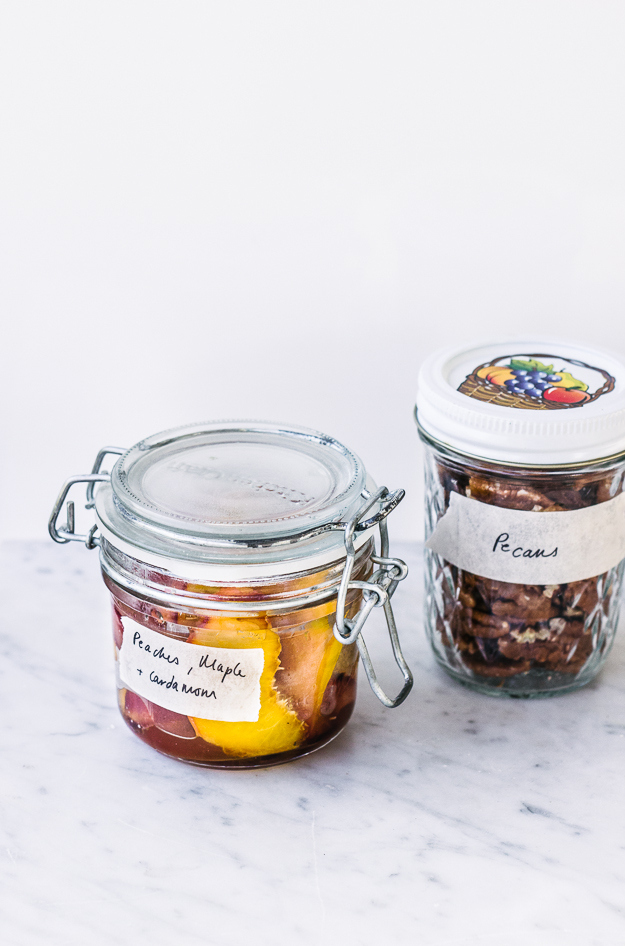 2.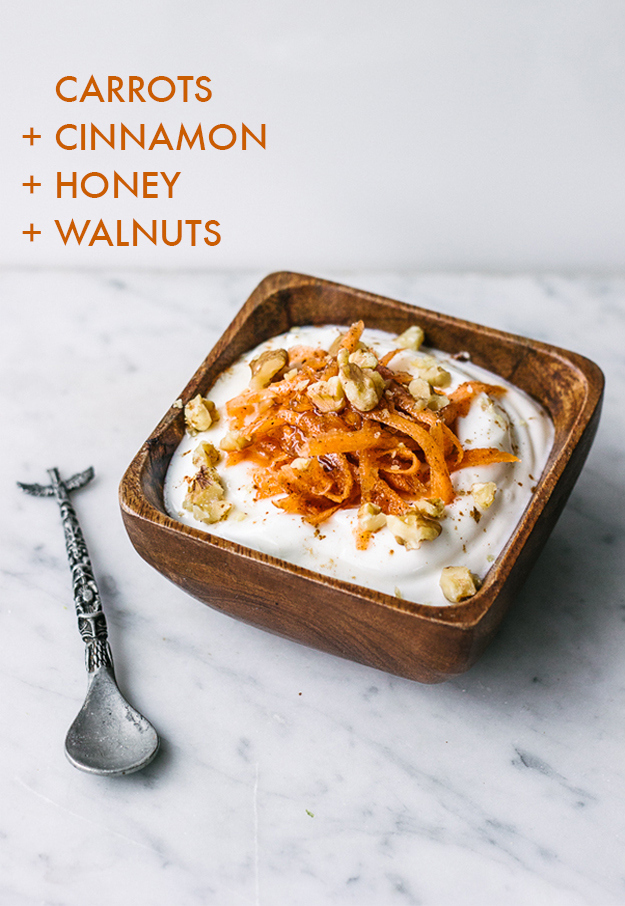 DIRECTIONS: Coarsely grate carrots and toss with honey and cinnamon. Spoon over yogurt and sprinkle with chopped walnuts.
3.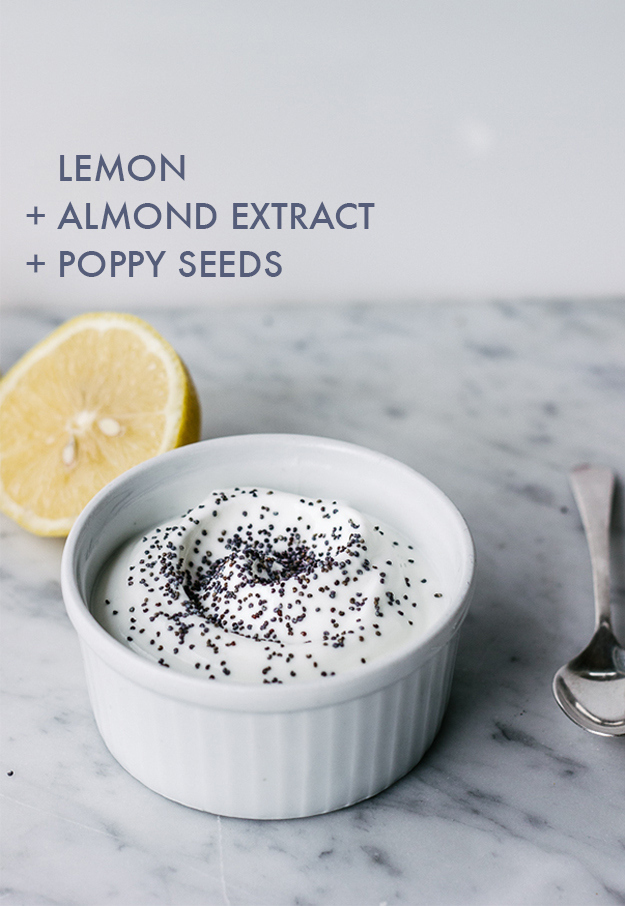 DIRECTIONS: Stir lemon juice and a dash of almond extract into yogurt. Sprinkle with poppy seeds.
4.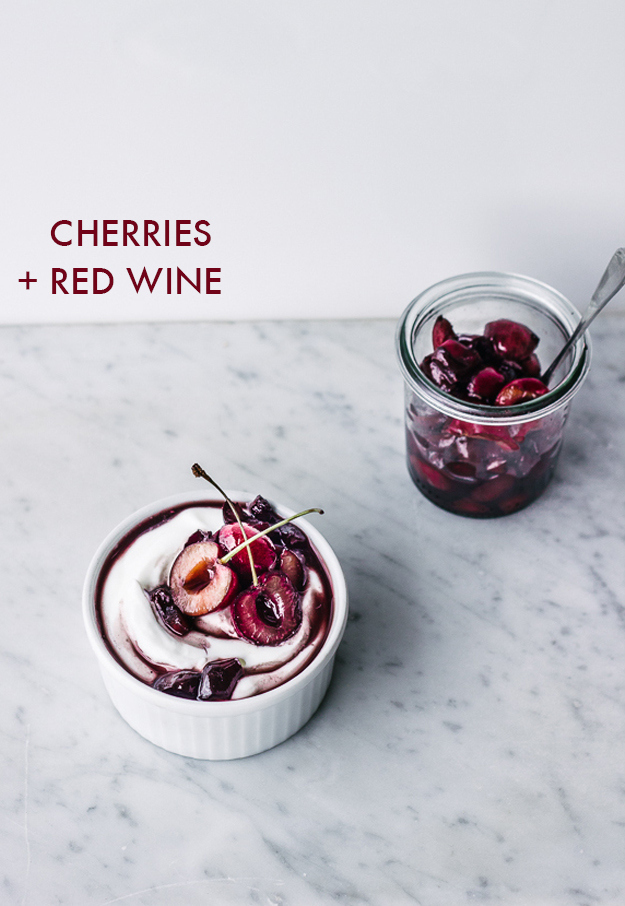 DIRECTIONS: Pit and coarsely chop cherries. Add to a saucepan with a few tablespoons of full-bodied red wine and a pinch of sugar. Simmer until the liquid is thickened, then cool and serve over yogurt.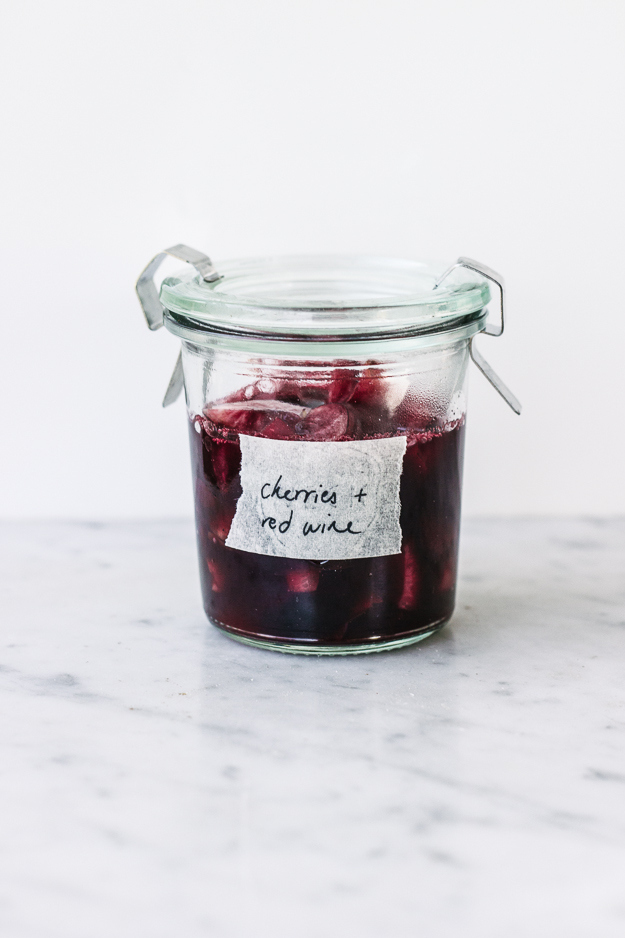 5.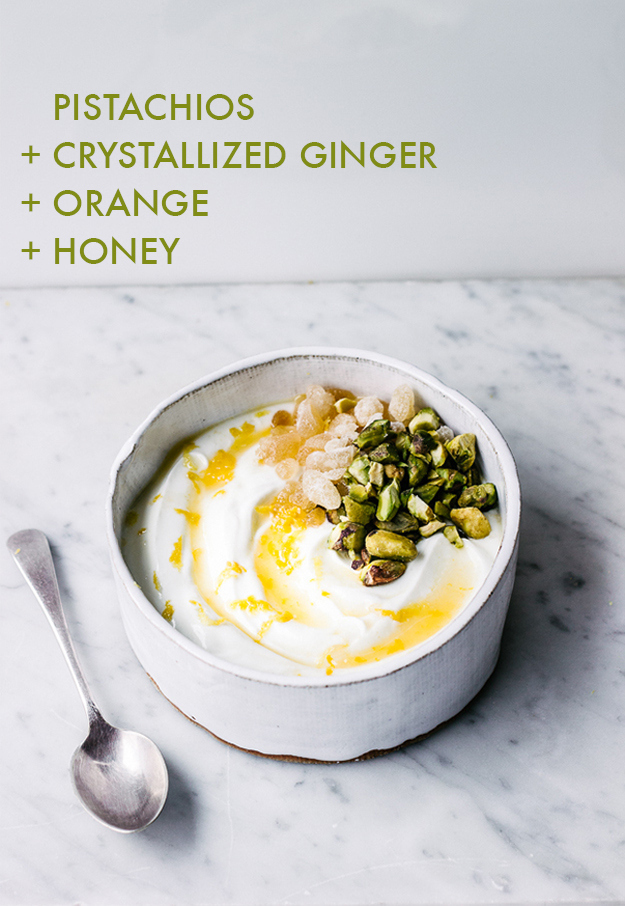 DIRECTIONS: Whisk together honey, orange juice, and orange zest. Drizzle over yogurt, and sprinkle with chopped crystallized ginger and chopped pistachios.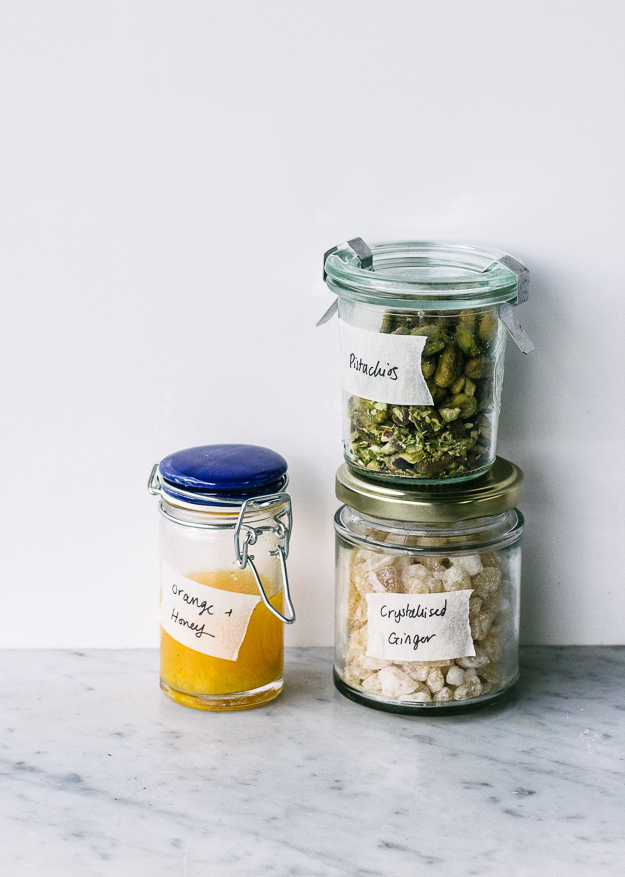 6.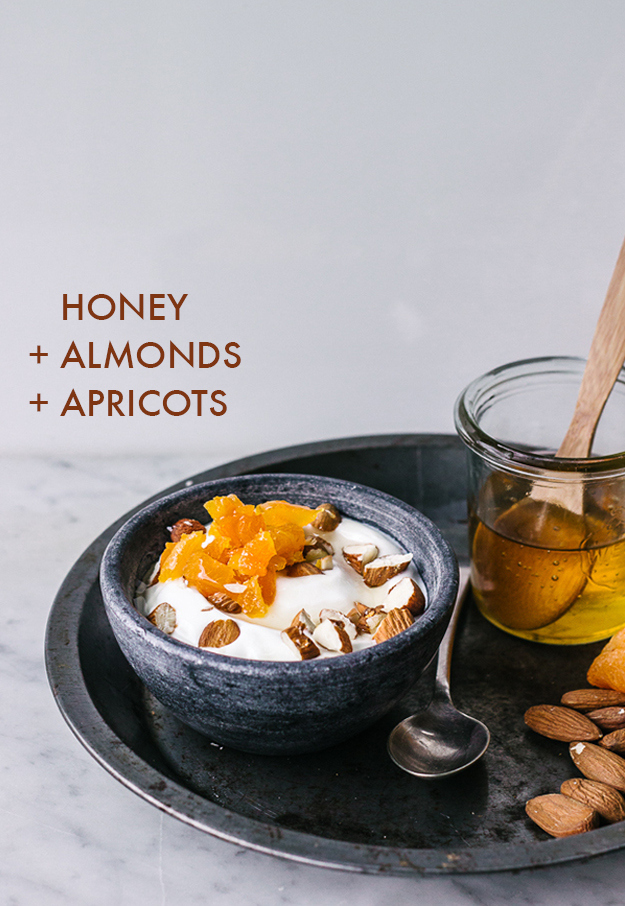 DIRECTIONS: Swirl honey into yogurt. Top with coarsely chopped almonds and apricots. Drizzle with additional honey.
7.
DIRECTIONS: Wrap whole sweet potatoes in aluminum foil and roast in a 375°F oven until tender. Peel and mash with a drizzle of maple syrup. Dollop on top of yogurt and sprinkle with hazelnuts.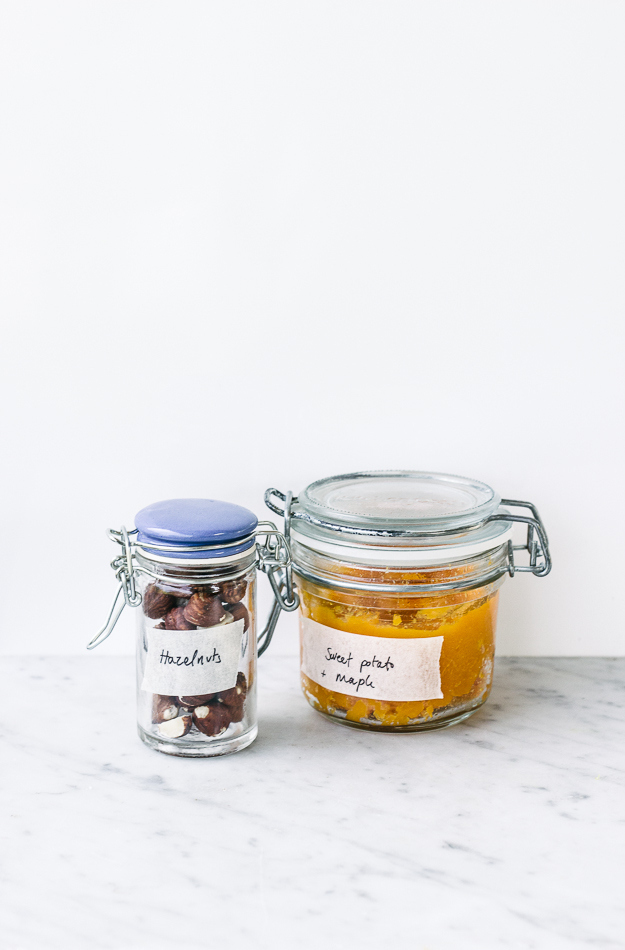 8.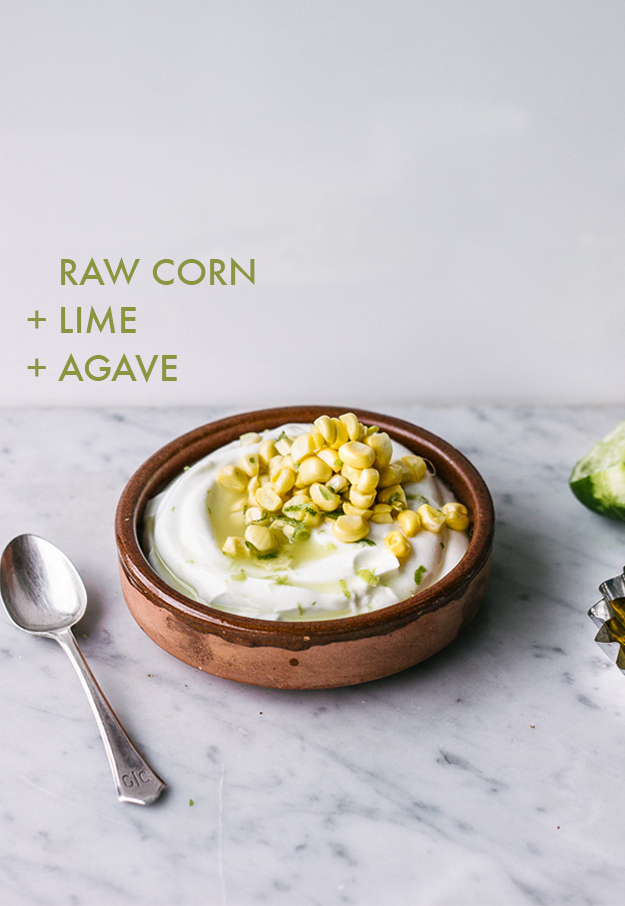 DIRECTIONS: Whisk together lime juice, zest, and agave. Slice fresh sweet corn kernels off the cob. Toss with lime mixture and sprinkle over yogurt.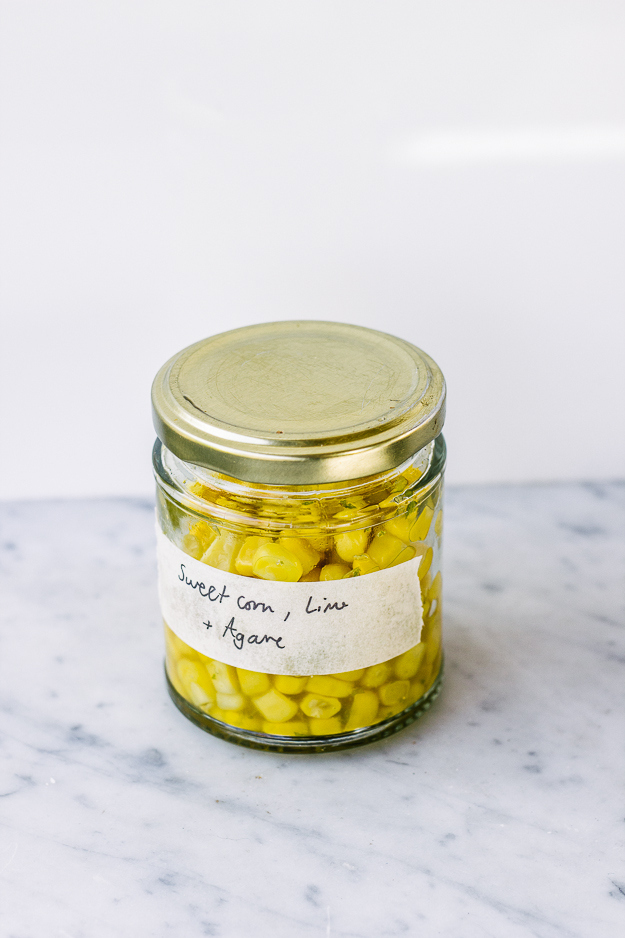 9.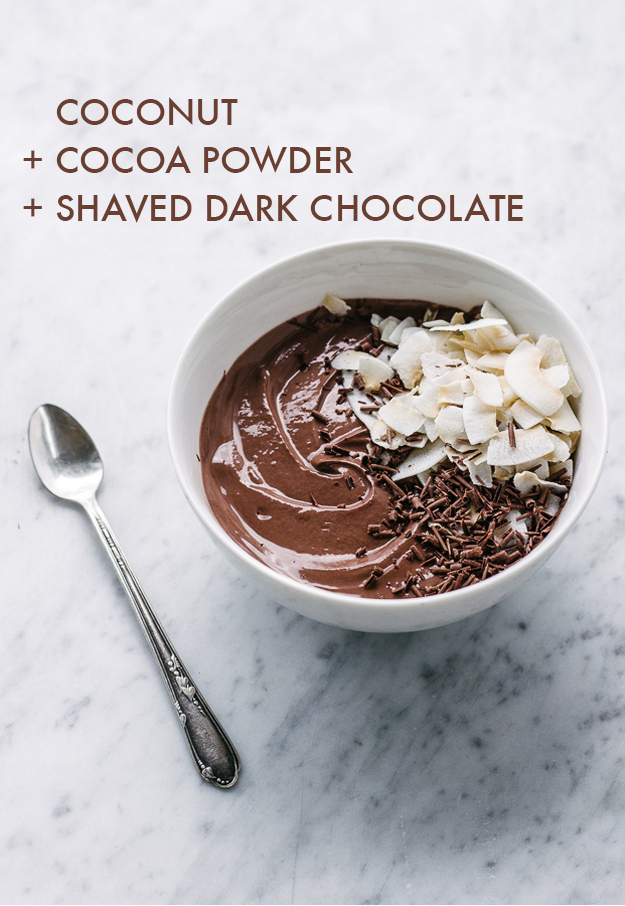 DIRECTIONS: Toast large flaked coconut in a 350°F oven until lightly browned and fragrant. Cool slightly. Stir cocoa powder into yogurt and top with the toasted coconut and chocolate shavings.
HOT TIP: Toast extra coconut and store in an airtight container so you can make this again throughout the week.
10.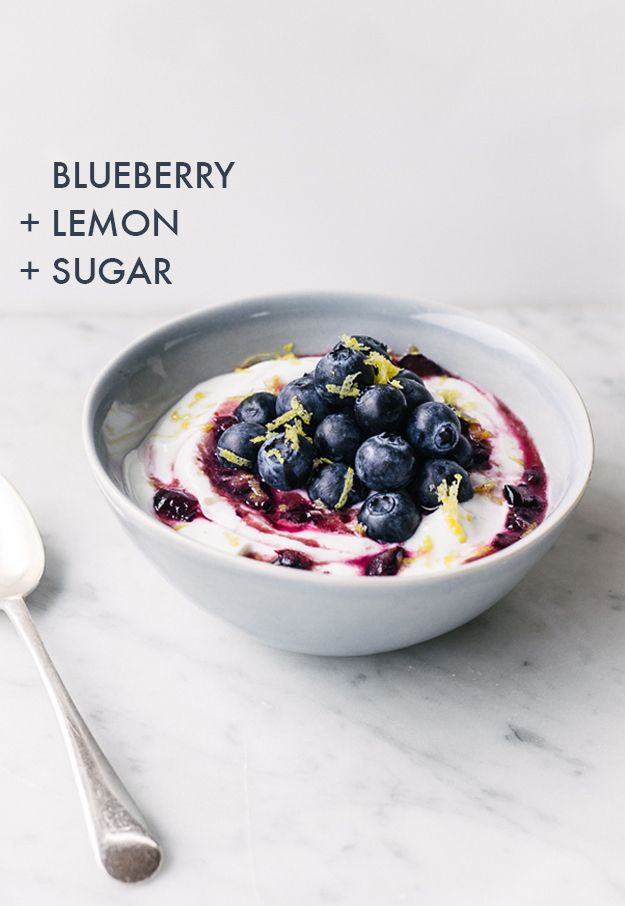 DIRECTIONS: In a bowl smash together half of the blueberries with fresh lemon juice and a sprinkle of granulated sugar. Swirl gently into yogurt. Top with whole blueberries and lemon zest.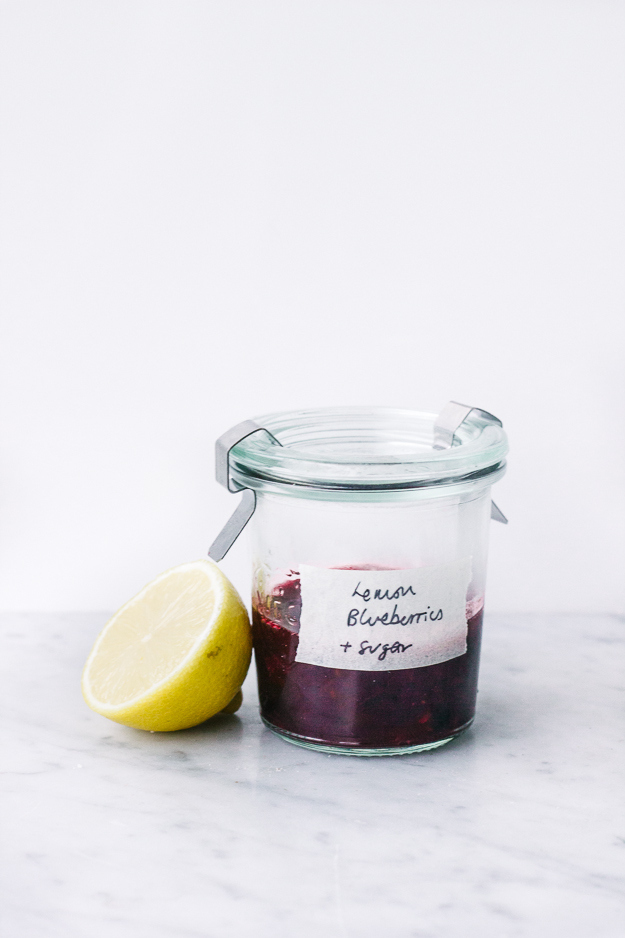 11.
DIRECTIONS: Stir vanilla extract into yogurt. Top with diced fresh strawberries. Sprinkle brown sugar and coarsely chopped pecans overtop and serve.
12.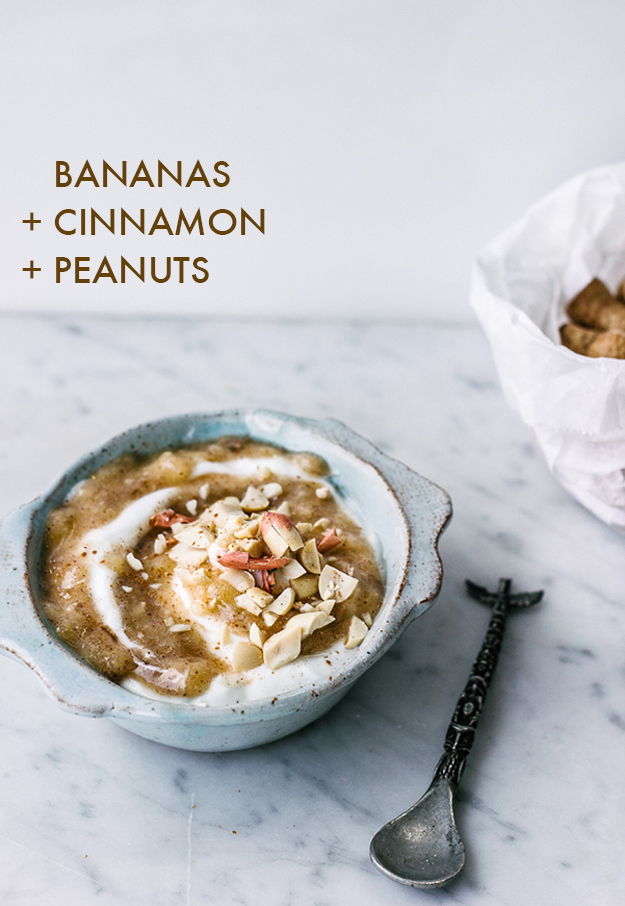 DIRECTIONS: Mash banana and cinnamon together with a fork until smooth. Swirl gently into yogurt and top with finely chopped peanuts.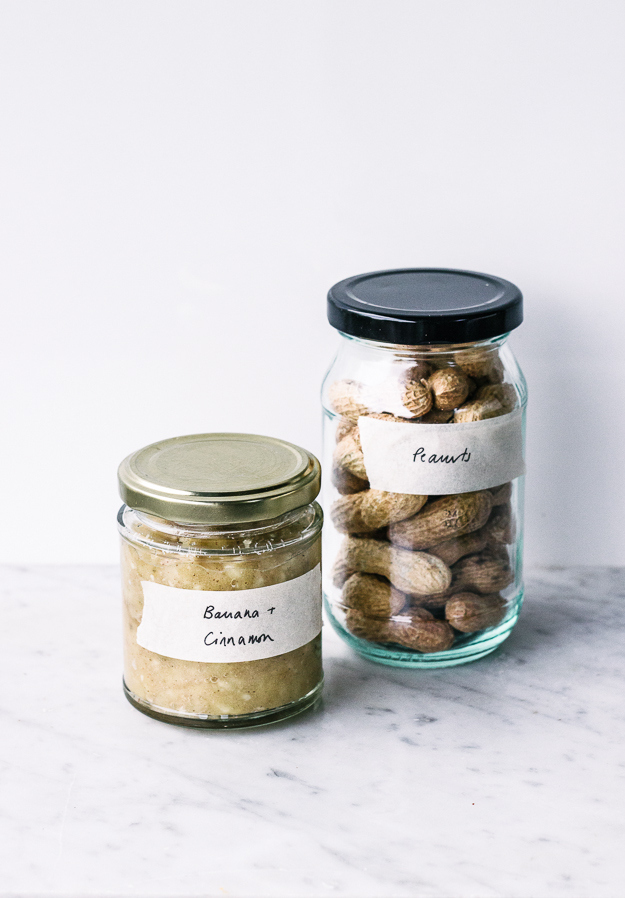 13.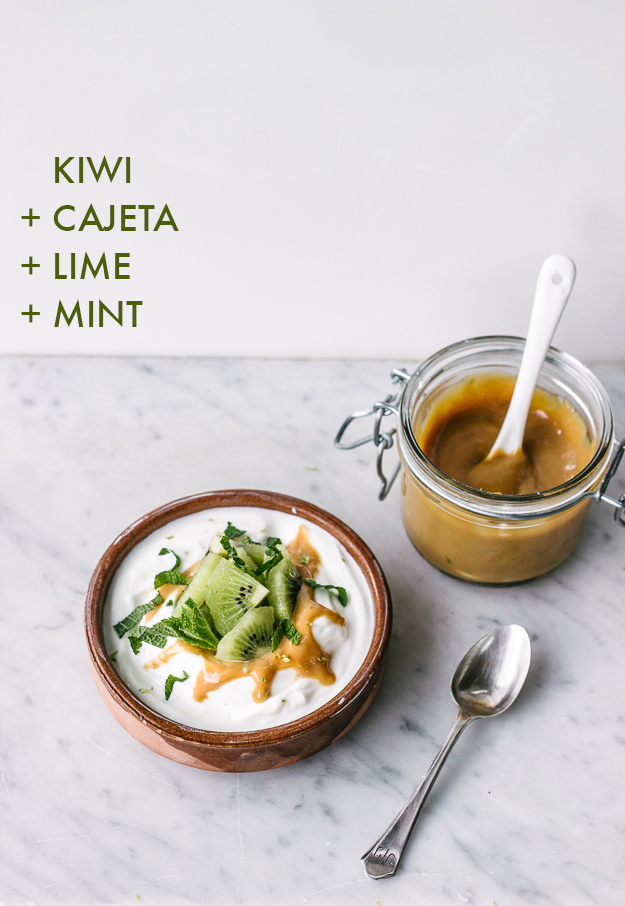 DIRECTIONS: Stir lime zest and lime juice into cajeta. Swirl the lime-cajeta into yogurt and top with diced kiwi and sliced fresh mint. (Cajeta is a goat's milk caramel you can get at Mexican grocery stores. If you can't find it, substitute store-bought caramel sauce.)
14.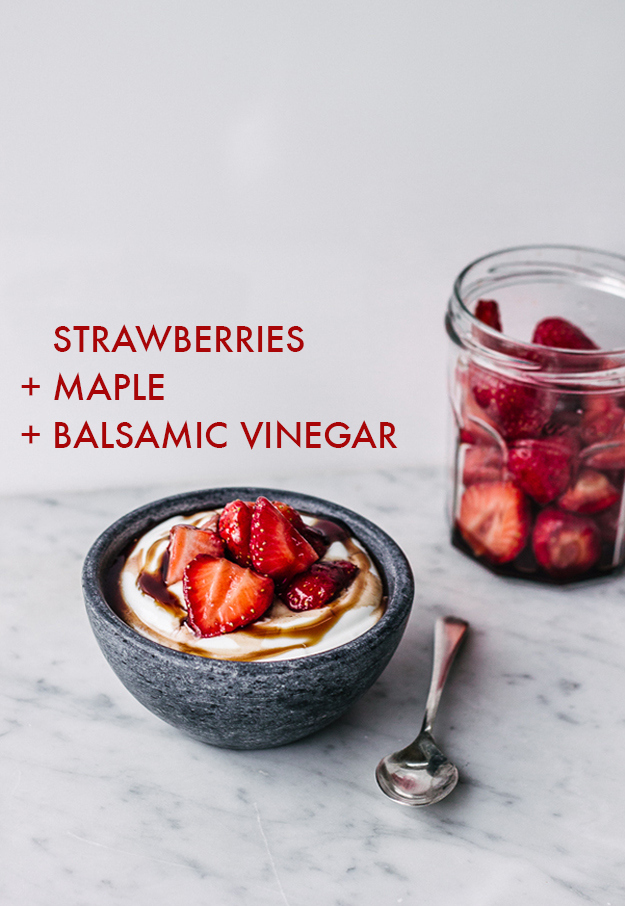 DIRECTIONS: Whisk together balsamic vinegar and maple syrup in a bowl. Add the berries and set aside to macerate for 30 minutes. Spoon over yogurt.
15.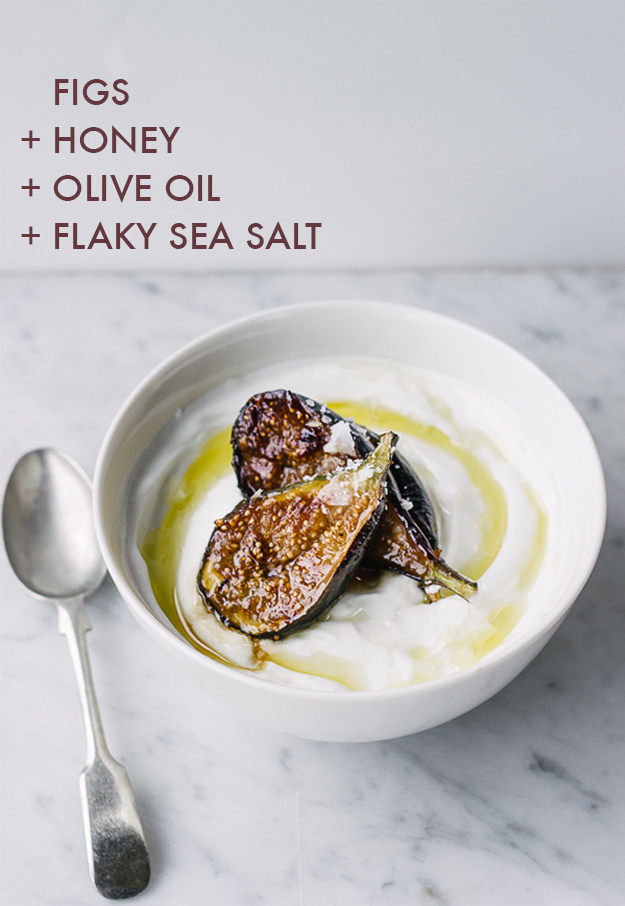 DIRECTIONS: Halve fresh or dried figs. Drizzle the cut sides with honey and place, cut sides down, in a hot skillet. Caramelize for 2 minutes. Top yogurt with figs, drizzle with olive oil and sprinkle with sea salt.
16.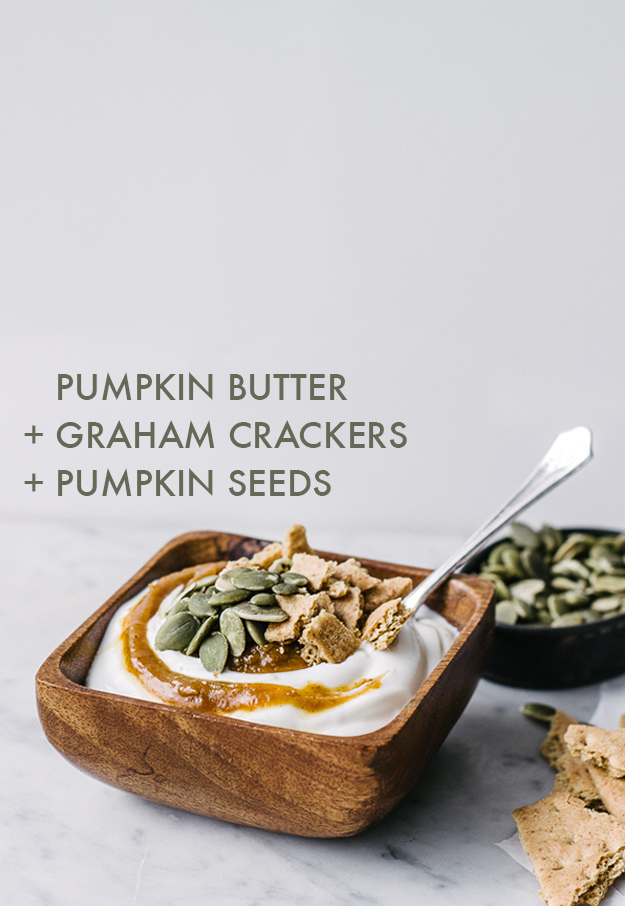 DIRECTIONS: Swirl pumpkin butter into yogurt and top with shards of graham crackers and pumpkin seeds.
Recipes by Rebekah Peppler