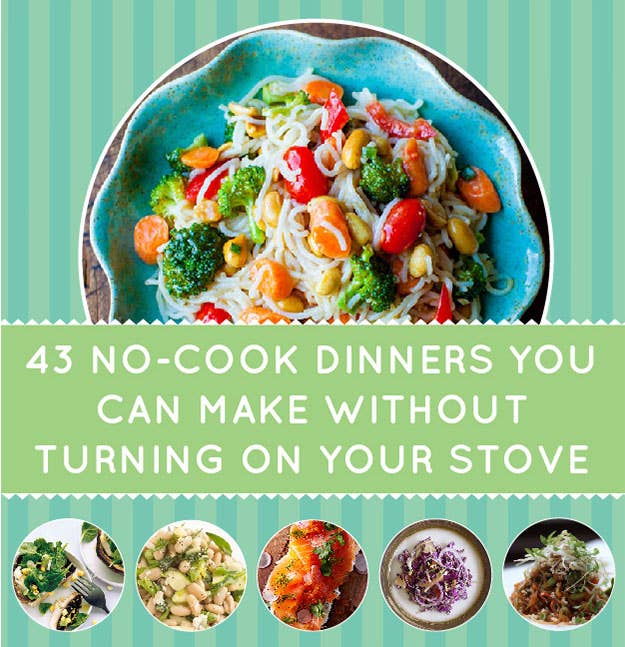 1.
Asian Noodle Salad with Chicken and Cilantro 2.
Summer Anchovy Salad 3.
Roast Chicken and Mango Salad with Yogurt
4.
Chef's Salad with Turkey, Avocado, and Jack Cheese 5.
Roast Beef Summer Rolls 6.
Apricot-Basil Chicken Salad 7.
Spicy Asian Chicken Salad Lettuce Cups 8.
Hiyayakko (Japanese Cold Tofu) 9.
Cold Southwestern Corn and Shrimp Soup 10.
Smoky Salmorejo 11.
Avocado and Crab Soup 12.
Blender Gazpacho with a Prosciutto and Avocado Sandwich Pair this gazpacho with a little open-faced prosciutto sandwich to make it a full meal. Get the recipe.

13.
Mint-Marinated Shrimp with Tabbouleh, Tomatoes, and Feta 14.
Raw Corn and Radish Salad with Spicy Lime Dressing 15.
Shaved Raw Asparagus with Parmesan Dressing 16.
Whole Wheat Couscous with Cherries & Arugula 17.
Tabbouleh 18.
Raw Tuscan Kale Salad Recipe 19.
Red Cabbage and Apple Salad with Tahini-Ginger Dressing 20.
White Bean Salad with Zucchini and Parmesan 21.
Pad Thai with Kelp Noodles 22.
King Oyster Mushroom and Dried Cherry Tomato Fettuccini with Cuban Oregano 23.
Carrot Ribbon Pasta Bowl with Coconut Almond Satay
24.
Peanut Noodles with Mixed Vegetables and Peanut Sauce 25.
Raw Macro Bowl with Knock-Off Dragon Sauce 26.
Creamy Spinach and Shrimp Dip 27.
Sun-Dried Tomato and Artichoke Dip 28.
Cantaloupe Salsa 29.
Niçoise Toasts 30.
Shaved Radish Sandwiches with Herb Butter 31.
Cobb Salad-Stuffed Pita Pockets 32.
Hummus and Feta Sandwiches on Whole Grain Bread 33.
Smoked Salmon Smørrebrød 34.
Artichoke, Fresh Mozzarella, and Salami Sandwiches 35.
Vegetable Summer Rolls with Spicy Peanut Sauce 36.
Marinated Mushroom Caps 37.
Raw Falafel 38.
Cilantro-Lime Sardine Salad in Avocado Halves 39.
Arugula, Apple & Chickpea Salad Wraps 40.
Zucchini Lasagna with Farmer Cheese 41.
Ceviche Spring Rolls 42.
Raw Mexican Wraps 43.
Quinoa Collard Wraps