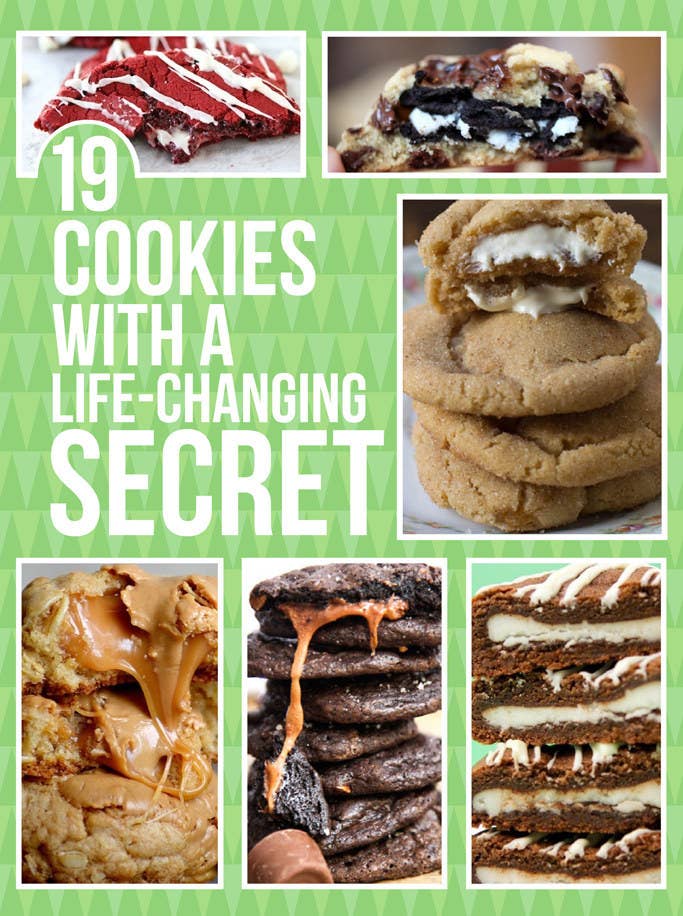 1.
You'd never know, but there's Nutella in there. 2.
Ooozing marshmallow all day, every day. 3.
Surprise jam! 4.
Here are some brown butter oatmeal cookies and they are filled with caramel and peanut butter AND you're welcome. 5.
Why even eat chocolate Kisses when they aren't wrapped in a cookie hug? 6.
SALTY caramel > basic caramel. 7.
Golden Oreos + whipped cream + sUrPriSe chopped strawberries in the middle = yes OK. 8.
This chewy chocolate cookie has A REESE'S IN IT.
9.
And this one haz OREO. 10.
More Nutella sorry not sorry. 11.
It's not like you would be MAD if you bit into a Snickerdoodle and there was WHITE CHOCOLATE in it. 12.
This surprise caramel in soft gingerbread cookies is also not the worst. 13.
Maybe I don't even want to live in a world where cake batter cookies don't come filled with frosting. 14.
Put the cheesecake inside the red velvet, drop the mic, walk out. 15.
The filling is Biscoff cookie butter full stop. 16.
I don't totally understand how cookies can be apple cider cookies but give them to me. 17.
The Nutella in these brown butter blondies WANTS OUT. 18.
Peppermint Patty surprise!! 19.
Put Rolos in all the cookies please thanks.