I Tried The Plant-Based Scrambled Eggs You've Probably Seen At Trader Joe's, And We Need To Have A Conversation About These
If you're thinking of trying plant-based eggs, you'll probably want to read this first.
As a very loyal Trader Joe's shopper and as someone who really enjoys trying new foods — including vegan ones — I was very excited when I spotted Simply Eggless plant-based eggs at my local TJ's.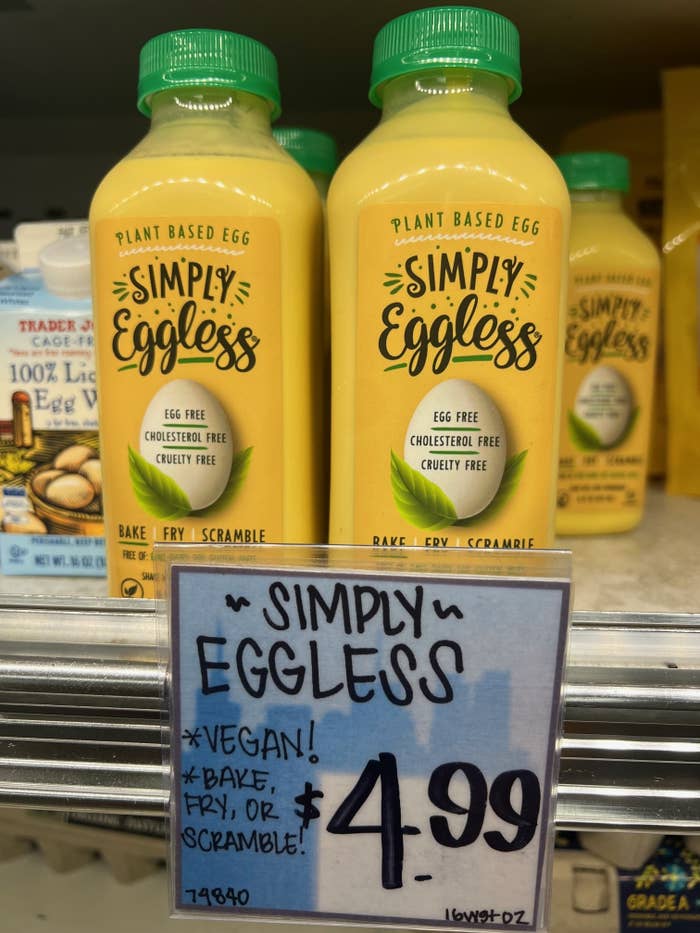 To give you a little context, I'm not vegan, but I am always fascinated by new plant-based products, and I try them often. In fact, I've found some of my favorites at Trader Joe's. For example, I love Trader Joe's vegan feta cheese alternative, and I pretty much use it in place of real feta all the time in salads and more.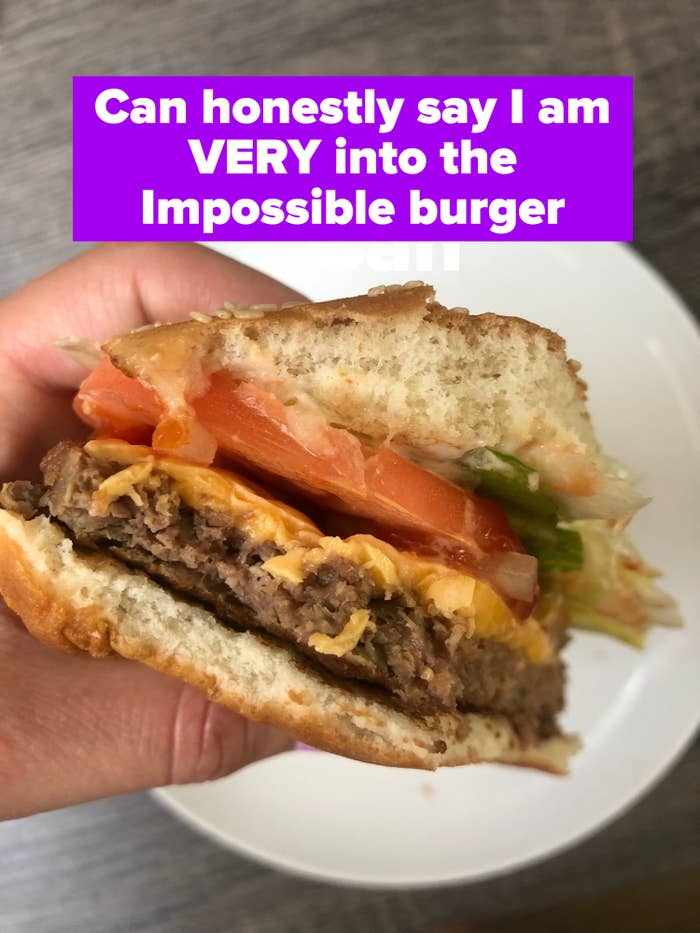 A while back, I reviewed Just Eggs plant-based scramble, and they sort of blew my mind. The way that they both looked and tasted like real eggs was really startling.
So when I spotted a new vegan egg alternative at Trader Joe's, I was excited to give them a try. These plant-based eggs aren't made by Trader Joe's, (the brand is Simply Eggless) but the fact that they're sold by TJ's made me think they must be worth a shot, as the store rarely lets me down.
I decided to compare the Simply Eggless "eggs" to the gold standard of vegan eggs — Just Eggs — and also to regular scrambled eggs to see how they really stack up.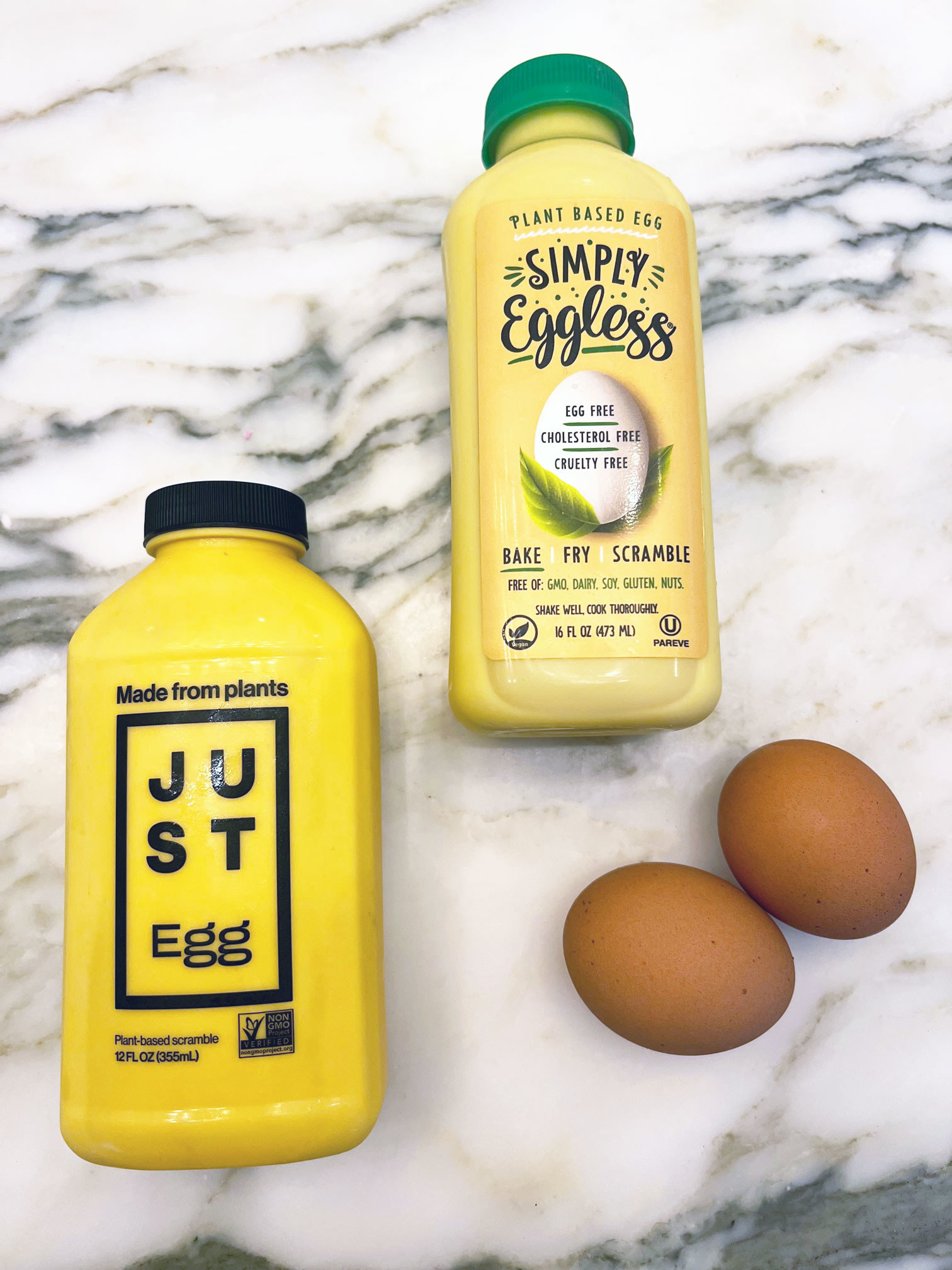 According to the packaging, three tablespoons of the Simply Eggless mixture is the equivalent of one real egg. In addition to being egg-free, they're also entirely vegan, dairy-free, gluten-free, and free of cholesterol as well. Here's a closer look at the ingredients:
As for the Just eggs ($3.99 at Target), the biggest difference I noticed is that the main ingredients are mung bean protein (which is also one of the main ingredients in Beyond Meat products) and expeller pressed canola oil.
With that housekeeping aside, it was time to try the Simply Eggless "eggs." I melted some Trader Joe's vegan butter in a skillet and added the plant-based eggs.
The Simply Eggless eggs appeared to be pretty thick and viscous, as if you were to scramble only egg yolks. They solidified and turned into scrambled egg consistency very quickly, in less than 30 seconds.
As far as the end product? Let's start with the one good thing: The color itself is similar to that of scrambled eggs.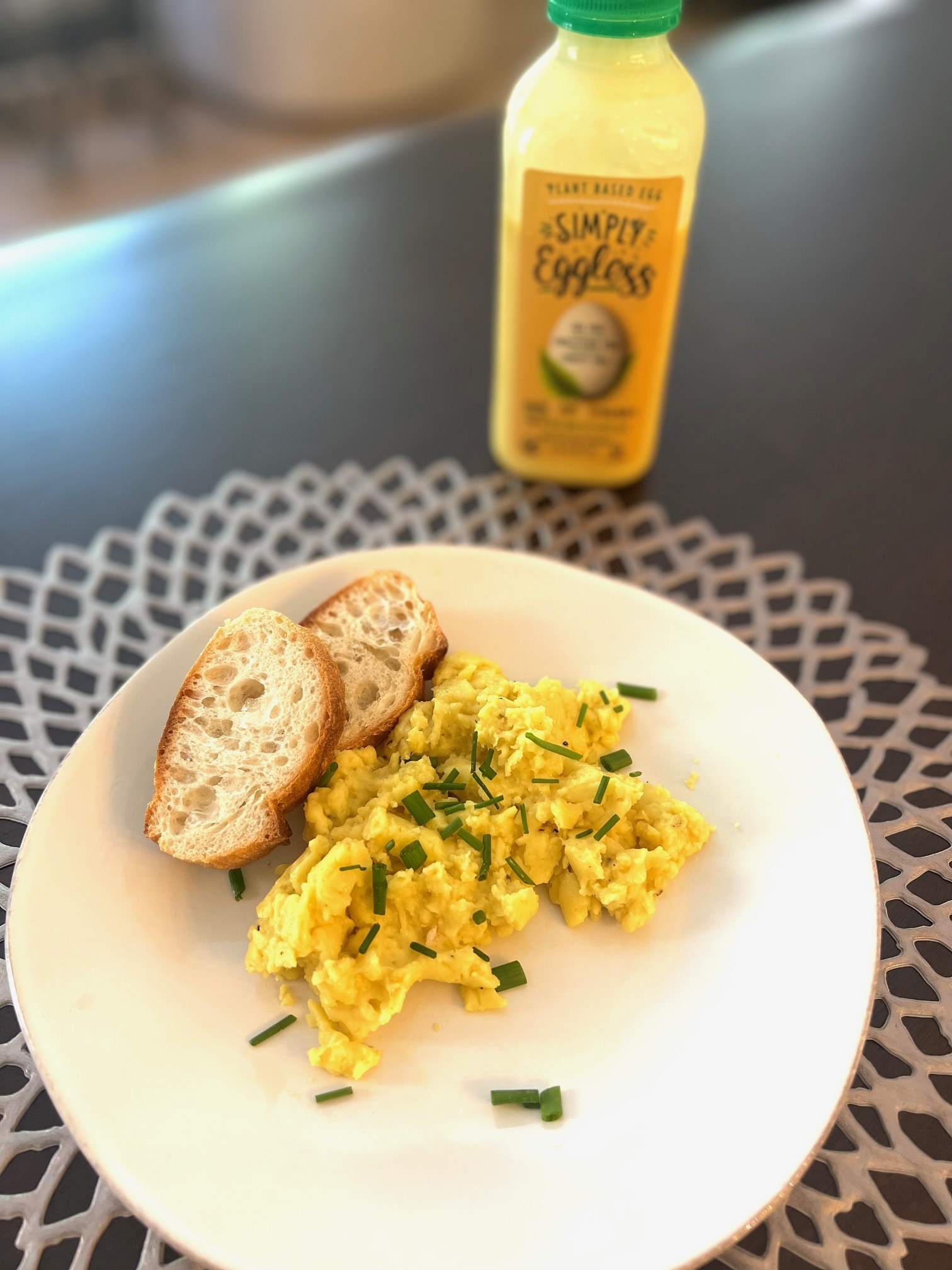 But as for the taste....sheeeesh. These were, unfortunately, nasty. There's no way to beat around the bush here. I actually spit them out. Honestly, the flavor was almost nonexistent and the texture was worse. It felt like grainy and dense mashed potatoes in my mouth. Super off-putting, and the whole bite was just a terrible experience.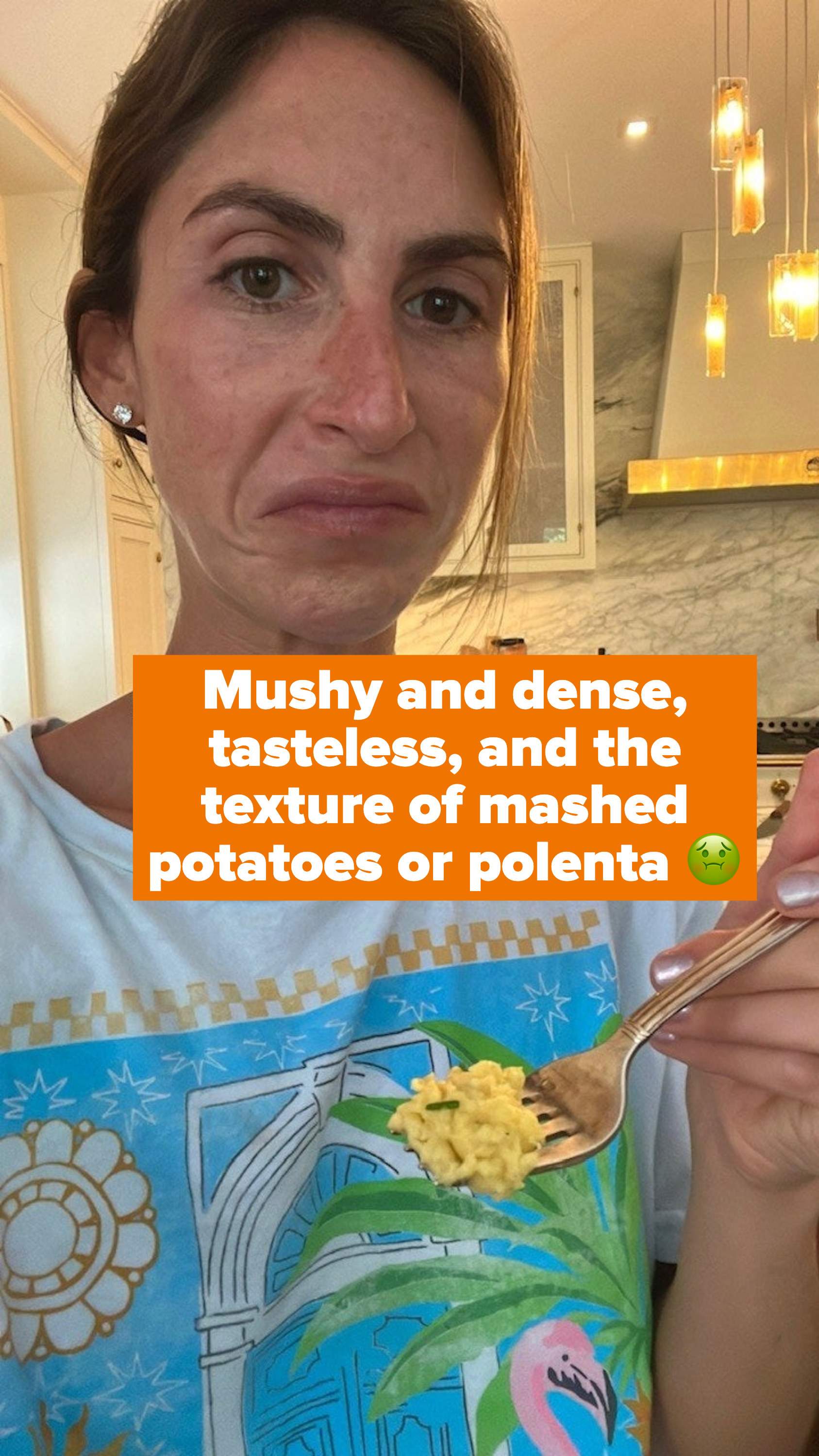 With that behind me, I decided to go back and retry Just Eggs.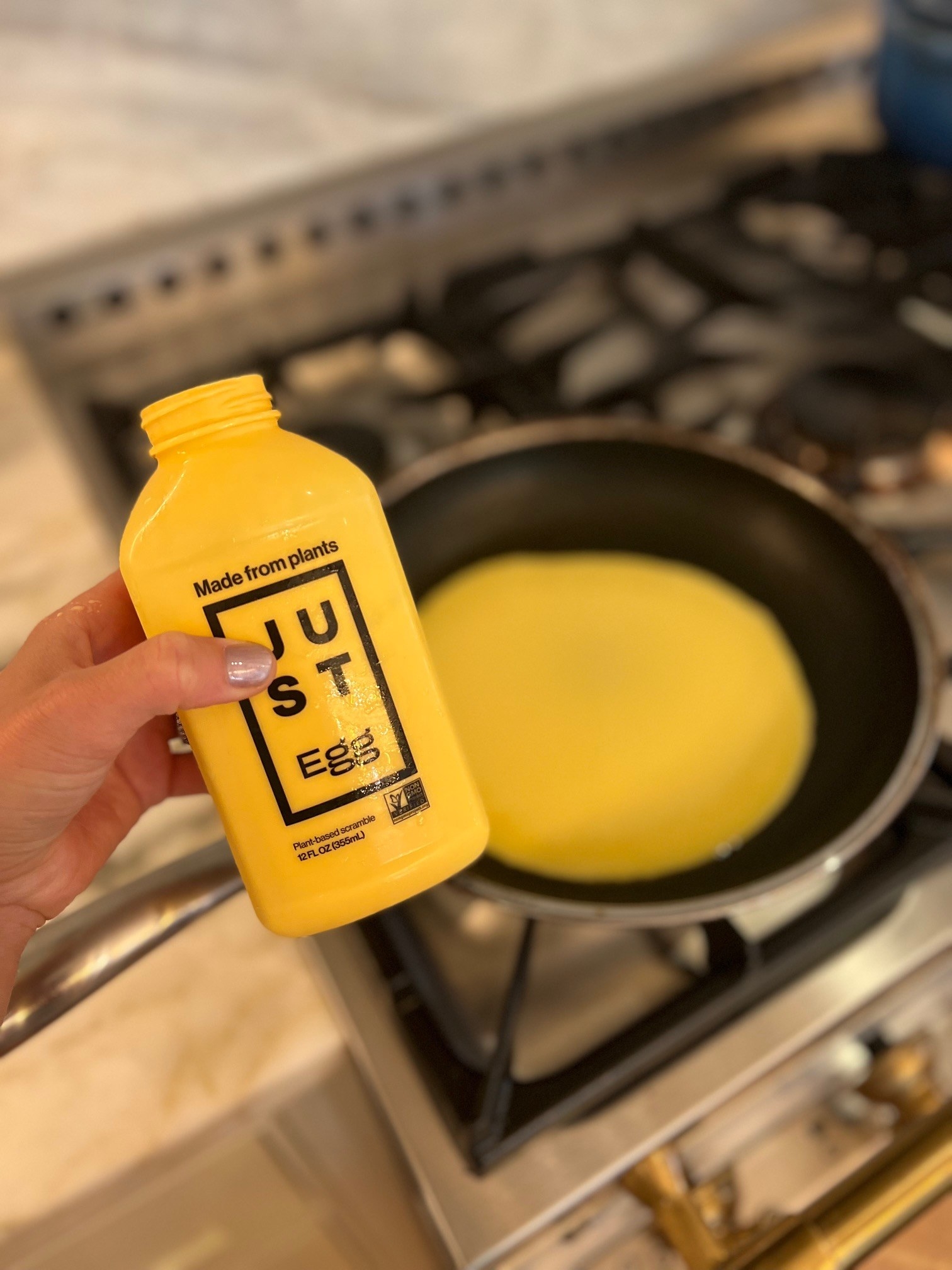 Thicker than normal eggs but more watery than the Simply Eggless version, the Just Eggs also scrambled quite quickly (in under one minute).
The consistency of Just Eggs is more similar to that of real scrambled eggs — creamy but also with some structure to it. If you like your eggs very cooked through you might find the Just Eggs version a bit on the runny side.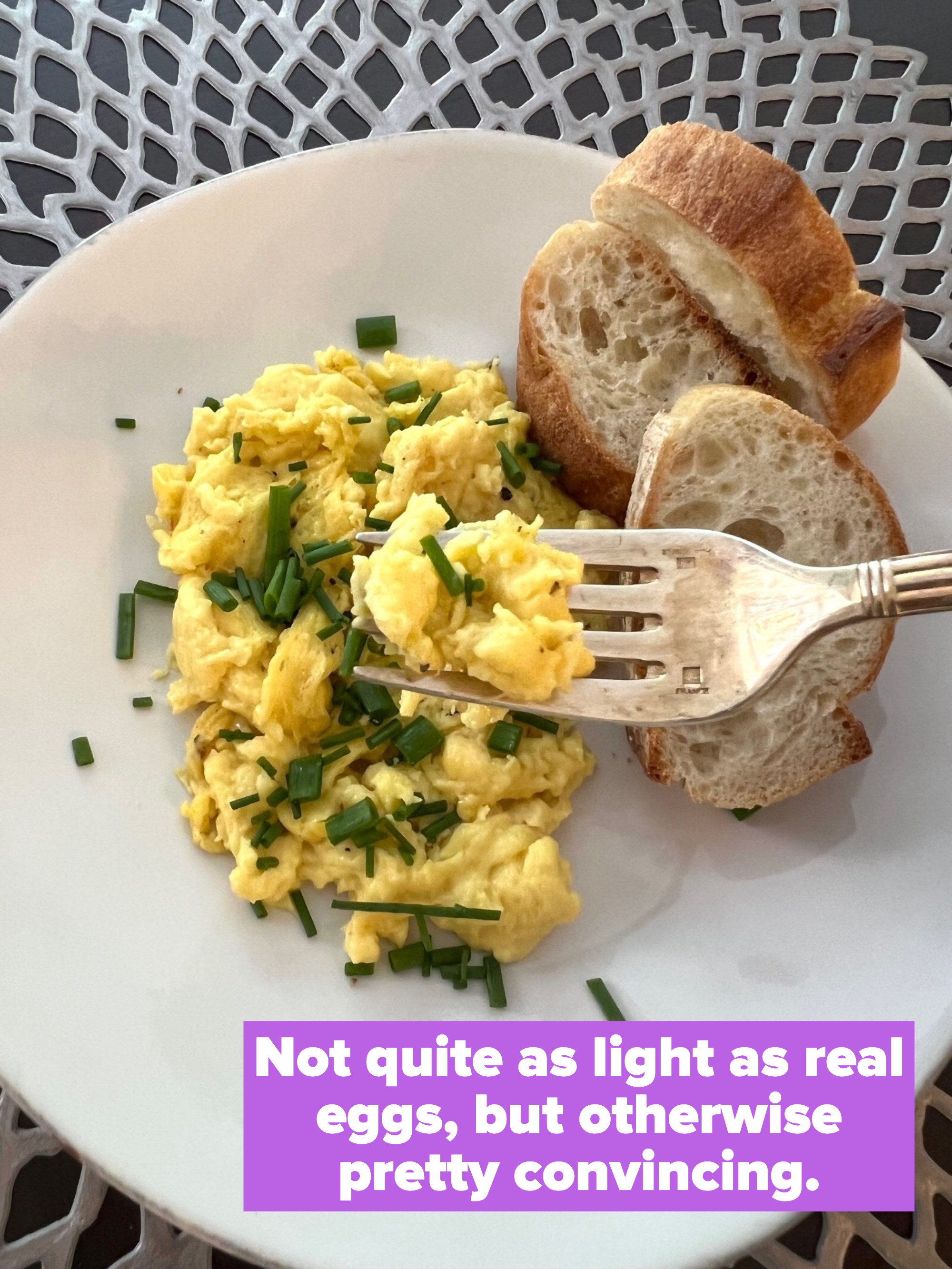 As for the taste, the Just Eggs are still, IMO, a potentially great vegan egg substitute — but they need some dressing up. On their own, they don't have the exact same flavor as real eggs and are a bit bland. Scrambled with just salt and pepper, they leave something to be desired. But with some additional ingredients (I'm thinking vegan melting cheese, sliced avocado, and hot sauce) you could dress them up to be a satisfying scrambled egg replacement. I think it would also be great for omelets.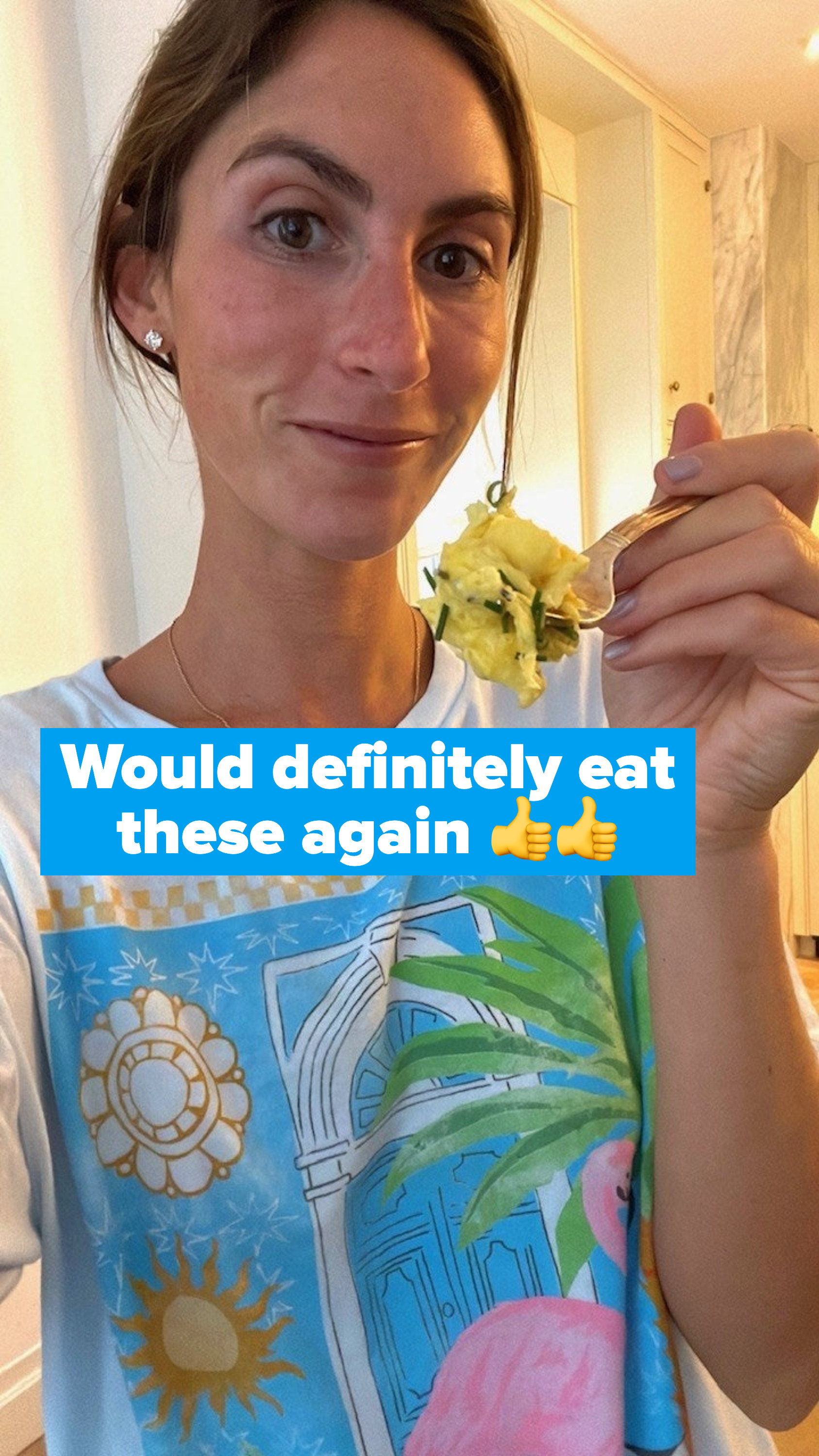 For the sake of comparison, I also scrambled up some real eggs to taste next to the Just Eggs.
If I were blindly served both regular eggs and Just Eggs, there's no shot that I wouldn't be able to tell which was which. It's obvious. In regards to both the light and fluffy texture and the sweet, buttery yolky flavor, real scrambled eggs can't be replicated...at least not perfectly.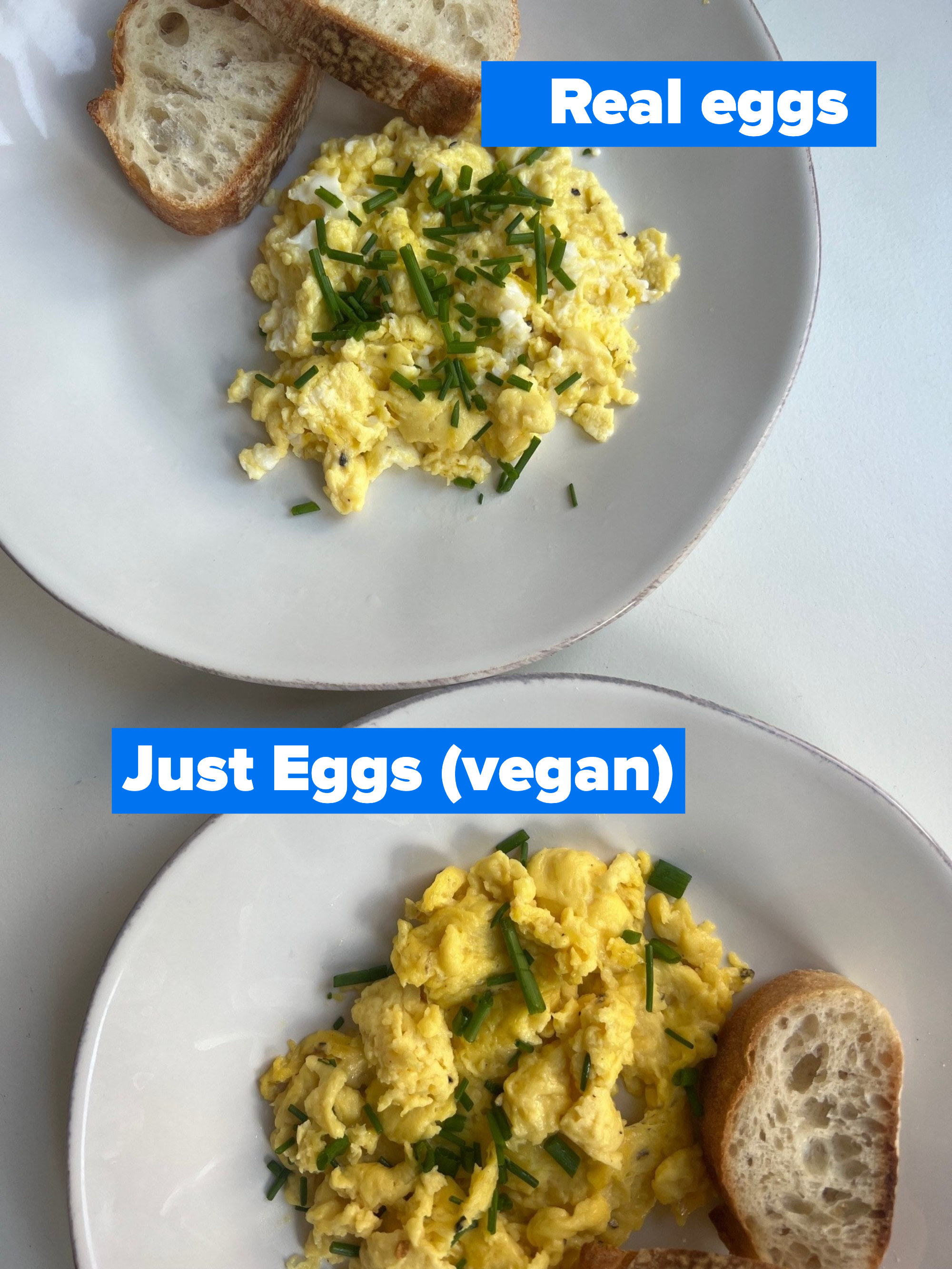 TL;DR: If I were you, I would avoid Simply Eggless plant-based eggs. And if you're thinking about switching to a vegan lifestyle or just cutting back on eggs, Just Eggs are most certainly worth a try. Taste-wise and consistency-wise, they're a much better product IMO, and (at least at Target vs. Trader Joes) the Just Eggs are $1 cheaper.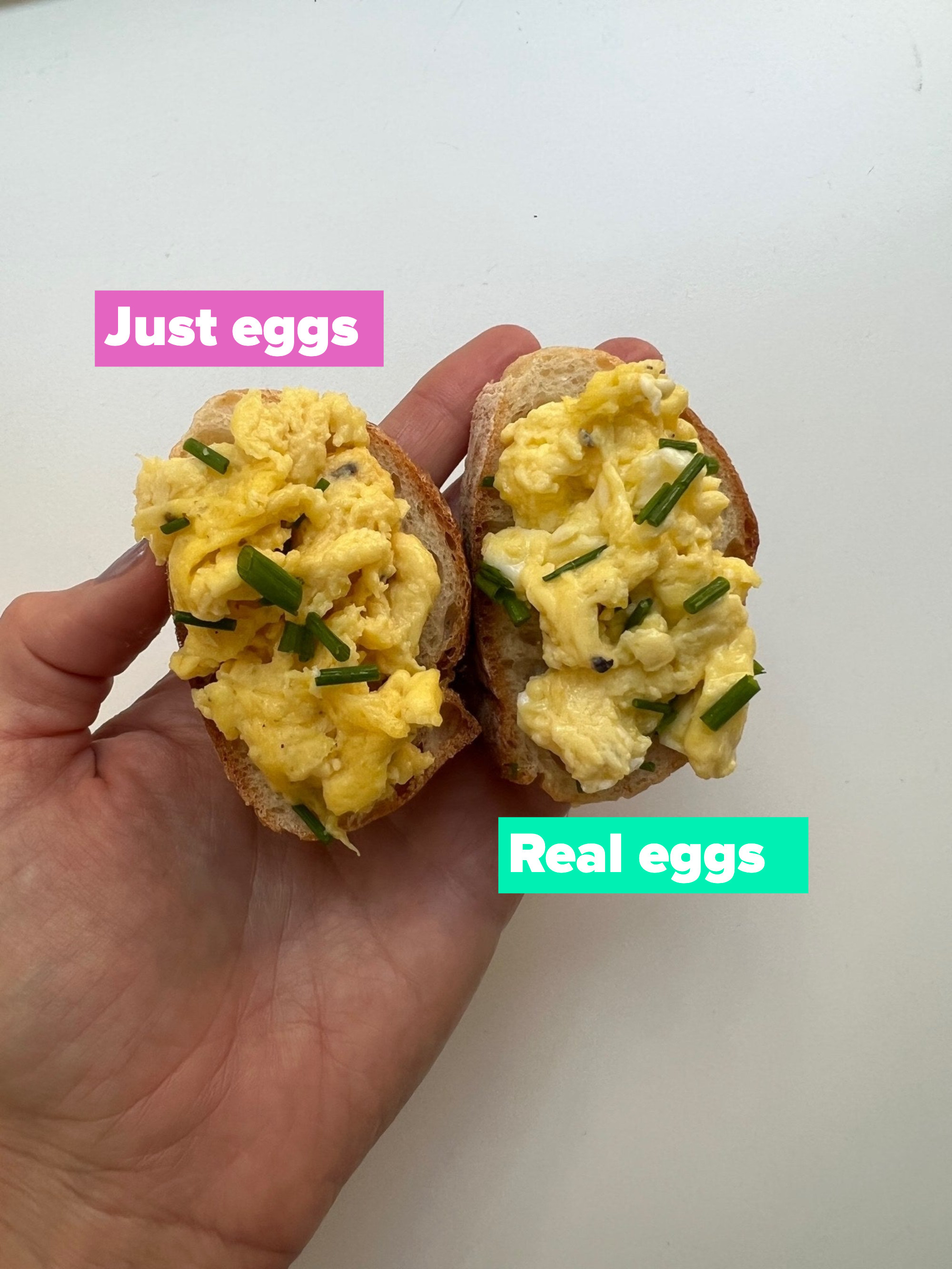 Have you tried Simply Eggless or Just Eggs plant-based scramble? Leave your thoughts in the comments!