I Taste-Tested 17 Popular Trader Joe's Vegan And Plant-Based Products — Here's What To Buy (And What To Skip)
Whether you're vegan or just trying to cut back on meat or dairy, here's where to start.
Hey! I'm Hannah. 👋 You may know me as a pretty avid Trader Joe's shopper. Another thing about me is that I absolutely love food. I'm not vegan, but I am fascinated by meatless and dairy-free substitutes. It all started when I tried Just Eggs plant based scrambled eggs a few years back, and they totally blew my mind. Since then, I've always been on the look-out for intriguing vegan products.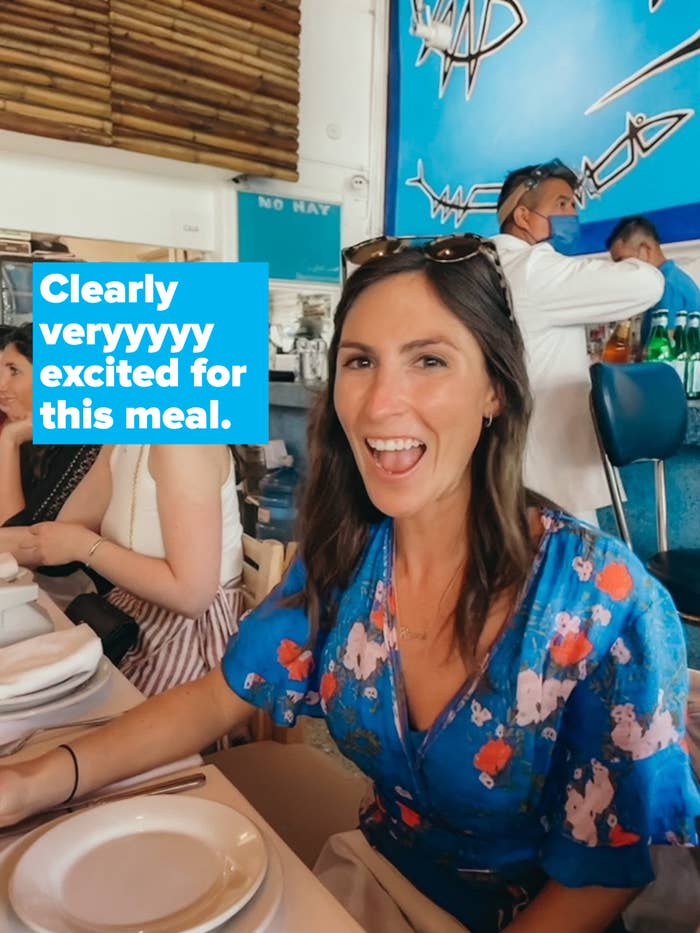 While I don't think I'll ever go completely vegan, I've recently been trying to introduce more frequent plant-based meals into my diet. That's mostly because I've read a lot about how eating a vegan diet is the single best way to reduce one's impact on the planet.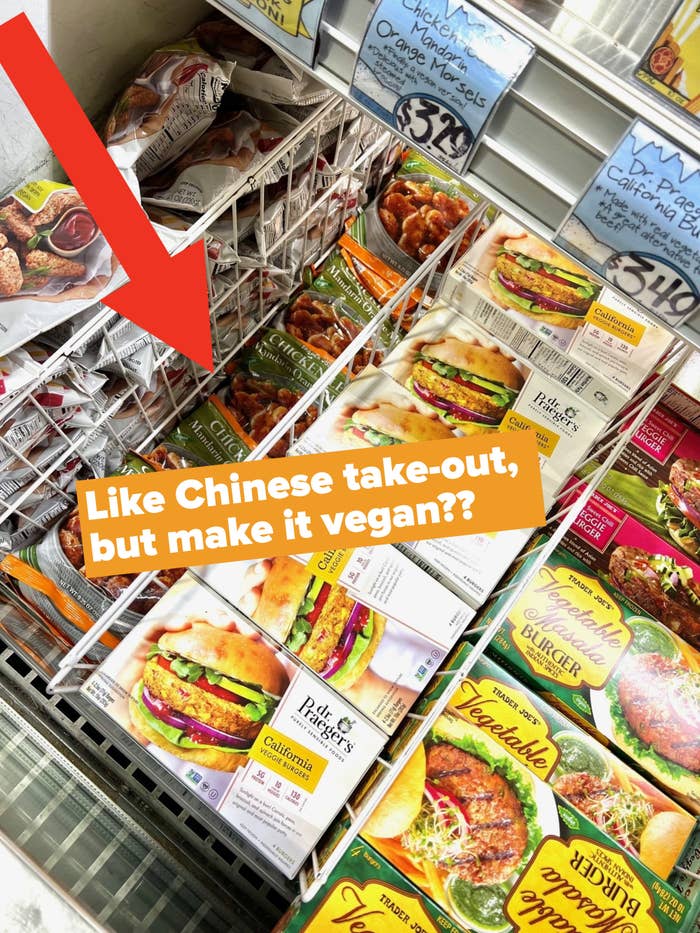 So I wanted to try some of them out for myself. I loaded up on a bunch of popular dairy-free and meatless products from Trader Joe's, tried them all, and ranked them from worst to best. So here are my honest thoughts about the vegan products I'll steer clear of, the ones I'd try again, and the meatless and dairy-free products I actually loved.
As for the appearance, this stuff looks a lot like deli sliced cheddar cheese, but the texture is thicker and almost a little bit plasticky.
Maybe it would taste better melted in a grilled cheese sandwich. So I placed a few slices between two pieces of bread, brushed it with butter, and put it in a skillet.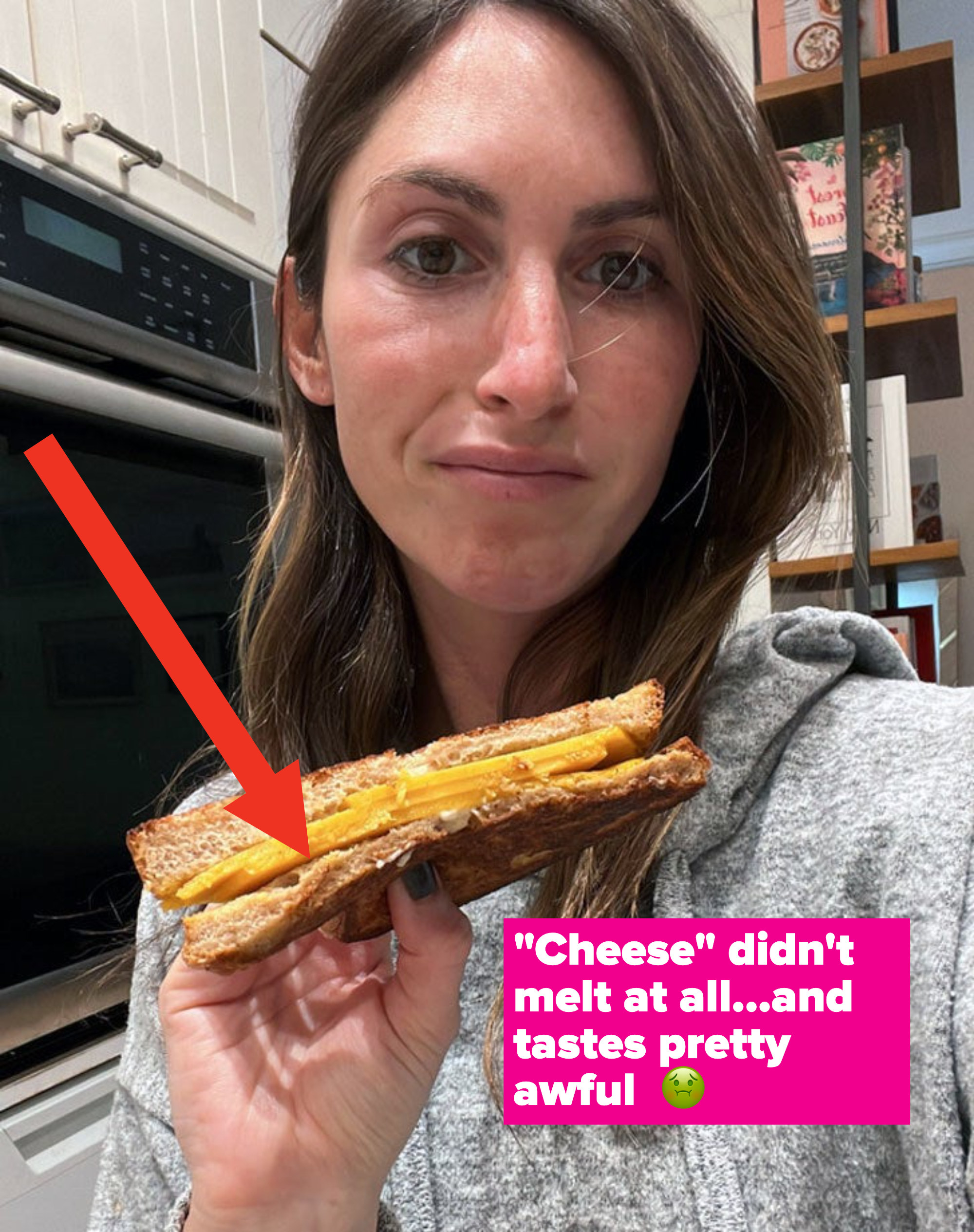 16.
Organic Creamy Cashew Cultured Yogurt Alternative
So how did it taste?
15.
Italian Sausage-less Sausage
Honestly, just looking at this vegan Italian sausage, I knew that I couldn't possibly bring myself to enjoy it.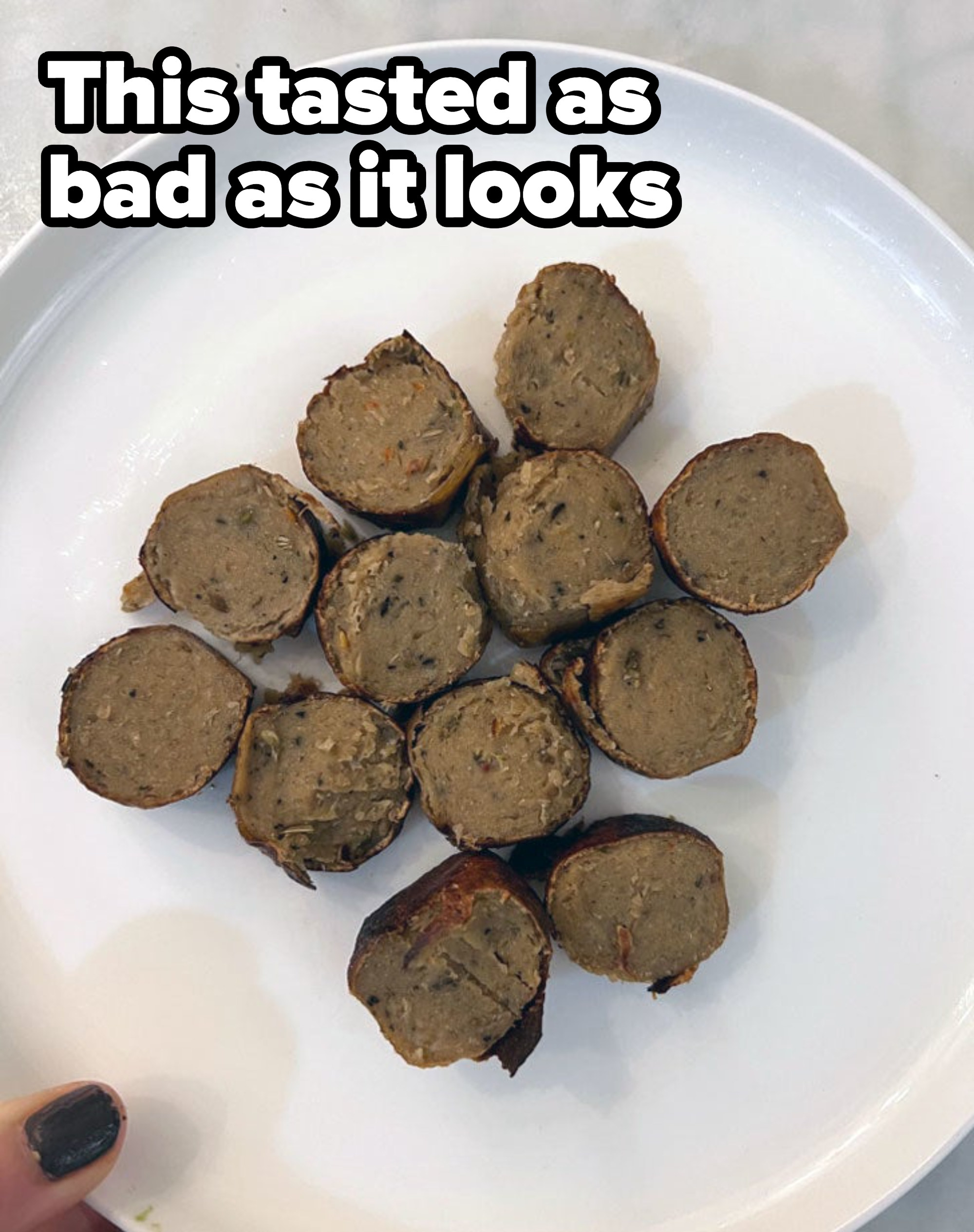 14.
Chicken-less Mandarin Orange Morsels
So how did they stack up to the real deal?
13.
Vegan Mayo Spread and Dressing
Well...yes and no.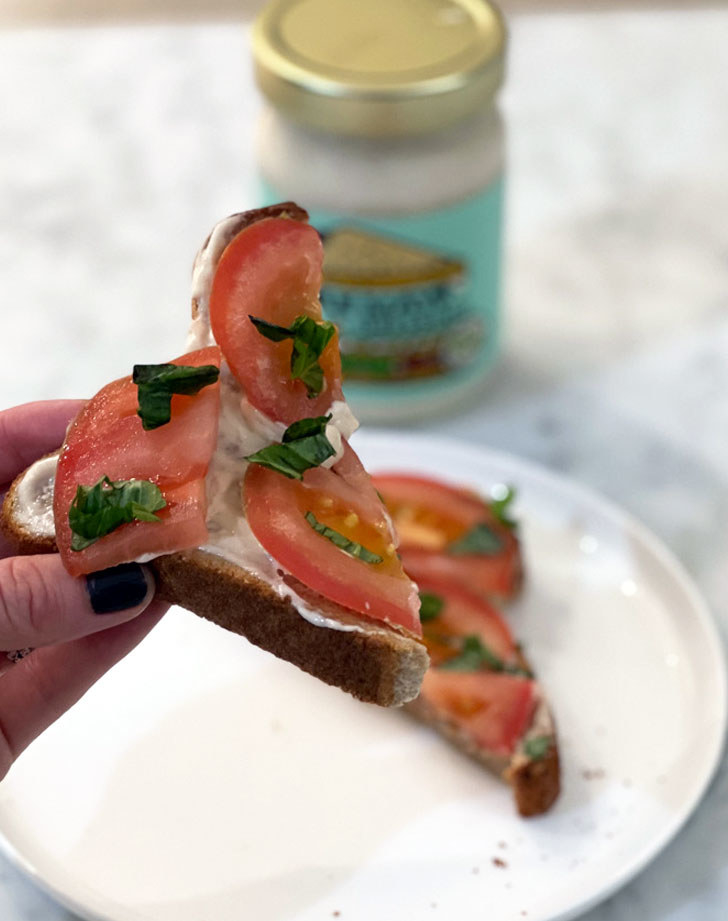 12.
Vegan Meatless Meat-Lover's Pizza
After 15 minutes in the oven, it was time to dig in.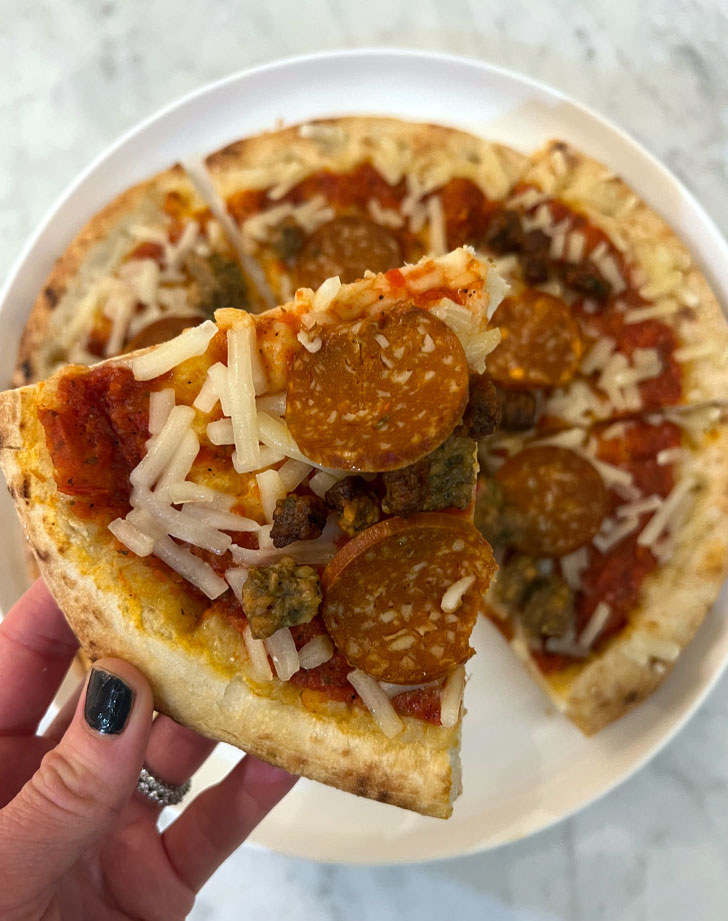 I'm not sure I would say the sauce tastes cheesy per se, but it's certainly decadent and rich.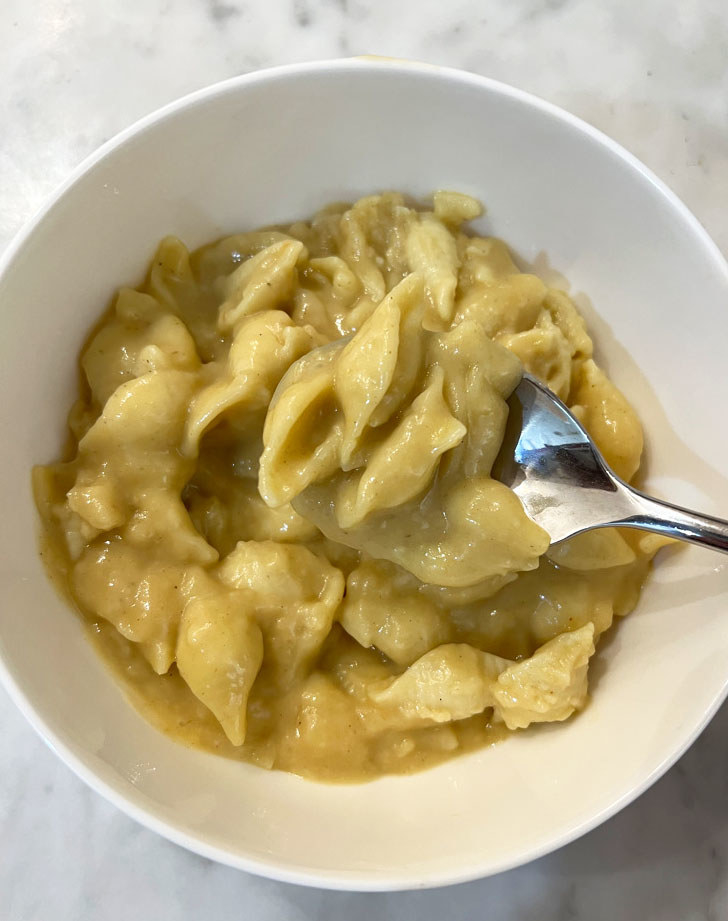 10.
Vegan Pasta Bolognese
The meatless Bolognese sauce itself was pretty tasty.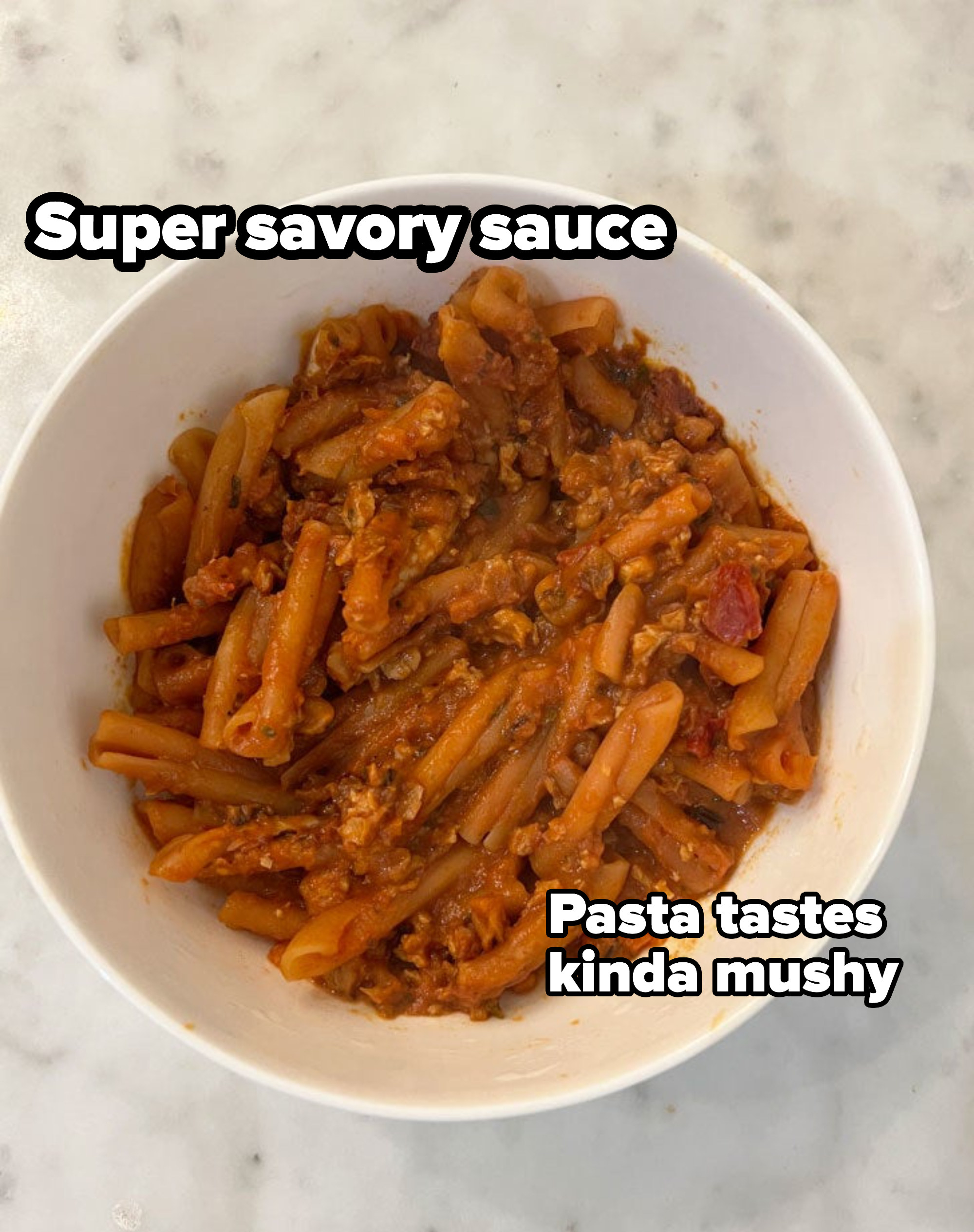 9.
Vegan Cookies and Cream Vanilla Bean Bon Bons
And they are, indeed, very good.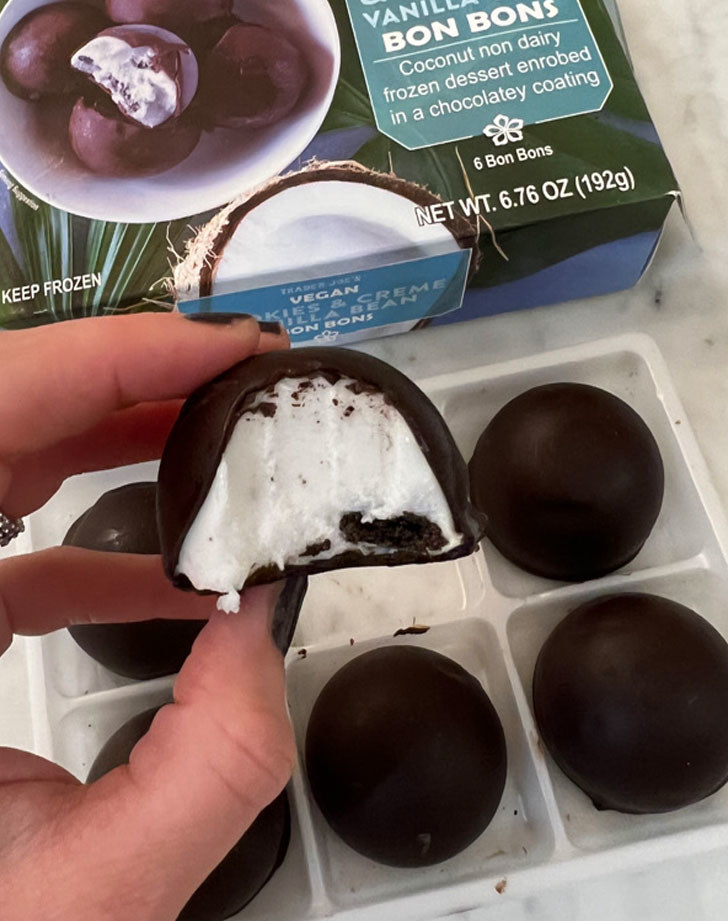 8.
Mozzarella Style Shreds
But the real question is: How do these shreds taste when melted?
7.
Impossible Chicken Nuggets
From the look of these, they could easily be real chicken.
I tried the soy chorizo on its own and was seriously impressed.
5.
Strawberry Non-Dairy Oat Frozen Dessert
But how does it stack up to real ice cream?
As for the color, this vegan spread could be mistaken for butter.
3.
Vegan Feta Cheese Alternative
This is hands-down the best non-dairy cheese I've ever tried👏👏👏.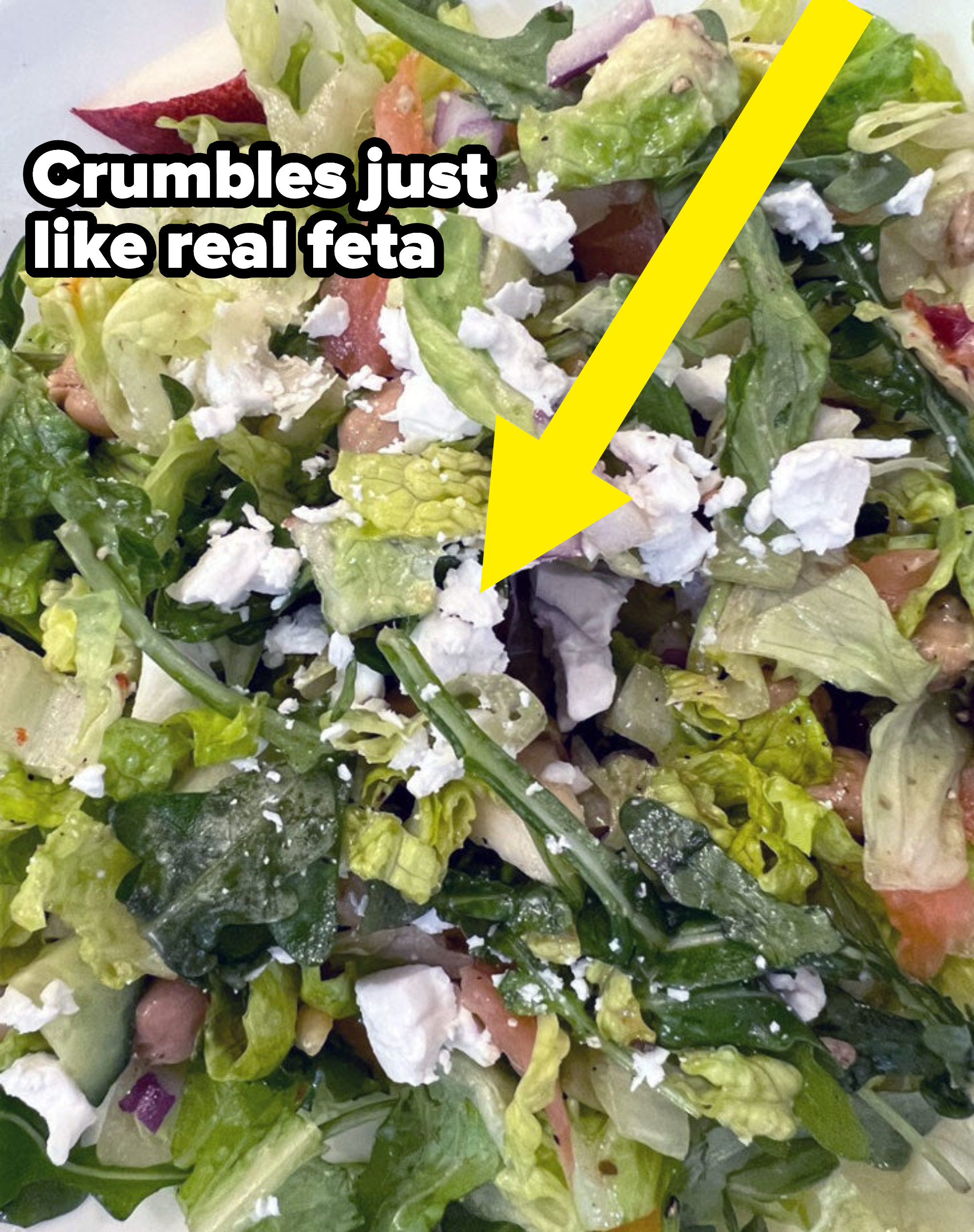 2.
Hold The Dairy! Mini Coconut Non-Dairy Frozen Dessert Cones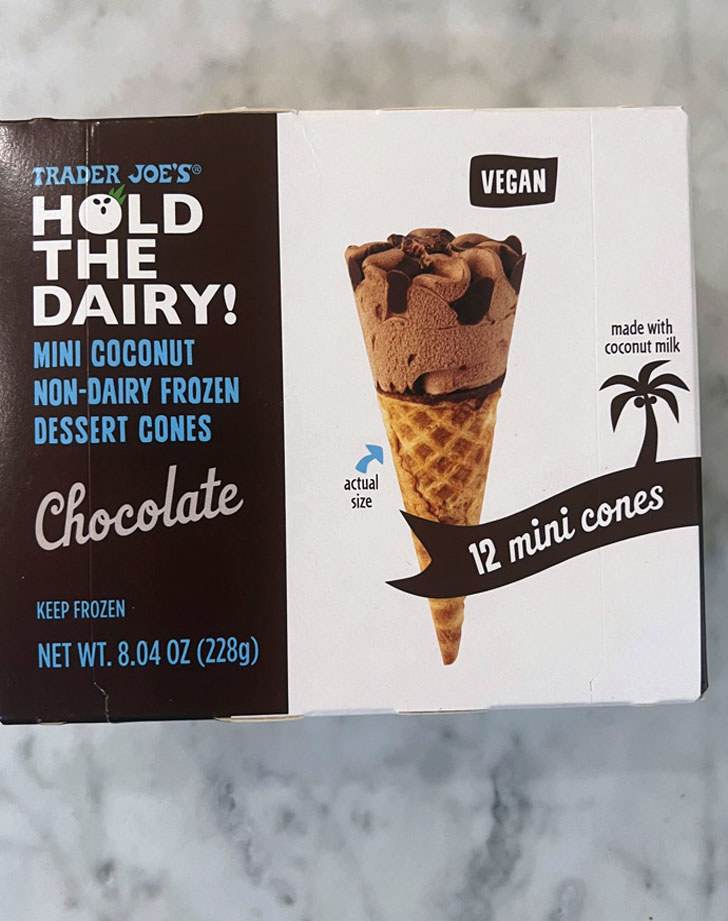 The vegan version of Trader Joe's iconic Hold the Cone dessert did not disappoint.
1.
Chickenless Crispy Tenders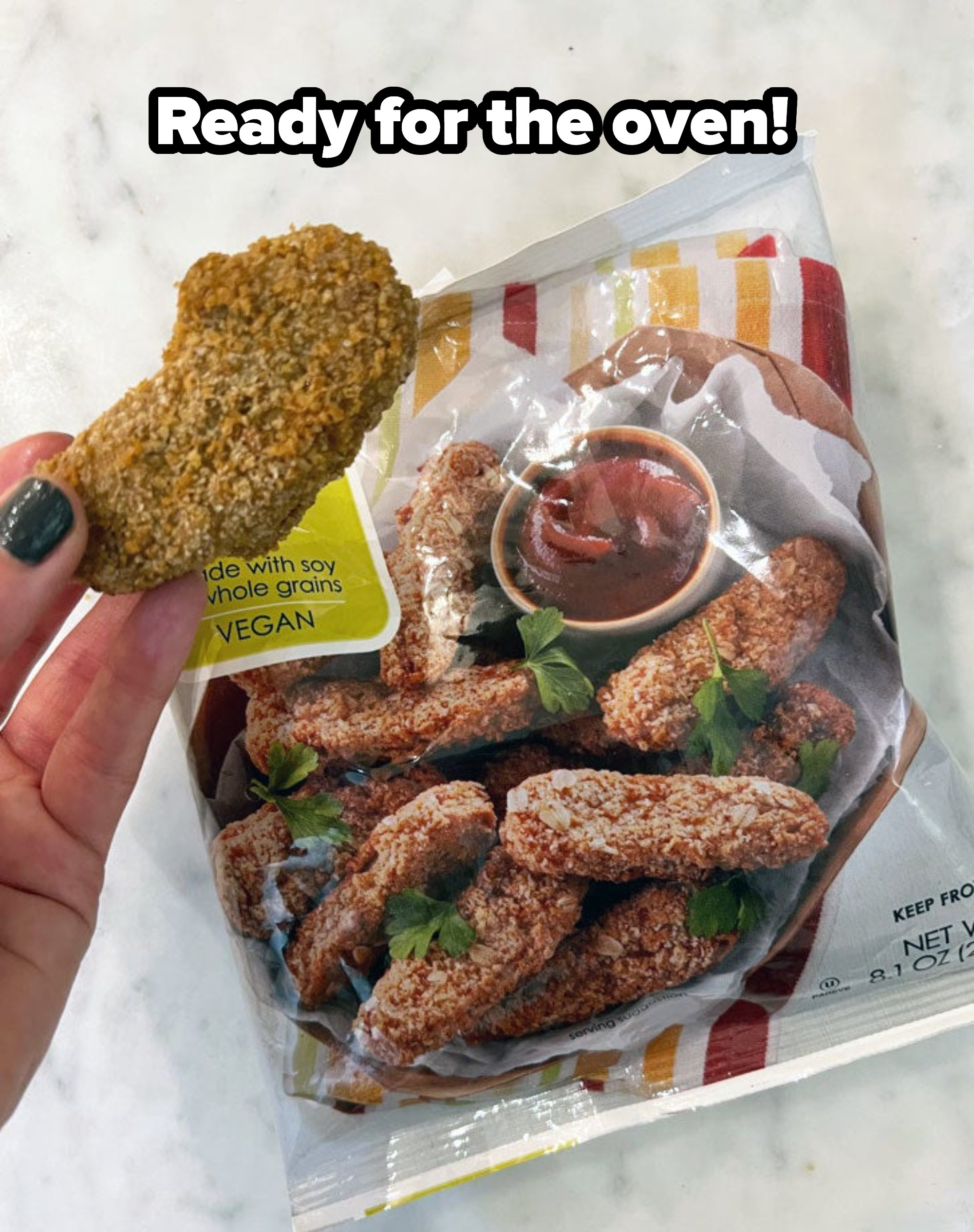 And the verdict? I was completely blown away by these.
The resemblance to real chicken is really wild.
TL;DR: Whether or not you're vegan, some of these products are worth your money and consideration.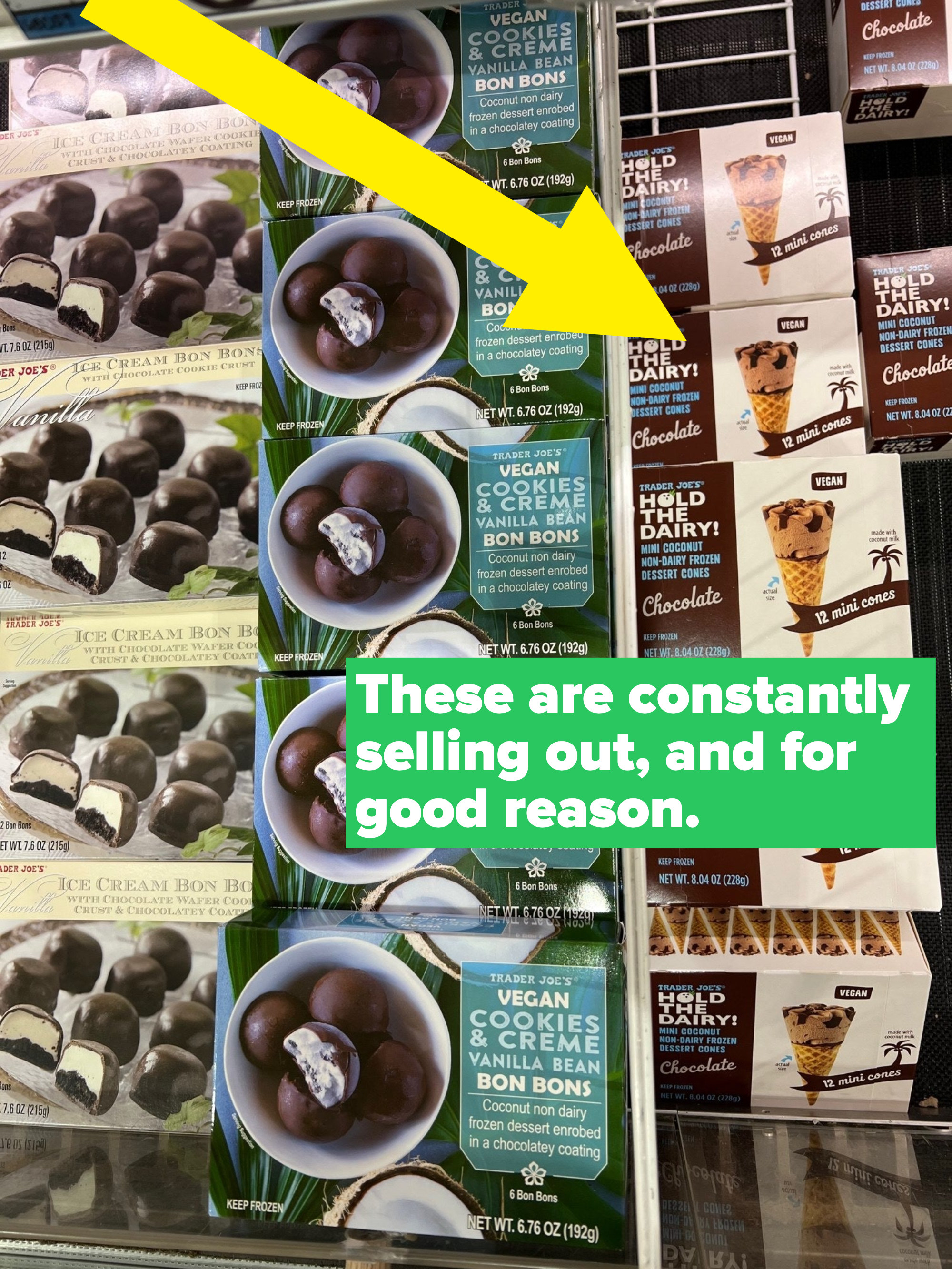 Have you tried a vegan product you absolutely love from Trader Joe's, or elsewhere? Or one you definitely wouldn't buy again? Tell me in the comments below!