This "Dirty Martini"-Inspired Pasta Is Going Viral, And Trust Me, It's Way Better Than It Sounds
Olive lovers — it's our time. 🍸
Lately, it feels like everyone is ordering a Dirty Martini at the bar, and I honestly don't know how to feel.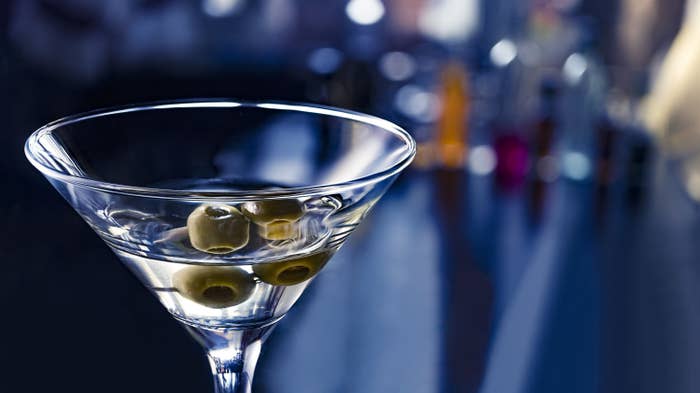 Don't get me wrong, I love olives, and I love olive brine. I even love gin (sometimes). But I am seemingly the only person on Earth right now who doesn't love the three ingredients mixed together in cocktail form.
That's why you could say I was baffled when I saw a recipe for "Dirty Martini Pasta" on TikTok.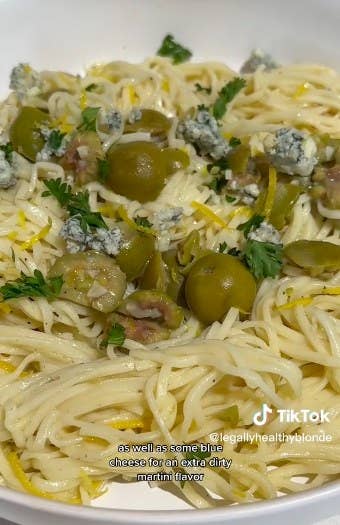 Emily Eggers, who goes by @legallyhealthyblonde on the platform, posted a clip of the dish, which now has over 350,000 views. "This is like if you took a Dirty Martini and turned it into a pasta," she said in the video.
More surprisingly, people were sending their testimonies in. "Dad and I made this for dinner tonight, it was so good," one person commented.

"Tried this and it was amazing!" another person wrote.

I'll admit I was skeptical at first, but seeing those comments made me want to try it for myself — so I did. Here's how it all went down:
With the exception of some tweaks, I followed the recipe posted in the description of Emily's TikTok. I used linguine noodles, manzanilla olives, blue cheese, a lemon, a clove of garlic, gin, butter, salt, pepper, and few sprigs of parsley.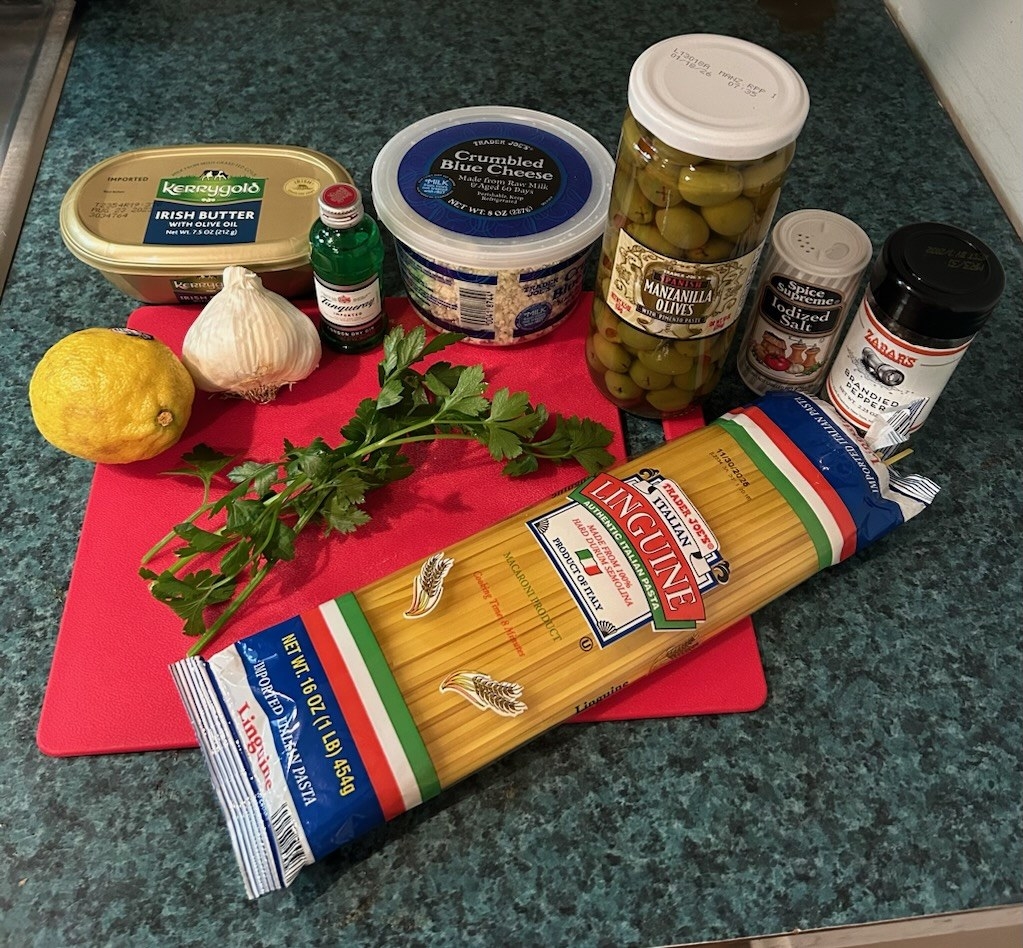 I began by cooking the linguine, that way the pasta would be done by the time the sauce was coming together. So, I brought some salted water to a boil and cooked the noodles for about 7-ish minutes, although the cook time will vary depending on the type of pasta you are using, of course.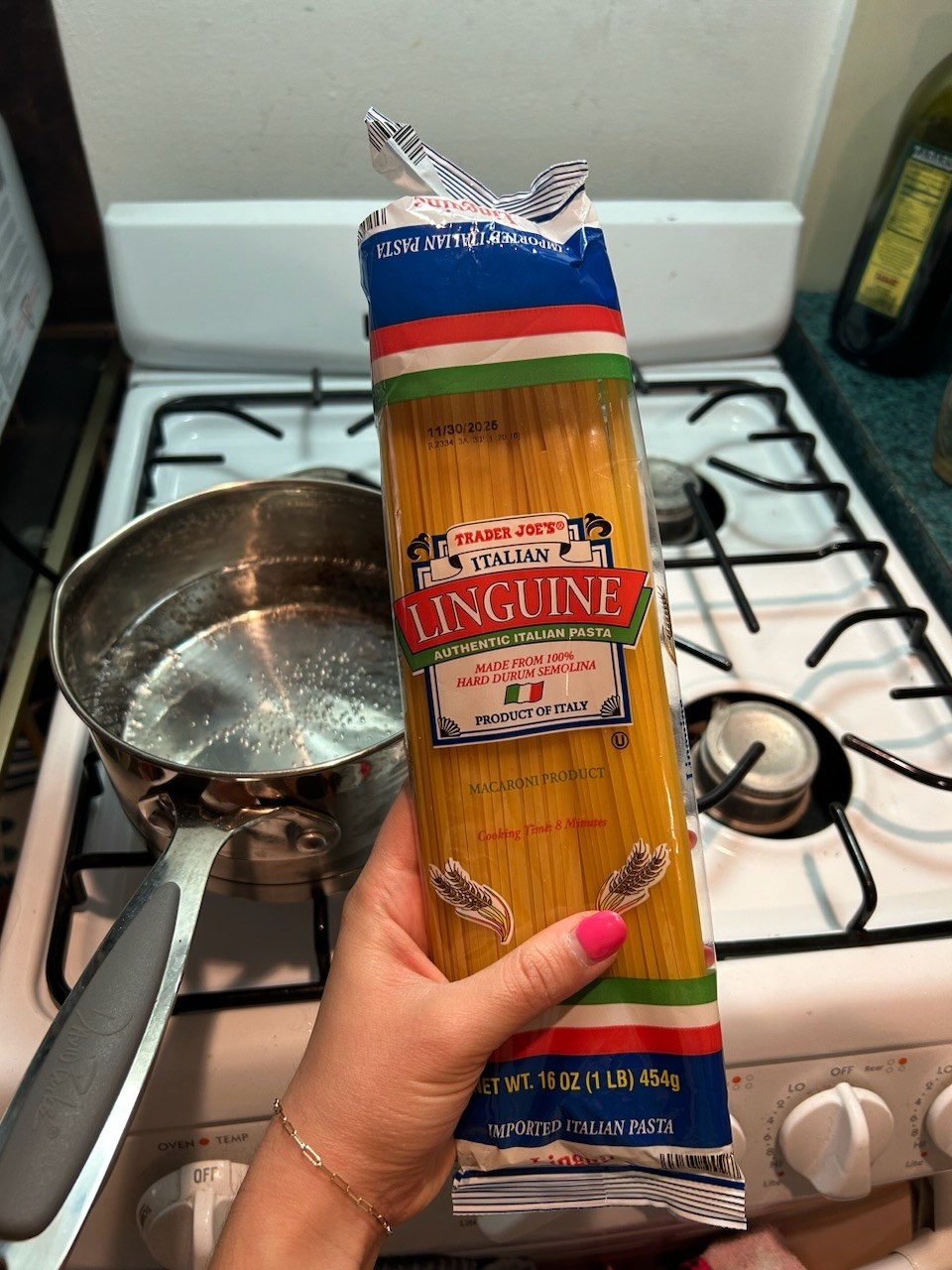 After the pasta was done cooking, I strained the noodles and put them to the side.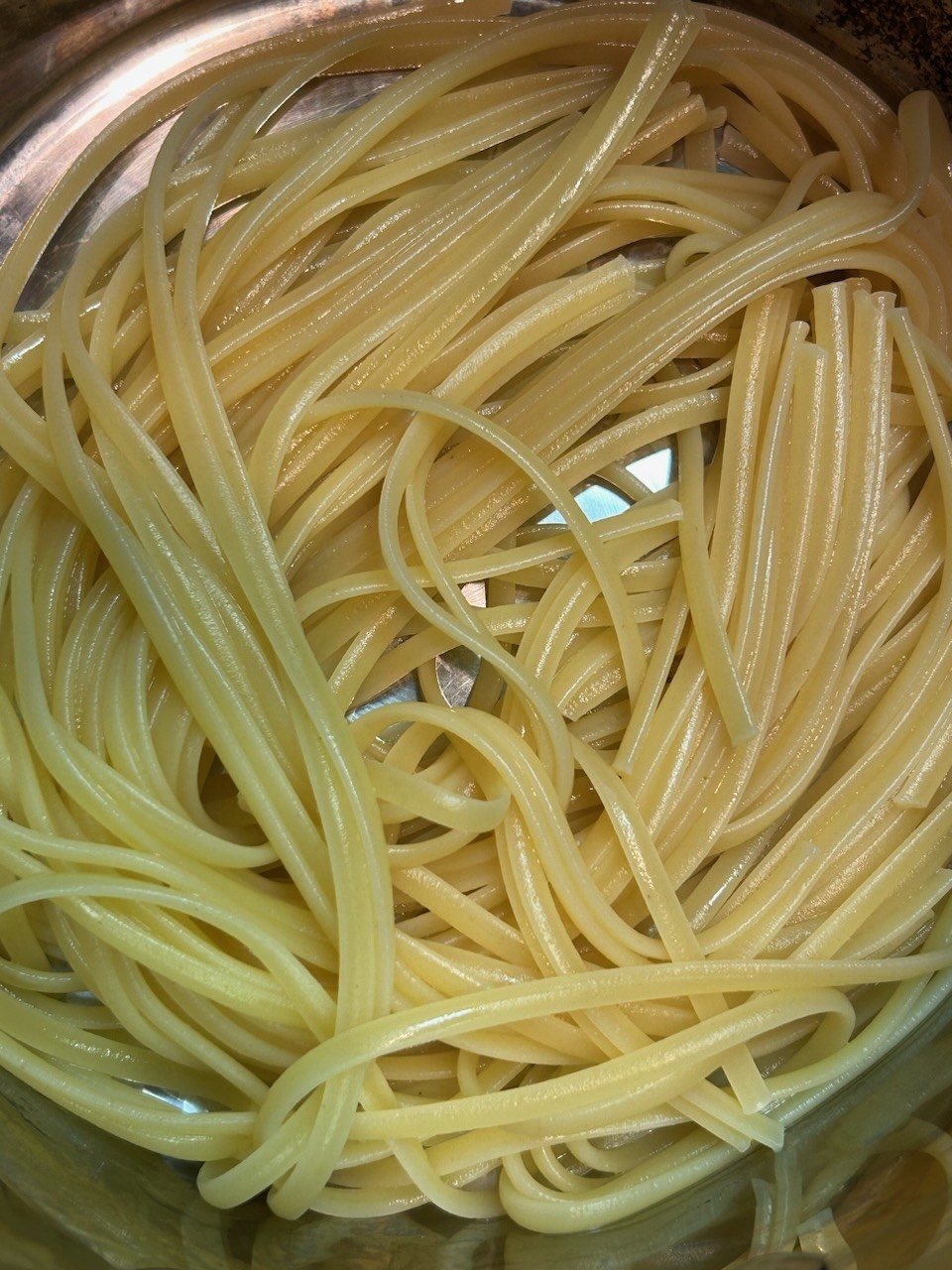 Now, it was time to work on the sauce, so I minced a few cloves of garlic and chopped up about seven olives.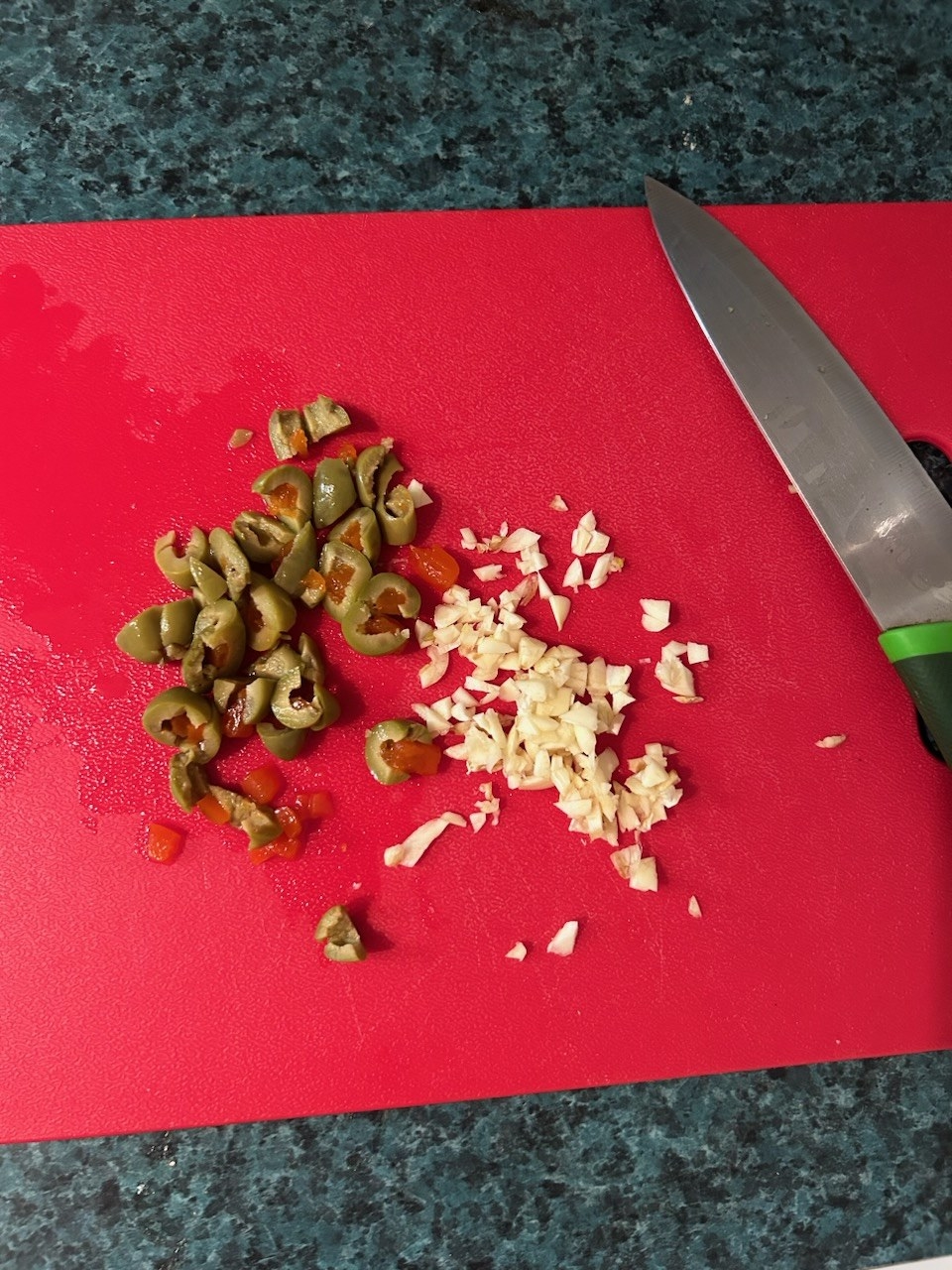 Once the olives and garlic were prepped, I set my pan to cook on medium heat, and added a splash of olive oil. Then, I tossed in the garlic and zested an entire lemon in the pan.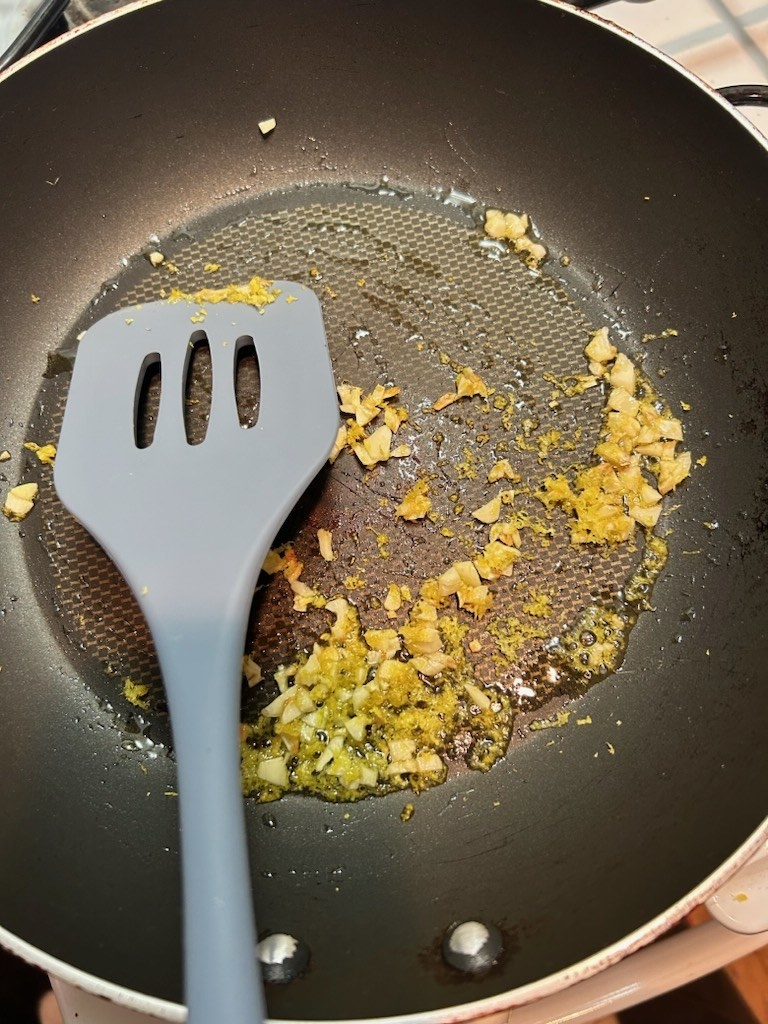 Once the garlic turned a light brown, I added in the olives and let the mixture cook for another few minutes.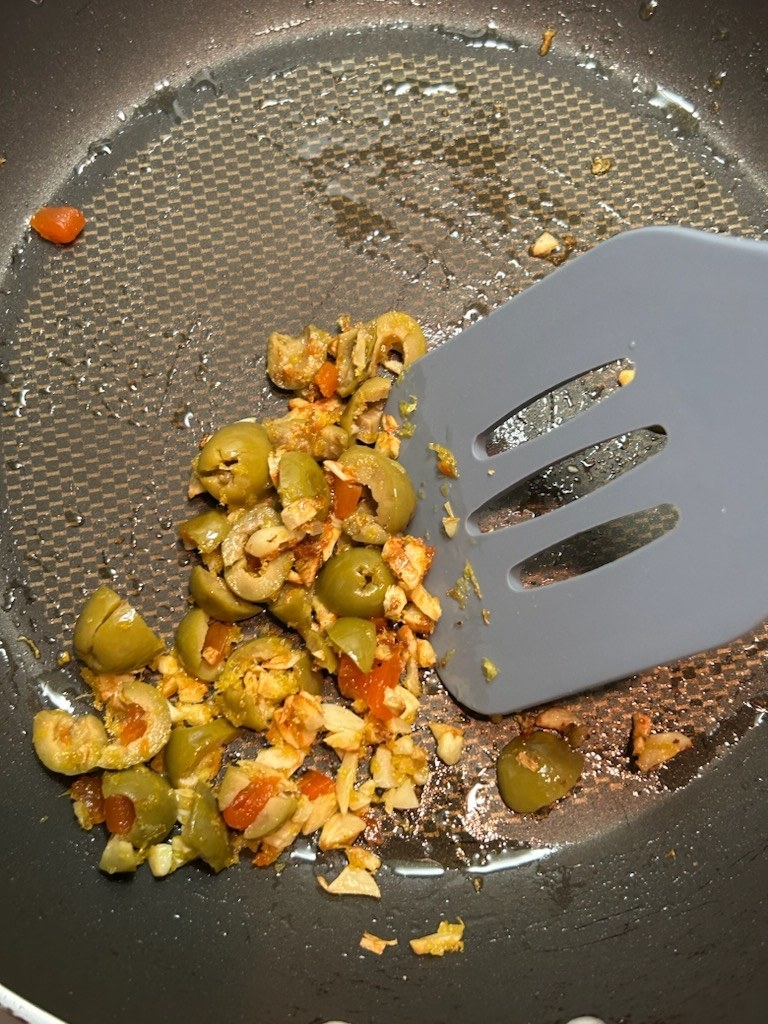 Then came the fun part — I added 2 tablespoons of gin to the pan, followed by a tablespoon of olive brine.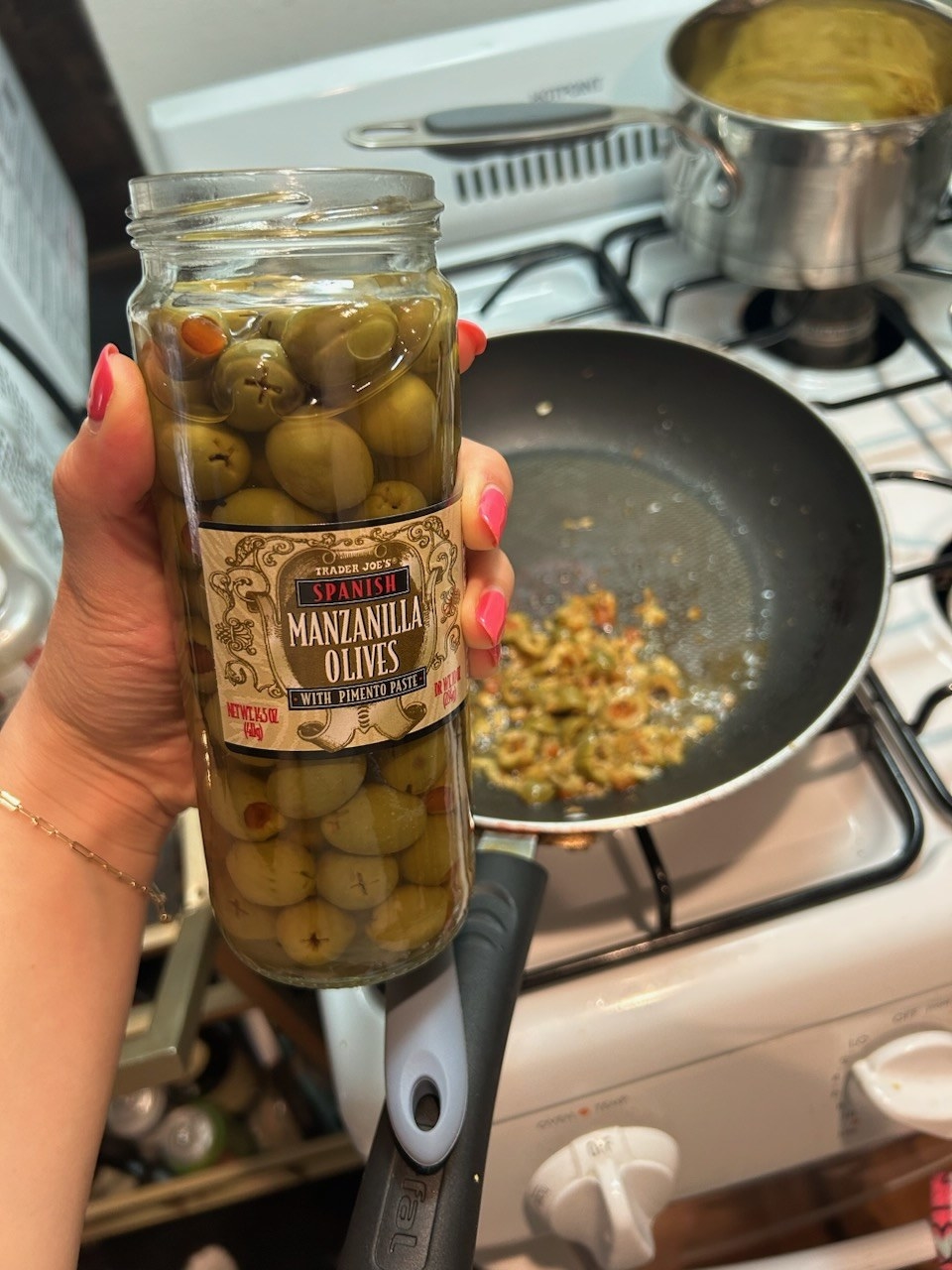 I let that cook until all of the liquid was almost gone, and then added a tablespoon of butter.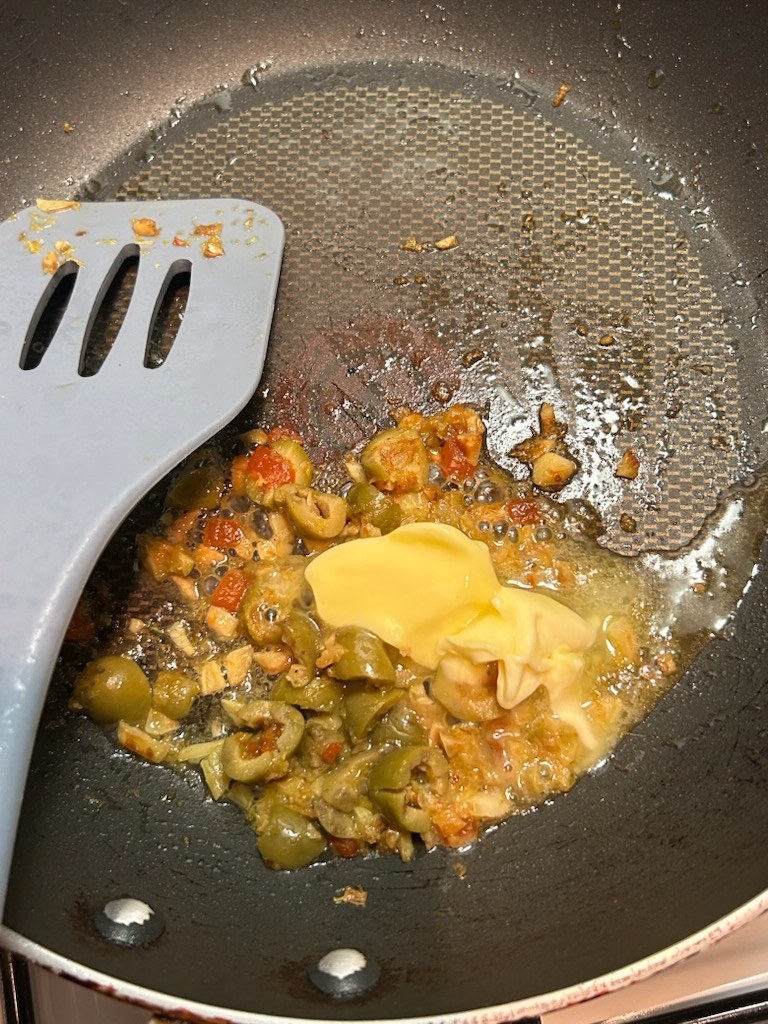 After that, I added a few dashes of salt and pepper, and combined the sauce with the pasta.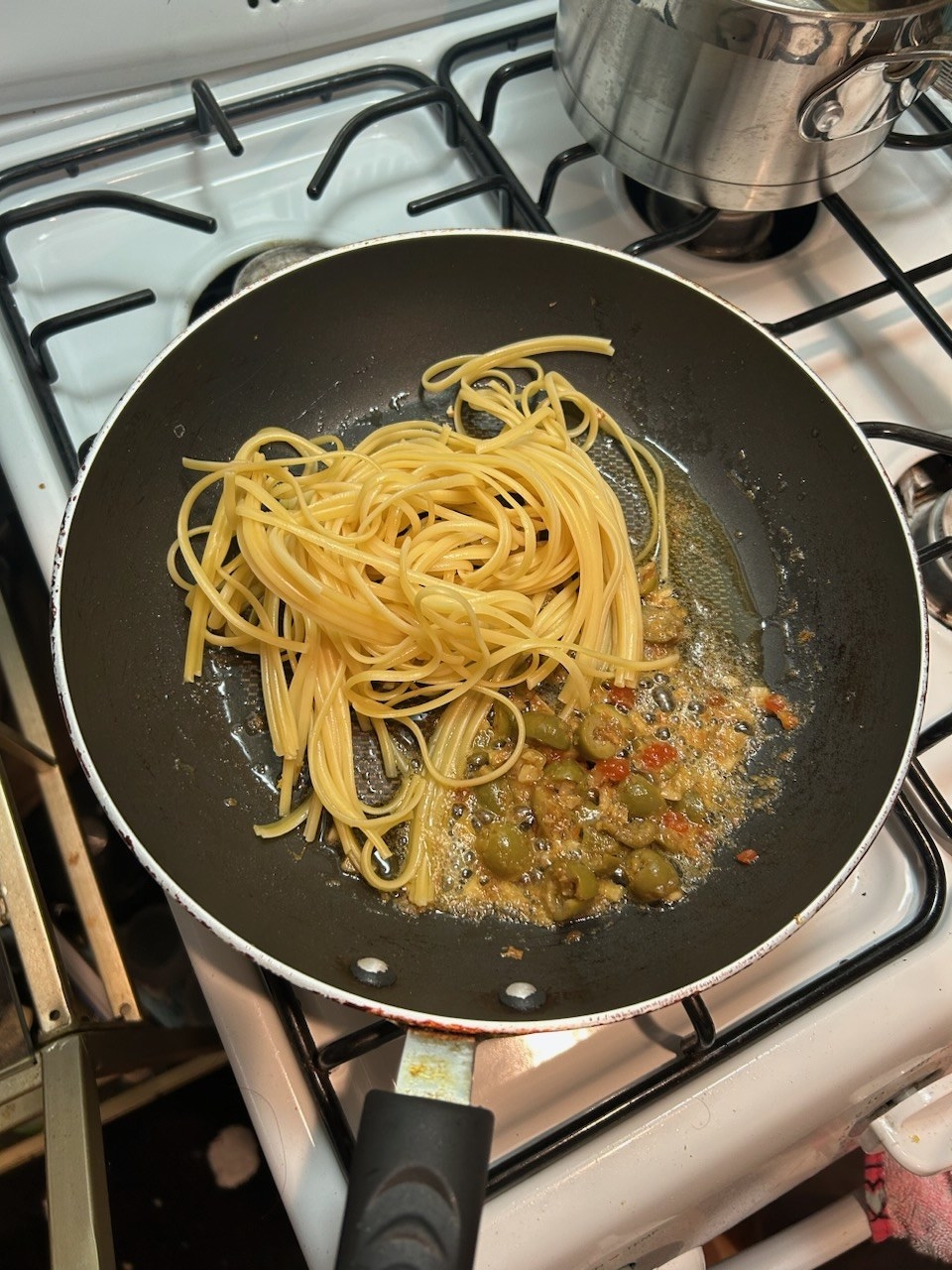 It was time to ✨plate the dish✨, so I added a handful of crumbled blue cheese, more olives, more lemon zest, and chopped parsley.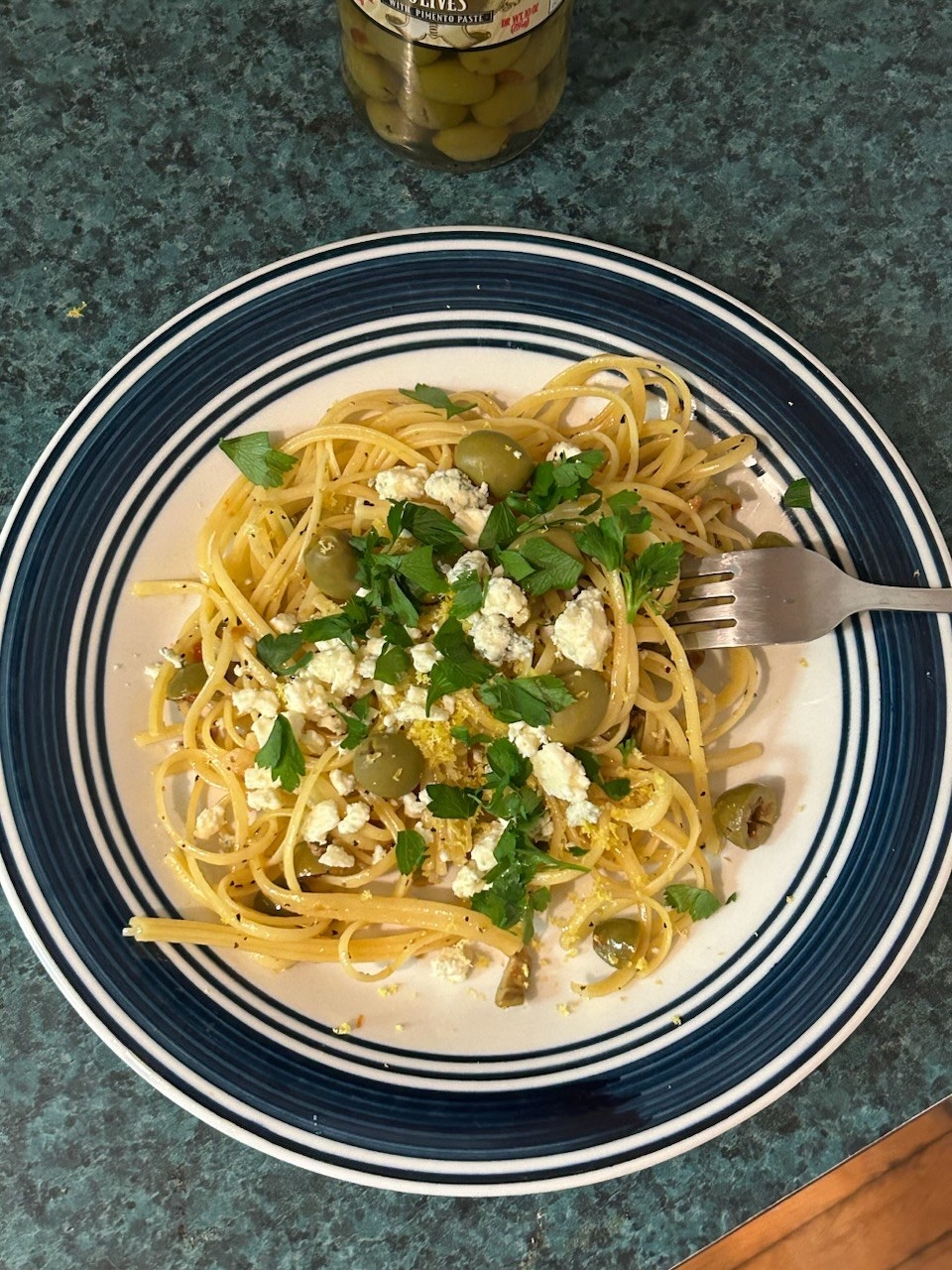 Voila! Dirty Martini Pasta. It was time to dig in.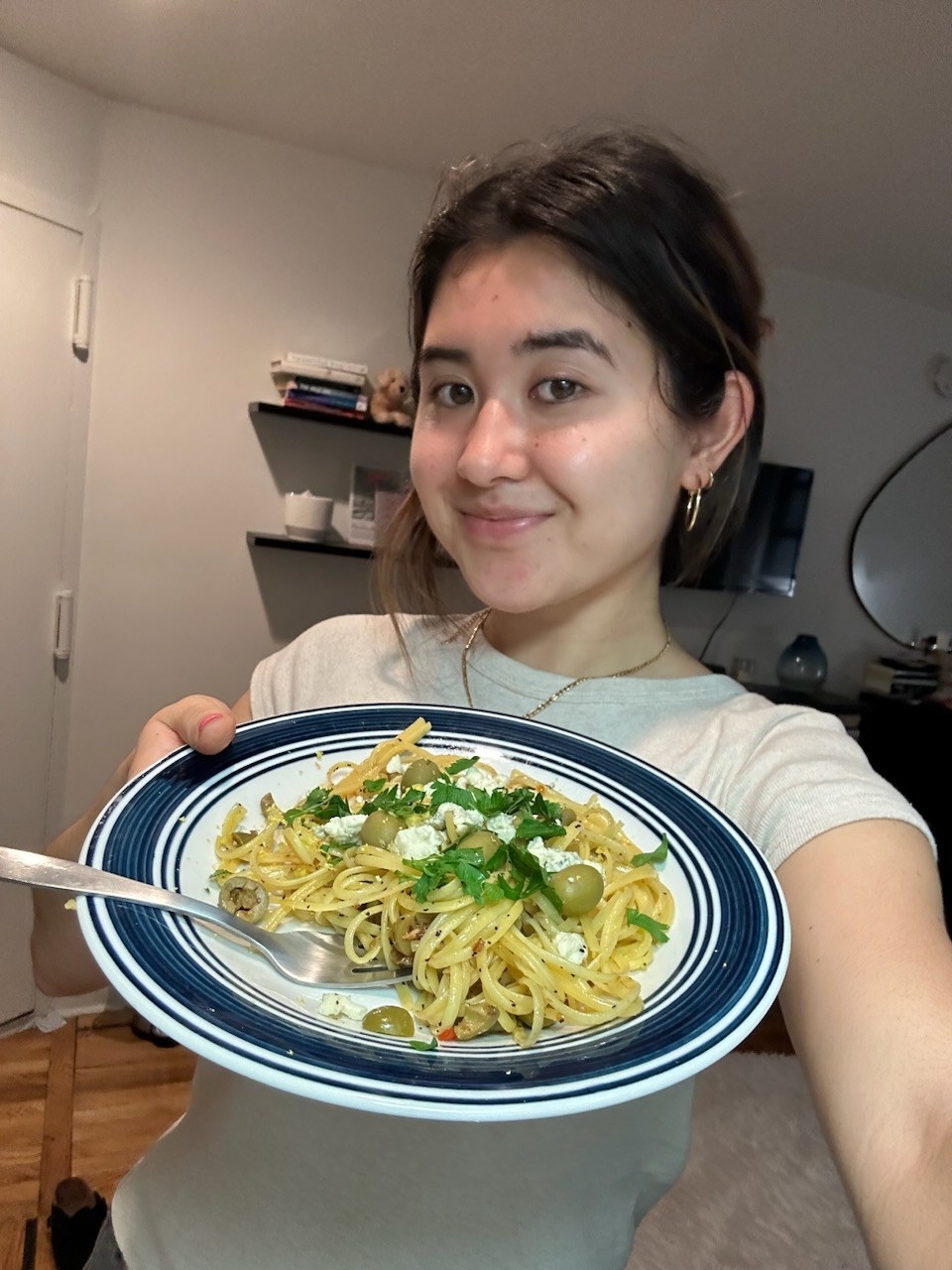 After taking the first bite, I was definitely hooked. It really does taste like a Dirty Martini in pasta form.
I mean, it's just bursting with flavor. The brininess of the olives complement the salty, creamy blue cheese, while the parsley and lemon zest cuts through the sharp taste of the dish's pungent ingredients. I normally don't even like blue cheese, but this dish may have converted me.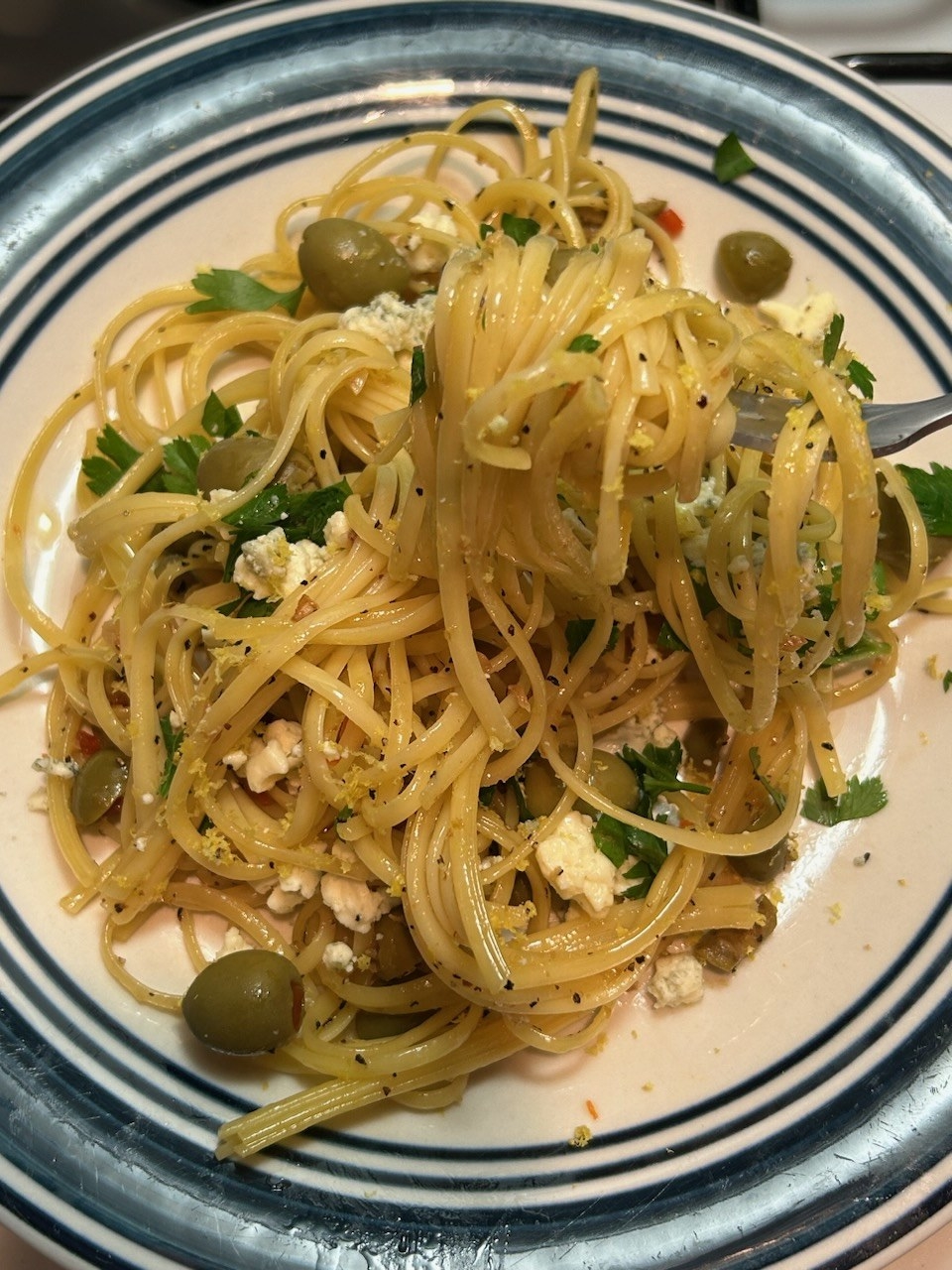 If you like olives, this is a must-try. Not only is it so easy to make, but it's actually so, so good. Like, someone please host a dinner party and make this. You won't regret it.
Someone commented that they wanted to try adding clams to this, and that would actually be so delicious. I don't know, just something to consider. 🤔

How do you feel about Dirty Martinis? And how do you feel about olives? Let me know in the comments!