12 Borderline Genius Cooking Hacks From Gordon Ramsay
How not to be an idiot sandwich in the kitchen.
Gordon Ramsay, the chef known for his hot temper, no-bullshit attitude, and delicious food, has graced us with some ~genius~ cooking hacks over the years.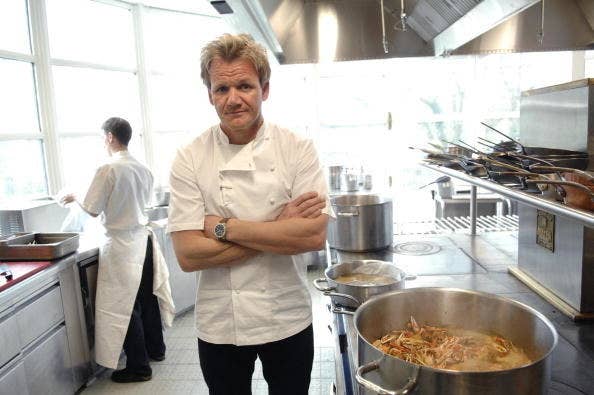 Here are 12 of his most helpful hacks to take you from idiot sandwich to MasterChef material.
1.
Quickly peel a whole head of garlic by smashing it and shaking it between two bowls.
2.
Quickly ripen fruits by putting them in a brown paper bag with a banana.
3.
How to cut herbs for maximum flavor.
4.
Use a knife to gently "shave" herbs right off of their stems.
5.
After cutting chilis, squeeze lemon juice onto your hands to neutralize the lingering burn.
6.
Quickly peel kiwis by using a spoon.
7.
Check if a pineapple is ripe by pulling a center leaf out.
8.
Store cut avocado, potato, and apple in a bowl of water with a squirt of lemon juice to prevent them from browning.
9.
Adjust the coarseness of grind on a pepper mill by loosening or tightening the nut.
10.
When cooking pasta, add a splash of olive oil to the water to prevent it from sticking together.
11.
Finish your scrambled eggs with crème fraîche to keep them moist.
12.
Use the touch test to determine if your steak is cooked to the desired temperature.