I Tried $140 Cookies To See If They Were Worth The Hype And, Wow, I Am Not Saying You Should Drop $140 On 12 Cookies But I Am Also Going To Be Daydreaming About These For The Next 6 Months
Last Crumb has some of the most exclusive cookies out there. Each collection includes unique combinations and extremely clever names.
Cookie lovers, have I got a surprise for you.
INTRODUCING: LAST CRUMB.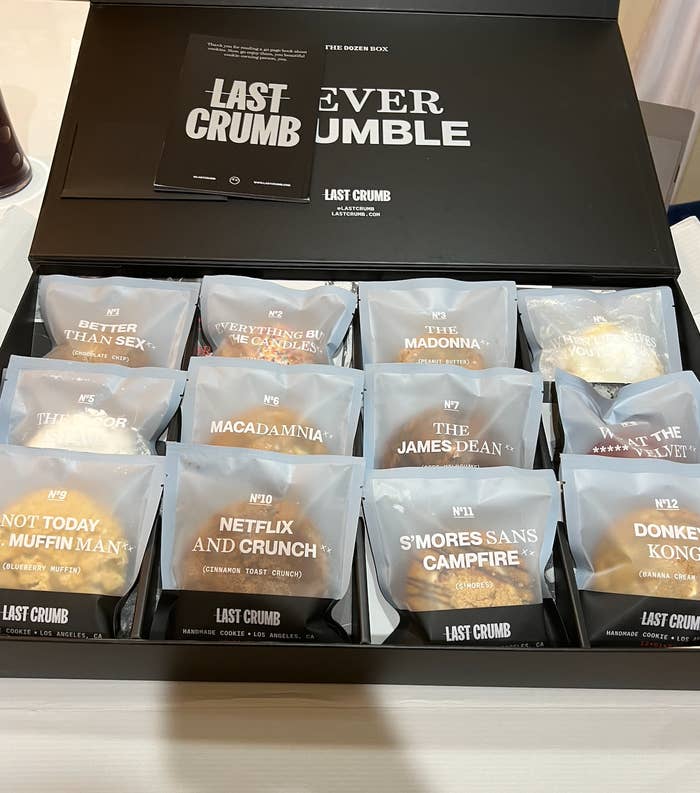 Last Crumb is a luxury brand of cookies that retails between $140-$160 for a dozen — and the new flavors drop like sneakers on their website. It's not clear how often new flavors come out, but most are limited editions.
Aside from Keith, lots of other TikTokers are calling them the most expensive cookies in the world so I did some investigating to see if they actually are. I found out that, in 2019, Sofia Demetriou — the owner of Duchess Cookies in New York City — released a red velvet cookie for $1,000. However, her cookies now retail online for $4.75 apiece. Last Crumb's cookies come to roughly $13 per cookie. There isn't a whole lot of other information about who officially has the most expensive cookies in the world, so I think it is safe to say that the price of Last Crumb's is steep enough to be included in the "expensive cookie" category.
So, what makes me qualified to be the taste tester for these?! I MAKE COPYCAT COOKIE RECIPES. Check out my Crumbl copycat below. IT IS A-FREAKING-MAZING.
In general though, I am just a huge cookie fan who has pitted sweets like Crumbl and Insomnia cookies up against each other. So, the cookie gods brought Last Crumb to me.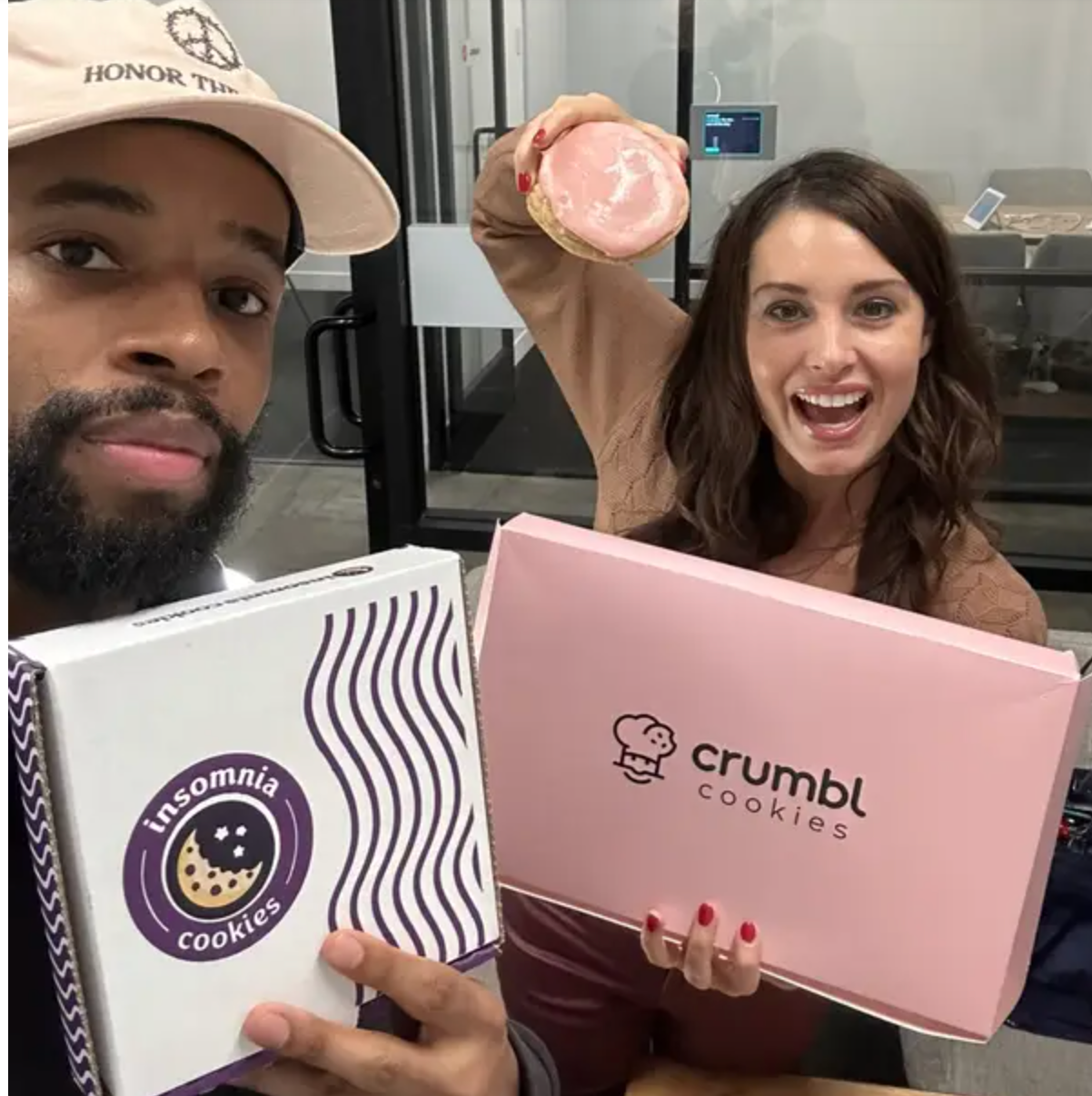 Let's begin. Here is how the cookies are presented:
And here is the first little note included in their brochure of each cookie 😂: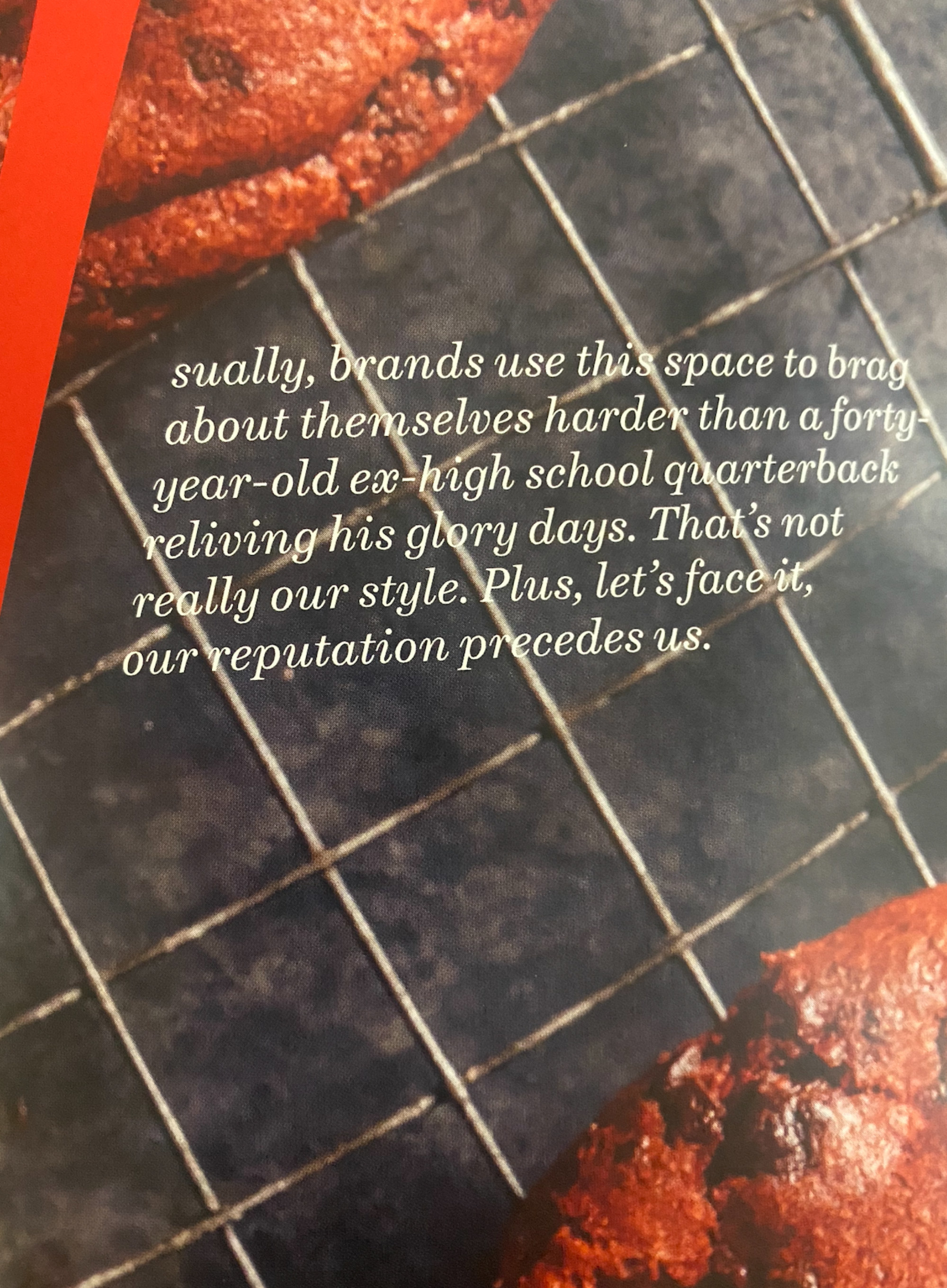 Their pamphlet also included instructions for tasting them. (Note that they suggested experts say to heat them in the microwave, so that is what I did with all of the cookies.)
I now present you with the complete list of each of the 12 cookies I tasted: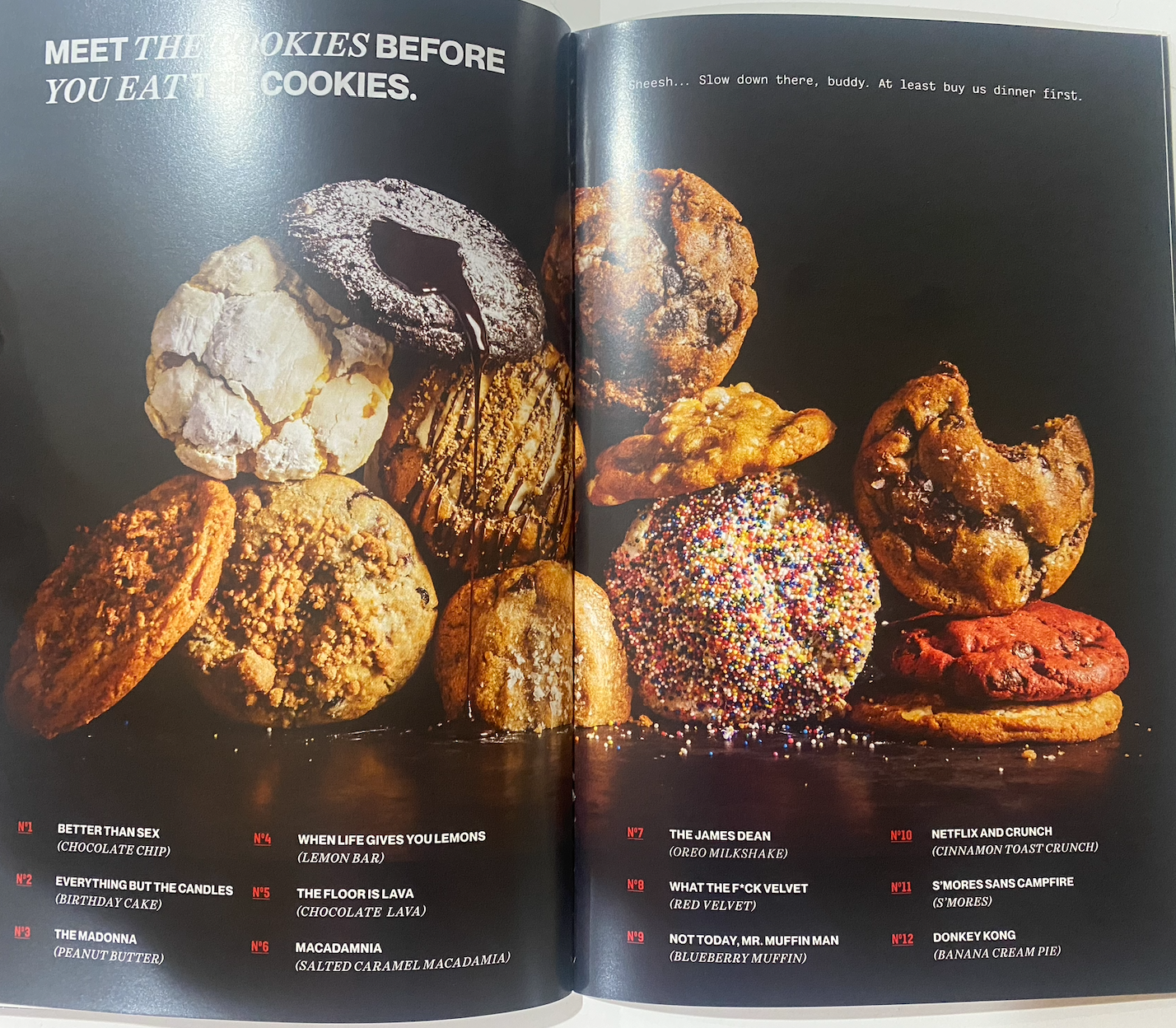 1.
Last Crumb's "Better Than Sex" chocolate chip cookie claims to be so good "your grandmother will disown you." It has three variations of chocolate, dark chocolate, rich chocolate, and mik chocolate. It has a caramelized, butter-based dough, a hint of coffee, and sea salt.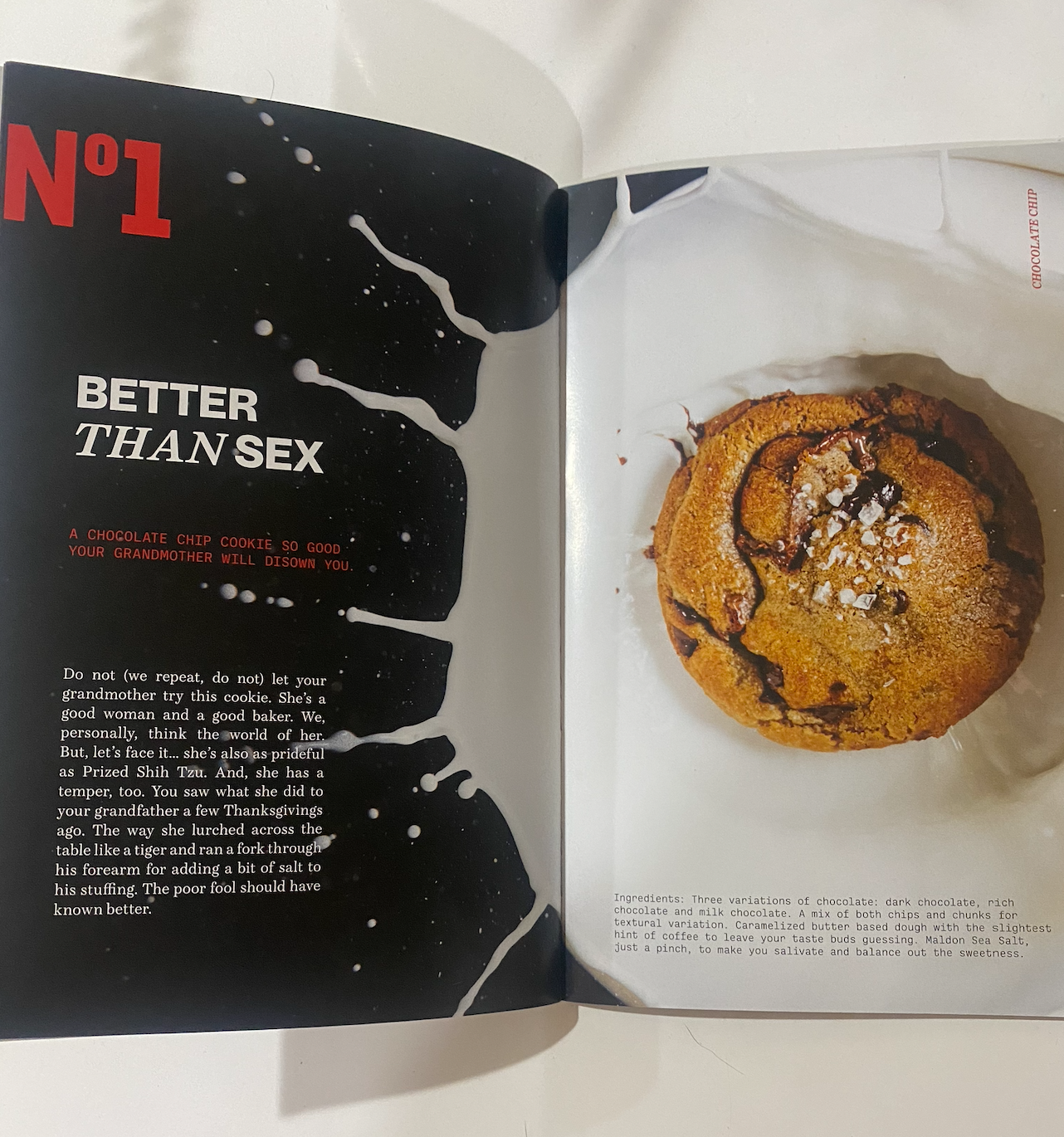 This cookie was thick, rich, and a bit doughy — but I do want to note that when I broke it in half UNMICROWAVED it didn't seem as doughy. As I noted above, I microwaved them all as recommended. I absolutely LOVE doughy cookies so this was a grand slam for me. Me, my husband, and son all agreed this is the best chocolate chip cookie we've ever had. What made it so good was the flavor. It was exploding with all the right things, although we didn't taste any hint of coffee. The caramelized, butter-based dough is what really embodies the flavor of this cookie, making it stand out compared to other chocolate chip cookies.
2.
"Everything But The Candles" birthday cake cookie includes cake batter and carmelized butter with vanilla frosting inside — and of course a shit ton confetti sprinkles.
Once again, this was thick, rich, and doughy — which is the theme of all of these cookies so just know that. Anyway, the flavor once again was UNMATCHED. At first, I thought the frosting inside was going to be too much and too sweet but I was pleasantly surprised. It surprisingly wasn't as sweet as Crumbl's Pink Frosted Sugar cookie. The sweet is balanced out with the caramelized butter and I was in love.
3.
Up third is "The Madonna," a peanut butter chocolate cookie that is apparently a combo beloved by Bill Clinton and Madonna (but they named this cookie after Madonna because she's hotter). It features peanut butter, peanut butter cups and chips, peanut butter swirl, milk chocolate, and sea salt.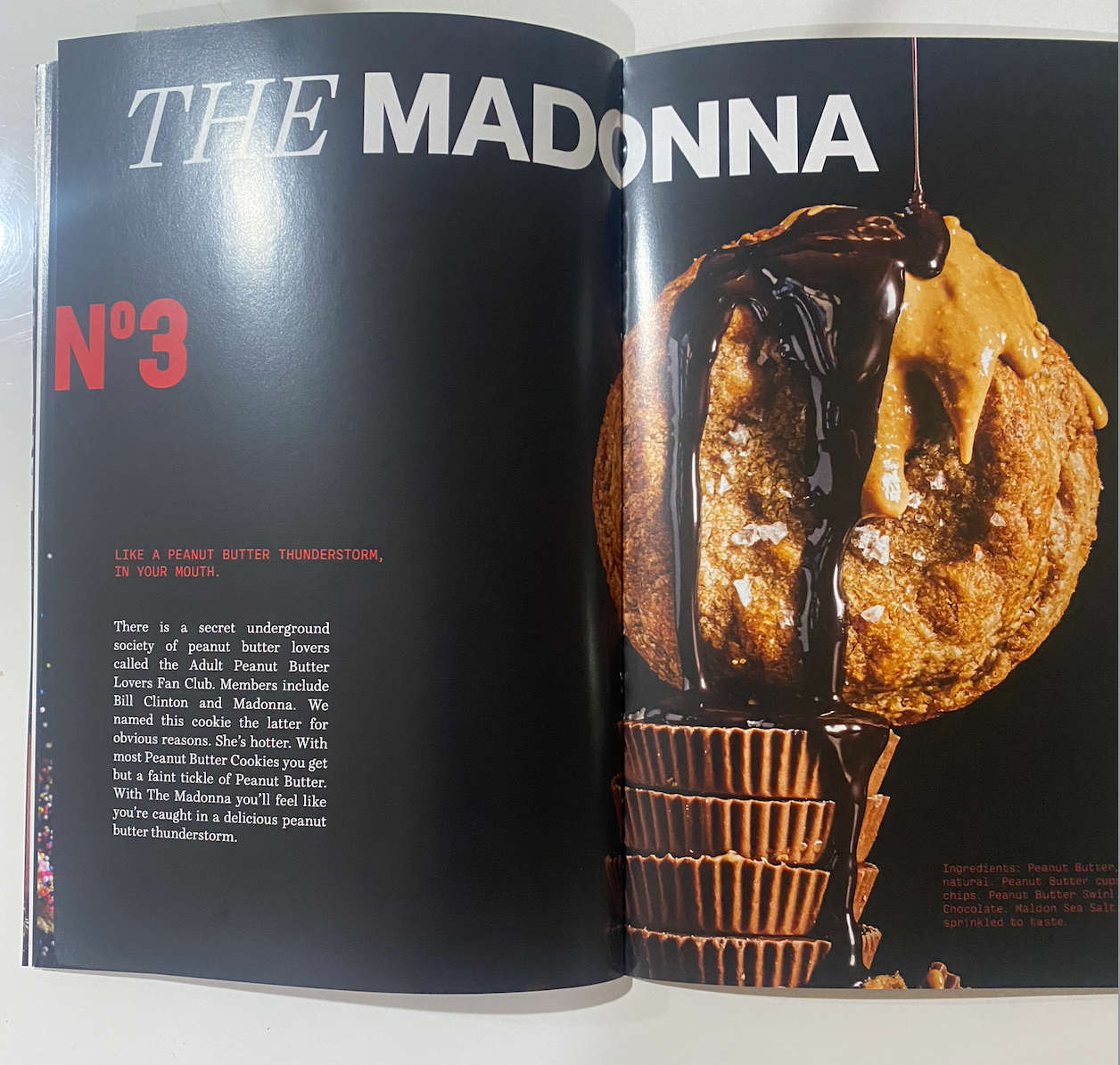 I'm not going to lie, I am not a huge fan of peanut butter cookies. But even I could appreciate the flavor on this one. The massive peanut butter and chocolate chip chunks really made this a decadent cookie. I couldn't eat more than just one bite because it was THAT rich but, again, it was dang delicious.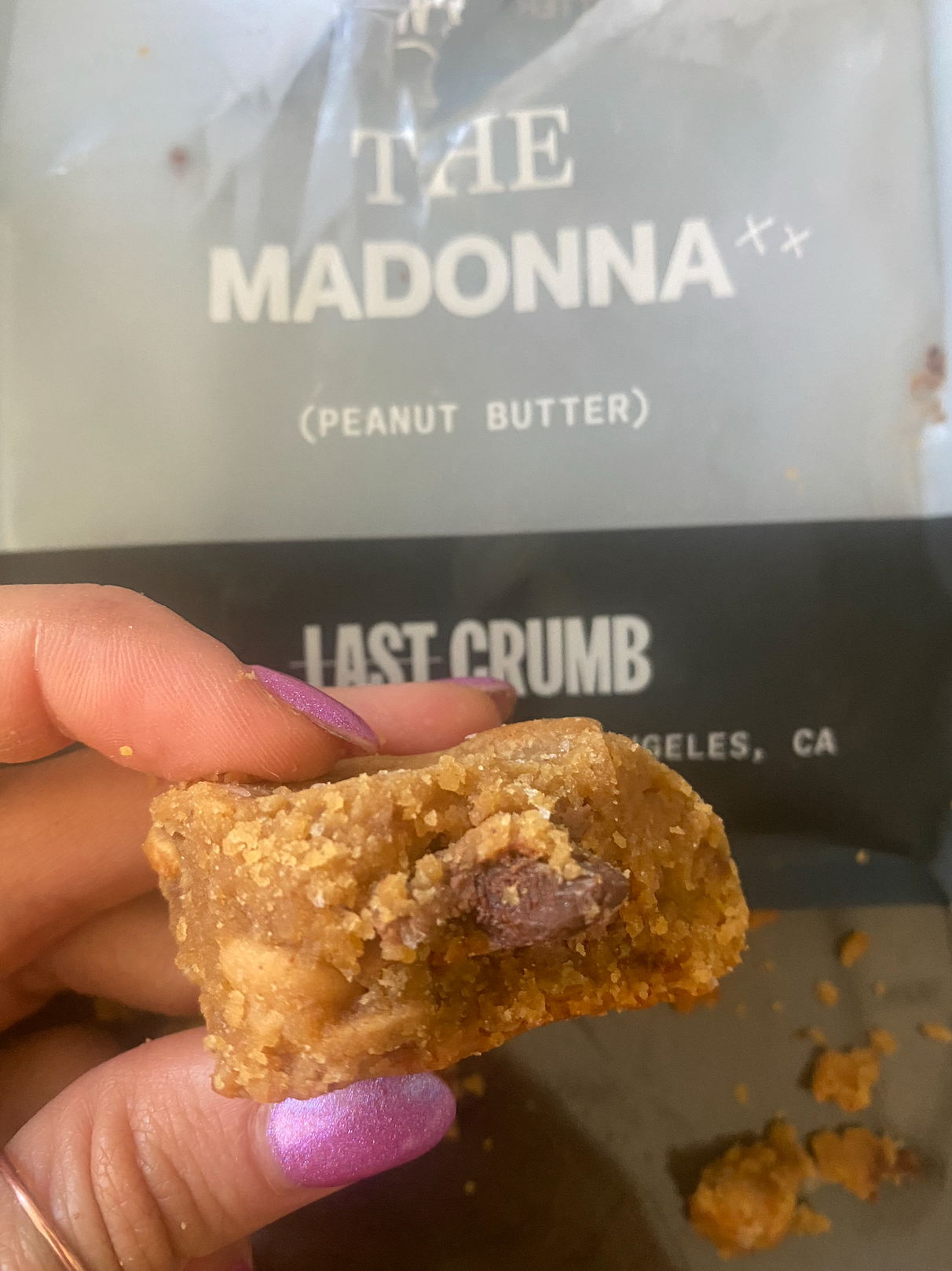 4.
Let's move on to: "When Life Gives You Lemons." This one has lemon, lemon zest, marshmallow, and vanilla chips paired with a graham cracker crust. YUM.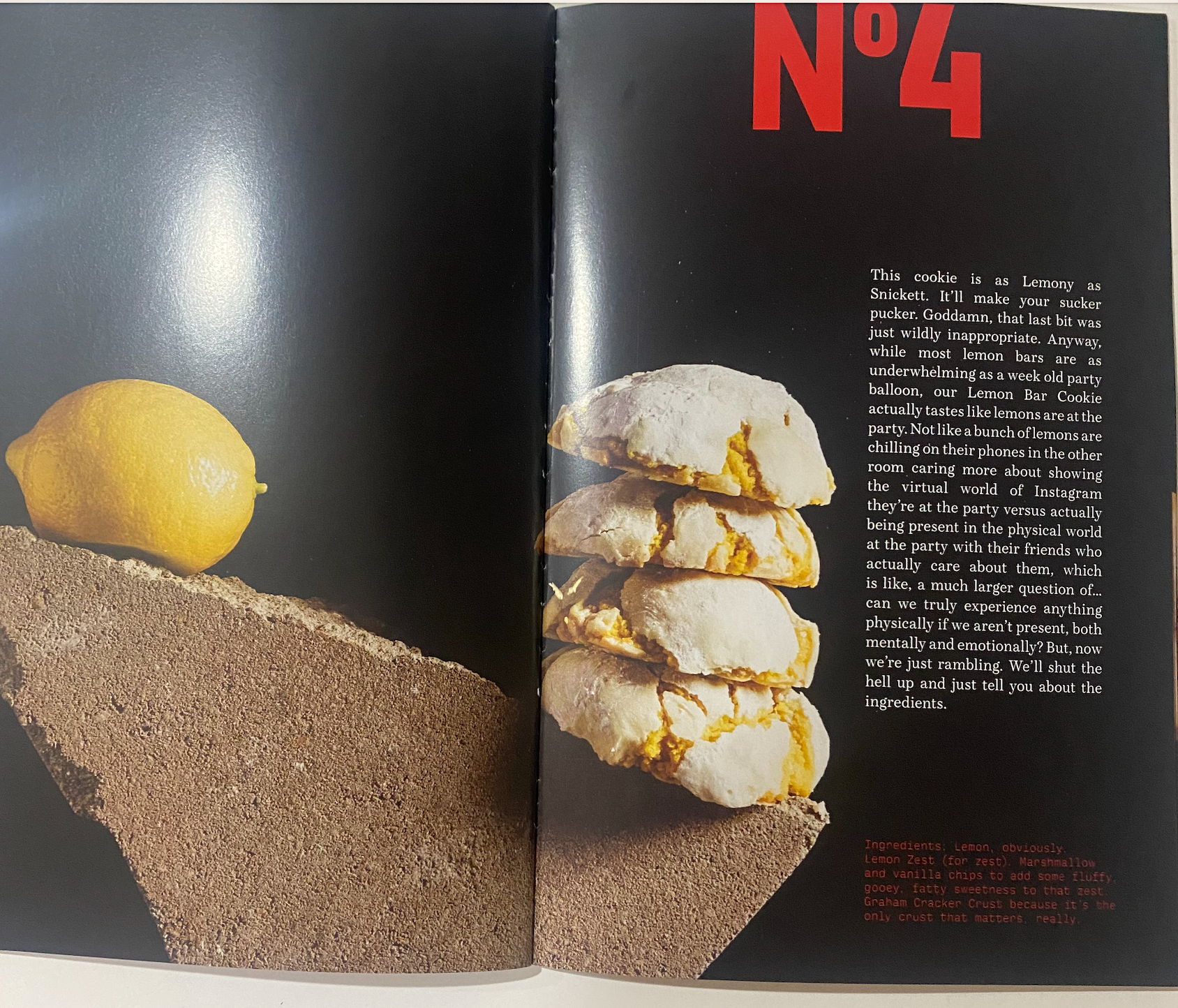 The best part about this one was the fact that the lemon was FRESH. There wasn't the artificial taste that you sometimes get with lemon-flavored treats. It was honestly so refreshing, soft, and encompassed everything I didn't know I needed in a lemon cookie. AMAZING.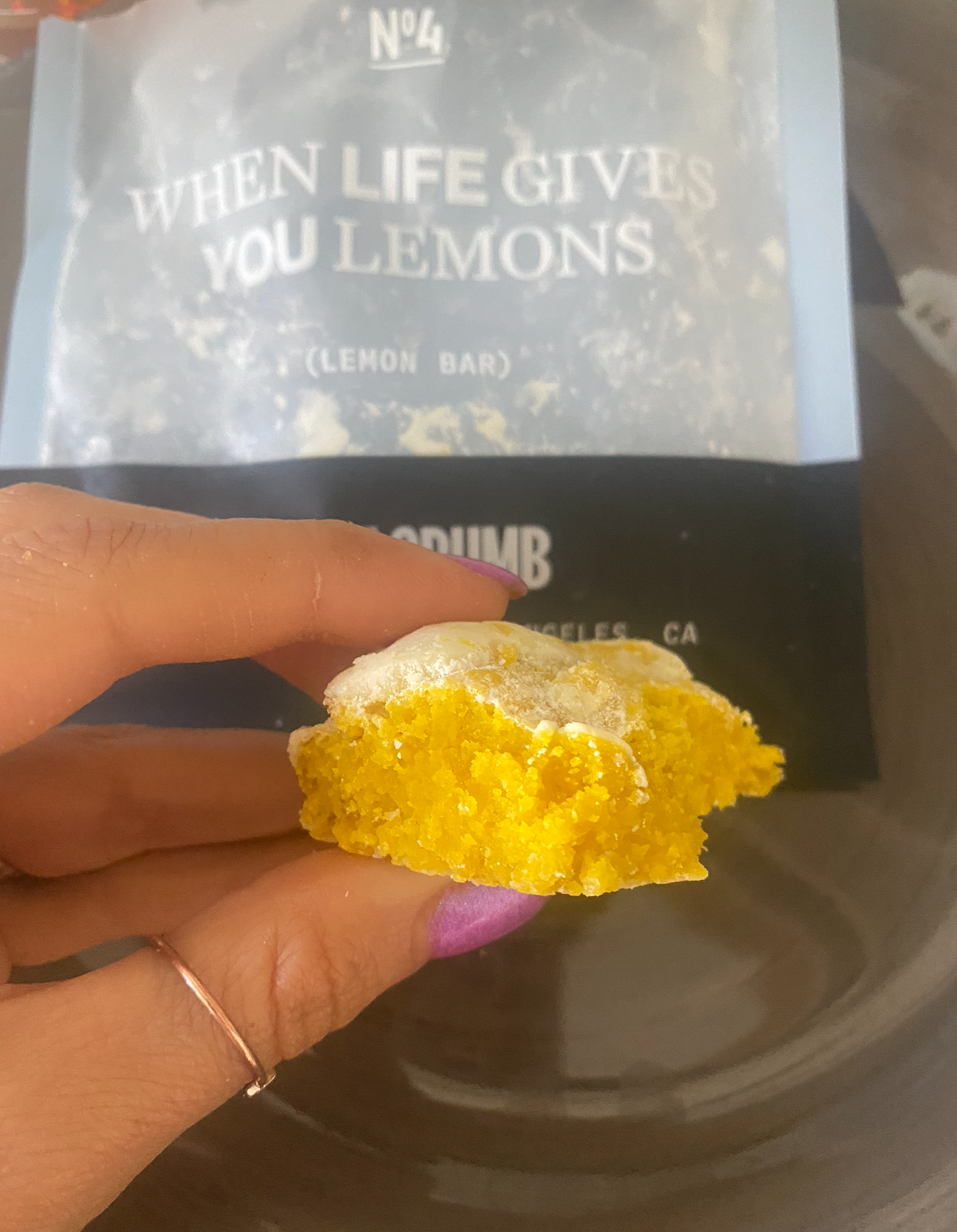 5.
"The Floor Is Lava" is a chocolate lava cake cookie stuffed with chocolate ganache. It has milk chocolate, dutch chocolate, dark chocolate, and esspresso.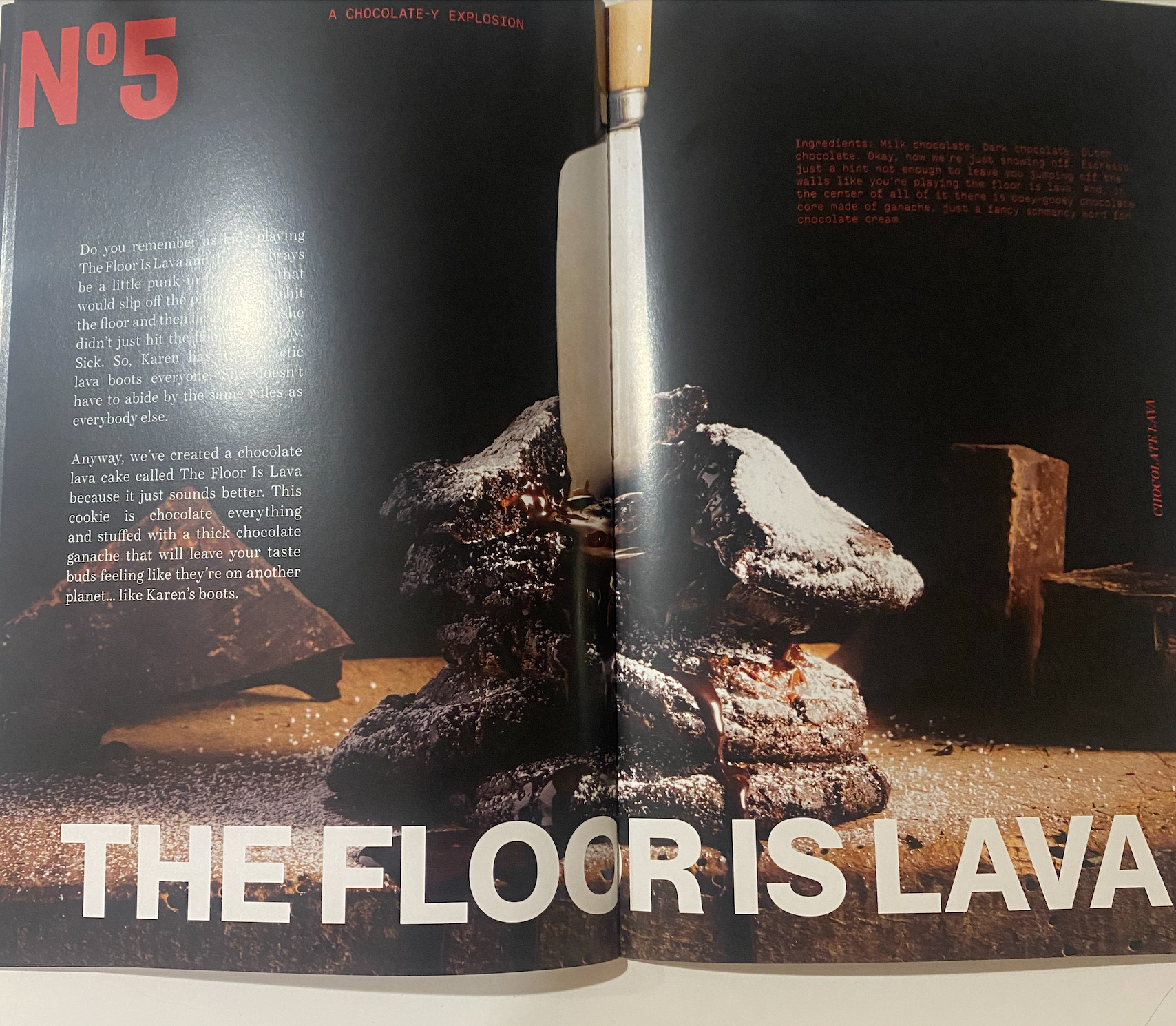 The presentation of this one gets an A+. It literally erupted with chocolate after I microwaved it for 10 seconds. It is hands-down the most chocolatiest of all the chocolatey cookies I have ever had. So, if you adore chocolate, this one is for you. For me though, it was too much. I respect the depths they had to go to execute this cookie but it just wasn't for me in flavor — in presentation, though it was my fav.
6.
The "Macadamnia" cookie shows up with toasted macadamia nuts, caramelized butter, salted caramel, thick-cut white chocolate chunks, and sea salt.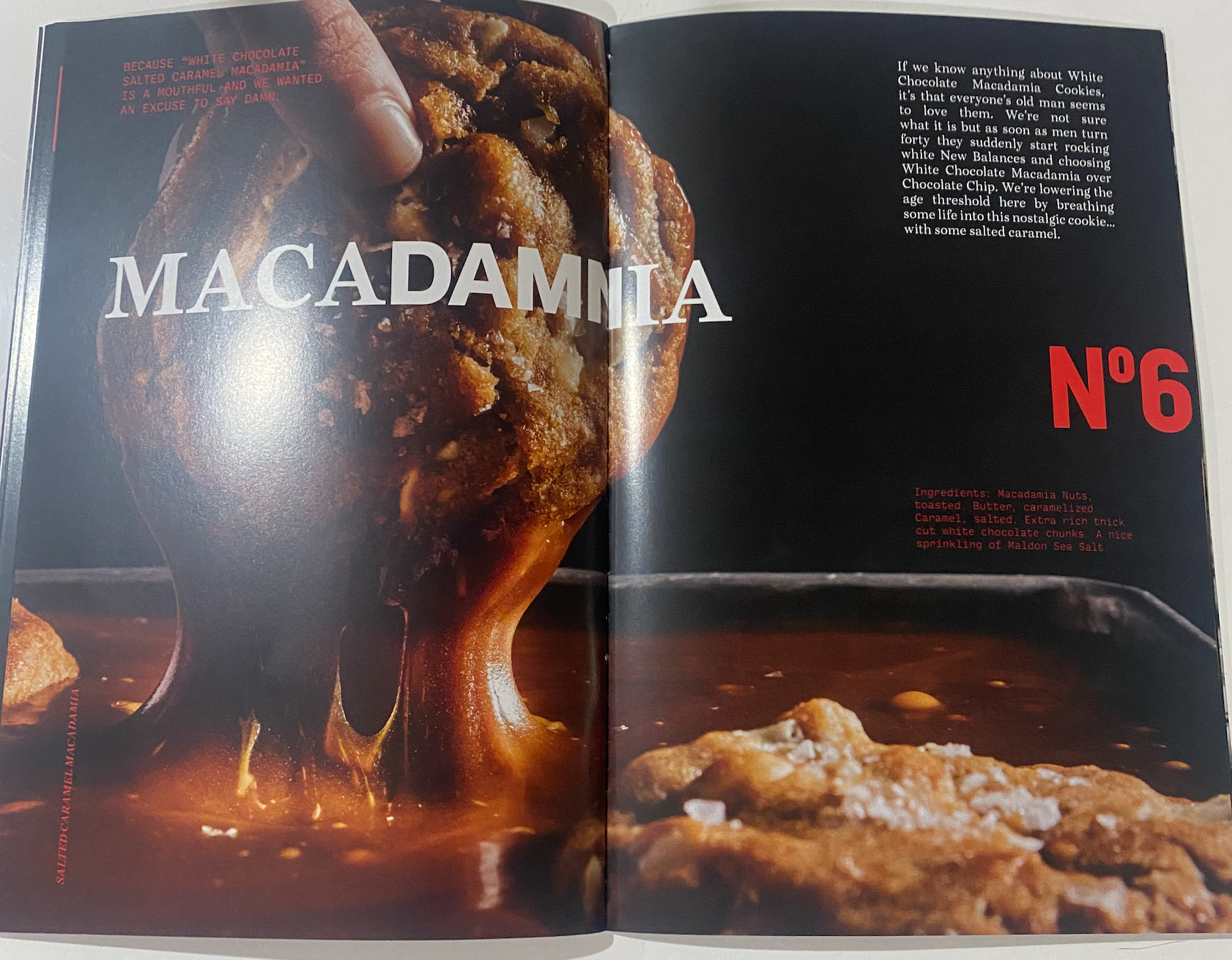 This one truly stands out among all the other macadamia cookies I've had. It is more, for lack of a better word, BOLD. It emulates what I would expect a good macadamia cookie to taste like, plus the sea salt levels it up a bit. TASTYYYYY.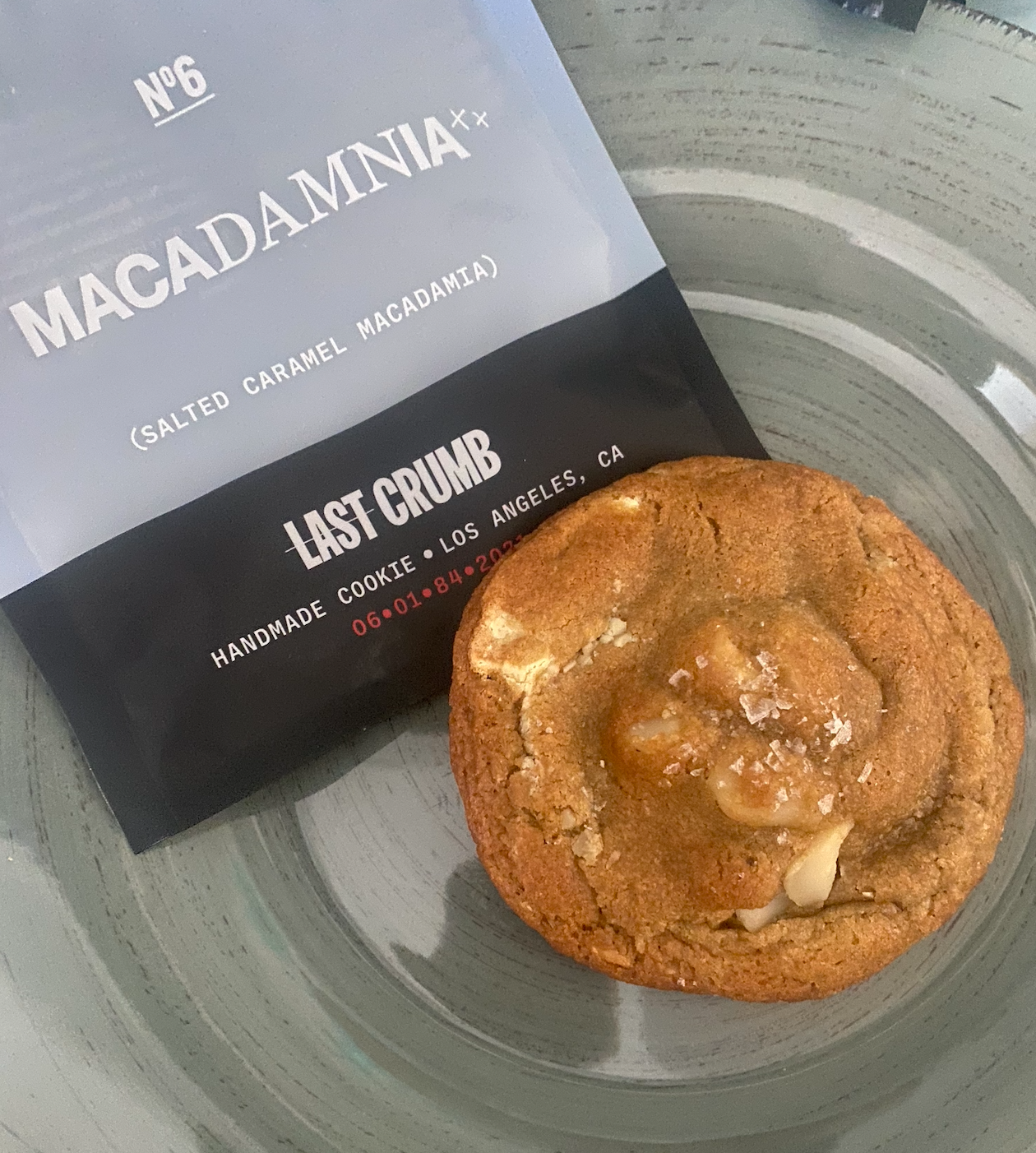 7.
"The James Dean" has a little bit of a backstory about a red-haired vixen named Vanessa who turned down an Oreo milkshake from James Dean back in the day. The cookie has malted milk balls, light cocoa, white and semi-sweet chocolate, and Oreos.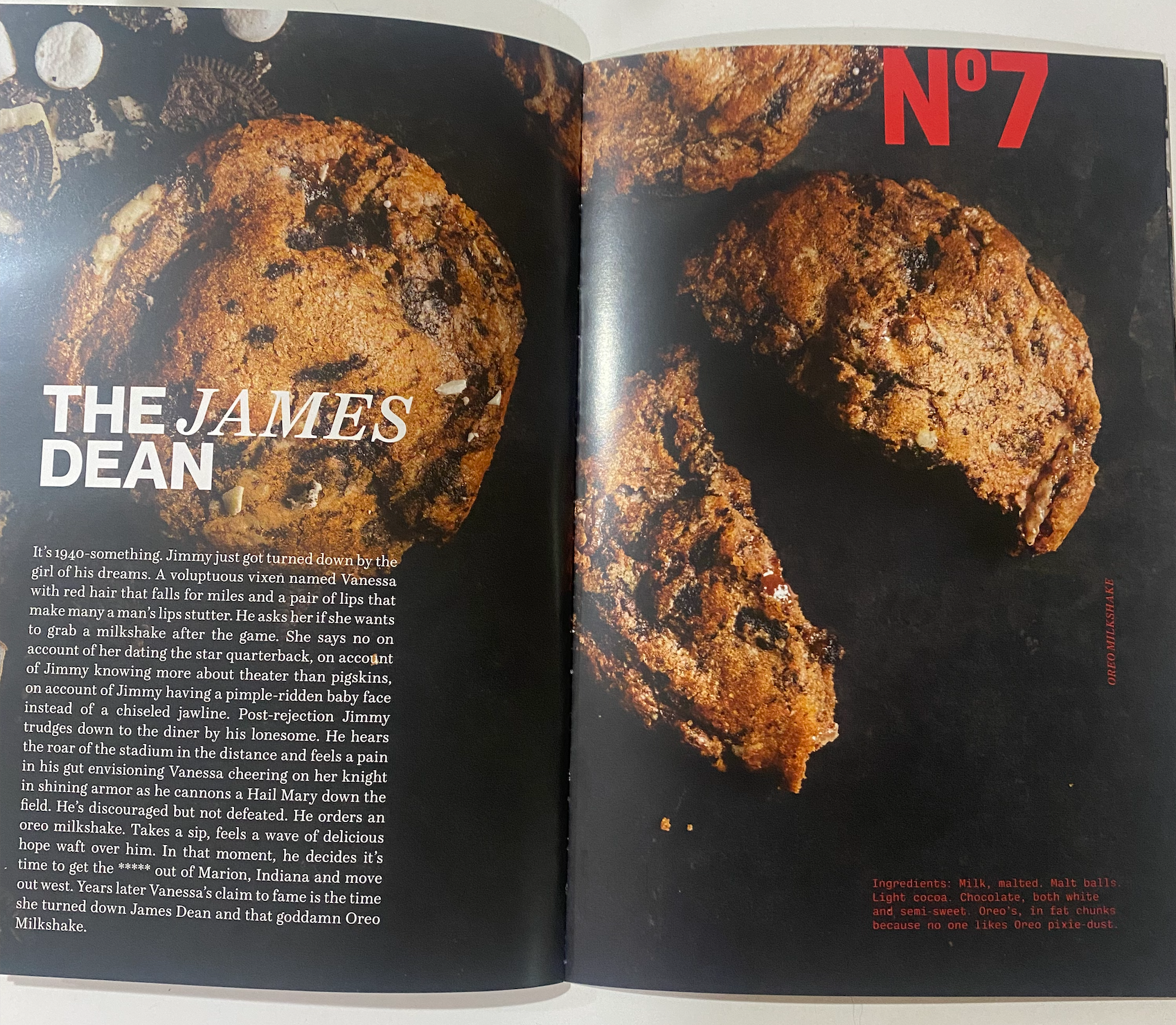 Unsurprisingly, this one was bursting with flavor. Overall, a very good cookie if you like malted milk balls and Oreos. It had a lot going on though, so it wasn't my absolute favorite of this bunch.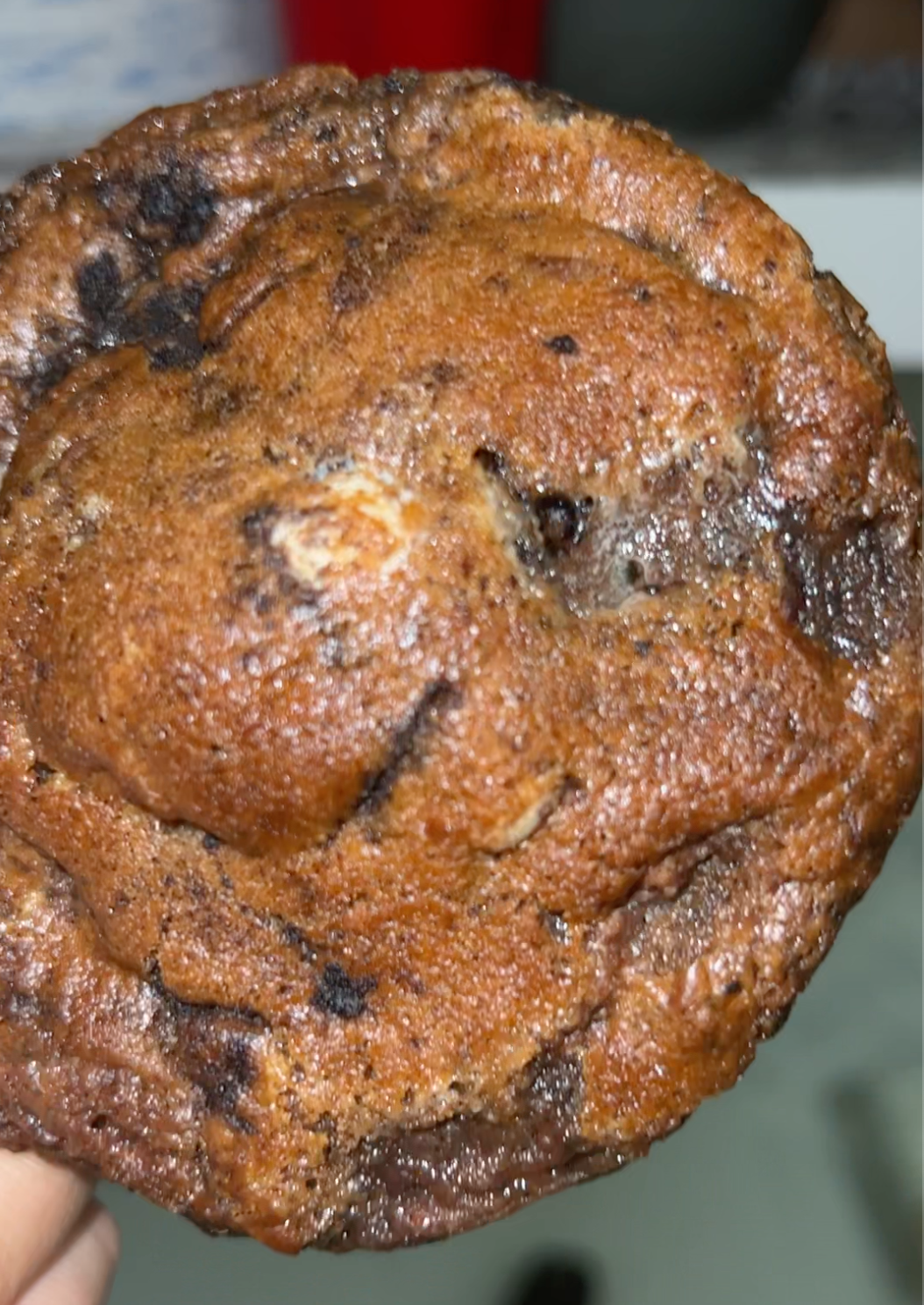 8.
And that brings us to "What The Fuck Velvet" which interestingly enough is made up of apple cider vinegar, buttermilk powder, light cocoa — and it has cream cheese frosting inside.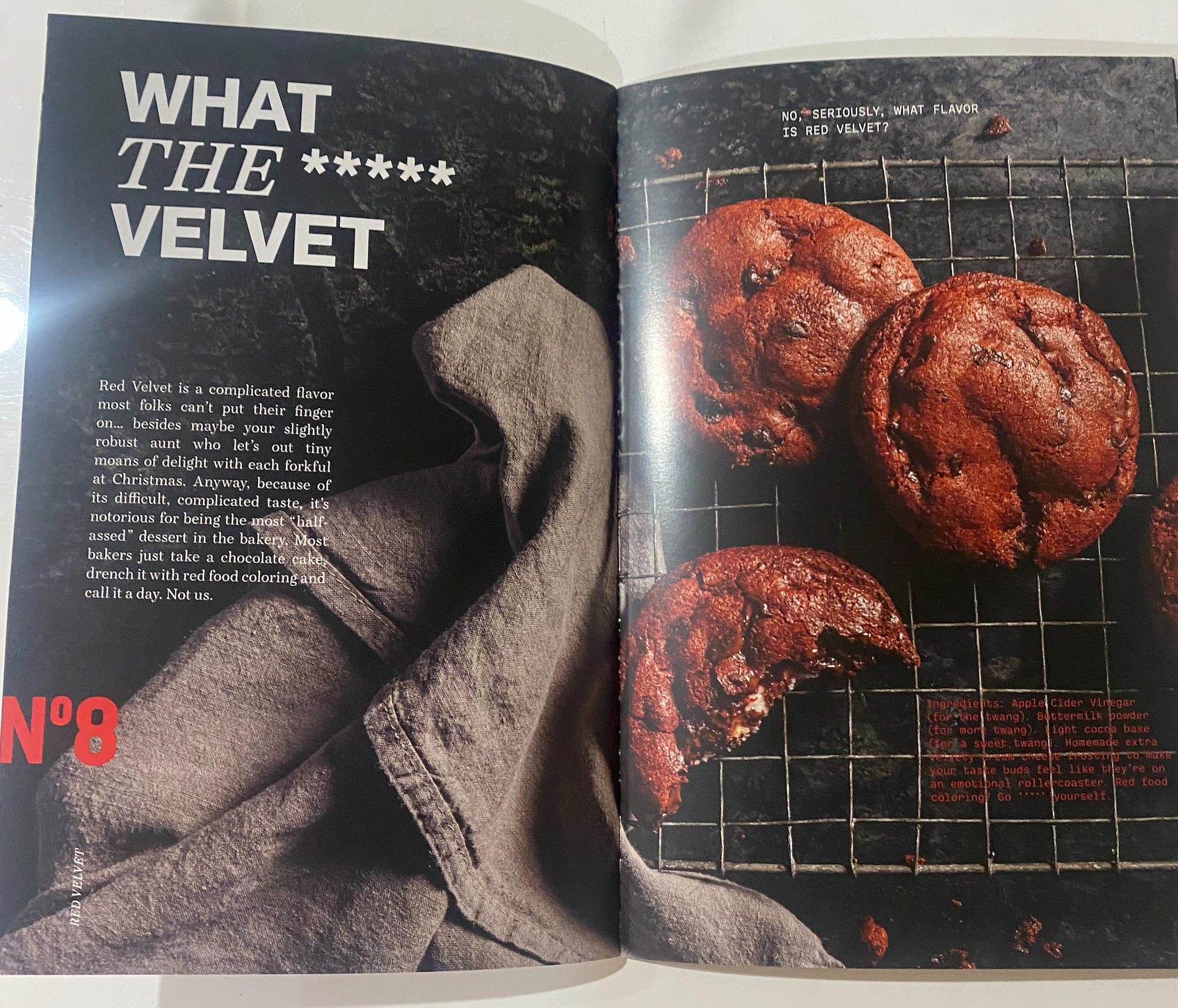 I am not a red velvet fan, so I was sort of confused by all of the flavors inside this one. Oddly, but also thankfully lol, I tasted no hint of apple cider vinegar. It was a fine cookie and it wasn't bad but it wasn't for me. I can't really put my finger on why!!! I thought the cream cheese frosting inside was too much as well.
9.
"Not Today, Mr. Muffin Man" — this is a simple wild blueberry and streusel cookie...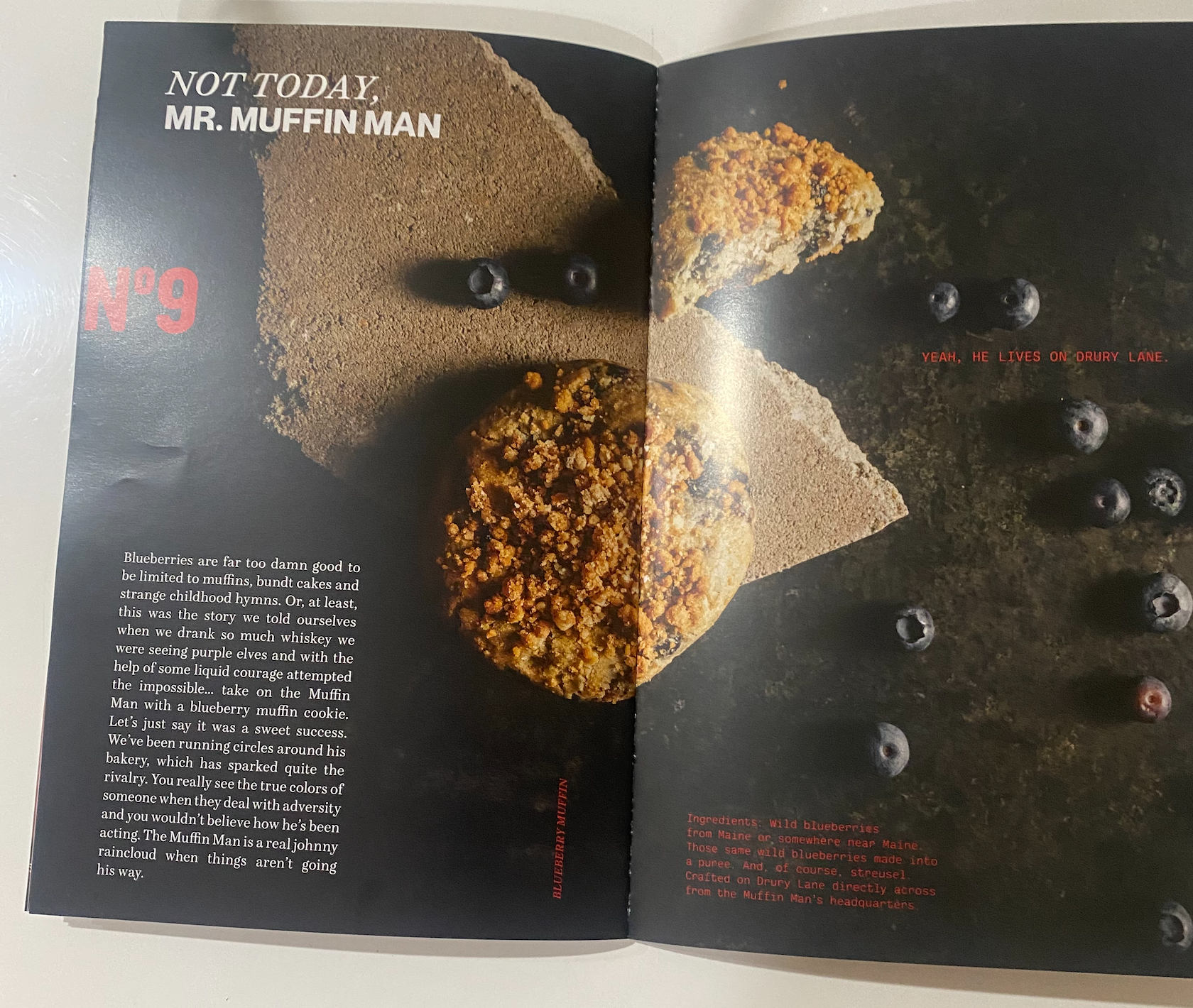 ...And let me say sometimes simple is all you need. OH MY GOD. This was INCREDIBLE. The freshness of the blueberries paired with the streusel cookie was so delectable. It was like a slightly sweeter, better version of a classic blueberry muffin.
10.
Moving on to the "Netflix and Crunch" cookie. It has cinnamon streusel, cinnamon graham cracker crust, and a vanilla milk swirl.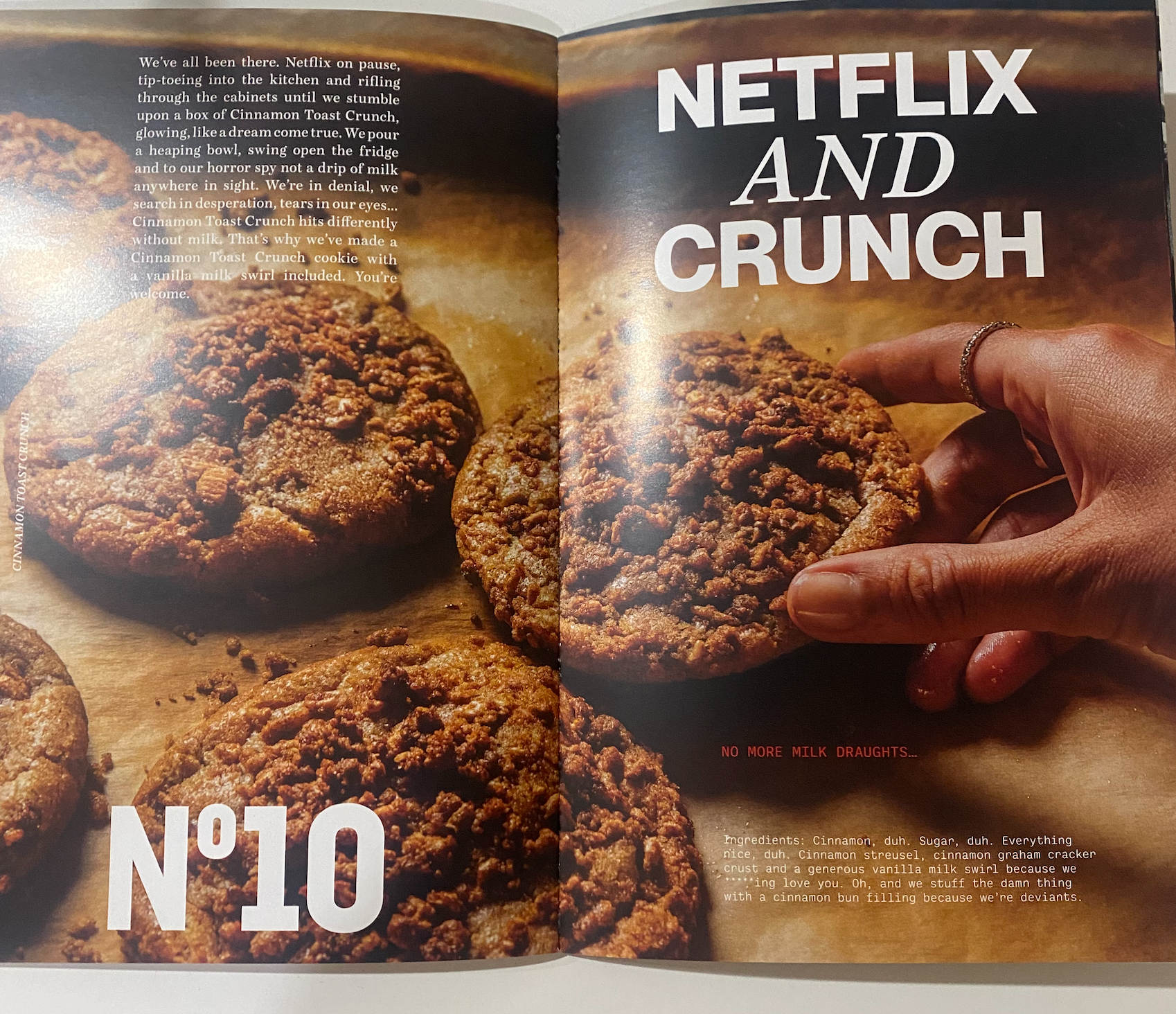 This is literally Cinnamon Toast Crunch in cookie form. The flavor is identical to the beloved cereal. It is very sweet and sugary but that is to be expected of this cookie so it gets a pass. It is damn good and damn spot-on to the CT Crunch OG.
11.
The "S'mores Sans Campfire" cookie has toasted marshmallows, dark chocolate, milk chocolate, and cinnamon graham.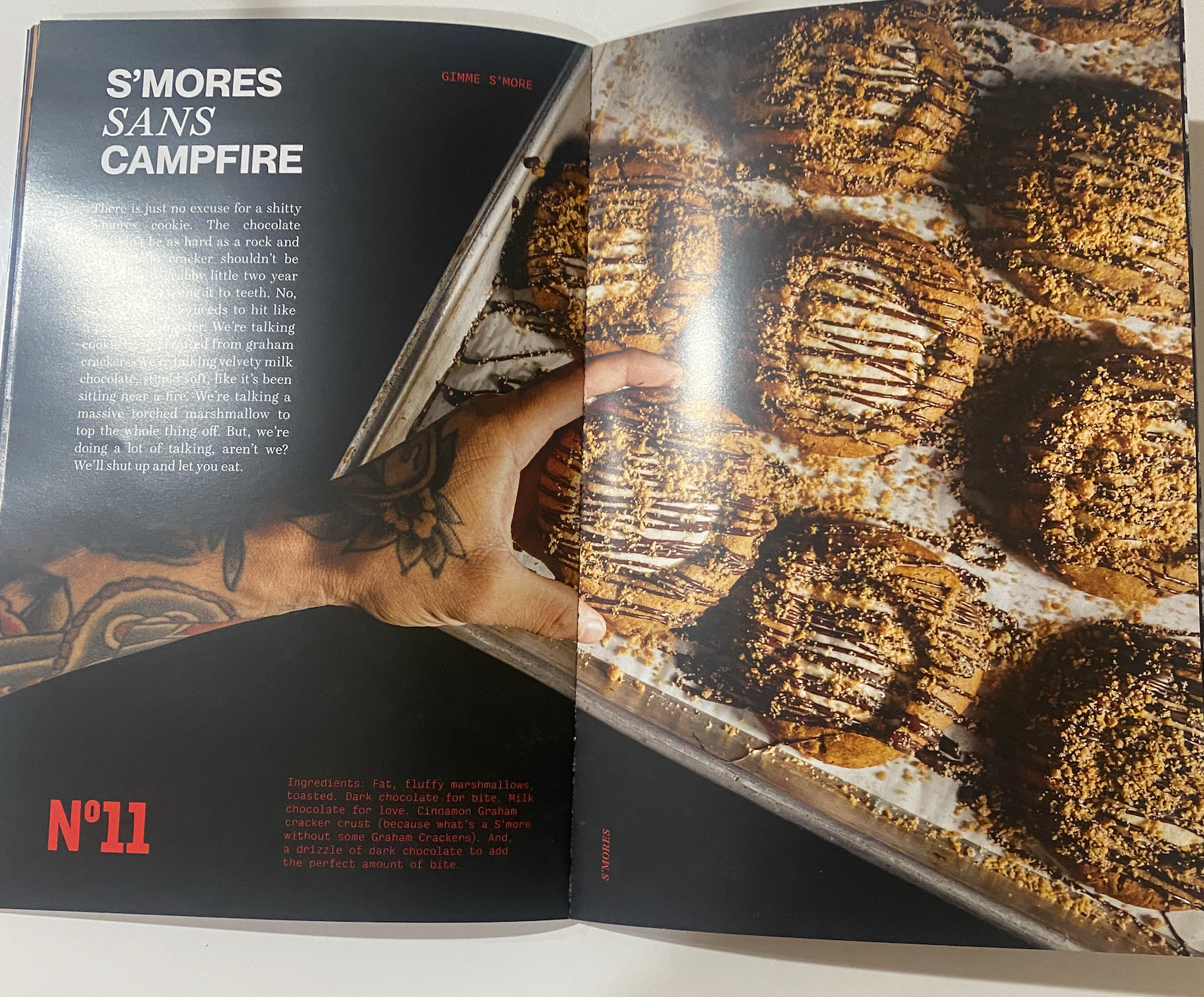 I always say don't alter or fix something that isn't broken and that's what I think of when I think of a s'more because it's perfectly delicious just the way it is. HOWEVER, in this form as a cookie, it works. It didn't feel like two separate desserts just mashed together, it felt like a marriage that was meant to be. You get to appreciate cookies and s'mores flavor all in one.
12.
Lastly —and after several breaks because this was a LOT of cookies to taste, even just with one bite each! — I made it to the "Donkey Kong." It has marshmallows, thick pudding, white chocolate chips, vanilla wafers, and real bananas.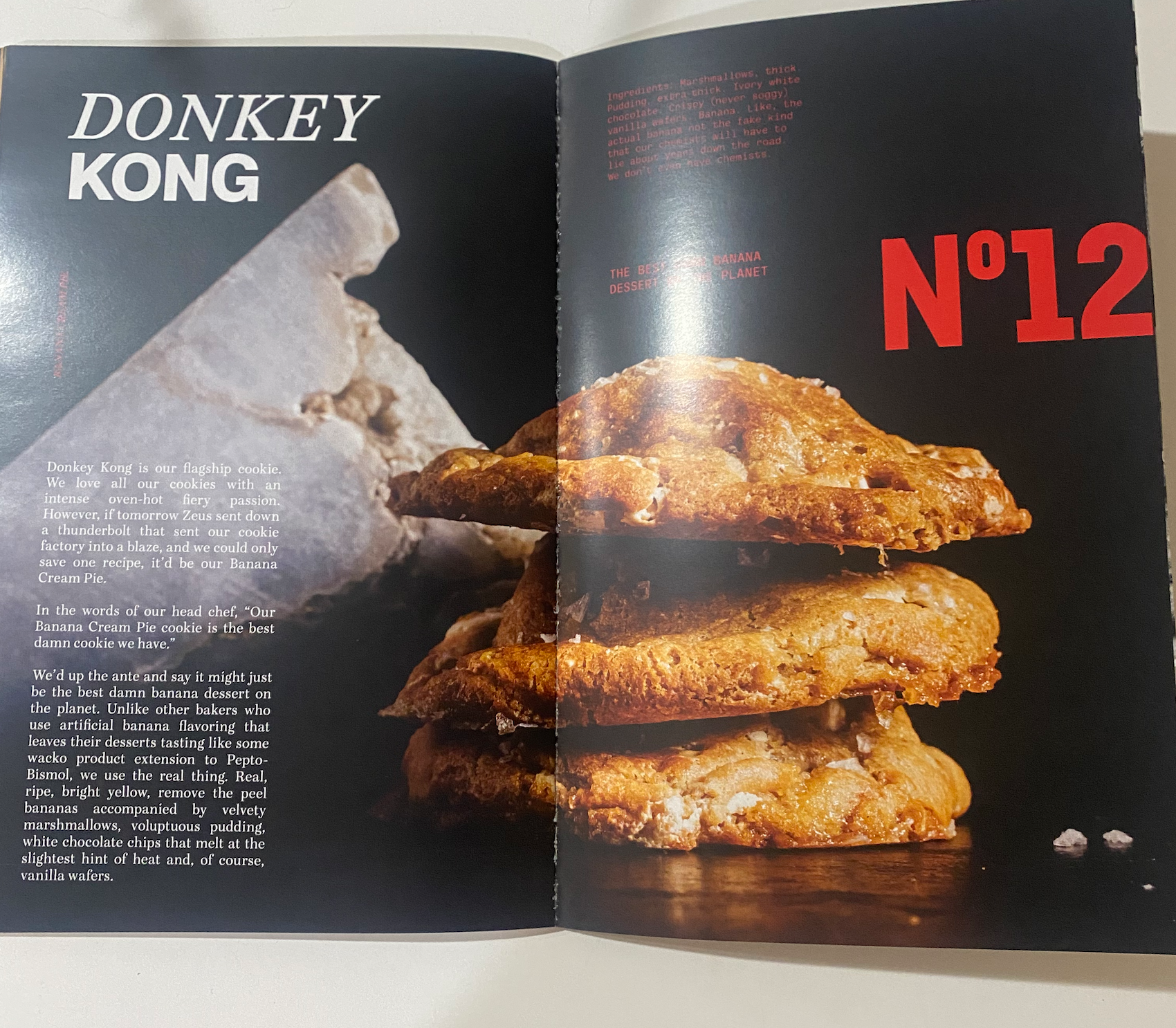 I would classify this one as "good" but not "amazing." Compared to the other cookies, it does not stand out unless you really, really love bananas. And while I do say you have to love bananas, I also want to say that thankfully the bananas don't overpower the cookie. You can still pick up notes of the other flavors of the cookie which is a big plus.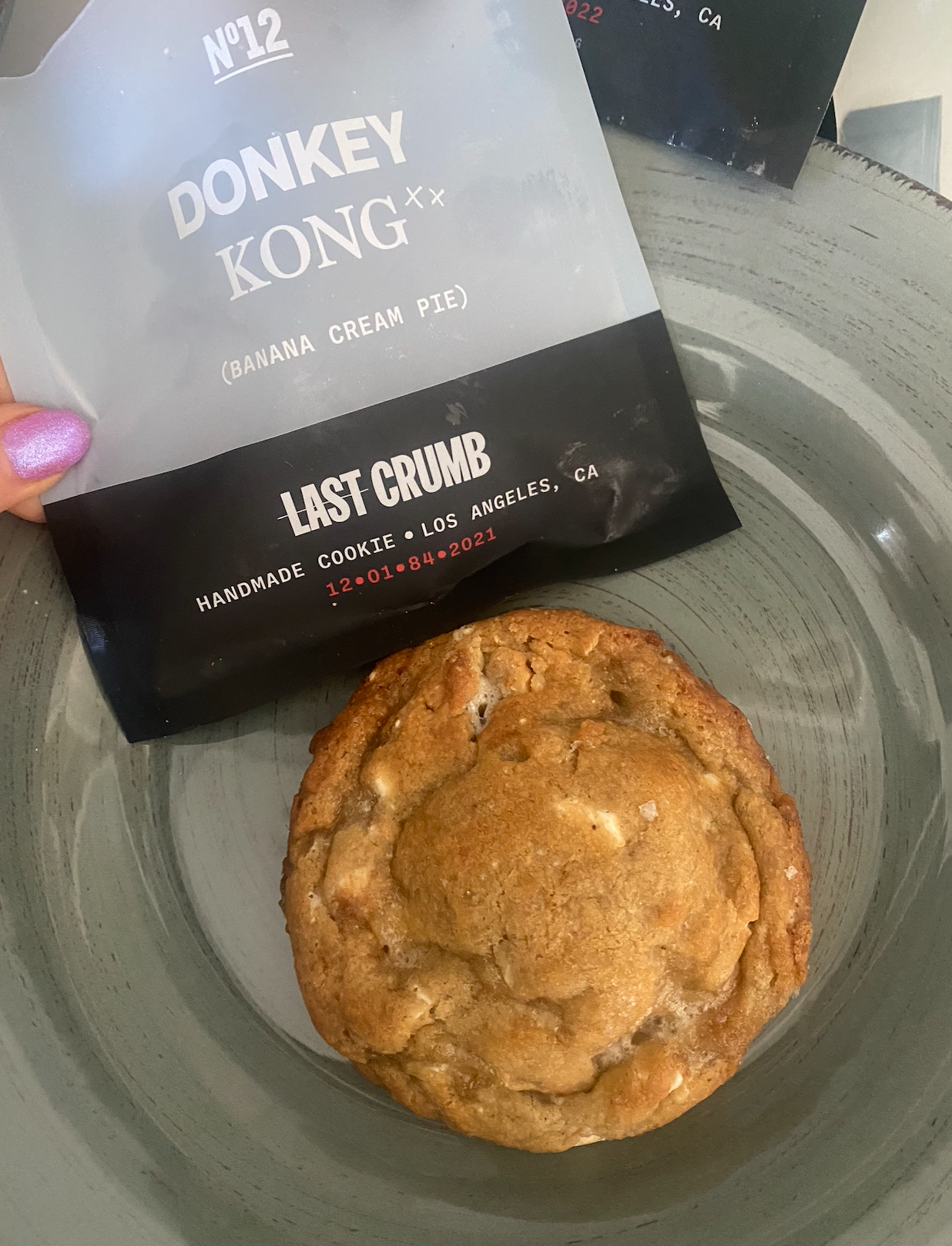 Overall, these cookies are truly on a higher level than any other cookie I've ever tried. They include flavor duos that are just really unique and they don't fall back on artificial flavorings. Unfortunately, I wish you could just buy one as a standalone experience, but you currently can only buy them in the dozen box, which again ranges between $140-$160 plus shipping on their website. It is totally worth splurging on for a special occasion if you can because I don't think you will be disappointed! Have you or would you ever try these cookies? Let me know in the comments!
For full transparency, I was given the opportunity to test Last Crumb for free but it in no way affected my review.