The rise of these things while baking is just extraordinary!
And the end result is just magical.
Lemon Cheesecake Bites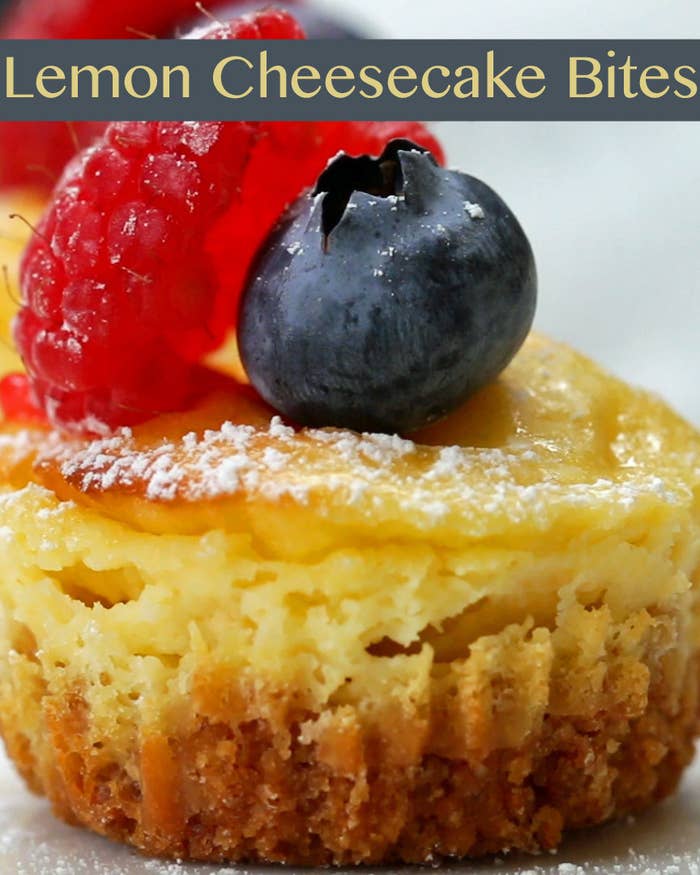 INGREDIENTS
Servings: 12-16
3/4 cup graham cracker crumbs (7 graham crackers)
1 tablespoon brown sugar, packed
3 tablespoons unsalted butter, melted
8 oz cream cheese, room temperature
1/2 cup powdered sugar
1/2 cup granulated sugar
1/4 cup sour cream
3 eggs
1 teaspoon vanilla extract
3 tablespoons lemon juice
Blueberries & raspberries (to garnish)
PREPARATION
Preheat oven to 350°F / 175°C. Place baking cups in cupcake tin. In medium bowl combine graham crackers, brown sugar, and melted butter and stir to coat. Divide mixture and press into baking cups. Freeze crusts for 12-15 minutes or until hard. Stir cream cheese until smooth. Add granulated sugar, mix again, then add sour cream and mix. Add 1 egg at a time then add vanilla extract and lemon juice, stir until smooth. Fill chilled baking cups with cheesecake mixture. Bake for 20-22 minutes or until centers are firm. Remove and allow to cool for 15 minutes. Chill in refrigerator for at least 2 hours or eat room temperature. Garnish with raspberries and blueberries.
Want BuzzFeed Tasty right in your inbox? Sign up for our newsletter!