Meet The Magical Wine Gadget That Wants To Change The World
Q: How do you drink a bottle of wine without pulling the cork? A: Coravin.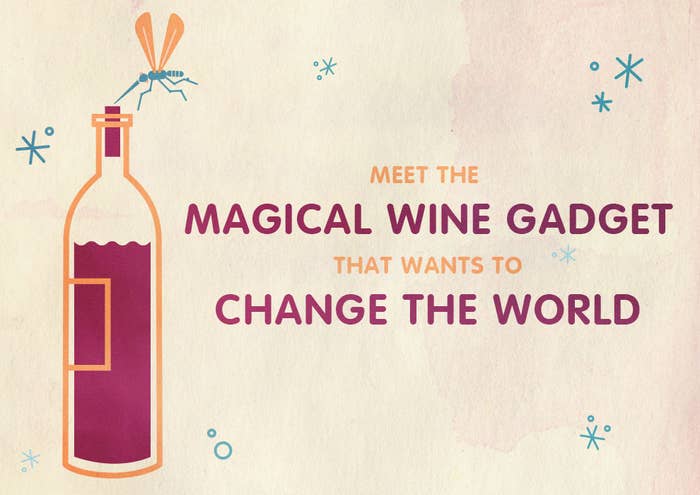 Wine gadgets — stuff like aerators, fridge-sized preservation systems, and wildly elaborate bottle openers — are generally worthy of suspicion, targeted toward wine hobbyists who are either too gullible to know better or too flush with disposable income to care. (If you're tempted by this tiny $500 wine sarcophagus, perhaps I could interest you in several other items in the latest Skymall catalog?)
So it's easy to be skeptical of the Coravin, a product launched last July that has been described by voices across the wine establishment as "transformational," "revolutionary," and "a threshold in the wine industry over which we have passed, and will never return." Those are words that raise eyebrows — especially when they're attached to something with a $300 price tag.
This white whale of wine gadgets does a seemingly impossible thing: It lets you pour wine from a bottle without damaging or removing the cork, and preserves the wine left in the bottle by replacing the empty space with inert argon gas. In theory, this lets the wine continue aging peacefully without spoiling for as long as you want — even if it's 15 years. That's important because a bottle of wine, once opened, goes bad fast (unlike, say, a bottle of Scotch). As soon as you pop the cork, a chemical reaction with oxygen starts to change the flavor, and within a few days the wine can go from incredible to undrinkable.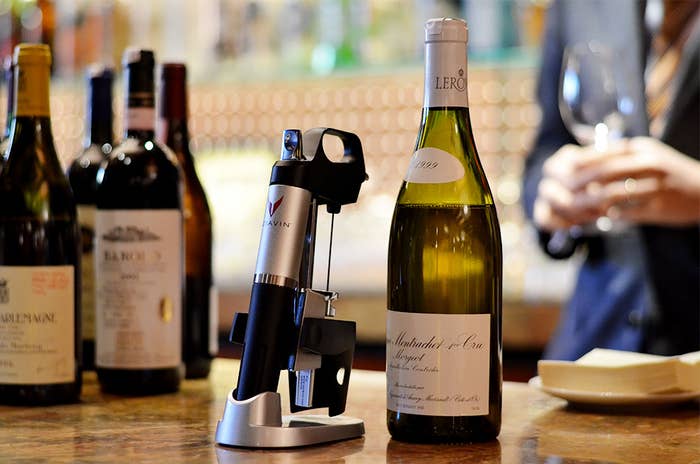 Anything that promises to not just slow down but skirt the oxidation problem entirely could make a huge difference for restaurants — they won't have to rush to sell an open bottle by the glass before it goes bad — and for any human who wants to try a wine without polishing off (or paying for) the whole bottle. Wine sales reps, who have to offer small samples to lots of different people, and sommelier students learning to identify countless varieties of wine also have reason to be excited. But does it really work? And if it does, is it as big a deal as people seem to think?
Gadget in hand, Coravin inventor and company founder Greg Lambrecht met me for a tasting so I could see for myself. We met at Costata, a newish steakhouse in downtown Manhattan where beverage director (and Coravin convert) Hristo Zisovski was on hand to show the device in action and lend certified-sommelier credibility to the proceedings.
Despite his credentials (two engineering degrees from MIT and decades spent inventing high-tech medical devices), Lambrecht doesn't in any way play the high-minded scientist. He's an energetic man in his forties with floppy hair and a big, boyish grin, and an enthusiastic and articulate prophet of his gadget gospel. He makes seemingly involuntary little happiness noises ("oof!") every time he sticks his nose into a glass of really good wine.
The design, which Lambrecht worked on in his Boston basement for more than 14 years and saw through upwards of 20 prototypes, has a fascinating but slightly unsettling medical pedigree. It revolves around a sharp medical-grade needle, originally designed to be able to repeatedly pierce patients' skin and access a spinal implant underneath without doing damage. Lambrecht, who was struggling to finish bottles of wine before they went bad without help from his then-pregnant wife, had a lightbulb moment: "In medicine, we get past things that are damaged by air by sticking needles through the septum and drawing it out. I thought, It's the same thing."
Cork, like human skin, naturally springs back together when pressed or cut. The needle used in the Coravin is hollow but "non-coring," meaning that the center channel, which lets argon gas into and wine out of the bottle, ends in a little hole on the side of the needle, not the front. And that means that as soon as you take the needle out, the hole disappears as if it had never been. All of this goes a long way toward explaining the Coravin's original, very apt name: the Wine Mosquito.
Though it's been refined since (and now comes in three models for different corks and pouring speeds), that same needle is still the real voodoo at the heart of the Coravin. Here's how it works, practically speaking.
First, clamp the device onto the top of a wine bottle.
Press a lever to inject argon gas, from an attached canister, through the needle.
Once the pressure builds enough, the argon displaces wine and wine comes out the spout.
Raise the needle and release the device.
Why hadn't anyone come up with something like this before?
"Tradition," said Lambrecht, who credits his medical background for the irreverence it took to circumvent the sacred ritual of popping the cork. For centuries, he said, "the fundamental assumption was that in order to get to the wine on the other side, you had to pull the cork. And that assumption really wasn't checked or tested."
This points to an inherent marketing challenge for Coravin. Wine culture is deeply traditional; wine is supposed to be romantic. And "there is nothing romantic about the Coravin, at all," said Talia Baiocchi, a wine writer and the editor of the online wine and spirits magazine Punch. She was impressed enough with the tool to call it "kind of revolutionary," but pointed out that "any time anything makes something more efficient for an industry, there's a little bit of romance lost in that."
"We knew we had to get people comfortable that this thing really worked," Lambrecht said. Taking turns narrating, he and Zisovski spun me the yarn of how the Coravin won over a handful of the country's most influential sommeliers, and, by extension, a significant chunk of the larger wine world.
They rounded up two small groups of sommeliers (one in New York, one in San Francisco) to taste a bunch of new, never-before-opened wine. "Then we left the wine there, invited them back six months later" — nine months, Zisovski corrected him — "and blind taste-tested the ones that we'd accessed versus the ones that were left untouched."
Guess how this one ends.
None of the sommeliers could tell the difference between the two. "And these guys really know what they're doing," Lambrecht said. "To have them validate it was really big for me."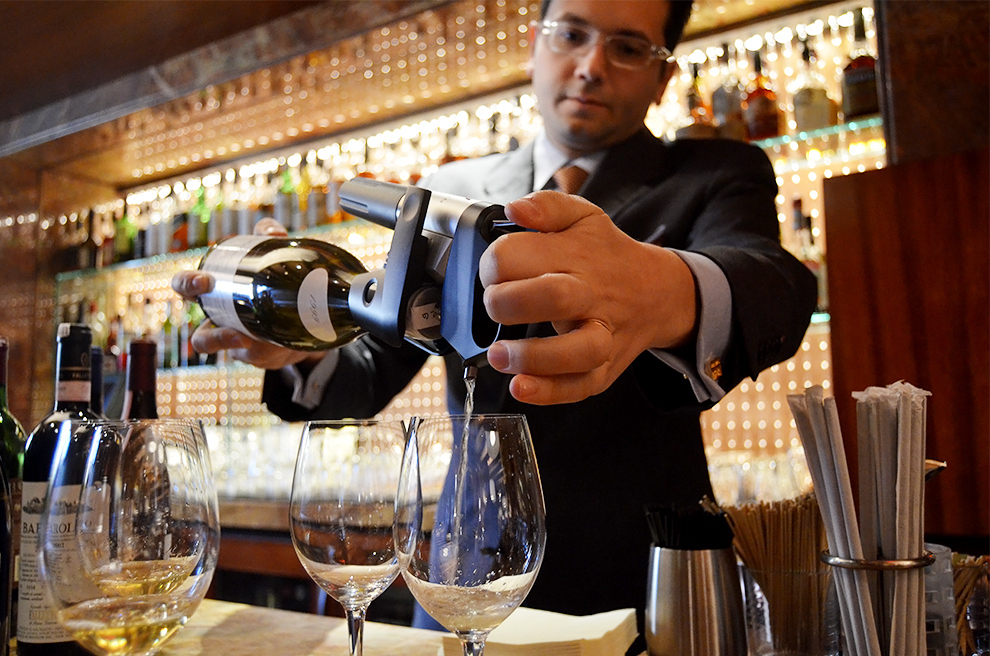 That big taste-test experiment was in 2012, about a year before the product's public launch; the sommeliers who participated then began using company-supplied Coravin prototypes in their restaurants. The New York guinea pig group included Zisovski as well as sommeliers Jeff Porter of Del Posto and Thomas Pastuszak of NoMad, both of whom have since enthusiastically gone on the record about the Coravin.
According to Coravin CEO Nick Lazaris, this self-described "stealth mode" buzz-building strategy worked exactly as they intended. "When we launched," he wrote in an email, "the experts had been converted from skeptics to evangelists."
That said, not every expert has proved a convert. "There's a new gadget every other week," said Bernie Sun, the beverage director for Jean-Georges Vongerichten's restaurant group. "It's a great idea, but operation-wise there are issues. This is no different from any other gadget."
Although Sun said he thought the Coravin could work well for home use, he seemed profoundly skeptical of the device's claim to preserve bottles long after they've been accessed. He cited reports from people he knows at "a well-known magazine" and flatly told me, "No. It does not keep the wine from aging. So if you have a glass now and then have a glass six months from now, the wine will be different."
But Sun seems to be an exception. Most people who have tested the device all express, with varying degrees of passion, the same sentiment: The thing works. Well enough to prompt Robert Parker (the somewhat-diminished granddaddy of American wine criticism) to post a two-part YouTube video of himself singing the Coravin's praises. And well enough to convince restaurateur and winemaker Joe Bastianich, whom you might recognize as the grumpiest judge on MasterChef, to invest in Coravin LLC. In its last round of funding in February 2013, the company collected more than $11 million.
The thing about believers is that they beget more believers. "A huge percentage of the guests I pour tableside for shoot me an email the next day asking where they can get one," said Jeff Kellogg, the wine director at Maialino in New York. "So I feel like I'm half Coravin salesman and half sommelier."
Call it trickle-down evangelism: It starts with Lambrecht and passes from him to the beta-tester sommeliers to their restaurant customers to those customers' wine-collecting uncles. There's this magical thingamabob, they whisper, that can teach wine how to walk through corks.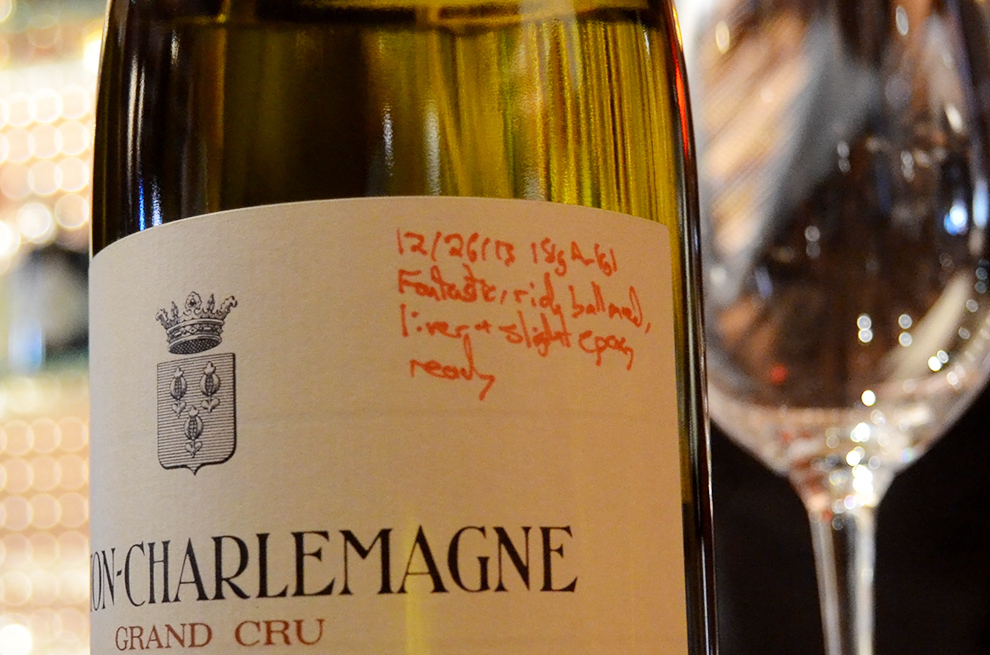 I've never been particularly romantic (or knowledgeable) about wine. The Coravin-poured 2003 Barolo I tasted at Costata (a Bartolo Mascarello) was perfectly fresh and truly delicious, but not necessarily any more delicious after Zisovski told me that the winemaker, Bartolo's daughter Maria-Téresa, was a third-generation Mascarello working with traditional methods out of a garage in Italy and communicating with "nothing more technologically advanced than a fax machine."
But romantic or not, it did occur to me when I first started researching the Coravin that it seems inherently lonely. I think of drinking as something you do with other people. Being on the same page about a single bottle of wine, even if it's two-buck Chuck, is a large part of the fun. So a gadget that measures out individual portions of wine, especially when it resembles some kind of predatory microscope, could just be the latest depressing symbol of a tech-obsessed, deeply selfish, single-serve consumer culture. That's a culture, incidentally, that Coravin CEO Nick Lazaris has had plenty of experience with; he spent roughly a decade as an executive at Keurig, the company that brought us the world's most convenient (and wasteful) one-cup-at-a-time coffee system.
Lambrecht had a pretty good answer ready, though, when I leveled a charge of anti-sociability at his invention. "People bring that up, and I always say, 'You know, I own a cork-pull.' I open bottles too. It's not like it's off-limits."
Maybe it was in the interest of cushioning the product's more unsentimental edges that, when Lazaris came on board as CEO in 2012, he immediately vetoed the "Wine Mosquito" nickname. His approximate words, according to Lambrecht, were: "Mosquitoes bring malaria and death. Killed more people than the plague. Not going to happen."
And so, over the protests of a loyal pro-Mosquito faction at the company (it's nothing if not memorable!), the reassuringly old-world resonance of Coravin — French, more or less, for "heart of wine" — won out. I was slightly relieved to find out that Lambrecht pronounces it without any continental airs: He says "core-uh-vinn."
But did that fancy branding work a little too well? When a gadget costs $300, plus $10 for each new argon gas cartridge, its most obviously worthwhile applications are in high-end restaurants, where consumers might be willing to pay $50 or more for a single glass of something, or home wine cellars stocked with wine that's too good to leave sitting around opened for a day or two. The Coravin might thrill wine geeks and snobs, but it's unclear whether it can really have mass appeal.
"The majority of wine I drink is in the $20 range, so why would I really need something like this?" Talia Baiocchi said. "I love it now that I have it" — she received a Coravin for free, and mentioned using it to drink large magnums of not-necessarily-fancy wine over the course of a week — "but I don't know if I'd go out and buy it. I think for the younger generation, it seems like sort of a superfluous expense."
Wine writer Tyler Colman (aka Dr. Vino) put it even more succinctly with this diagram: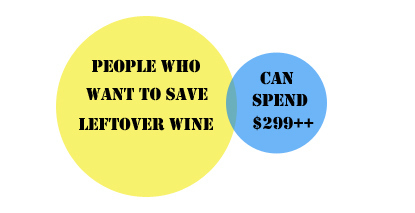 That perceived audience problem is something Lambrecht is working to change. He's careful to describe the Coravin as something designed to let people access, rather than preserve, wine. "It just allows you to learn faster, it allows you to experience more," he said. "It's a tool, it's not a crazy elite gadget. And if we can convince people that it's just a tool, and take some of this gloss off of it, I think that'll help us a lot."
He also revealed that there's top-secret work in progress on a new incarnation of the Coravin for screw-tops, which have become an increasingly popular way to seal both high- and low-end wines.
Zisovski, who's now using the Coravin at four restaurants in the ever-expanding Altamarea group, said, "It doesn't have to be such a fine-dining thing. The whole point is to offer as much as possible on my wine program." Maialino's Jeff Kellogg said that although he still has some complaints about the mechanics of the device (pouring is slow; cartridges have to be replaced often), he thinks that "right now it's a rich person's tool, but the future of this is probably to make wines at all price points more accessible. I see it becoming a pretty big thing, not just in New York but in the rest of the country as well."
Most Coravin hype so far has been emanating from New York and San Francisco, and it's hard to know exactly how much traction it's gained outside of restaurants and a limited sphere of wine industry insiders. About 80% of customers are home users and 20% are businesses (a ratio Lambrecht would like to be even more lopsided towards individuals). Right now the device is for sale on Coravin's website, through Neiman Marcus, and at about 85 wine shops throughout the country. The company wouldn't disclose sales figures, but a LinkedIn update from Lazaris mentions "thousands" of devices purchased over the holidays.
There are signs of the Coravin catching on in smaller markets across the U.S. — from the little wine bar around the corner from where Lambrecht's wife grew up in Houston to Sunfish Cellars, a Minnesota wine bar and shop that enthusiastically tweetvertises their Coravin tasting offerings.

"We try to branch people out, since our wine bar is more about education than anything," said owner Bill Miller. "So this is just another avenue for people to try wines that they would probably never buy otherwise." And he feels the tool has certainly been a worthwhile investment. "You can complain about the price, but you're only gonna complain about that once when you buy it. After that, the thing doesn't break, so it's fantastic."
Coravin, however, has ambitions that reach beyond this continent. Lambrecht said the company is looking next to home consumers in Europe and Asia, two very different wine cultures that, together, represent hundreds of millions of wine drinkers ripe for conversion to the Way of the Coravin. As of last month, consumers in China are now drinking more red wine than any other country, including longtime leader France. In other words, this gadget doesn't just want to sit around looking fancy; it wants to conquer the world.
Lambrecht confessed, with a little coaxing, to having over 1,000 bottles of wine in his own cellar, ranging from around $13 to "top-end." But he made a point of emailing me, after our meeting, to make it clear that he never set out to cater to the super-collector. The mission he talks about now is a lofty one — in his words, to "unleash a new way of interacting with wine." But his goal was a lot more practical when he started tinkering. "When I invented Coravin, I was 29 and owned a grand total of fewer than 40 bottles of wine. I just wanted a glass from each."