Here Is The Cadbury Creme Egg Beverage You Never Knew You Needed
Open your heart to this passionate union of egg cream and creme egg.
Exhibit A: The egg cream. Exhibit B: The creme egg.
One is a humble Brooklyn soda fountain classic, struggling to get by in a fast-paced world where people think the combination of milk and seltzer sounds gross. The other is the sweetheart of the Easter candy pantheon, beloved by all, but loyal to none. One (the egg cream is obviously Jewish) celebrates Passover, the other Easter. One is a sweet, fizzy drink in search of understanding and unconditional love; the other a candy with a creamy golden center yearning to be set free. Neither, it must be said, has ever actually contained eggs or cream. And neither felt truly complete until the day that, like two beautiful strangers locking eyes across a crowded room, they realized they were meant to be together.
And so now is the hour for you — yes, you — to unite them in the form of:
All you need is seltzer, milk, and a creme egg.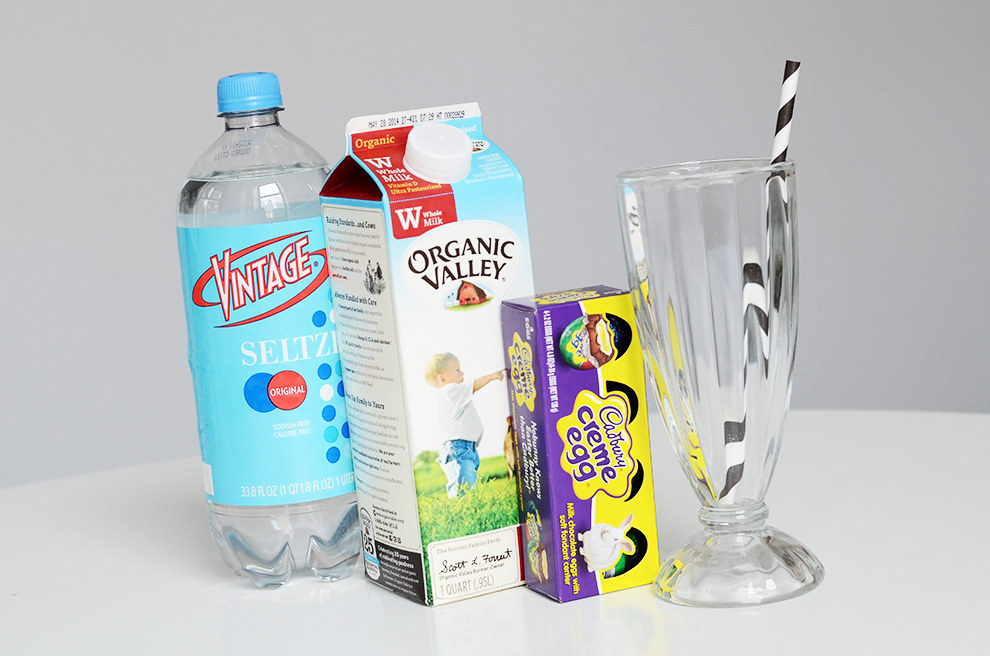 The Original Creme Egg Egg Cream
INGREDIENTS
1 full-size Cadbury creme egg
1/4 cup whole milk
Seltzer (at least 1 cup)
PREPARATION
Unwrap the egg and microwave in a heat-safe bowl at medium power for 15 seconds. Use a spoon to squish any unmelted shell; repeat at 15-second intervals if needed until the egg is melted. Stir until the goo is smooth.
Add the whole milk and stir vigorously with a fork or small whisk until the mixture is homogenous*. Pour the egg milk into a 16-oz glass.
*There might be a few tiny chocolate lumps; if they bother you, strain the egg syrup into the glass through a fine mesh strainer.
Top off the egg milk with seltzer, stopping a little below the rim of the glass. It will continue to fizz up and form a nice head of foam, so tread carefully if you don't want a volcano on your hands.
The creme egg egg cream waits for no man; find a straw and drink immediately. Serve with additional creme eggs or Cadbury mini eggs if desired.