Here's What You Should Eat For Dinner
This fresh and healthy quinoa-lentil salad has everything you need from a meal in one bowl.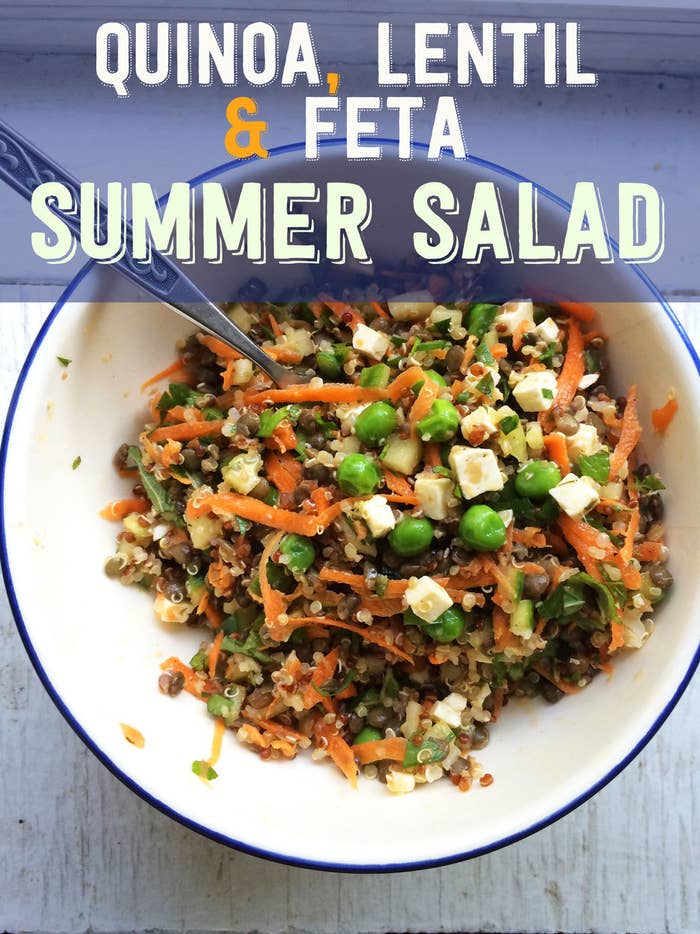 Lentil, Quinoa & Feta Summer Salad
Recipe by Rachel Sanders
Serves 4
This recipe is written to be made from scratch, but it's even easier if you already have cooked grains or beans on hand to throw in. Feel free to swap out quinoa for another grain — bulgur or rice would work well. Chickpeas or white beans would be a very nice to alternative to lentils.
INGREDIENTS
For the Salad:
1 cup frozen green peas
1/2 cup uncooked quinoa
1/2 cup uncooked green or brown lentils
2 or 3 carrots
1/2 of one long seedless cucumber (or 1 small cuke)
1 garlic scape or scallion
1/2 cup chopped fresh parsley
1/4 cup chopped fresh mint
4 oz. block feta cheese
kosher salt and black pepper to taste
For the Dressing:
1 Tbsp finely grated fresh ginger
1/2 tsp powdered cumin
1/2 tsp dijon mustard
juice of 1 lemon
1 Tbsp cider vinegar or wine vinegar
1/4 cup olive oil
PREPARATION
1. Bring two medium pots of water to a boil.
2. Add the peas to one pot and cook for about two minutes, or just until they're heated through and bright green. Using a slotted spoon, scoop the peas into a bowl or colander (leaving the water in the pot) and rinse the peas under cold water to stop cooking.
3. In the same pot, add the lentils and return it to a boil. Stir, turn down to a simmer, and cook about 15-20 minutes, until the lentils are tender but still holding their shape. Drain well and let cool.
4. At the same time as the lentils, add quinoa to the second pot of water and return to a boil. Stir, turn down heat, and simmer about 12 minutes or until tender but still slightly crunchy. Drain quinoa, return to the pot while still hot, and put the lid back on. Let sit for 5-10 minutes, then fluff with a fork and remove the lid. Let cool.
5. While quinoa and lentils cook: Peel and shred the carrots, dice the cucumber, thinly slice garlic scape or scallion. Crumble or dice feta cheese.
6. Make the dressing: Combine all ingredients in a jar with a tight lid and shake well or emulsify with an immersion blender.
7. Combine quinoa, lentils, peas, vegetables, chopped herbs, and feta in a large bowl. Pour over about 1/4 cup dressing to start, adding more as needed to coat everything (there will likely be some left over). Season with salt (at least 1 tsp, probably more) and black pepper to your taste.