Here's What You Should Eat For Brunch This Weekend
Put together this delicious kale and cheddar strata on Saturday night, then wake and bake on Sunday. Congratulations, you're a brunch genius.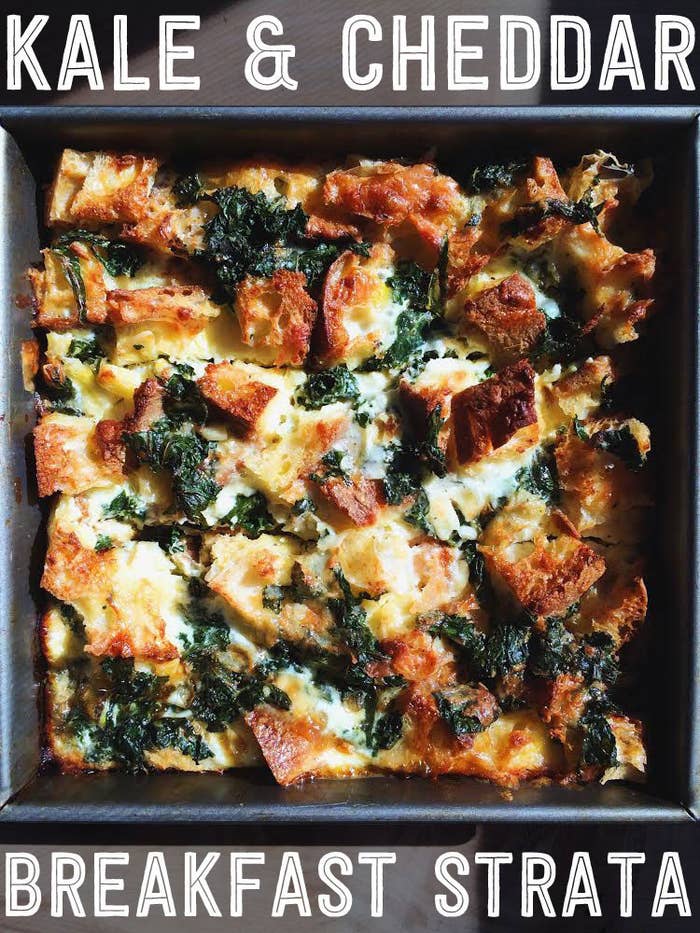 Kale & Cheddar Breakfast Strata
You'll need about half a bakery loaf of rustic white bread (French, Italian or sourdough) — and slightly stale is even better than fresh. Leave the crust on when you slice it into cubes (about 1") and you'll get nice chewy bits inside the strata and crunchy bits on top.
Recipe adapted from Babble via Smitten Kitchen via Gourmet
Serves 4-6
INGREDIENTS
1 tablespoon butter + more for baking pan
2 cloves garlic, thinly sliced
1 small or 1/2 large bunch kale, stems removed, leaves thinly sliced
1/2 teaspoon Kosher salt, divided
4–5 cups cubed French or Italian bread
4 ounces sharp cheddar, grated
1 ounce Parmesan or Romano cheese, grated or shaved
6 eggs
1 1/2 cups milk (low-fat or whole)
1 tablespoon Dijon mustard
freshly ground black pepper
PREPARATION
Preheat oven to 350 degrees and grease an 8" square baking dish with a little bit of butter.
Heat a large skillet over medium heat. Add butter and stir in garlic once the butter melts. When garlic is sizzling and begins to turn golden, stir in kale and 1/4 teaspoon salt. Cook for a couple of minutes, stirring frequently, until kale is wilted. Turn off the heat.
Spread out half the bread in the bottom of the baking dish, cover with half the kale and sprinkle half the cheeses over, then repeat with remaining bread, kale, and cheese.
Beat eggs with mustard, milk, 1/4 teaspoon salt and several grinds of black pepper. Pour egg mixture over the bread in the dish. Now you can either bake the strata right away or cover it with tin foil, keep in the fridge overnight and bake in the morning.
Bake, uncovered, for 45–55 minutes, until the strata is cooked through and the edges pull away slightly from the pan. It should be puffy, golden-brown, and no longer wiggly in the middle.
The baking temperature for this recipe is 350 degrees. A previous version of this post stated otherwise.