How To Make The Starring Pastry From Wes Anderson's New Movie
The team behind The Grand Budapest Hotel let us in on the fiercely guarded recipe for Mendl's Courtesan au Chocolat.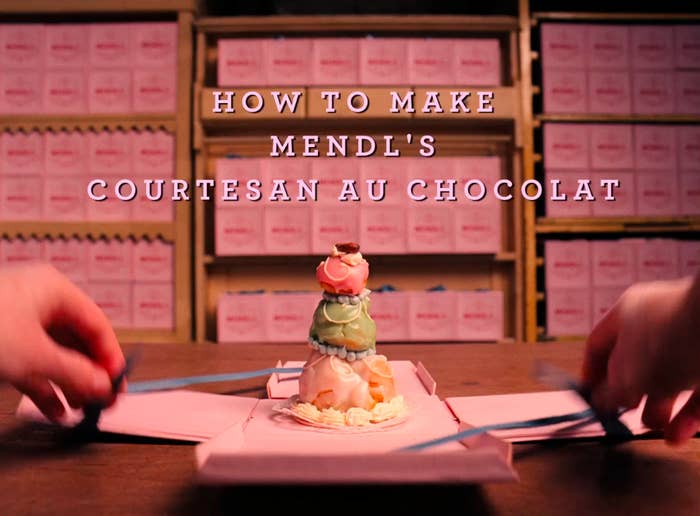 If you've already seen The Grand Budapest Hotel, the latest (tiny blockbuster) film from King of Whimsy Wes Anderson, you know which character really saves the day: a little tower of cream-filled pastries called a Courtesan au Chocolat. If you haven't seen it yet, you'll get your chance when it opens in more cities and theaters on March 14.
According to Budapest producer Jeremy Dawson, the pastry "was part of the story from the beginning." They asked a local baker in Gorlitz, Germany, where the film was shot (Anemone Müller of Cafe CaRe) to come up with something similar to a classic religieuse pastry. Then she worked with Anderson to perfect the final look.
The good news is that, when you leave the theater hungry, you'll be prepared to address the problem. Although the fictional baker Herr Mendl would never give away the secret recipe for his confection, Anderson's team was kind enough share Müller's version, along with a video showing how to make it.
It's not too complicated. First, you make a simple choux pastry dough.
Then pipe the dough into three sizes of dollops.
Next you bake the dollops and fill them with chocolate cream.
Et voila: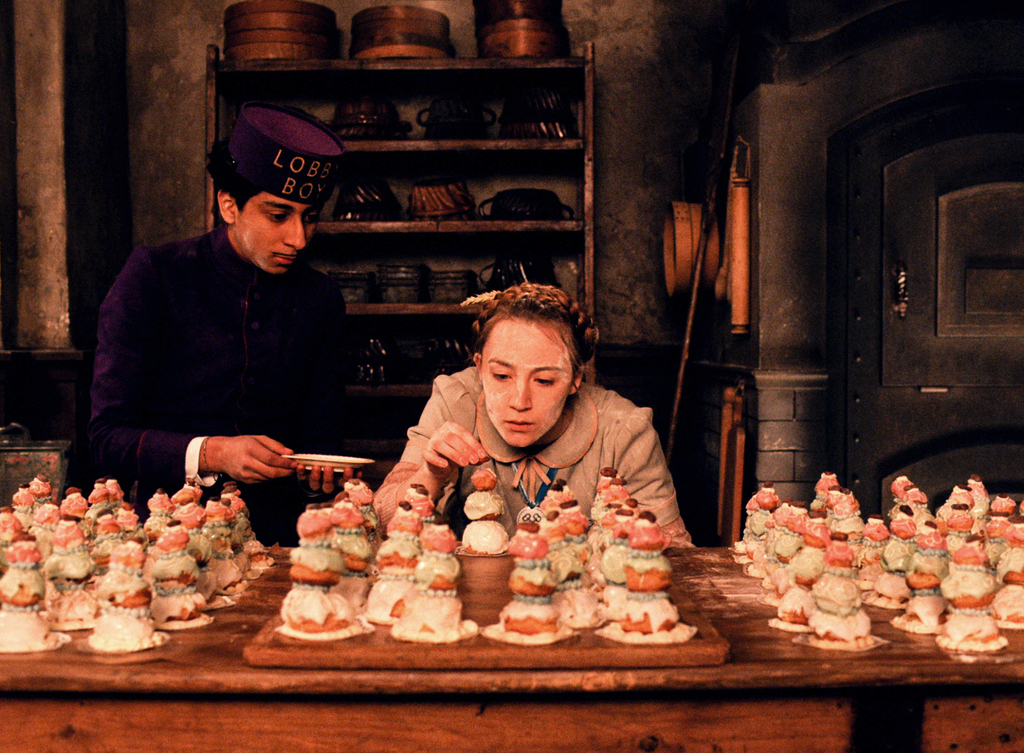 Watch the full, charming step-by-step video here:
Fox Searchlight
And then try your hand with the recipe below!
Mendl's Courtesan au Chocolat
The exact recipe for the Courtesan au chocolat has never been published or publicly disclosed as per the conditions of Herr Mendl's will. However, the following has been collated and adapted from a several "pirate" sources in the Nebelsbad archives (including a 1963 recipe from the kitchen of the Grand Budapest Hotel using powdered eggs that was printed in the Lutz Daily Fact).
THE PASTRY
Make a choux pastry of flour, water, butter and eggs. Though correct proportions may vary depending on one's elevation and humidity, we recommend:
1 cup plain flour
1 cup fresh water
1/4 lb (1 stick) butter
4 eggs beaten in a bowl
A pinch of salt
A larger pinch of sugar
Bring the water, butter salt and sugar to a boil. Remove from the fire and quickly mix in the sifted flour. Return to heat for a few minutes, stirring, and cook until the dough forms a single lump. Allow to cool just enough to keep the eggs from cooking and stir in very gradually with a strong wooden spoon.
Cover your tray in parchment and pipe the dough into spoon size dollops. You will need small, medium, and large size pastry balls (large tablespoon, teaspoon and hazelnut size dollops) to make a courtesan. Bake in the oven at 350F(180 C) for about 25-35 minutes. The smaller pastries are best put on a separate tray as they will cook more quickly.
Remove from the oven and discreetly make a small piercing in the choux to allow the steam to escape.
THE FILLING
Once cooled, the large and medium choux should be filled with a crème pâtissière of chocolate, egg yolks, and sugar.
1 1/2 cups whole milk
Several large pieces semi-sweet chocolate
3 egg yolks
1/4 cup sugar
2 spoons cocoa powder
1 tablespoon flour
Cornstarch to thicken
Heat the milk gently and add chocolate, stirring to melt into a rich, almost-steaming chocolate milk. Whisk egg yolks, flour, sugar, cocoa and a few spoons of cornstarch into a smooth mixture. Add half of the hot chocolate milk to the bowl, a little at a time, stirring constantly. Then add this mixture back into the rest of the hot milk, stirring over gentle heat for a few minutes until the mixture thickens to a custard. Remove from heat and chill.
ASSEMBLAGE
Once cooled, spoon the chocolate crème into a pastry bag and pipe into the large and medium pastry balls.
Prepare sugar icing of confectioner's sugar, a dash of vanilla and enough milk to achieve the desired consistency. Separate into 3 small bowls and add food coloring to each - one pink, on lavender, one pale green. Reserve a small amount of white icing.
To assemble a Courtesan, dip a large ball of filled pastry in the pink icing (to the midline) and place icing side up on a small tray. Repeat with a medium pastry into the lavender icing, and place it, iced side up, atop the first ball. Press it gently so it sticks in place. Repeat with the smallest pastry in the green icing. Decorate with filigree of white icing as desired. Place a cocoa bean atop the tower as a garnish.
Serve fresh.