5 Easy Ground Beef Dinner Recipes Kids Will Love
Make weeknights easier with these simple and yummy recipes.
Need weeknight meal inspo? Here are five easy recipes kids will eat up using four pounds of ground beef. And follow Playfull for more great tips and hacks for parents.
One-Pot Spaghetti Bolognese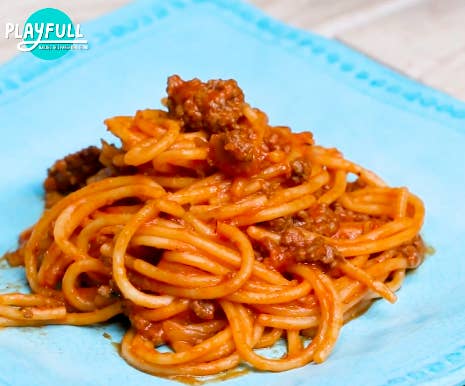 INGREDIENTS
1 pound ground beef
1 medium onion, chopped finely
2 garlic cloves, minced
14 ounces chicken or vegetable broth
2 cups water
6 ounces tomato paste
1 teaspoon oregano
1/2 teaspoon dried basil
1/4 teaspoon black pepper
12 ounces spaghetti
1/4 cup parmesan cheese
INSTRUCTIONS
1. In a large pot, add ground beef, onions, and garlic. Cook for 6-8 minutes, or until beef is cooked through. Drain off fat.
2. Add tomato paste, broth, water, oregano, basil, black pepper; whisk well to combine ingredients; bring to a boil.
3. Add uncooked spaghetti. Stir frequently, so noodles combine with sauce.
4. Simmer for 17-20 minutes or until spaghetti is cooked through and sauce has thickened.
Serve immediately topped with fresh parmesan cheese.
Slow-Cooker Chili
INGREDIENTS
1 pound ground beef
1 cup roasted tomato salsa
1 8-ounce can tomato sauce
1 14.5-ounce can fire-roasted diced tomatoes
1 15-ounce can black beans, drained and rinsed
1 cup beef broth
2 tablespoons chili powder
1 teaspoon cumin
1 teaspoon onion powder
INSTRUCTIONS
1. Add all ingredients to slow cooker; stir to combine
2. Cover and cook on low for 7-9 hours
3. Top with cheese or sour cream and enjoy!
Bolognese Pizza
INGREDIENTS
1 tablespoon oil
1/4 pound ground beef
1/4 teaspoon salt
1 ½ cup Marinara sauce
Pre-made pizza dough
1/2 cup shredded mozzarella
INSTRUCTIONS
1. Heat oil on medium. Add ground beef, season with salt, and fry until browned.
Add marinara sauce and mix well.
2. Roll out pizza dough on a cookie sheet lined with parchment paper.
3. Spread the meat sauce mixture onto the dough. Top with shredded mozzarella.
4. Bake at 400 degrees for 15-20min, until dough is cooked through.
Beef Enchiladas
INGREDIENTS
½ pound ground beef
2 1/2 cups enchilada sauce, divided
1 tablespoon olive oil
1 (4.5-ounce) can diced green chiles
Kosher salt and freshly ground black pepper, to taste
1 15-ounce can corn kernels, drained
1 15-ounce can black beans, drained and rinsed
1 1/4 cups Monterey Jack cheese, divided
1 1/4 cups shredded cheddar cheese, divided
12 (6-inch) flour tortillas
1 avocado, diced
1 Roma tomato, diced
INSTRUCTIONS
1. Preheat oven to 375 degrees F. Pour 1 cup enchilada sauce in the bottom of a 9×13 baking dish; set aside.
2. Heat olive oil in a saucepan over medium high heat. Add ground beef, green chiles, salt and pepper, to taste. Cook until browned, about 3-5 minutes; drain excess fat.
3. In a large bowl, combine beef, corn, beans, 1/2 cup Monterey Jack cheese and 1/2 cup cheddar cheese.
4. To assemble the enchiladas, lay tortilla on a flat surface and spoon 1/4 cup of the beef mixture in the center. Roll the tortilla and place seam side down onto prepared baking dish. Repeat with remaining tortillas and beef mixture. Top with remaining enchilada sauce and cheeses.
Place into oven and bake for 20 minutes, or until cheese is bubbly.
Garnish with tomatoes, avocado, and sour cream. Enjoy!
Grilled Cheese Sloppy Joes
INGREDIENTS
1 pound ground beef
¼ cup chopped onion
1-2 tablespoons yellow mustard
½ cup ketchup
¼ cup brown sugar
½ tablespoon Worcestershire sauce
10-12 slices bread
6 tablespoons butter softened
3 - 4 cups shredded cheese
INSTRUCTIONS
1. Add ground beef with onion to skillet. Cook until browned. Drain off any grease.
2. Add mustard, ketchup, brown sugar and Worcestershire. Simmer for 5 minutes.
3. Spread butter on one side of each slice of bread.
4. Place one slice of bread, butter side down onto skillet. Sprinkle with cheddar cheese, ¼ cup of the beef mixture, then top with more shredded cheese. Cover with other piece of bread, butter side up.
5. Cook over medium heat until browned, carefully flip over and cook other side until browned.
Follow Playfull for more!