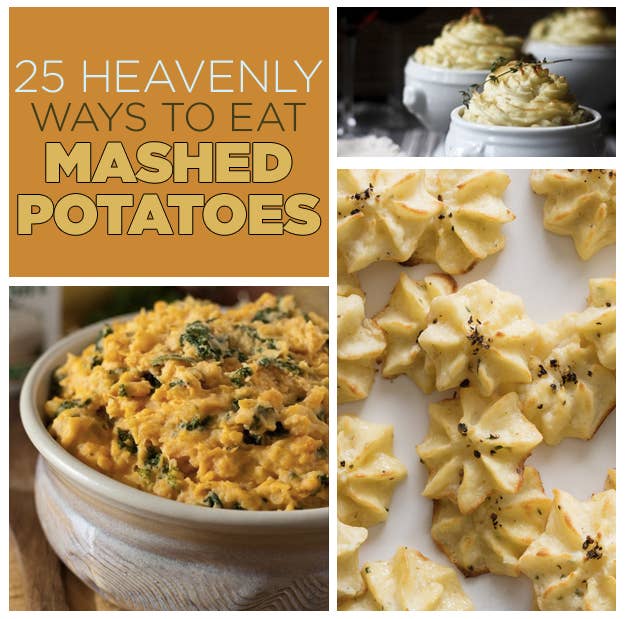 1.
Mashed Sweet Potatoes with Kale and Boursin Cheese 2.
Cheddar & Cholula Mashed Potatoes 3.
Maple Chipotle Sweet Potatoes 4.
Rustic Mashed Potatoes with Thyme 5.
Carrot Goat Cheese Mash Shepherd's Pie 6.
Vegetarian Meatloaf + Garlic Mashed Potatoes 7.
Loaded Mashed Potato Spider Web Casserole 8.
Mini Meatloaf Cupcakes (with vegetarian option) 9.
Garlic and Chive Mashed Potatoes 10.
Bangers and Mash 11.
Mashed Potatoes with Bacon & Caramelized Onions Adding bacon is the culinary equivalent of "put a bird on it." Recipe here.
12.
Sausage, Kale and Mashed Potato Pie 13.
Chipotle Mashed Sweet Potatoes with Pomegranate-Pistachio Guacamole 14.
Dairy-Free Pressure Cooker Kale Mashed Potatoes 15.
Salt + Vinegar Kale Mashed Potatoes 16.
Brown Butter Coconut Mashed Sweet Potatoes 17.
Vegan Shepherds Pie 18.
Meatloaf Sandwich with Mashed Potatoes 19.
Pumpkin Mashed Potatoes 20.
Easy Cheesy Crockpot Mashed Potatoes 21.
Mashed Purple Sweet Potatoes 22.
Bacon Cheeseburger Mini-Meatloaves and Cheesy Mashed Potatoes 23.
Root Vegetable Mash Recipe 24.
Tenderloin Strips with Cheesy Corn Mashed Potato and Sauté Vegetables 25.
Mashed Potato Chips