1-Hour Buffalo Chicken Wings
Think of this as your classic go-to recipe the next time you're in the mood for buffalo chicken wings. But here's the twist–they're baked, not fried. To replicate that deep-fried texture, these wings are tossed with spices and baking powder before they go in the oven. They turn out super crunchy on the outside and juicy on the inside. Be sure to look for aluminum-free baking powder to avoid a metallic taste in your wings.
August 14, 2023
Prep Time
10 minutes
10 min
Cook Time
40 minutes
40 min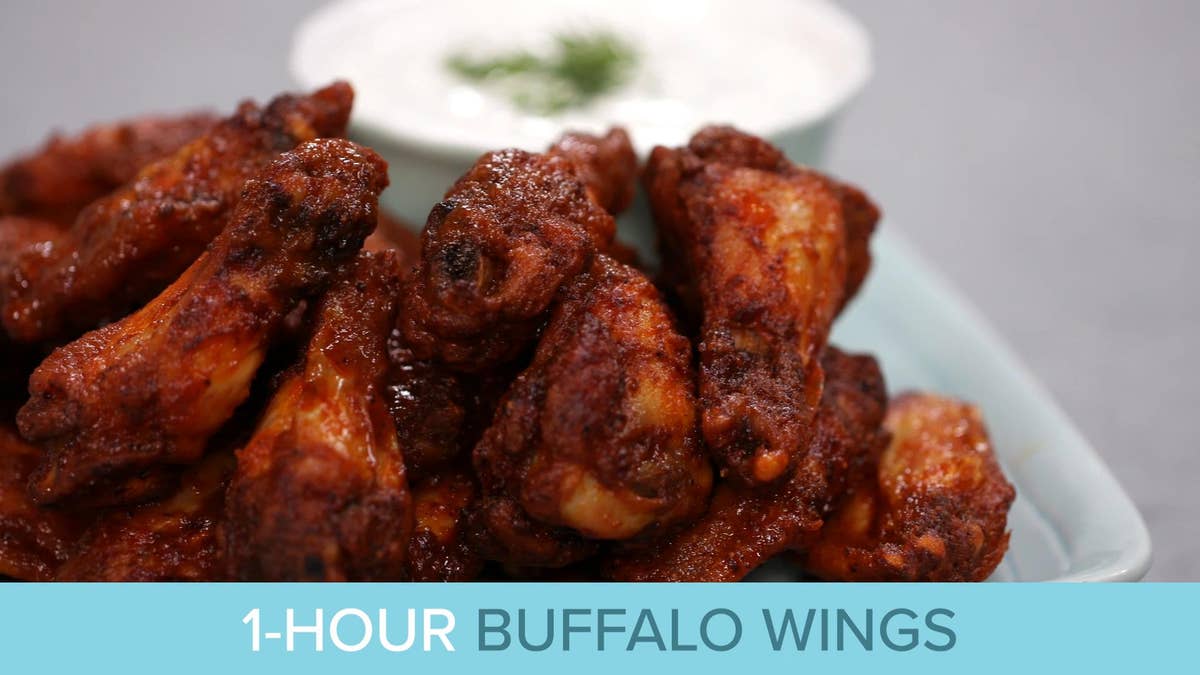 Prep Time
10 minutes
10 min
Cook Time
40 minutes
40 min
Ingredients
for 2 servings
nonstick cooking spray, for greasing
2 lb chicken wings

(910 g)

kosher salt, to taste
freshly ground black pepper, to taste
1 tablespoon aluminum-free baking powder
1 teaspoon smoked paprika
½ teaspoon onion powder
½ teaspoon garlic powder
Buttermilk Ranch
½ cup sour cream

(120 mL)

½ cup mayonnaise

(120 mL)

¼ cup buttermilk

(60 mL)

1 teaspoon apple cider vinegar
1 teaspoon garlic powder
1 teaspoon onion powder
2 tablespoons fresh dill, chopped
½ teaspoon kosher salt
Buffalo Sauce
1 stick unsalted butter
½ cup hot sauce

(120 mL)

1 tablespoon honey
1 tablespoon worcestershire sauce
½ teaspoon garlic powder
1 pinch cayenne pepper, optional
Preparation
Preheat the oven to 425°F (220°C). Line a baking sheet with foil and set a wire rack on top. Grease with nonstick spray.
Add the wings to a large bowl and pat dry with paper towels. Season with salt and pepper.
In a small bowl, whisk together the baking powder, garlic powder, onion powder, and paprika. Sprinkle the dry rub over the wings and toss to coat.
Arrange the wings on the wire rack, making sure they are right side up and not touching each other.
Bake for 30–45 minutes, flipping the wings halfway though, until the internal temperature reaches 165°F (75°C).
While the wings bake, make the buttermilk ranch: In a medium bowl, whisk together the sour cream, mayonnaise, buttermilk, apple cider vinegar, garlic powder, onion powder, dill, and salt. Refrigerate until ready to serve.
Make the buffalo sauce: Melt the butter in a medium skillet over medium heat. Add the hot sauce, honey, Worcestershire sauce, garlic powder, and cayenne, if using, and whisk until combined. Bring to boil over high heat, then reduce the heat to medium-high and cook until slightly reduced, 3–4 minutes.
Transfer the wings to a large bowl and toss with the warm buffalo sauce until well coated.
Serve the buffalo wings with the buttermilk ranch.
Enjoy!
Cook smarter, not harder. Use our AI chef Botatouille on the Tasty app. Download now.