2-Day Crab And Pork Soup Dumplings
Have you ever wanted to make xiaolongbao at home, but felt intimidated or scared? Here we break down the 2-day process of making soup dumplings with ease and a bit of patience. Start with a homemade pork broth that chills overnight to gelatinize, which is then added to homemade dumpling wrappers along with delicious pork filling and crab paste. The dumplings are steamed to perfection and served with homemade chile oil for dipping,
August 14, 2023
Total Time
2 hr 50 min
2 hr 50 min
Prep Time
30 minutes
30 min
Cook Time
2 hr 20 min
2 hr 20 min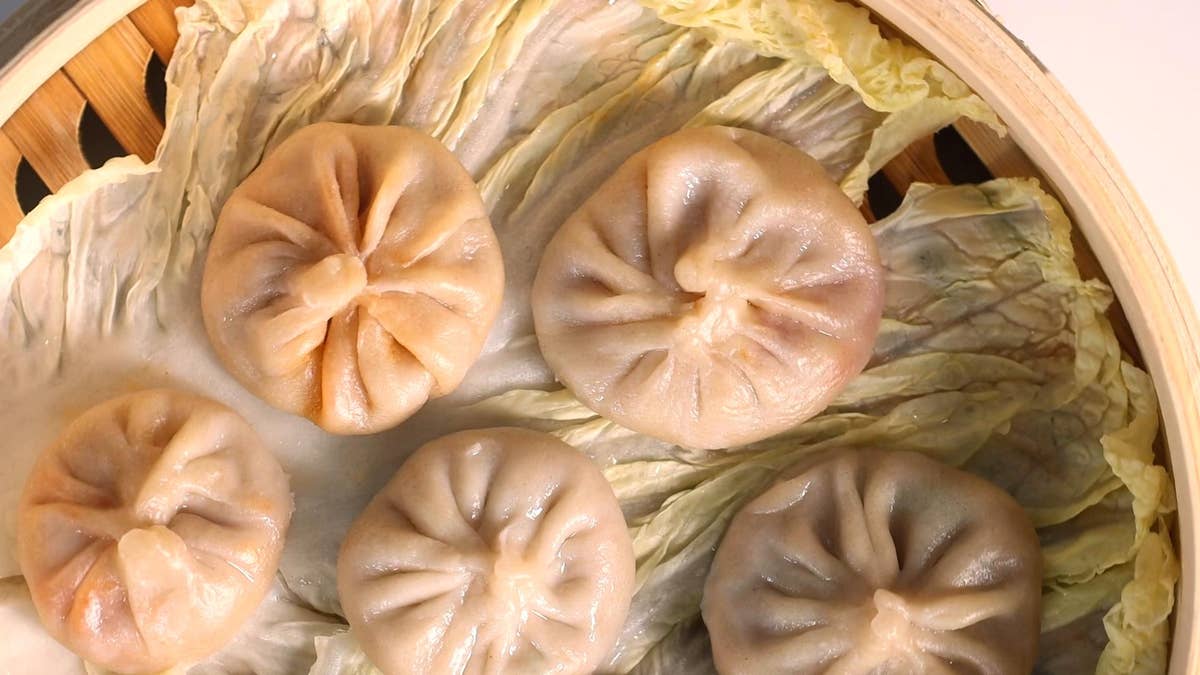 Total Time
2 hr 50 min
2 hr 50 min
Prep Time
30 minutes
30 min
Cook Time
2 hr 20 min
2 hr 20 min
Ingredients
for 24 dumplings
Pork Broth
1 lb pork necks

(425 g)

½ lb pork skin

(225 g)

, or hocks
4 cups water

(1.7 L)

, plus more as needed
4 slices fresh ginger
2 scallions
1 tablespoon rice wine
3 black peppercorns
½ teaspoon kosher salt
Chile Oil
3 whole star anises
1 small cinnamon stick
2 bay leaves
1 tablespoon sichuan peppercorns
3 cloves garlic, crushed
1 ½ cups canola oil

(360 mL)

¾ cup Sichuan red chile flakes

(75 g)

2 teaspoons kosher salt
Filling
½ lb ground pork

(225 g)

1 tablespoon fresh ginger, grated
1 scallion, thinly sliced
1 tablespoon low sodium soy sauce
2 teaspoons sesame oil
1 tablespoon rice wine
½ teaspoon sugar
2 tablespoons water, plus more as needed
¼ cup crab paste

(55 g)

, or surimi
napa cabbage, for steaming
kosher salt, to taste
freshly ground white pepper, to taste
Dumpling Dough
1 cup all purpose flour

(125 g)

, plus more for dusting
½ teaspoon kosher salt
6 tablespoons warm water
For Serving
black vinegar
fresh ginger, peeled and thinly sliced
Nutrition Info
Calories

253

Fat

19g

Carbs

7g

Fiber

7g

Sugar

0g

Protein

12g
Estimated values based on one serving size.
Preparation
Make the pork broth: Add the pork necks and skin to a large pot. Cover with water by 2 inches and bring to a boil over high heat. Drain and rinse the necks and skin under cold water, then return to the pot.
Add 4 cups of water, the ginger, scallions, rice wine, and peppercorns. Bring to a boil over high heat, then reduce the heat to low and simmer for 2 hours, skimming the surface occasionally.
Strain the broth through a fine-mesh strainer into a shallow baking dish and stir in the salt. Let cool to room temperature, then cover with plastic wrap and chill in the refrigerator overnight, until set.
Make the chile oil: In a small pot, combine the star anise, cinnamon stick, bay leaves, Sichuan peppercorns, garlic, and canola oil. Cook over low heat until small bubbles appear around the garlic cloves, about 10 minutes.
Add the Sichuan red chile flakes and salt to a heat-proof jar. Strain the oil into the jar and stir to combine. Let cool, then cover and refrigerate until ready to serve.
Make the filling: Add the ground pork, ginger, scallions, soy sauce, sesame oil, rice wine, sugar, and water to a medium bowl and mix until evenly combined. If the filling feels too thick, add another tablespoon of water and stir until light and airy. Cover and refrigerate until ready to use.
Make the dough: In a medium bowl, combine the flour, salt, and warm water. Stir to combine, then turn out onto a floured surface. Knead for about 20 minutes, dusting with more flour as needed, until very soft and smooth. Cover the dough with plastic wrap and let rest at room temperature for 30 minutes.
Divide the dough in half and cover one portion with a damp towel. Roll the remaining portion into a 1-inch wide log, then cut into 12 pieces, rotating the log as you cut. Cover 11 pieces with the damp towel. Roll the remaining piece into a ball, then flatten with your palm. Dust with flour as needed to prevent sticking. Use a small rolling pin to roll the dough into a 3-inch round, then use the rolling pin to roll the edges thinner than the center, until the diameter of the wrapper is 3½–4 inches. Cover with the towel and repeat with the remaining dough.
Fill the dumplings: Remove the chilled pork broth from the refrigerator and cut into ½-inch cubes.
Scoop about 1 tablespoon of the filling on the center of a dumpling wrapper. Add about ½ teaspoon crab paste and 1 pork broth cube. Hold the dumpling in the palm of one hand and use the other to pleat the edges of the wrapper around the filling, pinching and twisting at the top to seal. Set on a baking sheet and repeat with the remaining filling and wrappers.
Fill a large pot ⅓ of the way with water to a boil over high heat. Place a bamboo steamer basket on top and line with Napa cabbage leaves. Place the dumplings on top of the cabbage, leaving space for them to expand. Stack a second steamer basket on top and repeat to add more dumplings. Cover and steam for about 8 minutes, until the wrappers are slightly translucent and the filling is cooked through.
Serve the dumplings with the chile oil, black vinegar, and ginger.
Enjoy!
Cook smarter, not harder. Use our AI chef Botatouille on the Tasty app. Download now.