2 Easy Homemade School Lunches
Pillsbury's new Soft Baked Cookies pair perfectly with any homemade school lunch!
Presented by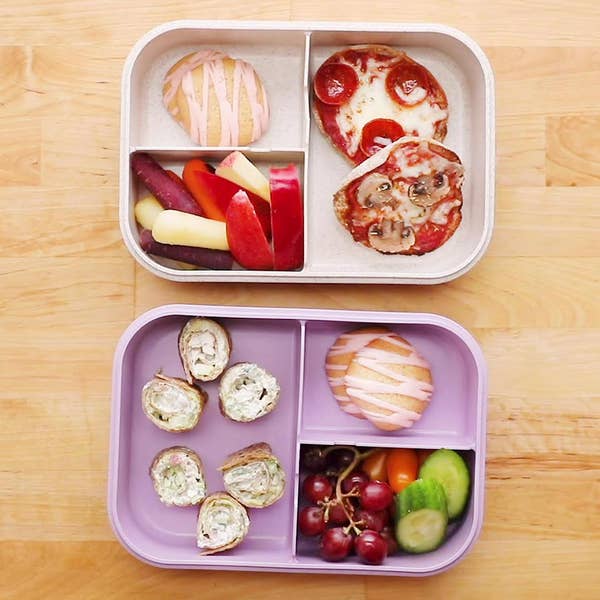 Ingredients
for 4 servings
2 whole whole-grain English muffins, split and toasted
6 tablespoons pizza sauce, divided
6 tablespoons shredded mozzarella cheese
¼ cup bell pepper

(25 g)

, thinly sliced
¼ cup mushrooms

(35 g)

, thinly sliced
¼ cup pepperoni slices

(25 g)

1 teaspoon dried oregano
¼ cup red onion

(35 g)

, finely diced
⅓ cup cucumber

(40 g)

, finely diced
⅓ cup granny smith apple

(40 g)

, finely diced
2 tablespoons chopped fresh dill
2 tablespoons apple cider vinegar
1 ¾ cups rotisserie chicken breast, finely chopped
2 tablespoons mayonnaise
¼ cup sour cream

(60 g)

⅓ cup greek yogurt

(80 g)

1 lime lime zest
1 lime lime juice
1 ½ teaspoons kosher salt
½ teaspoon freshly ground black pepper
4 whole lavash wraps
½ cup mashed avocado

(75 g)

2 whole Pillsbury® Soft-Baked Cookies
1 oz rainbow carrot sticks
1 oz red seedless grapes
1 oz mini cheese wheels
1 oz sliced cucumbers
1 oz snacking tomatoes
1 oz apple slices
Preparation
Make the English muffin pizzas: Preheat the oven to 375°F (190°C). Line a baking sheet with foil.
Lay the toasted English muffin halves, cut-side up, on the prepared baking sheet. Spread 1½ tablespoons of pizza sauce over each half and sprinkle each with 1½ tablespoons of shredded mozzarella. Top with sliced bell pepper, sliced mushrooms, and/or pepperoni, if using, then sprinkle with dried oregano.
Bake the pizzas for 6–10 minutes, or until the cheese has melted and the toppings are warmed through. Remove from the oven and let cool for 10 minutes.
Make the avocado lime chicken salad rolls: In a medium bowl, combine the red onion, cucumber, apple, dill, and apple cider vinegar. Stir to combine, then set aside to lightly pickle for 5–10 minutes.
Add the chicken, mayonnaise, sour cream, Greek yogurt, lime zest and juice, salt, and pepper to the pickled fruit and vegetable mixture, and mix to evenly combine.
Lay out a wrap and spread with a thin layer of mashed avocado. Top with about ⅓ cup (40 G) of the chicken salad, spreading evenly. Roll the wrap tightly. Gently cut with a serrated knife into 2-inch (5 cm) pieces. Repeat with the remaining ingredients to make 3 more wraps.
To assemble, place the English muffin pizzas or avocado lime chicken salad rolls into lunchboxes, along with 2–4 Pillsbury Soft-Baked Cookies, rainbow carrot sticks, red seedless grapes, mini cheese wheels, cucumber slices, snacking tomatoes, and/or apple slices.
Enjoy!