87% would make again
4-Ingredient Holiday Truffles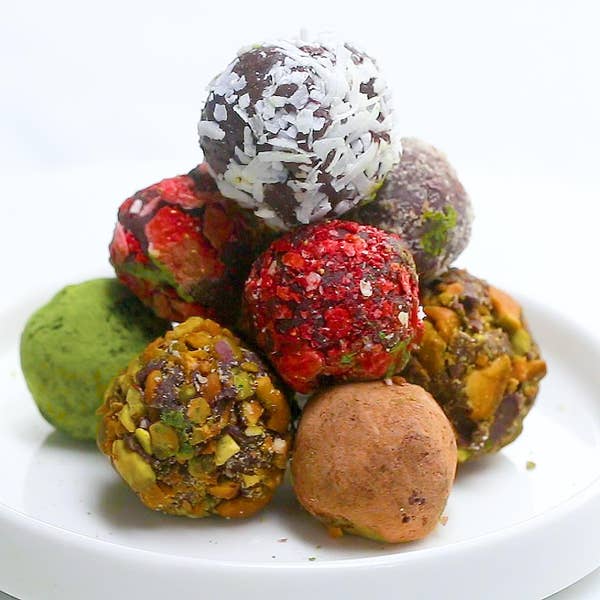 Ingredients
for 40 truffles
Truffles
1 cup full-fat coconut milk

(240 mL)

, mixed well
20 oz dark chocolate

(440 g)

, chopped
1 teaspoon vanilla extract
kosher salt, to taste
Topping Ideas
cocoa powder
pistachio, crushed
unsweetened coconut flake
hazelnut, crushed
freeze-dried strawberry
matcha powder
Nutrition Info
Estimated values based on one serving size.
Preparation
Make the truffles: In a small saucepan over medium heat, bring the coconut milk to a simmer. Pour the warm coconut milk over the chopped chocolate in a heatproof bowl and stir until melted and smooth. Add the vanilla and salt and use a rubber spatula to combine.
Cover and cool in the refrigerator for 2 hours, until set. When you press the mixture with your fingertip, it should create create an indentation. Do not chill for too long--the mixture will be extremely difficult to scoop if it hardens too much.
Using a 1 tablespoon measuring spoon, portion out the truffle mixture and place onto the baking sheet.
Roll each truffle between your palms to create a sphere. Your hands will get messy during the process. The outside should be slightly tacky from the heat of your palms. This will help the topping stick best. If they get too soft, place in the fridge for 10 minutes. Roll the truffles in your toppings of choice.
Serve immediately or refrigerate for 1 hour for firmer truffles. The uncoated truffle balls will keep in the fridge for up 10 days. Coat in the toppings just before serving.
Enjoy!