Gambian-Inspired Groundnut Stew (Domoda)
Warm up with a bowl of Gambian-inspired groundnut stew! This hearty dish is packed with nutty flavor and will keep you warm and satisfied
May 04, 2023
Total Time
1 hr 15 min
1 hr 15 min
Prep Time
15 minutes
15 min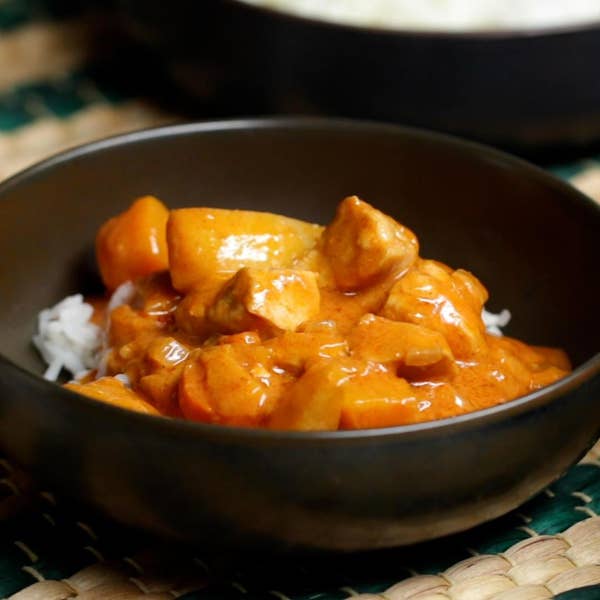 Total Time
1 hr 15 min
1 hr 15 min
Prep Time
15 minutes
15 min
Ingredients
for 1 serving
¼ cup vegetable oil

(60 mL)

, or palm oil, divided, plus 1 tablespoon
1 lb boneless chicken breast

(450 g)

, or thighs, pork, beef or tofu, cut into 1 in cubes
1 medium yellow onion, diced
2 cloves garlic, minced
1 cup creamy peanut butter

(240 g)

1 tablespoon kosher salt
1 tablespoon paprika
1 tablespoon adobo seasoning
1 teaspoon black pepper
½ teaspoon cayenne pepper
2 cups tomato sauce

(360 g)

2 cups water

(480 mL)

2 cups pumpkin

(480 g)

, or butternut squash, cut into 1 in (2.5 cm) pieces
1 baking potato, cut into 1 in (2.5 cm) pieces
1 large carrot, sliced into 1/4 in (6 mm) rounds
1 habanero pepper
jasmine rice, for serving
Preparation
Heat 1 tablespoon vegetable oil in a large Dutch oven over medium-high heat until shimmering. Add the chicken and brown on all sides, 8–10 minutes. Remove from the pot and set aside.
Add the onion and garlic to the pot and cook for 4–6 minutes, until softened and the onion is translucent and the garlic is beginning to brown.
Stir in the peanut butter until melted, about 1 minute.
Add the salt, paprika, adobo seasoning, black pepper, cayenne pepper, remaining ¼ cup vegetable oil and tomato sauce. Mix well to combine with the peanut butter.
Add the water, pumpkin, potato, carrot, the browned chicken, and the habanero and stir to combine. Cover the pot, reduce the heat to medium, and cook for 10 minutes. Stir, then reduce the heat to low and cook for 35 minutes more, until the vegetables are tender and the stew is thickened.
Remove the pot from the heat and remove the habanero pepper.
Serve the stew hot over jasmine rice.
Enjoy!
Don't let a good recipe slip away. Download the Tasty app and save your favorites for easy access.