Air-Fried Garlic Popcorn Chicken
Get ready to indulge in these crispy Air-Fried Garlic Popcorn Chicken bites that'll leave your taste buds wanting more. Perfect for a movie night or a quick snack, this recipe is a healthier alternative to deep-fried goodness.
May 04, 2023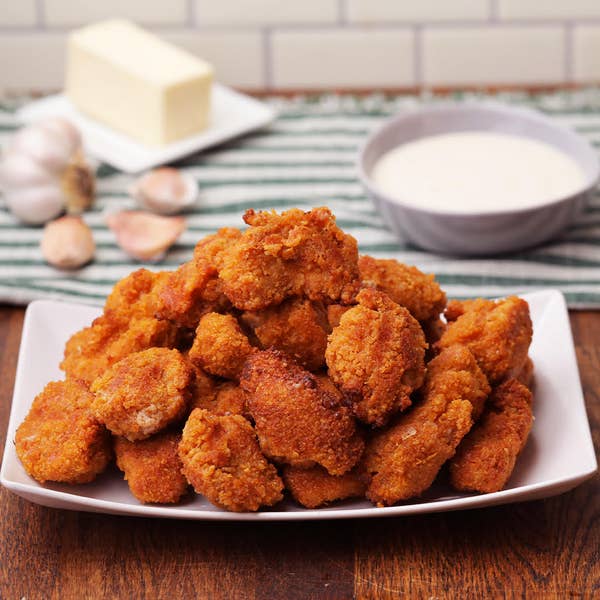 Ingredients
for 2 servings
½ cup all purpose flour

(70 g)

2 teaspoons freshly ground black pepper
2 teaspoons paprika
4 tablespoons Lawry's® Seasoned Salt, divided, plus 3 teaspoons
5 large eggs
½ cup whole milk

(140 g)

3 cups cornflakes

(380 g)

, crushed
2 Large boneless skinless chicken breasts, cut into 1 in (2.54 cm) pieces
2 ½ cups unsalted butter

(570 g)

, divided
8 cloves garlic, divided
3 teaspoons garlic powder, divided
ranch dressing, for dipping
This recipe isn't available to shop.
Unfortunately, not all our recipes can be shopped through Tasty.
Preparation
Line a small baking sheet with parchment paper.
In a medium bowl, mix together the flour, pepper, paprika, and 2 tablespoons of McCormick® Lawry's® Seasoned Salt.
In a second medium bowl, whisk together the eggs and milk.
In a third medium bowl, mix together the cornflakes and 2 tablespoons of Lawry's® Seasoned Salt.
Working in batches, toss the chicken pieces in the flour mixture until fully coated, shaking off any excess. Transfer to the egg mixture and toss until fully coated. Transfer the chicken to the cornflake mixture and coat completely, then coat once more in the eggs and cornflakes. Transfer to the prepared baking sheet. Once all of the chicken has been coated, chill in the refrigerator for about 10 minutes.
Meanwhile make the garlic butter: To each of 2 separate medium, microwave-safe bowls, add 1¼ cups of butter and microwave in 30-second intervals until completely melted.
Grate 4 garlic cloves directly into each bowl, then add 1½ teaspoons garlic powder and 1½ teaspoons McCormick® Lawry's® Seasoned Salt to each bowl, and stir until fully combined.
Add the coated chicken to a bowl of garlic butter and toss until completely coated.
Preheat the air fryer to 350°F (180°C). Set a wire rack over a baking sheet.
Working in batches to avoid overcrowding, air-fry the popcorn chicken for 10 minutes, until fully cooked through and golden brown.
Toss the cooked chicken in the second bowl of garlic butter to coat completely, then transfer to the wire rack to cool slightly.
Serve the popcorn chicken with ranch dressing for dipping.
Enjoy!