Air Fryer Okra Poppers
Put a Southern twist on classic poppers by using okra instead of jalapeños. These are filled with creamy pimento cheese, wrapped in bacon, and fried to crispy perfection in the air fryer. Serve with tangy homemade remoulade sauce for dipping.
August 15, 2021
Cook Time
2 hr 40 min
2 hr 40 min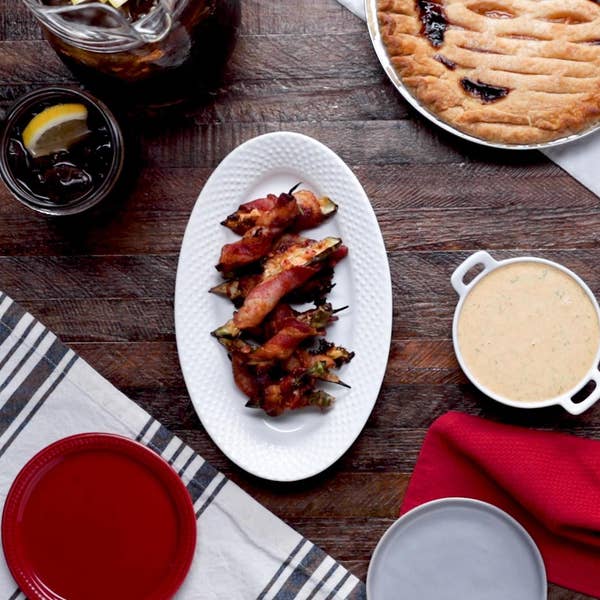 Cook Time
2 hr 40 min
2 hr 40 min
Ingredients
for 3 servings
Okra
½ lb fresh okra

(225 g)

2 cups buttermilk

(480 mL)

½ teaspoon Louisiana-style hot sauce
Pimiento Cheese Filling
8 oz cheddar cheese

(225 g)

, freshly grated
4 oz cream cheese

(110 g)

, cubed, room temperature
¼ cup mayonnaise

(60 g)

4 oz pimiento peppers

(110 g)

, drained and chopped
1 jalapeño, seeded and diced
½ teaspoon kosher salt
¼ teaspoon cayenne
Remoulade Sauce
½ cup mayonnaise

(120 g)

1 tablespoon creole mustard
2 teaspoons lemon juice
½ tablespoon fresh parsley, chopped
½ tablespoon green onion, green parts only
¼ teaspoon paprika
¼ teaspoon cayenne
2 teaspoons Louisiana-style hot sauce
¼ teaspoon worcestershire sauce
½ teaspoon whole grain mustard
1 tablespoon garlic, minced
½ teaspoon kosher salt
¼ teaspoon freshly ground black pepper
Assembly
1 lb bacon strips

(455 g)

, halved crosswise
Preparation
Cut each okra pod in half lengthwise. Use a small spoon to scoop out the seeds and discard.
Arrange the okra, cut-side up, in a shallow glass dish. Pour the buttermilk and hot sauce over the okra. Cover the dish with plastic wrap and refrigerate for 2–4 hours.
While the okra marinates, make the pimento cheese filling: In a medium bowl, combine the cheddar cheese, cream cheese, mayonnaise, pimiento peppers, jalapeño, salt, and cayenne. Mix with an electric hand mixer on low-medium speed until well combined, 2–3 minutes. Transfer the filling to a piping bag and refrigerate until ready to use.
Make the remoulade sauce: In a medium bowl, whisk together the mayonnaise, Creole mustard, lemon juice, parsley, green onions, paprika, cayenne, hot sauce, Worcestershire sauce, whole grain mustard, garlic, salt, and pepper until combined. Cover with plastic wrap and refrigerate until ready to use.
Assemble the poppers: After the okra has marinated, drain and rinse under cold water. Place on a paper towel-lined baking sheet and pat the insides dry.
Preheat the air fryer to 400°F (200°C) for 10 minutes.
Cut the tip off of the piping bag with the pimiento cheese filling and pipe the filling into each okra half. Wrap a half-slice of bacon around each okra half, using toothpicks to secure if needed.
Working in batches of 5–6 at a time, air fry the okra poppers for 10 minutes, or until the bacon is cooked and crispy.
Arrange the okra on a platter and serve with the remoulade sauce alongside.
Enjoy!
Hate losing that perfect recipe? Save and organize recipes easily on the Tasty app. Download now.