Andes Chocolate Tart
March 15, 2023
Total Time
3 hr 15 min
3 hr 15 min
Prep Time
30 minutes
30 min
Cook Time
2 hr 45 min
2 hr 45 min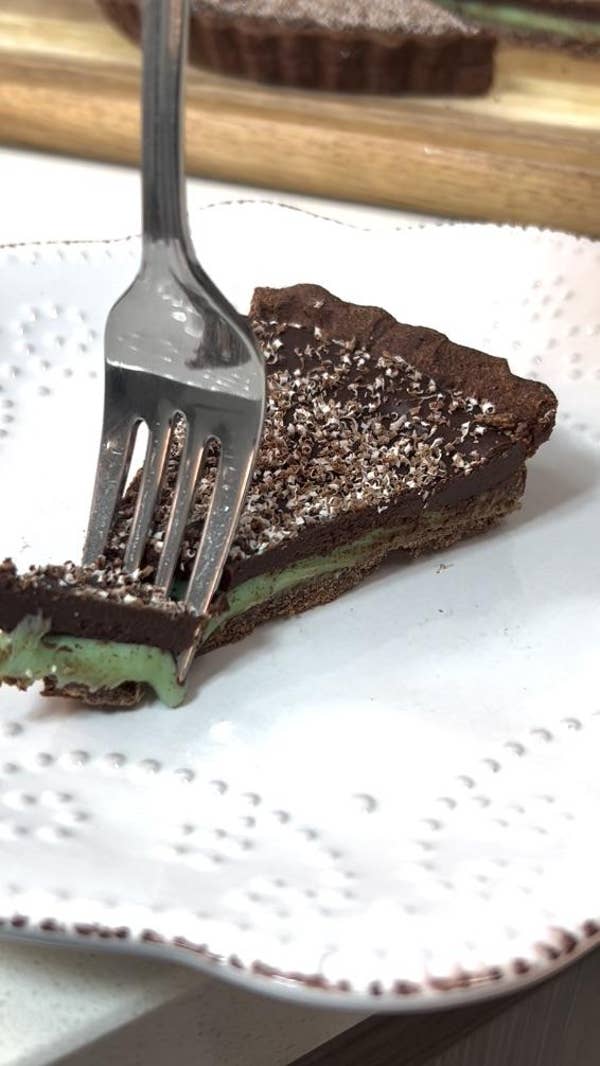 Total Time
3 hr 15 min
3 hr 15 min
Prep Time
30 minutes
30 min
Cook Time
2 hr 45 min
2 hr 45 min
Ingredients
for 8 servings
Chocolate Tart Shell
1 cup all-purpose flour

(125 g)

¼ cup unsweetened cocoa powder

(25 g)

½ cup powdered sugar

(55 g)

½ teaspoon kosher salt
1 large egg yolk
2 tablespoons heavy cream
6 tablespoons unsalted butter, chilled and cubed
Vanilla Mint Cream
1 cup white chocolate chip

(175 g)

½ cup heavy cream

(120 g)

¼ cup unsalted butter

(55 g)

½ teaspoon peppermint extract
3 drops green food coloring
Chocolate Ganache
4 oz dark chocolate chunks

(110 g)

½ cup heavy cream

(120 mL)

¼ teaspoon peppermint extract
3 Andes chocolate mints
Preparation
In a large bowl, whisk together the flour, cocoa powder, powdered sugar, and salt.
In a medium bowl, whisk together the egg yolk and heavy cream.
Add the butter to the flour mixture and toss to coat, then pour in the egg yolk mixture. Use a pastry cutter to cut the butter into smaller pieces, then continue mixing with your hands until the dough comes together in a ball. Wrap the dough in plastic wrap and refrigerate for 1 hour.
Preheat the oven to 350°F (180°C).
Place the dough between 2 sheets of parchment paper, then roll out into a 12-inch circle, returning to the refrigerator if the dough begins to soften too much. Peel off one layer of parchment, then carefully flip the dough into a 10-inch tart pan. Remove the top layer of parchment and gently press the dough flush against the fluted edges of the pan, then trim the excess dough around the rim. Use a fork to poke holes all over the bottom of the tart shell, then chill for 10-15 minutes. Replace the parchment paper on top of the tart and fill completely with pie weights, dried beans, or coffee beans.
Bake for 25–30 minutes or until the tart shell is puffy and baked through. Let cool completely before filling, about 20 minutes.
Make the mint cream: In a medium, microwave-safe bowl, combine the white chocolate chips, heavy cream, and butter. Microwave in 30-second intervals, stirring between, until melted and smooth. Add the peppermint extract and food coloring and stir until evenly incorporated.
Pour the mint cream into the tart shell and spread in an even layer. Chill in the refrigerator for 20 minutes, or until the filling is solid.
Make the chocolate ganache: In a medium, microwave-safe bowl, combine the dark chocolate, heavy cream and peppermint extract. Microwave in 30-second intervals, stirring between, until smooth.
Pour the ganache over the mint filling and spread into a smooth, even layer. Grate 2 Andes chocolate mints over the top of the ganache, then place the remaining whole Andes mint in the center. Chill the tart for 20 minutes, or until the ganache is solid.
Keep refrigerated until ready to slice and serve, up to 2 days.
Enjoy!