Arroz Con Tres Leches Arancini
Creamy tres leches rice pudding is transformed into delicious graham cracker and coconut-crusted dessert arancini. They're drizzled with orange-infused sweetened condensed milk and topped off with more toasted coconut flakes for a sweet and crunchy finish.
October 03, 2021
Total Time
1 hr 20 min
1 hr 20 min
Cook Time
1 hr 15 min
1 hr 15 min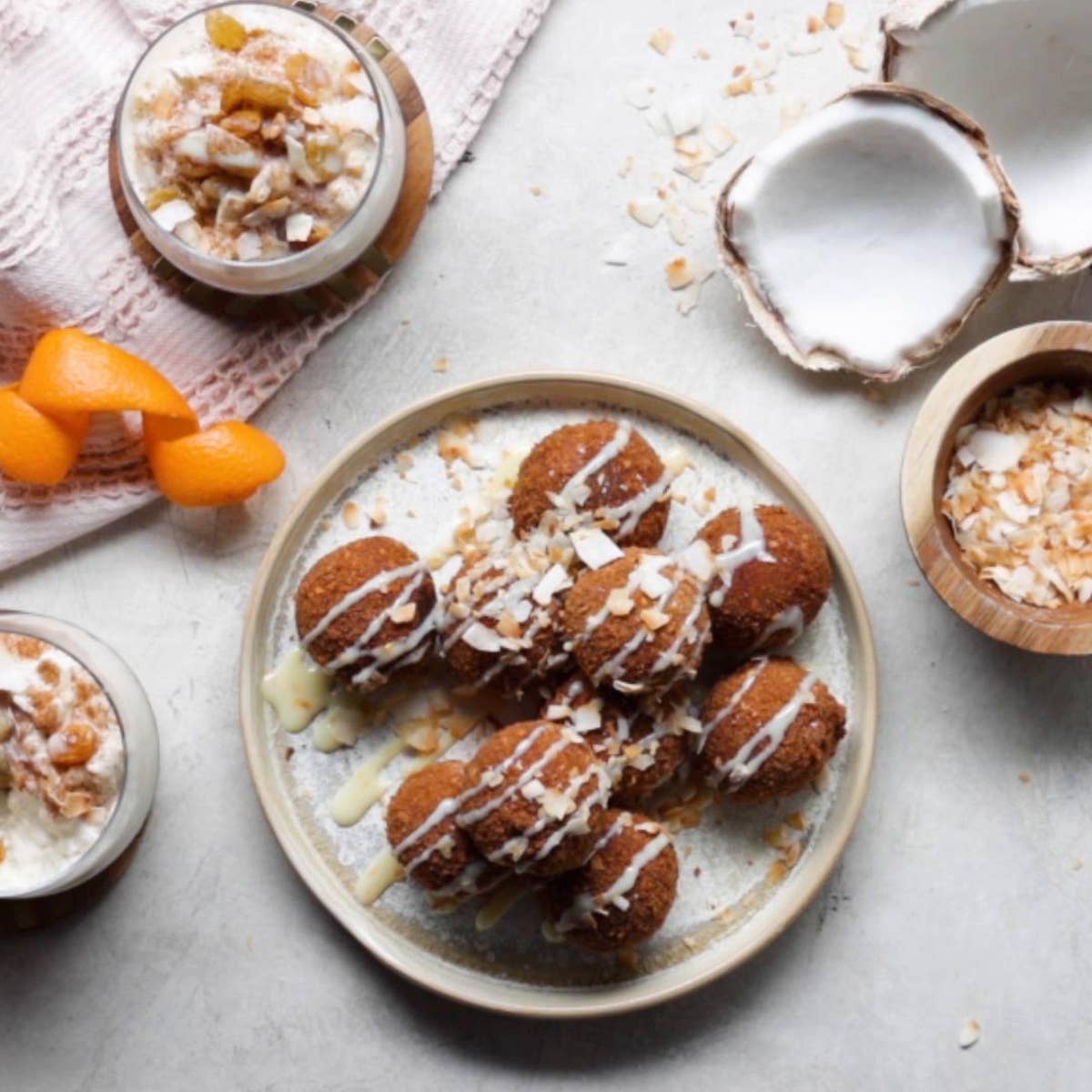 Total Time
1 hr 20 min
1 hr 20 min
Cook Time
1 hr 15 min
1 hr 15 min
Ingredients
for 4 servings
9 graham crackers, 1 sleeve
⅓ cup unsweetened coconut flakes

(35 g)

1 cup all purpose flour

(125 g)

4 teaspoons Toasted Cinnamon, divided
1 batch Arroz Con Tres Leches, chilled
6 cups vegetable oil

(1.4 mL)

, for frying
2 large eggs
2 teaspoons kosher salt
¼ cup sweetened condensed milk

(60 mL)

2 teaspoons orange zest
¼ cup toasted coconut

(25 g)
Preparation
In a small food processor, combine the graham crackers and untoasted coconut flakes and process until finely ground and well combined. Transfer to a shallow dish and set aside.
In a separate shallow dish, use a fork or whisk to mix together the flour and 2 teaspoons of toasted cinnamon.
Using a small ice cream scoop, scoop some of the arroz con tres leches into the flour mixture and roll to coat lightly, then roll in your hands into a tight ball. Place on a baking sheet and repeat with the remaining rice. Freeze for 1 hour, or up to overnight. Reserve the remaining flour mixture.
In a medium pot fitted with a deep-fry thermometer, heat the canola oil over medium-high heat until the temperature reaches 350°F (180°C). Line a baking sheet with paper towels and place a wire rack on top.
In another shallow dish, beat the eggs.
Remove the rice balls from the freezer and coat again in the flour, then in the egg, and then in the graham-coconut mixture, dusting off any excess.
Working in batches of 4–6 at a time, fry the rice balls in the hot oil for 3–4 minutes, until golden brown on all sides. Transfer to the wire rack to drain and sprinkle with the salt and remaining 2 teaspoons of cinnamon.
Meanwhile, in a small pot, combine the sweetened condensed milk and orange zest. Cook over medium-low heat until warm, but not boiling, 3–4 minutes. Transfer to a squeeze bottle.
Arrange the arancini on a plate and drizzle with the orange-infused condensed milk. Top with the toasted coconut flakes.
Enjoy!
Don't just wing it -- plan it! Use our meal planner tool in the Tasty app. Download here.