Baja Bánh Mì
A spin on a traditional Vietnamese dish, crispy beer-battered sweet potatoes are the star of this bánh mì sandwich. Served with a mushroom pâté spread, and topped with pickled vegetables, fresh avocado, and cilantro, it's so hearty and delicious, you probably won't even notice that it's meatless!
January 17, 2020
Total Time
3 hr 30 min
3 hr 30 min
Prep Time
30 minutes
30 min
Cook Time
55 minutes
55 min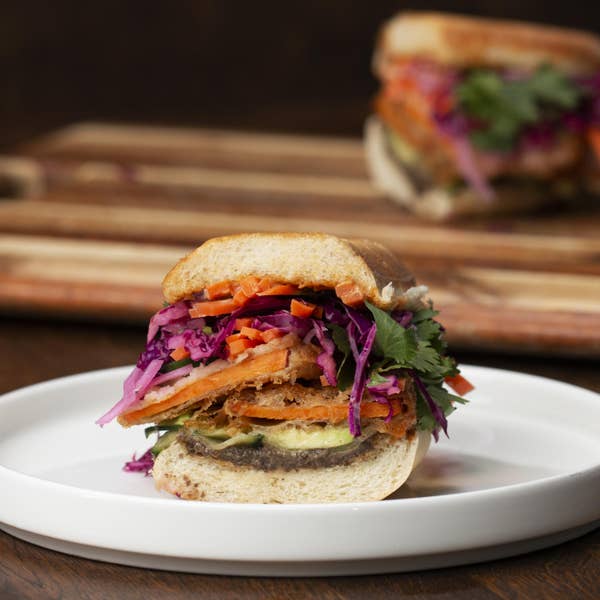 Total Time
3 hr 30 min
3 hr 30 min
Prep Time
30 minutes
30 min
Cook Time
55 minutes
55 min
Ingredients
for 4 servings
Beer-Battered Sweet Potatoes
6 tablespoons neutral oil, such as canola or vegetable
6 tablespoons soy sauce
2 large stalks lemongrass, bruised and cut into ½-inch (1 1/4 cm) pieces
3 cloves garlic, crushed
1 lime, juiced
¼ cup rice wine vinegar

(60 mL)

2 large sweet potatoes, cut into ⅛-inch (3 mm) thick planks
2 cups canola oil

(480 mL)

, for frying
1 ½ cups all purpose flour

(185 g)

, divided
1 teaspoon kosher salt
2 cups lager beer

(480 mL)
Quick Pickled Vegetables
1 cup rice wine vinegar

(240 mL)

½ cup water

(120 mL)

2 tablespoons sugar
1 teaspoon kosher salt
2 large carrots, cut into matchsticks
½ medium red onion, thinly sliced
Mushroom Pâté
1 lb cremini mushroom

(455 g)

, cleaned and stemmed
2 tablespoons olive oil
¼ medium red onion, minced
2 cloves garlic, minced
1 fresh ginger, peeled and minced
2 teaspoons vegan worcestershire
1 tablespoon soy sauce
Vegan Chipotle Mayonnaise
⅓ cup vegan mayonnaise

(80 mL)

1 teaspoon chipotle powder
Slaw
¼ medium purple cabbage, thinly sliced
½ teaspoon kosher salt
1 lime juice
Assembly
4 French rolls, split lengthwise and toasted (6 in - 15 cm)
½ english cucumber, peeled into ribbons
1 large avocado, thinly sliced
1 jalapeño, thinly sliced
1 cup fresh cilantro

(40 g)

, washed and large stems removed
Preparation
Marinate the beer-battered sweet potatoes: In a wide, shallow dish, whisk together the oil, soy sauce, lemongrass, garlic, lime juice, and rice wine vinegar. Add the sweet potatoes to the marinade and toss to coat. Cover the dish with plastic wrap and marinate the sweet potatoes in the refrigerator for 1–2 hours.
Make the quick pickled vegetables: In a small pan, combine the rice wine vinegar, water, sugar, and salt. Bring to a low simmer over medium-high heat, stirring until the sugar is dissolved.
Add the carrots and onion to 2 separate medium bowls. Pour half of the pickle brine into each bowl. Cover each bowl with plastic wrap and transfer to the refrigerator for at least 30 minutes, or overnight. The longer the vegetables pickle, the deeper the color of the red onions and the stronger the flavor of both will be.
Make the mushroom pâté: Add the mushrooms to a food processor and pulse until finely chopped.
In a medium skillet, heat the olive oil over medium heat. When the oil is shimmering, add the red onion and garlic and sauté for 2–3 minutes, until fragrant. Add the mushrooms and cook for 5–8 minutes, until most of the moisture has been released and they begin to brown. Add the ginger, vegan Worcestershire sauce, and soy sauce. Cook for 1–2 minutes, until the liquid is fully absorbed and beginning to caramelize. Remove the pan from the heat and let cool for 5–10 minutes.
Return the mushroom mixture to the food processor and process until nearly smooth, 20–30 seconds. Set aside until ready to assemble the sandwiches.
Finish the beer-battered sweet potato: In a large, high-walled skillet, heat the canola oil over medium-high heat until it reaches 375°F (190°C).
While the oil is heating, prepare the beer batter: In a shallow dish with a lip, whisk together the 1 cup (125 G) flour, the salt, and beer until smooth. Add the remaining ½ cup (60 G) flour to a separate shallow dish.
When the oil is hot, begin dredging the sweet potatoes. Working one plank at a time, remove the sweet potato from the marinade, letting any excess drip off. Lightly dredge in the flour, then coat in the beer batter.
Immediately drop the sweet potato plank into the hot oil. Fry in batches of 2 or 3 planks for 2–3 minutes, flipping halfway through, until golden brown. Drain on a wire rack or paper towel-lined baking sheet. Let cool slightly.
Make the vegan chipotle mayonnaise: In a small bowl, mix together the mayonnaise and chipotle powder.
Make the slaw: In a medium bowl, toss the cabbage with the salt and lime juice.
Assemble the sandwiches: Spread 2 tablespoons of the mushroom pâté onto the bottom of a toasted French roll. Top with cucumber ribbons and 3–4 slices of avocado. Add 1–2 sweet potato planks, then top with jalapeño, pickled carrots and onions, cabbage slaw, and cilantro. Spread chipotle mayonnaise on the top half of the roll, then close the sandwich.
Enjoy!