Baked Alaska
June 01, 2020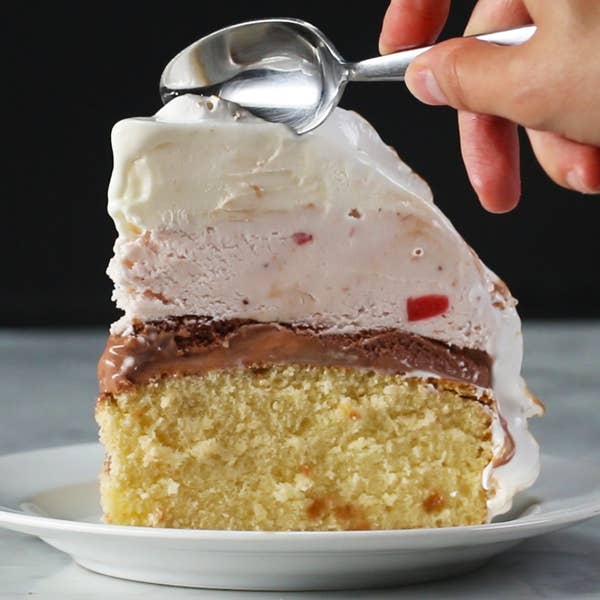 Ingredients
for 12 servings
Ice Cream
1 pt vanilla ice cream

(425 g)

, softened
2 pt strawberry ice cream

(850 g)

, softened
2 pt chocolate ice cream

(850 g)

, softened
Cake (Can Sub Boxed Yellow Cake)
1 cup butter

(230 g)

, at room temperature
2 cups sugar

(400 g)

4 eggs, at room temperature
3 cups cake flour

(375 g)

, sifted
1 cup milk

(240 mL)

1 teaspoon baking powder
½ teaspoon salt
1 teaspoon vanilla extract
Swiss Meringue
4 egg whites, at room temperature
1 cup sugar

(200 g)

1 teaspoon cream of tartar
1 teaspoon vanilla extract
Preparation
Wrap a 10-inch (25 cm) freezer-safe bowl in plastic wrap. Scoop the vanilla ice cream into the bowl, and using a spatula smooth the ice cream to form an even layer. Freeze for 1 hour, or until frozen.
Remove the bowl from the freezer, and scoop the strawberry ice cream onto the frozen vanilla layer. Using a spatula, smooth the strawberry ice cream to form an even layer. Freeze for 1 hour, or until frozen. After the strawberry layer is frozen, repeat with chocolate ice cream.
Preheat the oven to 350˚F (180˚C).
In a bowl, add the eggs and sugar and whisk until well combined. Add 1 egg and mix until combined. Repeat with remaining eggs, mixing after each egg is added.
Alternate adding a little bit of flour and milk, whisking after each addition until combined. Repeat until the flour and milk have been used up. The batter should be smooth and creamy.
Add the baking powder, salt, and vanilla extract and whisk until well combined.
Pour the batter into a greased and floured 10-inch cake tin and bake for 50 minutes to 1 hour, until the top is golden brown and a toothpick comes out clean.
Let the cake cool completely. Once cool, invert the cake onto a plate and set aside.
Bring a pan of water to a simmer over medium heat.
Place a heatproof bowl over the simmering water, and add the egg whites, sugar, and cream of tartar. Whisk constantly until the sugar has dissolved and the egg white mixture is warm, about 3 minutes.
Remove the bowl from the pan. Using a hand mixer, beat the egg white mixture until stiff, glossy peaks form, about 10 minutes. Add the vanilla extract and mix until just combined.
Remove the bowl of ice cream from the freezer and gently invert it onto the cake, creating a dome shape. Remove the plastic wrap from the ice cream.
Working quickly, use a spatula to spread a layer of meringue over the entire cake and ice cream dome so that it's fully coated.
Using a kitchen torch, brown the peaks of meringue.
Serve immediately.
Enjoy!
All your favorite recipes, stored in one place. Download the Tasty app and never lose a recipe again.