Baked Eggs Benedict Cups
These baked eggs benedict cups are perfect for brunch or breakfast on-the-go! The hollandaise sauce adds a rich and tangy flavor to the dish.
May 04, 2023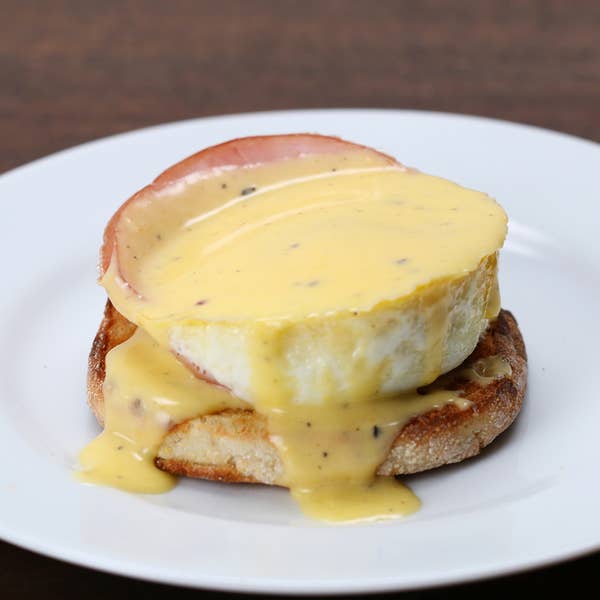 Ingredients
for 6 servings
6 slices ham, canadian-style bacon
6 eggs
3 egg yolks
½ teaspoon white vinegar
½ cup butter

(115 g)

, melted
4 tablespoons lemon juice
salt, to taste
black pepper, to taste
3 english muffins, split in halves
Preparation
Egg Cups: Grease a large muffin tin. Place a slice of ham in each tin, then crack an egg over each slice of ham. Cover with tin foil, then bake at 350˚F (175˚C) for 8-10 minutes (eight minutes if you like your yolk very runny).
Hollandaise sauce: Fill the bottom of a double boiler part-way with water. Make sure that the water doesn't touch the top bowl. Bring water to a gentle simmer. In the top of the double boiler, whisk together three egg yolks and ½ tsp white vinegar until well mixed.
Slowly pour the melted butter in the egg yolk mixture, a little at a time, while constantly whisking. If you pour too much too quickly without whisking, the mixture might not thicken or mix properly. If the hollandaise gets too thick, add a teaspoon or two of hot water. Continue whisking until all the butter is incorporated.
Remove from heat, whisk in lemon juice, salt, and pepper.
Place a toasted English muffin half down, layer the ham and egg cup on top of the English muffin, then drizzle your hollandaise sauce over the egg.
Enjoy!
Don't just wing it -- plan it! Use our meal planner tool in the Tasty app. Download here.