Bangus (Milkfish) Sisig As Made By Señor Sisig
Bangus sisig is a modernized Filipino dish that incorporates fried bangus (milkfish) into a traditional sisig-style dish. You can serve this on a sizzling hot plate, or inside the fish skin, as shown here. Traditionally, the dish is served with steamed jasmine rice and beer or tropical juice.
August 17, 2023
Total Time
40 minutes
40 min
Prep Time
20 minutes
20 min
Cook Time
20 minutes
20 min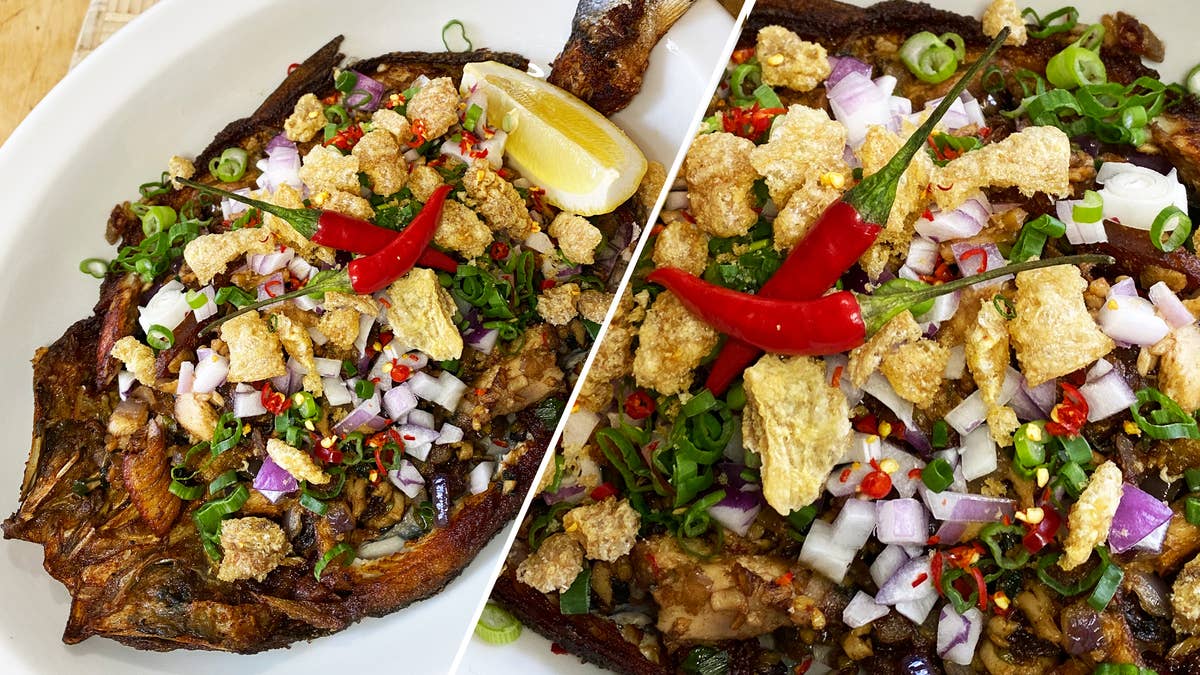 Total Time
40 minutes
40 min
Prep Time
20 minutes
20 min
Cook Time
20 minutes
20 min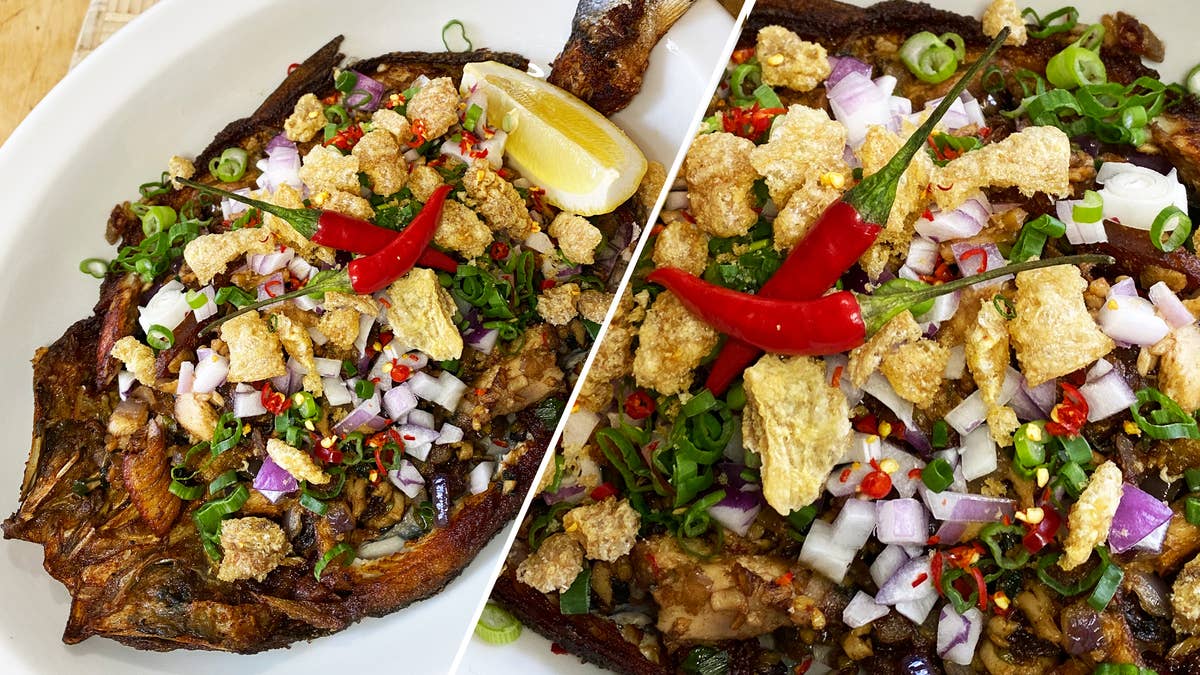 Ingredients
for 1 serving
Bangus
1 boneless bangu, milkfish - butterflied and backbone removed
1 teaspoon kosher salt
½ teaspoon freshly ground black pepper
8 cloves garlic, smashed
2 tablespoons soy sauce
4 tablespoons sugar cane vinegar
Sisig
2 cups canola oil

(480 mL)

, for frying
½ stick unsalted butter
½ cup scallion

(10 g)

, chopped, plus more, sliced, for garnish
1 medium red onion, chopped, plus more for garnish
1 teaspoon fresh ginger, minced
1 teaspoon garlic, minced
1 cup crushed chicharrones

(125 g)

, (fried pork rinds), plus more for garnish
1 tablespoon red thai chile, plus more, chopped and whole, for garnish
1 tablespoon soy sauce
½ tablespoon mayonnaise
1 lemon wedge, for garnish
jasmine rice, steamed, for serving
Preparation
Marinate the bangus: Place the bangus in a shallow pan or plate. Season the flesh side of the fish with the salt and pepper. Top with the garlic, soy sauce, and vinegar. Flip the bangus so the flesh side is down and transfer to the refrigerator to marinate for 2–3 hours.
Make the sisig: Heat the canola oil in a large skillet over medium-high heat until shimmering.
Remove the bangus from the marinade. Carefully transfer to the hot oil and fry on each side, starting with the skin side down, for 3–4 minutes, until golden brown and crispy. Remove the fish from the pan and transfer to a wire rack set over a baking sheet. Let cool for about 10 minutes.
Once cooled, gently flake the flesh of the milkfish and transfer to a medium bowl, leaving the skin intact. Reserve the skin for serving.
Melt the butter in a medium nonstick skillet over medium heat. Add the reserved bangus flesh, chopped scallions, the red onion, ginger, and garlic. Stir and sauté for 1–2 minutes, until fragrant. Add the chicharrones, thinly sliced Thai chile, and soy sauce, stir to combine, and sauté for 1 minute. Add the mayonnaise, stir to combine, and cook for 1–2 minutes to marry the flavors.
Place the reserved bangus skin on a serving platter and top with the bangus sisig.
Garnish with red onion, the sliced scallions, chicharrones, chopped and whole Thai chiles, and a lemon wedge. Serve with steamed jasmine rice.
Enjoy!
Cook smarter, not harder. Use our AI chef Botatouille on the Tasty app. Download now.