Beet Gnocchi
These vibrant and pillowy bites of goodness are a feast for the senses! Made with roasted beets and fluffy potato, these homemade gnocchi are like little clouds of deliciousness. Tossed in a savory butter and sage sauce with a sprinkle of Parmesan, it's a dish that's sure to impress and satisfy any pasta lover.
May 04, 2023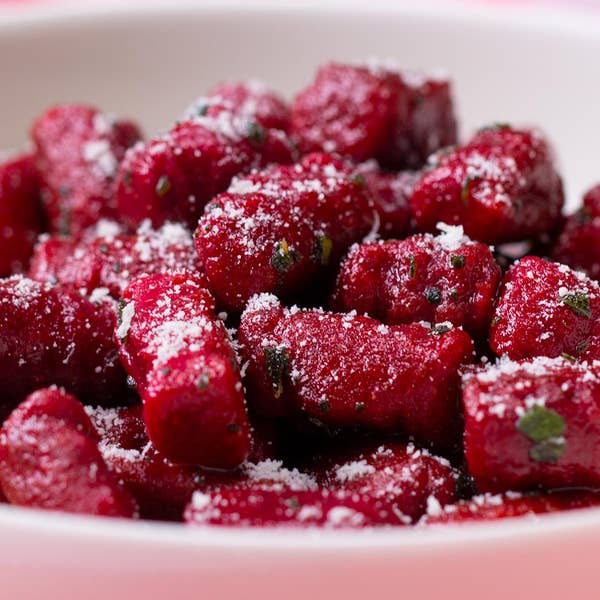 Ingredients
for 4 servings
1 medium beet, greens trimmed
1 large russet potato
1 large egg
½ cup grated parmesan cheese

(55 g)

, plus more for serving
1 teaspoon kosher salt, plus more for boiling
1 ½ cups whole wheat flour

(190 g)

, plus more for dusting
½ cup salted butter

(115 g)

, 1/2 stick, divided
2 tablespoons fresh sage, chopped, divided
Preparation
Preheat the oven to 425°F (220°C).
Add the beet to an oven-safe dish and pour in enough water to come ¾ of the way up the beet. Cover the dish tightly with foil and set aside.
Poke the potato all over with a fork and place in the center of a parchment paper-lined baking sheet.
Place both the beet and potato in the oven and roast for 45 minutes, until fork tender. Remove from the oven and let cool until safe to handle.
Gently rub the beet to remove the skin. (If you'd like, wear rubber gloves to protect your hands from being dyed by the beet juice.) Trim any remaining stem from the beet after peeling, then roughly chop.
Transfer the beet to a food processor, along with the egg, Parmesan, and salt. Puree until completely smooth. Set aside.
Peel the skin from potato and grate through the small holes of a box grater, or press through a potato ricer, if you have one.
In a large bowl, combine the potato and the beet mixture. Fold gently to combine, being careful not to over mix.
Add the flour, ½ cup (60 grams) at a time, and fold until the dough comes together. You may not need to use the full 2 cups.
Turn the dough out onto a lightly floured surface and knead gently until a pliable dough is formed that is tender but not sticky when handled. Divide into 8 portions. Roll a dough portion into a ½-inch (1 ¼ cm) thick rope. Cut the rope into 1-inch (2.5 cm) pieces. Repeat with the remaining dough.
If desired, roll each piece of gnocchi over the tines of a fork to create ridges.
Bring a medium pot of well-salted water to a boil over high heat.
Working in batches, drop 8-10 gnocchi into the boiling water and cook until they begin to float. Once they start floating at the surface, let cook for 30 seconds more, then transfer from the water with a slotted spoon to a plate and set aside.
In a medium pan, melt 2 tablespoons of butter until just beginning to bubble. Add 1 tablespoon of sage and half of the gnocchi, to avoid overcrowding the pan. Sauté for about 1 minute per side until the gnocchi are lightly toasted and well coated with butter and sage. Repeat with the remaining butter, sage, and gnocchi.
Serve immediately with Parmesan cheese for garnish.
Enjoy!
Your favorite recipes are just a click away. Download the Tasty app to save and organize your favorites.