Black & White Mille Crepe
Treat yourself to this elegant and visually stunning black and white mille crepe that tastes as good as it looks.
May 04, 2023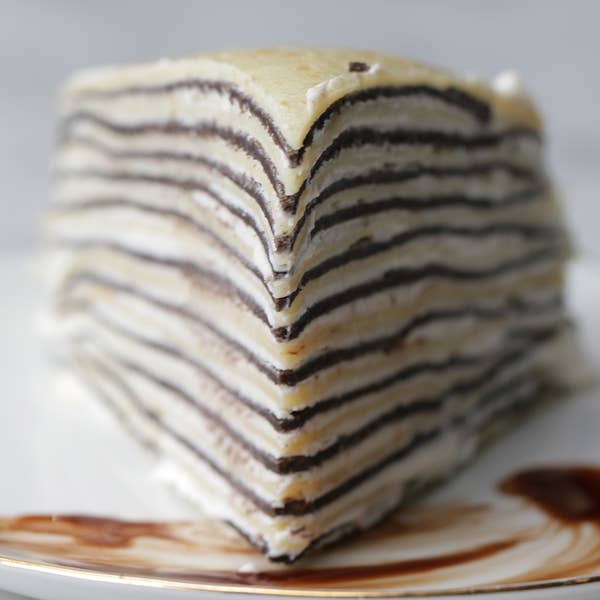 Ingredients
for 6 slices
12 large eggs
4 cups whole milk

(980 mL)

1 cup water

(240 mL)

⅔ cup butter

(150 g)

, melted
2 ½ cups all-purpose flour

(310 g)

6 tablespoons sugar
1 teaspoon vanilla
⅓ cup dark chocolate powder

(40 g)

whipped topping, to taste
powdered sugar, for topping
Preparation
Have all ingredients at room temperature. Whisk together eggs, milk, and water.
Add butter, vanilla, and sugar. Sift in flour. Whisk until no clumps remain.
Strain the crepe batter into two bowls: one for the vanilla crepes, the other for chocolate crepes.
Sift cocoa powder into one bowl and whisk together.
Preheat an eight-inch pan over medium heat. Pour ¼ (60ml) cup of batter into the pan, swirl until you have an even crepe.
Flip after one minute and continue to cook for an additional 30 seconds. Stack crepes and cool to room temp.
Layer crepes, spreading a thin layer of whipped topping between each layer.
Dust with powdered sugar. Chill if not serving immediately.
Enjoy!
Don't just wing it -- plan it! Use our meal planner tool in the Tasty app. Download here.