Bloody Cupcakes
October 22, 2020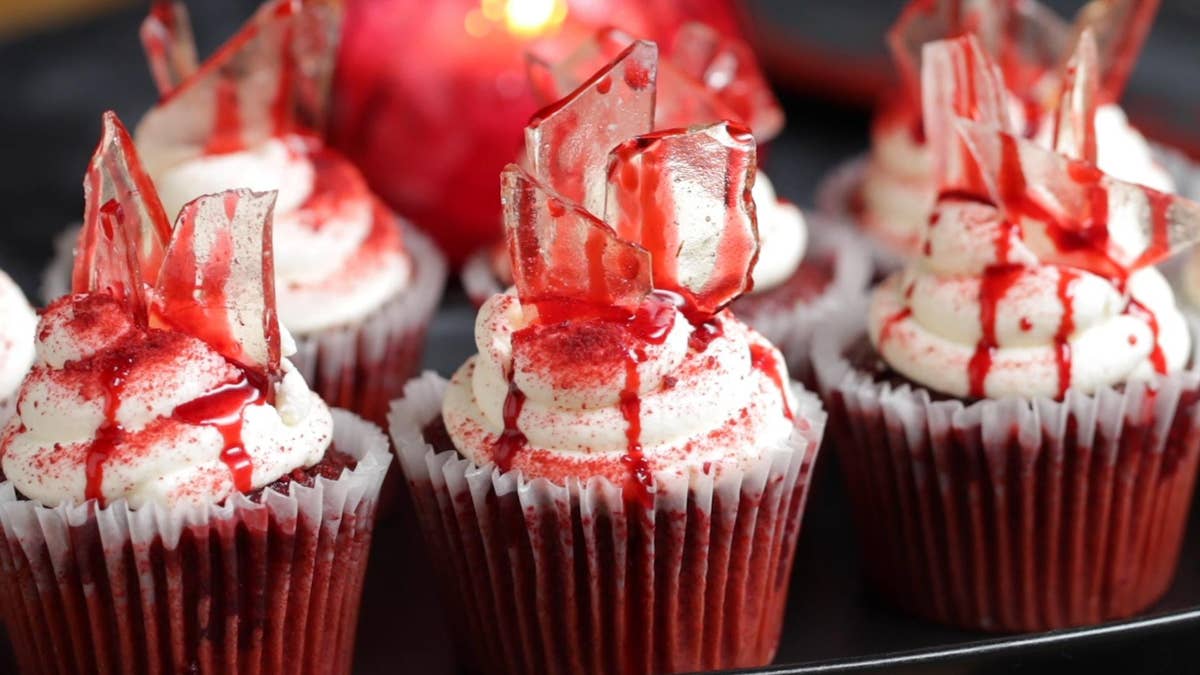 Ingredients
for 8 cupcakes
Edible "Glass"
¾ cup water

(180 mL)

⅔ cup light corn syrup

(135 g)

2 cups granulated sugar

(400 g)

cornstarch, for dusting
"Blood"
¼ cup corn syrup

(85 g)

1 ½ teaspoons cornstarch
1 tablespoon water, room temperature
1 ½ teaspoons red gel food coloring
2 drops blue gel food coloring
Assembly
8 red velvet cupcakes, store bought
Preparation
Make the edible "glass": Line a baking sheet with a nonstick mat or parchment paper.
In a medium saucepan fitted with a candy thermometer, combine the water, corn syrup, and sugar. Cook over medium-high heat, stirring frequently, until the temperature reaches 300°F (150°C), hard crack stage.
Pour the candy evenly onto the prepared baking sheet and let cool at room temperature for 45–50 minutes.
Once cooled, drop the baking sheet onto the counter a few times to break the candy into 1–2-inch "glass" shards. Dust lightly with cornstarch to prevent the pieces from sticking together.
Make the "blood": In a small bowl, whisk together the corn syrup, cornstarch, water, red food coloring, and blue food coloring until well combined.
Stick 2–3 pieces of "glass" into each red velvet cupcake. Drizzle the "blood" over the top.
Enjoy!