Breyers® Cookie Crust Ice Cream Cheesecake
November 09, 2020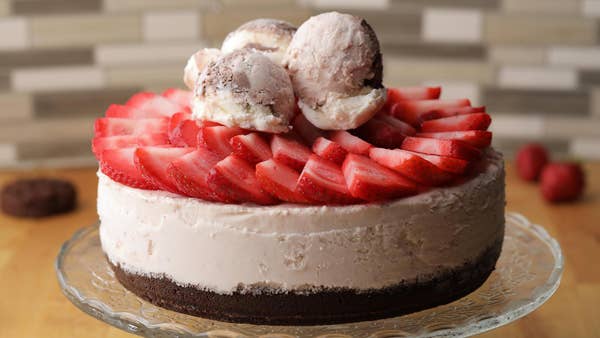 Ingredients
for 8 servings
Cookie Crust
1 cup unsalted butter

(230 g)

, divided
⅓ cup granulated sugar

(65 g)

½ cup packed light brown sugar

(100 g)

½ cup Breyers® Chocolate Ice Cream

(80 g)

, melted
1 large egg
1 teaspoon vanilla extract
½ teaspoon baking soda
¼ teaspoon kosher salt
1 ¾ cups all-purpose flour

(215 g)

¾ cup cocoa powder

(80 g)
Ice Cream Cheesecake Filling
1 cup granulated sugar

(200 g)

16 oz cream cheese, softened
1 ½ qt Breyers® Natural Strawberry Ice Cream

(1 kg)

, melted
1 teaspoon vanilla extract
1 cup fresh strawberries

(150 g)

, chopped
Toppings
12 large strawberries, stemmed, thinly sliced
3 small scoops Breyers® Vanilla, Chocolate, Strawberry Ice Cream
Nutrition Info
Calories

1269

Fat

79g

Carbs

124g

Fiber

5g

Sugar

97g

Protein

19g
Estimated values based on one serving size.
Preparation
Make the cookie crust: Line 2 baking sheets with parchment paper.
In a large heatproof bowl, microwave ½ cup butter until melted.
Add the granulated and brown sugar, and mix with an electric hand mixer on low speed until well combined and creamy. Add the melted Breyers® Chocolate Ice Cream and mix until smooth. Add the egg, vanilla, baking soda, and salt, and mix until smooth.
Gradually add the flour, then the cocoa powder, beating until incorporated.
Using a 2-tablespoon ice cream scoop, scoop the cookie dough onto the prepared baking sheets, spacing about 2 inches apart. You should have 12 cookies per sheet, for a total of 24 cookies. Cover the baking sheets with plastic wrap and chill in the refrigerator for at least 1 hour, up to overnight.
Preheat the oven to 350°F (180°C).
Take the baking sheets out of the refrigerator and remove the plastic wrap. Using your palm, gently flatten the cookies slightly to about ¾ inch thick and no longer rounded on top.
Bake the cookies for 9–10 minutes, until set. Remove from the oven and let cool completely.
Working in batches, add 18 of the cookies to a food processor and pulse into crumbs. Transfer the crumbs to a medium bowl. Reserve the remaining cookies for later or use to garnish the finished cheesecake.
Melt the remaining ½ cup butter, then pour into the bowl with the crumbs. Mix until well incorporated and the crumbs are moistened.
Line the bottom of a 9-inch springform pan with parchment paper. Pour the cookie crumb mixture into the pan and press evenly against the bottom with your fingers. Freeze for 1 hour.
Make the cheesecake filling: Add the sugar and cream cheese to a large bowl. Whip with an electric hand mixer until smooth and fluffy.
Add the melted Breyers® Natural Strawberry Ice Cream and vanilla, and mix until well combined.
Fold in the chopped strawberries.
Pour the cheesecake filling over the frozen cookie crust, then return to the freezer for at least 4 hours, or until ready to serve.
Remove the frozen cheesecake from the freezer and release the springform.
Arrange the sliced strawberries in a circular pattern on top of the cheesecake. If the cake is starting to melt, return to the freezer for 30 minutes before continuing to the next step.
Scoop the Breyers® Vanilla, Chocolate, Strawberry Ice Cream onto the center.
Slice, drizzle with melted chocolate, and serve immediately.
Enjoy!