Buffalo Chicken Potato Skin Nachos
Nachos, buffalo chicken, and potato skins come together to create this all-in-one knockout appetizer. Crispy potato skins, shredded buffalo chicken, all the best nacho fixings, topped with blue cheese dressing–say no more! This dish is the perfect game day show stopper. Pro tip: save the inside of the potatoes for hash browns the next morning!
August 14, 2023
Total Time
2 hr 20 min
2 hr 20 min
Prep Time
20 minutes
20 min
Cook Time
1 hr 45 min
1 hr 45 min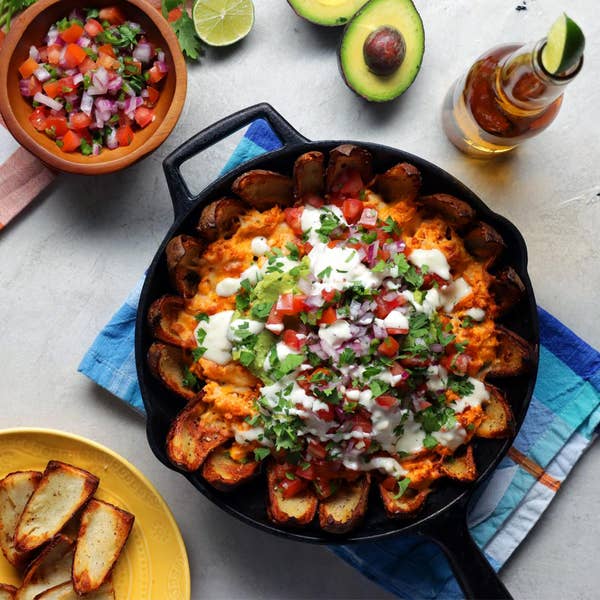 Total Time
2 hr 20 min
2 hr 20 min
Prep Time
20 minutes
20 min
Cook Time
1 hr 45 min
1 hr 45 min
Ingredients
for 4 servings
4 small russet potatoes, (about 3–4 inches long and 2 inches wide), scrubbed
2 tablespoons canola oil, divided
2 teaspoons kosher salt, divided, plus more to taste
½ stick unsalted butter, melted
¼ teaspoon freshly ground black pepper, plus more to taste
½ cup Frank's RedHot® Buffalo Wings Sauce

(120 mL)

⅓ cup unsalted butter

(75 g)

½ teaspoon McCormick® cayenne pepper
1 ½ teaspoons distilled white vinegar
2 chicken breasts, boneless, skinless
1 teaspoon McCormick® Garlic Powder
½ cup chicken broth

(120 mL)

1 ½ cups shredded mexican cheese blend

(150 g)

, divided
Pico de Gallo
2 roma tomatoes
½ red onion, diced
1 jalapeño, seeded and minced
1 clove garlic, minced
3 tablespoons fresh cilantro, chopped
½ teaspoon kosher salt
¼ teaspoon ground black pepper
lime, juiced
For Serving
1 cup Tasty's guacamole

(260 g)

¼ cup blue cheese dressing

(30 g)

fresh cilantro, roughly chopped
Included in this Recipe
Guacamole
Nutrition Info
Calories

856

Fat

48g

Carbs

67g

Fiber

39g

Sugar

8g

Protein

37g
Estimated values based on one serving size.
Preparation
Preheat the oven to 425°F (220°C). Line a large baking sheet with parchment paper.
Place the potatoes on the prepared baking sheet. Pierce all over with a fork. Rub with 1 tablespoon canola oil and season with 1 teaspoon salt.
Bake the potatoes for 60–70 minutes, until they are soft enough to gently squeeze with an oven mitt. Remove the potatoes from the oven and let sit for 15–20 minutes, until cool enough to handle.
Cut the potatoes in half lengthwise and scoop out the insides, leaving a ⅛-inch-thick border of potato flesh around the edges. Cut each piece in half again lengthwise and once more crosswise to create 2-inch-long triangles.
Arrange the potato triangles skin-side-up in a single layer on the baking sheet and brush with the melted butter. Flip skin-side-down and brush the insides with melted butter, then season with salt and ¼ teaspoon black pepper.
Bake for 12–15 minutes, until the insides are golden brown. Flip the potatoes skin-side-up again and bake for 8–10 minutes more, until the skins are crispy.
In a medium microwave-safe bowl, combine the buffalo sauce and butter. Microwave for 30–60 seconds, until the butter is melted. Whisk well to combine. Add the cayenne and white vinegar and whisk to combine.
Season the chicken breasts on both sides with 1 teaspoon salt, pepper to taste, and the garlic powder.
Heat the remaining tablespoon of canola oil in a large skillet over medium heat until shimmering. Add the chicken breasts and cook without moving until browned, 4–5 minutes. Flip the chicken and cook for another 3–4 minutes, until browned on the other side. Pour in the chicken broth, reduce the heat to medium-low, cover, and cook for 10–12 minutes more, or until the chicken is tender and cooked through.
Transfer the chicken to a medium bowl and shred with an electric hand mixer on medium-low speed, 1–2 minutes. (Alternatively, use 2 forks to shred the chicken.) Add the buffalo sauce and ½ cup shredded Mexican cheese and mix to combine.
Make the pico de gallo: In a medium bowl, combine the tomatoes, onion, jalapeño, garlic, cilantro, salt, pepper, and lime juice and stir to combine.
Set the broiler to high.
Arrange the potato wedges around the edges and over the bottom of an 8-inch cast-iron skillet. Top with the buffalo chicken and sprinkle the remaining 1 cup shredded Mexican cheese on top.
Broil the nachos for 2–3 minutes, until the cheese is melted and bubbling.
Top the nachos with guacamole, the pico de gallo, blue cheese dressing, and cilantro. Serve immediately.
Enjoy!
Don't let a good recipe slip away. Download the Tasty app and save your favorites for easy access.