Canoas (Stuffed Sweet Plantains)
This sweet and savory Puerto Rican dish features ripened plantain boats filled with a delicious beef mixture that's made with peppers, onions, garlic, and cilantro. It's topped with creamy mozzarella cheese, and garnished with more cilantro.
August 14, 2023
Total Time
1 hr 3 min
1 hr 3 min
Prep Time
15 minutes
15 min
Cook Time
48 minutes
48 min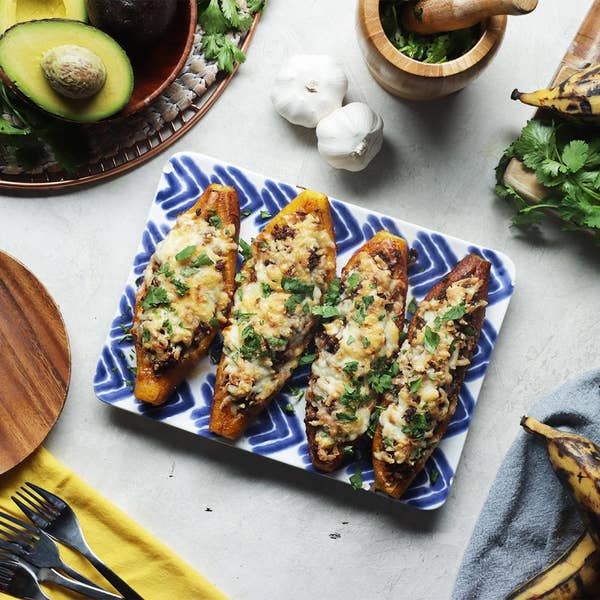 Total Time
1 hr 3 min
1 hr 3 min
Prep Time
15 minutes
15 min
Cook Time
48 minutes
48 min
Ingredients
for 4 canoas
Beef Filling
1 ½ tablespoons vegetable oil
½ cup yellow onion

(75 g)

, diced - about 1 small onion
½ cup green bell pepper

(50 g)

, about 1 small pepper
3 cloves garlic, minced
½ cup fresh cilantro

(20 g)

, chopped
1 lb ground beef

(425 g)

¾ teaspoon adobo seasoning
½ teaspoon garlic powder
¼ teaspoon freshly ground black pepper
5 tablespoons tomato sauce
Plantains
3 cups vegetable oil

(720 mL)

4 plantains
kosher salt, to taste
Assembly
16 oz shredded mozzarella cheese

(450 g)

fresh cilantro, for garnish, torn
Preparation
Preheat the oven to 350°F (180°C).
Make the beef filling: Heat the vegetable oil in a large skillet over medium heat. When the oil is shimmering, add the onion and green pepper and sauté until softened and translucent, 3–4 minutes. Add the garlic and cilantro and cook for another 1–2 minutes, or until fragrant.
Add the ground beef, breaking up with a spatula to incorporate into the vegetables. Season with the adobo, garlic powder, and black pepper. Increase the heat to medium-high and cook for 4–5 minutes, or until the meat is no longer pink. Drain any excess liquid.
Return the skillet to the stovetop over medium-low heat, stir in the tomato sauce, and cook until heated through, 2–3 minutes. Remove the pan from the heat and set aside until ready to use.
Make the plantains: Trim the ends off of the plantains, then peel.
Heat the vegetable oil in a large, high-walled skillet over medium-low heat until the temperature reaches 350°F (180°C). Working in batches if needed, add the plantains and fry, turning every 30 seconds or so, until golden brown on all sides and tender enough to be pierced with a fork, 8–10 minutes. Transfer to a paper-towel lined plate to drain until cool enough to handle.
Transfer the plantains to a cutting board. Cut a slit lengthwise down each plantain, being careful not to cut all the way through. Use 2 forks to gently pull each plantain open. Use a fork, flat-side down, to press the base of the "canoe" to widen. Transfer to a baking dish and season with salt.
Fill each plantain with ¼–⅓ cup of shredded mozzarella cheese, add about ½–¾ cup of the beef filling, then top with ¼–⅓ cup more cheese. Cover the baking dish with foil.
Bake for 20–25 minutes. Remove the foil and broil for 2–3 minutes, or until the cheese is brown and bubbly. Garnish with torn cilantro.
Enjoy!
Meal planning made easy with the Tasty app. Download now to see exclusive curated meal plans.