Cereal Poke Cupcakes
Bite into these delightful Cereal Poke Cupcakes and experience a burst of fruity flavors! These colorful treats are perfect for breakfast lovers who want to add a playful twist to their dessert game.
August 14, 2023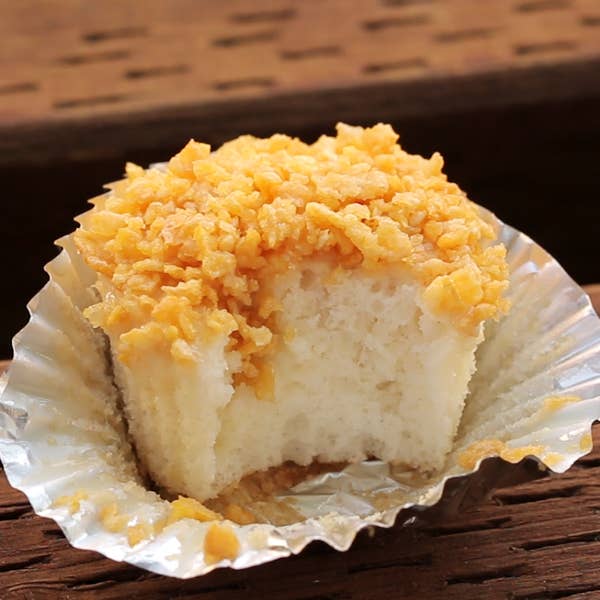 Ingredients
for 12 cupcakes
1 box white cake batter, prepared according to package instructions
2 cups sugar-coated corn flakes cereal

(50 g)

6 tablespoons butter, melted
1 can sweetened condensed milk
Special Equipment
foil cupcake wrapper
muffin tin
gallon-sized resealable plastic bag
plastic wrap
Preparation
Line a 12-cup muffin tin with foil cupcake liners. Fill ¼ of the way full with the cake batter. You want the baked cupcakes to not quite reach the top edge of the wrapper.
Bake the cupcakes according to the package instructions. Remove from the oven at the lower end of what the box recommends, or when a toothpick poked into a cupcake comes out clean.
In a gallon zip-top bag, crush the cereal into small crumbs.
In a large bowl, combine the cereal crumbs and melted butter.
Using the end of a wooden spoon or spatula, poke holes in the cupcakes.
Fill the holes with the sweetened condensed milk.
Top the cupcakes with the cereal crumb mixture and pack down with a spoon, creating a uniform crust.
Individually wrap the cupcakes in plastic wrap.
Chill the cupcakes in a cooler or the refrigerator until ready to eat.
Enjoy!
Hate losing that perfect recipe? Save and organize recipes easily on the Tasty app. Download now.